Advantages of Marketing Analytics Certification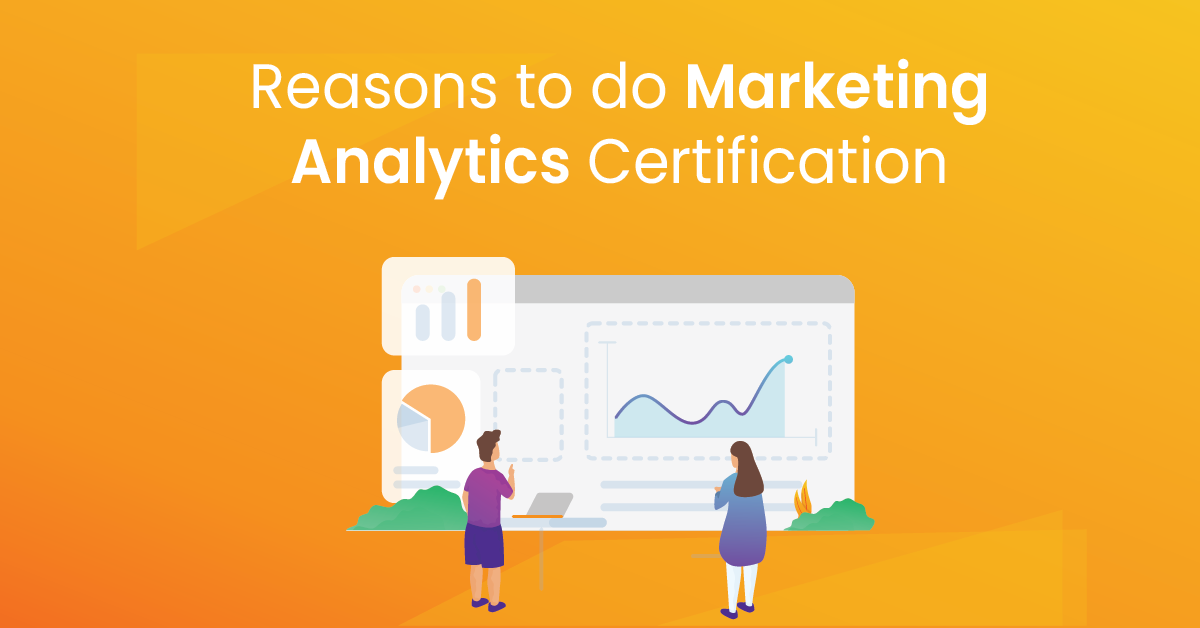 With the fast progress of technology, marketing teams spend more time and resources to interpret the effectiveness and growth of their marketing activities. They must use marketing analytics to get more significant ROI since they frequently struggle to demonstrate trust. Marketing analytics collects, maintains, and examines marketing initiatives' information to estimate marketing activities' ROI from marketing initiatives to calculate the ROI of marketing activities. To study marketing analytics, you should consider you want to learn marketing analytics, you must consider obtaining a certificate and expertise in this sector. Top institutions provide a range of marketing analytics courses at various levels.
Oceans of data are available to today's enterprises, and those who can transform it into useful business insights will gain a competitive advantage. Any certificate program will teach the fundamentals of data-driven marketing research and the analytical tools needed to assess the effectiveness and efficacy of digital advertising efforts. One will discover how to ask the correct questions and get the most relevant data to boost sales, market share, and profitability.
The use of data to analyze customer behavior, optimize marketing operations, and create commercial results is known as marketing analytics. It begins with data collection, such as:
Bounce rate and website traffic
Rates of email open
Participation in social media
Using a mobile app
The number of leads produced
Rate of conversion
Each customer's lifetime worth
Data analysis to evaluate a marketing effort's performance analysis of data to assess the efficacy of a marketing effort is known as marketing analytics. Businesses may understand what drives customer behaviors, adjust marketing efforts, and maximize return on investment by using technology as well as analytical processes to market research data.
Marketing Analytics Certification will train someone on how to acquire and analyze data, as well as how to appraise and apply that data, which is a valuable and irreplaceable tool. It is as helpful as the sales generated by your marketing activities.
The first step in marketing is understanding what information is in the database and what it means. If one does not grasp this, they are marketing in the dark. Marketing Analytics Certification will enable us to learn the intricacies of marketing analytics and design and implement effective plans.
What is Marketing Analytics?
Marketing analytics refers to the method of evaluating the efficacy and performance of marketing initiatives using data. Marketing analytics enables you to get deeper customer insights, optimize your marketing goals, and achieve a higher ROI. Marketers and customers both benefit from marketing analytics. This study enables marketers to maximize the return on marketing spending by analyzing what works best in terms of conversions, brand recognition, or both. Analytics also guarantees that customers receive more focused, individualized advertisements that appeal to their unique wants and preferences, instead of bulk mailings that anger them.
Accurate data is more vital than ever in today's marketing scene. Consumers have become picky about which branded media they interact with and which they avoid. If companies want to capture the attention of the perfect consumer, they must use reliable data to produce tailored personal advertisements that reflect specific interests rather than broad demographic correlations. Marketing teams will be able to deliver the correct ad, at the correct time, on the correct channels, to move customers through the sales funnel.
Advantages of Marketing Analytics
Analytics in marketing enables firms to minimize guesswork and dependence on anecdotal evidence, allowing marketing teams to make more educated business decisions and better customer relationship management. Further advantages include:
Obtain a complete picture of all marketing operations.
Improve your understanding of your consumers.
Improve your marketing plan.
Forecast the success of the next marketing efforts.
Marketing analytics gives meaning to data
Marketing analytics allows you to see into the future and boosts employee productivity.
You can make sound judgments.
Data should be used to back up your activities.
You can anticipate customer behavior.
Marketing analytics approaches are classified into the following areas
Marketing mix simulation Marketing mix modeling is used to examine the influence of marketing factors on your business objective technique of examining the impact of marketing factors on your business objectives is known as marketing mix modeling. It is a method of determining which marketing approaches are practical and which are not. Marketing mix modeling enables you to fine-tune and enhance your outcomes over time.
Forecasting demandDemand forecasting forecasts how much consumers will spend in the future according to previous purchasing behavior. Companies that offer actual things (such as apparel) or services employ this strategy (like insurance). It is also appropriate for digital items such as online subscriptions or software as a service (SaaS).
Competitor AnalyticsCompetitor analytics is concerned with studying your rivals' strategy, strengths, weaknesses, and market share to discover better ways to compete with them or outrun them entirely.
Unmet needs analyticsUnmet needs analytics is a way of obtaining, analyzing, and interpreting data in order to discover the unmet wants of consumers. It aids in comprehending what customers desire, how they think, and what they want. Marketers may utilize this data to make decisions about product development, promotion, and price.
Analytical TrendsTrend analytics is a technique used by marketers to analyze trends and patterns to forecast future sales or profits. It entails gathering data from websites, social media, applications, and other sources and analyzing it to look for trends.
Tools used in Marketing Analytics
Google Analytics
MixPanel
he AdWords Performance Grader
Heap Analytics
Cyfe
Learn the core concepts of Data Analytics Course video on Youtube:
Marketing Analytics is used to develop marketing strategies
Following data collection, it is critical to detect any trends and use them to create data-driven decisions and optimize your marketing plan. This frequently necessitates understanding and interpreting the data you've acquired, such as knowing what an optimum bouncing rate or clickthrough rate is.
Here are three real-world applications of marketing analytics models:
Descriptive: When you have a limited marketing budget, you may utilize marketing analytics to understand which initiatives have historically been the most effective and spend your remaining marketing resources on top-performing efforts with a high ROI.
Predictive: To ensure that your email marketing is on-message, send two copies of a subject line to two different subscriber groups, utilizing the A/B testing option in your marketing analytics software to see which one is the most open-worthy.
Prescriptive: If you find a low bounce rate throughout a series of blog entries on your company's website, it may indicate that the material isn't serving the demands of consumers. You may utilize marketing analytics tools to investigate keyword trends, top SERP, and other content marketing metrics to determine how to alter each article to serve your visitors better.
Analytics may be found in practically every industry, including pharmaceuticals, human resources, finance, and marketing. Furthermore, it has become critical for marketing professionals to become tech aware and employ technology to maximize the value of business data.
Many individuals feel that marketing abilities can only be used for marketing jobs such as producing websites, commercials, content authoring, and marketing strategy leadership. However, marketing is not only for marketers. It also benefits professionals who do not work in traditional marketing jobs by teaching them the fundamental principles that link people, brands, functions, and organizations. Let's find out how by investigating the significance of studying marketing:
1. Create Critical Business Insights
Marketing encompasses far more than just products, services, promotions, and sales. It is a critical aspect for any business that helps it achieve its objectives and generate profits. Marketing studies will assist you to understand why people think or behave in various ways while purchasing something. You will also comprehend their requirements, how to convince them, and how their activities may benefit your company. Marketing exposes you to a wide range of subjects. It helps you learn business fundamentals as well as parts of psychology, sociology, and even politics in order to better comprehend the consumer. This expertise assists professionals in developing critical business insights, allowing them to create well-tailored goods and services that benefit them.
2. Read, comprehend, and interpret data
Marketing entails evaluating data in order to identify and target the appropriate client categories. It builds and enhances data interpreting abilities. These abilities may be applied to professions that rely on client feedback, data, or metrics to produce a profit. In every profession and company, the ability to interpret and analyze data is critical for making strategic decisions. This is why many businesses want individuals who can understand data and focus on the most critical findings. This enables organizations to make data-driven decisions in order to attract more consumers.
3. A Wide Range of Well-Payed Career Opportunities
Nowadays, practically every corporation and organization in every area relies on marketing to effectively represent their brand. This is why marketing professionals have a plethora of job options. Marketing studies also provide you the option to select a profession that matches your interests and abilities. It can lead to jobs as a marketing manager, public relations expert, or account executive in a number of industries such as hospitality, healthcare, technology, education, finance, fashion, and more.
Marketing is a wide-ranging academic field. It enables you to become acquainted with more particular aspects of it and operate in those sectors. Here are some of the most frequent marketing disciplines:
Market Analysis
Advertising
Product Development
Digital Media
Event Promotion
Brand Promotions
Brand Management
Public Affairs
4. Improve Your Negotiation and Communication Skills
Communication and negotiating abilities are essential in all corporate functions. Every professional path entails some form of business communication. Every firm needs experts who can successfully communicate with management, the audience, stakeholders, and consumers. Learning marketing will help you develop important communication and negotiating skills that you can apply in your personal and professional life. It may educate you on how to employ analytical thinking and persuasive arguments to accomplish your objectives swiftly and efficiently.
5. Develop Your Critical Thinking Skills
Marketing studies help you develop critical thinking skills. The students obtain exceptional abilities in data interpretation and higher-level thinking, allowing them to translate analytics into strategy. Learning about marketing will help you understand what motivates a company. You will get experience in strategic and creative problem-solving.
Data Science Placement Success Story
Other Domain Analytics in our 360DigiTMG
Political Analytics, Transit Analytics, Forest Analytics, Wild Analytics, Agriculture Analytics, Army Analytics, E-commerce Analytics, Energy and Resource Analytics, Hospital Analytics, Healthcare Analytics, Hospitality Analytics, Oil and Gas Analytics, Regulatory Analytics, Security Analytics, Trade Analytics, Railway Analytics, Defense Analytics, Education Analytics, Accounting Analytics, Fraud Analytics, Legal and Law Analytics, Banking Analytics, Insurance Analytics, Life Science Analytics, Pharma Analytics, Aviation Analytics, Retail Analytics, Cyber Security Analytics, Supply Chain Analytics, Marketing Analytics
Data Science Training Institutes in Other Locations
Agra
,
Ahmedabad
,
Amritsar
,
Anand
,
Anantapur
,
Bangalore
,
Bhopal
,
Bhubaneswar
,
Chengalpattu
,
Chennai
,
Cochin
,
Dehradun
,
Malaysia
,
Dombivli
,
Durgapur
,
Ernakulam
,
Erode
,
Gandhinagar
,
Ghaziabad
,
Gorakhpur
,
Gwalior
,
Hebbal
,
Hyderabad
,
Jabalpur
,
Jalandhar
,
Jammu
,
Jamshedpur
,
Jodhpur
,
Khammam
,
Kolhapur
,
Kothrud
,
Ludhiana
,
Madurai
,
Meerut
,
Mohali
,
Moradabad
,
Noida
,
Pimpri
,
Pondicherry
,
Pune
,
Rajkot
,
Ranchi
,
Rohtak
,
Roorkee
,
Rourkela
,
Shimla
,
Shimoga
,
Siliguri
,
Srinagar
,
Thane
,
Thiruvananthapuram
,
Tiruchchirappalli
,
Trichur
,
Udaipur
,
Yelahanka
,
Andhra Pradesh
,
Anna Nagar
,
Bhilai
,
Borivali
,
Calicut
,
Chandigarh
,
Chromepet
,
Coimbatore
,
Dilsukhnagar
,
ECIL
,
Faridabad
,
Greater Warangal
,
Guduvanchery
,
Guntur
,
Gurgaon
,
Guwahati
,
Hoodi
,
Indore
,
Jaipur
,
Kalaburagi
,
Kanpur
,
Kharadi
,
Kochi
,
Kolkata
,
Kompally
,
Lucknow
,
Mangalore
,
Mumbai
,
Mysore
,
Nagpur
,
Nashik
,
Navi Mumbai
,
Patna
,
Porur
,
Raipur
,
Salem
,
Surat
,
Thoraipakkam
,
Trichy
,
Uppal
,
Vadodara
,
Varanasi
,
Vijayawada
,
Visakhapatnam
,
Tirunelveli
,
Aurangabad
Data Analyst Courses in Other Locations
ECIL
,
Jaipur
,
Pune
,
Gurgaon
,
Salem
,
Surat
,
Agra
,
Ahmedabad
,
Amritsar
,
Anand
,
Anantapur
,
Andhra Pradesh
,
Anna Nagar
,
Aurangabad
,
Bhilai
,
Bhopal
,
Bhubaneswar
,
Borivali
,
Calicut
,
Cochin
,
Chengalpattu
,
Dehradun
,
Dombivli
,
Durgapur
,
Ernakulam
,
Erode
,
Gandhinagar
,
Ghaziabad
,
Gorakhpur
,
Guduvanchery
,
Gwalior
,
Hebbal
,
Hoodi
,
Indore
,
Jabalpur
,
Jaipur
,
Jalandhar
,
Jammu
,
Jamshedpur
,
Jodhpur
,
Kanpur
,
Khammam
,
Kochi
,
Kolhapur
,
Kolkata
,
Kothrud
,
Ludhiana
,
Madurai
,
Mangalore
,
Meerut
,
Mohali
,
Moradabad
,
Pimpri
,
Pondicherry
,
Porur
,
Rajkot
,
Ranchi
,
Rohtak
,
Roorkee
,
Rourkela
,
Shimla
,
Shimoga
,
Siliguri
,
Srinagar
,
Thoraipakkam
,
Tiruchirappalli
,
Tirunelveli
,
Trichur
,
Trichy
,
Udaipur
,
Vijayawada
,
Vizag
,
Warangal
,
Chennai
,
Coimbatore
,
Delhi
,
Dilsukhnagar
,
Hyderabad
,
Kalyan
,
Nagpur
,
Noida
,
Thane
,
Thiruvananthapuram
,
Uppal
,
Kompally
,
Bangalore
,
Chandigarh
,
Chromepet
,
Faridabad
,
Guntur
,
Guwahati
,
Kharadi
,
Lucknow
,
Mumbai
,
Mysore
,
Nashik
,
Navi Mumbai
,
Patna
,
Pune
,
Raipur
,
Vadodara
,
Varanasi
,
Yelahanka