What is Financial Analytics and Why is it Important?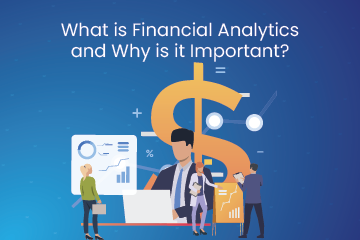 Having a thorough understanding of business finances is very important. The success of a business relies on how well the finances are understood, analyzed, and managed. Every business or company requires financial planning and predictions to alert the company about potential troubles. Financial analytics makes a report of a company's financial efficiency and aids in forecasting the survivability, security, and success of a company. It is important to emphasize that financial analysis provides us with data-driven forecasts and not just assumptions. This type of analysis ensures the smooth functioning of a business by confronting every challenge. The outcomes of combining data and analytics are required by businesses for understanding their stance and if there is any room for improvement.
What is Financial Analytics?
The process of extraction, analysis, and reporting of financial data is the direct, clear-cut financial analytics definition. It is necessary to highlight that financial analytics is very important. It holds great value to ameliorate business decisions. Financial analytics also aids in the analysis of the performance of a business. Businesses were drawn more towards Financial analytics only after the tremendous rise in the use of technology. This process of analytics allows businesses to give more preference to factual outputs rather than assumptions or intuition. This will allow businesses to stay in the loop of competition and ensure smooth business functioning at the same time.
Rendering forecasts, detailed reports, and insights into a business are the key outcomes of this analytics process. Financial analysis is a branch of Business Intelligence (BI) and Enterprise Resource Planning (ERP). This process provides an opportunity to understand potential threats by forecasting and facilitates the enhancement of decision-making processes by providing data-driven insights. It also allows businesses to have a rigid course of action or a plan to evade all the problems.
Here are six important financial data analytics one would need:
Sustainability and competitive advantage are ensured by financial data analytics, The following are the 6 types of financial data analytics a business would need:
Cash Flow - Keeping track of cash flow is necessary to prevent wastage and unnecessary expenditure. This helps companies to manage finances by understanding all the problems first.
Customer Profitability - Understanding profitability trends in customers helps a company to improve profitability holistically.
Accurate Sales Forecast - Ensuring the profits bar is set high is an important task for the smooth functioning of the business. The success of a business lies within sales and profits. Forecasts aid in understanding the company's nethermost decisions and help in the enhancement process.
Profitability of Products and Channels - Product and Channel profitability also help the companies to take action to aim for better and higher profits.
Shareholder Value - Increasing the trust of a shareholder by providing clarity about their ROI (Return on Investment).
Leading Indicators - Analyzing current status and future planning gives them the direction they are leading towards.
Learn the core concepts of Data Science Course video on Youtube:
What are the tools necessary for Financial Analysis?
Several tools are employed to aid in financial analytics. Here are some:
Common size statement: Understanding the resources and their distribution to determine the profits of a company.
Comparative financial statements: Comparison of financial statements of a certain period helps in understanding trends following by taking the right course of action for making amends.
Ratio analysis: Analysis of the balance sheet and income statement enables us to get a closer look at the company's financial position, profitability, and efficiency.
Benchmarking analysis - Comparison with competitors often helps in the identification of problems and improvements in necessary areas to ensure the growth of the company.
What is the salary of a Financial Data Analyst?
They earn about $109,441 per annum according to Glassdoor.
Skills required for Financial Analytics:
CFO (Chief Financial Officer) is responsible for working with the IT to ensure their financial systems are effective and efficient. This is important because CFO cannot work with full efficiency with incapable financial systems. The five skills required are
Agility
Sustainability
Extensibility
Predictability
Accountability
Recent developments in Financial Analytics Market
In September 2022, Acuity Knowledge Partners, an important provider of high-value research, analytics, and business intelligence in the financial sector, declared an investment in Cians Analytics, a provider of excellent quality, cost-effective analytics support for the financial departments. This will ensure increased support in KPO (Knowledge Process Outsourcing) and will also aid the financial department worldwide.
In June 2022, Incorta who is responsible for real-time operational analytics on raw business data launched Analytics Data Hub for enabling IT teams to support finance teams. This integration ensures rapid results.
Trends in Financial Analytics
Increased Data Availability - There has been an increase in the availability of data, especially after digital integration into the financial industry. Collection and storing data that is increasing exponentially and extracting some value out of it is the motive.
Increased Personalization - Customer-centric approach is highly valued today. This personalization enables firms to work toward specific problems experienced by each customer.
Agility is much appreciated with the increase in changes in rules and regulations and this helps in avoiding risk and loss. Customers should be informed about all the necessary information to maintain transparency.
AI-Integration - AI in finance is enabling firms to analyze massive amounts of data and this allows firms to understand their customers better, increase the rate of analysis, and provide sound financial advice with the use of AI.
When does one need Financial Analytics software?
Failing to extract meaningful information from data is one of the major problems faced by businesses. Acquiring the right software and using it to obtain results is important. The four steps that determine whether or not a business needs financial analytics are
Identification of critical business problems and understanding financial analytics steps to fix them.
Finding areas to use a financial analytics trial program and making sure this program gives out maximum results with minimal effort put in.
Organization and management of data sources and understanding of the need for financial analytics while doing so.
Looking for new, strategic solutions – using new tools, asking new questions and steps in analytics– to ensure improvement in financial analytics.
So, why is Financial Analytics important?
Financial analytics is significant for business firms. Utilizing financial analytics allows businesses to think out of the box and develop innovative solutions. There are many advantages of incorporating financial analytics for taking a business decision.
The development of new business processes is made possible. This is done by using financial analytics to answer many previously unanswerable questions. This helps in the reinforcement of trust and success rate as the solutions are backed by data. The assistance provided by financial analytics is significant for the business to run smoothly.
Integration and amalgamation of different financial analytics to derive solutions. To draw conclusions and stay ahead of the competition, business firms need to use different types of financial analytics and also use unique approaches. This amalgamation allows the solutions to be top-notch.
Adding value to businesses and customers by providing key insights and meaningful answers to all the questions raised.
Reducing risks and hazards by forecasting problems beforehand and working towards finding real, effective, and innovative solutions.
Understanding the economic trends of a company and suggesting ways to improve to stay ahead of the competitors.
They effectively weigh out pros and cons and offer sound advice to improve financial status.
They have a deep understanding of all the factors that affect a company's growth and investments.
Advice is provided by financial data analysts to clients to make sure their decisions will help the business to run smoothly.
Providing intelligent financial advice backed up by their financial data analysis to keep the company's name on top of the competition.
Guidance on investment of money.
Their market research and understanding of the economic trends of a company are an asset.
Financial Analytics aids the business to go in the right direction that ensures profits and stability of the company. These decisions are made keeping in mind the plans, objectives, and problems predicted by the financial data analysts.
Identification and assessment of organizations' overall performance.
Measurement of profitabilities of clients, ideas, or specific products.
Accurate prediction of future sales.
Improvement of a company's overall performance and providing insights that will allow such growth of a company towards development and enhancement.
How to work in Financial Analytics?
This is possible by acquiring a bachelor's degree in finance, business, or a closely related field like mathematics, accounting, statistics, or accounting.
Pursuing a graduate degree is also advisable for people who want to make this their long-term career. Usually, they pursue a Master of Financial Analytics (MFA) or a Master of Business Administration (MBA).
There are also Ph.D. options available for interested individuals. This will help the, become a researcher or an educator in financial analytics. This is possible by pursuing PhDs in economics which focuses on finance.
What are the technical skills required for Financial Analytics?
Valuation analysis
Joint venture analysis
Internal rate of return
Return on investment capital
Year over year
Net present value
Financial modeling
Corporate finance
Mergers and acquisition analysis
Leveraged buyout method
Reading SEC filings
Accounting skills
Forecasting
Budgeting
Excel skills
What are the differences between a Financial analyst and a Data analyst?
Financial analysts are responsible for handling all aspects of economic data which is used in making decisions for a company while investing.
Data analysts look at numerous data types including financial data for a multitude of purposes and not just for investments.
It is important to understand that both are responsible for data analysis but with different objectives.
Benefits of Financial Data Analytics
Understanding and analyzing real-time data to make quick decisions.
Organization of data for easier understanding and interpretation.
Ensuring productivity after financial data is improved.
Ability to make confident and data-driven decisions.
Mitigation of risks and taking wrong decisions.
Having a vision for the future and problems that might affect the smooth running of a company.
Overcoming potential problems by taking steps towards progress and improvement.
Ability to analyze and solve problems using massive data that is available.
Increased effectiveness of outputs by using statistical analysis, AI, machine learning, and modeling.
Increased effectiveness of outputs by using statistical analysis, AI, machine learning, and modeling.
Increasing efficiencies and reducing errors.
Elimination of manual and repetitive procedures.
How does Financial Analytics work?
Financial analytics is a subset of BI (Business Intelligence) and EPM (Enterprise performance management) systems. Data is first obtained from operational systems. This data is then transformed and combined into a warehouse. This helps in bringing data together. The next step involves using financial analytics tools which aid in obtaining results using predictive sales analysis, cash flow valuation, or actual vs forecast analysis. This step is followed by the creation of interactive visualizations and financial dashboards to find patterns and develop insights easily. This can be enhanced by performing predictive analytics, automated machine learning, etc.
Challenges faced by financial analysts
Passive data - Having an understanding of what is happening right now in the real world is important because of the pace of business. It is evident that traditional data analytics methods are passive and can no longer serve because of how quickly the world is changing.
Complex methods and big investment - To ensure financial analytics is performed efficiently, companies need to invest in analysts and ensure necessary tools are provided to them. Only then financial analysts can aid in improvements.
Conclusion
Although, financial analytics has its challenges like passive data, complex models, and big investments, this type of analytics is exactly what businesses need to improve their efficiencies and enhance their overall performance. Financial data analysts are now an asset to any business because of their capabilities and vision. Their insights are very crucial and should be given utmost importance before taking a decision. Financial analytics by definition means the analysis of financial data before making any investments. This is important because of what financial analysts provide. They provide meaningful insights and forecasts after analysis which helps in the smooth functioning of a business. By considering the insights of financial analysts, companies can go forward and upward.
Click here to learn Data Science Course Syllabus, Data Science Training in Hyderabad, Data Science Course Fees in Bangalore
Data Science Placement Success Story
Data Science Training Institutes in Other Locations
Agra
,
Ahmedabad
,
Amritsar
,
Anand
,
Anantapur
,
Bangalore
,
Bhopal
,
Bhubaneswar
,
Chengalpattu
,
Chennai
,
Cochin
,
Dehradun
,
Malaysia
,
Dombivli
,
Durgapur
,
Ernakulam
,
Erode
,
Gandhinagar
,
Ghaziabad
,
Gorakhpur
,
Gwalior
,
Hebbal
,
Hyderabad
,
Jabalpur
,
Jalandhar
,
Jammu
,
Jamshedpur
,
Jodhpur
,
Khammam
,
Kolhapur
,
Kothrud
,
Ludhiana
,
Madurai
,
Meerut
,
Mohali
,
Moradabad
,
Noida
,
Pimpri
,
Pondicherry
,
Pune
,
Rajkot
,
Ranchi
,
Rohtak
,
Roorkee
,
Rourkela
,
Shimla
,
Shimoga
,
Siliguri
,
Srinagar
,
Thane
,
Thiruvananthapuram
,
Tiruchchirappalli
,
Trichur
,
Udaipur
,
Yelahanka
,
Andhra Pradesh
,
Anna Nagar
,
Bhilai
,
Borivali
,
Calicut
,
Chandigarh
,
Chromepet
,
Coimbatore
,
Dilsukhnagar
,
ECIL
,
Faridabad
,
Greater Warangal
,
Guduvanchery
,
Guntur
,
Gurgaon
,
Guwahati
,
Hoodi
,
Indore
,
Jaipur
,
Kalaburagi
,
Kanpur
,
Kharadi
,
Kochi
,
Kolkata
,
Kompally
,
Lucknow
,
Mangalore
,
Mumbai
,
Mysore
,
Nagpur
,
Nashik
,
Navi Mumbai
,
Patna
,
Porur
,
Raipur
,
Salem
,
Surat
,
Thoraipakkam
,
Trichy
,
Uppal
,
Vadodara
,
Varanasi
,
Vijayawada
,
Vizag
,
Tirunelveli
,
Aurangabad
Data Analyst Courses in Other Locations
ECIL
,
Jaipur
,
Pune
,
Gurgaon
,
Salem
,
Surat
,
Agra
,
Ahmedabad
,
Amritsar
,
Anand
,
Anantapur
,
Andhra Pradesh
,
Anna Nagar
,
Aurangabad
,
Bhilai
,
Bhopal
,
Bhubaneswar
,
Borivali
,
Calicut
,
Cochin
,
Chengalpattu
,
Dehradun
,
Dombivli
,
Durgapur
,
Ernakulam
,
Erode
,
Gandhinagar
,
Ghaziabad
,
Gorakhpur
,
Guduvanchery
,
Gwalior
,
Hebbal
,
Hoodi
,
Indore
,
Jabalpur
,
Jaipur
,
Jalandhar
,
Jammu
,
Jamshedpur
,
Jodhpur
,
Kanpur
,
Khammam
,
Kochi
,
Kolhapur
,
Kolkata
,
Kothrud
,
Ludhiana
,
Madurai
,
Mangalore
,
Meerut
,
Mohali
,
Moradabad
,
Pimpri
,
Pondicherry
,
Porur
,
Rajkot
,
Ranchi
,
Rohtak
,
Roorkee
,
Rourkela
,
Shimla
,
Shimoga
,
Siliguri
,
Srinagar
,
Thoraipakkam
,
Tiruchirappalli
,
Tirunelveli
,
Trichur
,
Trichy
,
Udaipur
,
Vijayawada
,
Vizag
,
Warangal
,
Chennai
,
Coimbatore
,
Delhi
,
Dilsukhnagar
,
Hyderabad
,
Kalyan
,
Nagpur
,
Noida
,
Thane
,
Thiruvananthapuram
,
Uppal
,
Kompally
,
Bangalore
,
Chandigarh
,
Chromepet
,
Faridabad
,
Guntur
,
Guwahati
,
Kharadi
,
Lucknow
,
Mumbai
,
Mysore
,
Nashik
,
Navi Mumbai
,
Patna
,
Pune
,
Raipur
,
Vadodara
,
Varanasi
,
Yelahanka
Navigate to Address
360DigiTMG - Data Analytics, Data Science Course Training in Chennai
D.No: C1, No.3, 3rd Floor, State Highway 49A, 330, Rajiv Gandhi Salai, NJK Avenue, Thoraipakkam, Tamil Nadu 600097
1800-212-654-321