What is the Vulnerability of IoT?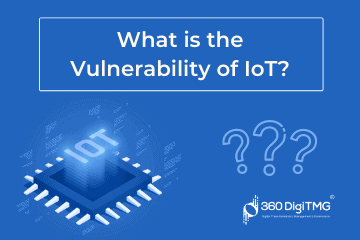 Introduction
Nearly 30% of Internet of Things (IoT) devices are created without being connected to mobile phones. Because of this, hackers and other cybercriminals are increasingly targeting the businesses. The cybersecurity thieves have been able to steal the consumers' crucial data thanks to the IoT's weaknesses. They were able to sneak through the firewall and access private information thanks to these flaws.
Become a IoT Expert with a single program. Go through 360DigiTMG's IoT Course fee in Bangalore Enroll today!
Cyberattacks are thereby encouraged, and they continue to harm other networks as well. The main IoT vulnerabilities that have harmed the system from production to use are discussed in this article. You will also learn how to defend your business, staff, and customers from these weaknesses. Let's examine the top IoT vulnerabilities now.
Top IoT Vulnerabilities
The security of IoT devices is a concern from the start of IoT technology. These weaknesses of IoT are leaving a window open for hackers and criminals. Below discussed are some IoT vulnerabilities that are making the reputation of IoT devices a question. These are as follows:
Deficiency of Secure Updates

You must be aware that the Internet of Things is constantly changing. Therefore, the software that powers the devices has upgrades accessible. However, these updates could be included in files that also include flaws. Or the updated file contains incorrect information that could save your IP address or password.

In order for people to know how to acquire updates and which sources to utilise for software upgrades, a safe way for upgrading IoT should be developed. Updates are being extensively worked on by the firms, but they are not very far along at the household level. because the populace does not speak out or pay attention when the programme has to be updated. Without a safe system, there is still a risk for IoT devices, and assaults are undoubtedly conceivable in this scenario.

Insufficient Device Management

To learn more about Internet of Things, the best place is 360DigiTMG, with multiple awards in its name 360DigiTMG is the Best place to start your Best IoT Training in Hyderabad. Enroll now!

As you know that the number of IoT devices is increasing every day. Managing these devices is a great risk. It is possible that some malicious hackers can download the authorized software and register themselves. This is because there is no proper way to manage the devices.

The authentication of IoT devices is an essential part of securing and protecting a system. The large IoT networks are at great risk of cyber-attacks. And it is very difficult to recover these networks. The IoT security organization is working on it and making sure that every network identifies each device on the network. Machine learning is utilized nowadays to authenticate devices on the network so that the networks can be prevented from cyber-attacks.

Insecure Data Transmission and Storage

The network layers are crucial for IoT use and applications. IoT applications' primary function is to transport data across networks, devices, the cloud, and other locations. A rogue device may enter the network, which would then make it vulnerable to assaults from hackers.

Although most networks are built to adhere to the protocols for network access, cloud-based communications do not employ them. Nowadays, communication between various IoT components is protected by encryption. This will prevent unauthorised people or devices from transferring or storing data.

Default Passwords

This is a very common vulnerability of IoT in which most of the users even do not change their device passwords. Some create a password that is weak enough and can be guessed by the hacker in no time. The password-oriented attacks waiting for this kind of vulnerability can get easy access to the network or IoT device. The solution to this issue is to set a policy that forces the users and the administrators to change the default passwords and create a strong password that cannot be guessed by hackers.

Uncertain Network Services

IoT Training and Placement Course is a promising career option. Enroll in Internet of Things Course in Chennai offered by 360DigiTMG to become a successful.

The Internet of Things (IoT) devices are connected to a network, allowing them to readily access, send, and modify data. The ability of IoT devices to do any task without human intervention makes them special. But because the system does not distinguish between operations that are carried out automatically by the device and those that are controlled by humans, this uniqueness raises a problem. In order to connect the necessary services, some network ports must remain available. This will address the network vulnerability. And in order to prevent the devices linked to the undesirable ports from exchanging data, they must be closed.

Inefficient Ecosystem Interface

Many companies work on the security of the system. These systems send and receive data through APIs. These are very extensible, but the same APIs can open a way for the attackers that can connect to your device and can get access to it. It is necessary to work closely on the identities of the devices so that they can prevent cyber-attacks.

Outdated Components

Most IoT devices have a serious software weakness that renders them vulnerable. This is a common problem. One cannot shield the gadget from hackers' threats without current software.

Insufficient Physical Strengthening

Most IoT devices lack a secure physical location. In this way, the hackers can attack these devices easily as they are not protected. This is a significant IoT vulnerability that the devices do not have the essential built-in security measures to detect the attack. Many IoT devices are not attended regularly or even remain unattended throughout their lifetime. So, the criminal can easily get access to these devices and no one will pay attention to them. The company or the users make sure that the device is away from physical access, sabotage, and tampering, etc. Or the devices have to be installed in a protected area.
360DigiTMG offers the Best IoT Course Fees in Pune to start a career in Internet of Things. Enroll now!
Conclusion
You must fully comprehend all of the weaknesses that your equipment possesses. In this manner, you may take safety precautions to safeguard your equipment. IoT still has a lot of faults, but organisations are attempting to fix them. We might be able to do away with these vulnerabilities soon.
IoT Training Institutes in Other Locations
Ahmedabad, Bangalore, Chengalpattu, Chennai, Hyderabad, Kothrud, Noida, Pune, Thane, Thiruvananthapuram, Yelahanka, Andhra Pradesh, Anna Nagar, Bhilai, Calicut, Chandigarh, Chromepet, Coimbatore, Dilsukhnagar, ECIL, Faridabad, Greater Warangal, Guduvanchery, Guntur, Gurgaon, Guwahati, Hoodi, Indore, Jaipur, Kalaburagi, Kanpur, Kharadi, Kochi, Kolkata, Kompally, Lucknow, Mangalore, Mumbai, Mysore, Nagpur, Nashik, Navi Mumbai, Patna, Porur, Raipur, Salem, Surat, Thoraipakkam, Trichy, Uppal, Vadodara, Varanasi, Vijayawada, Vizag, Tirunelveli, Aurangabad
Navigate to Address
360DigiTMG - Data Science, Data Scientist Course Training in Bangalore
No 23, 2nd Floor, 9th Main Rd, 22nd Cross Rd, 7th Sector, HSR Layout, Bengaluru, Karnataka 560102
1800-212-654-321