Branches of Software Development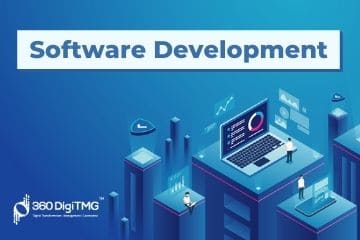 The foundation of the computer industry is said to be the invention of software. This industry has seen relentless growth, and there is always something fresh to discover, develop, and transform into concrete assets and practical items. Every activity offers a chance to improve your knowledge and abilities. Understanding your target market or your clients' businesses is one of the most crucial steps in any form of software development. Only then can you choose the functionality that adds the most value to the company. This will enable you to outline objectives in accordance with the needs of the client and set clear expectations. The industry of software development is lucrative and in high demand. The Bureau of Labour Statistics has reported that a 35% rise in job growth is anticipated in the sector of software development by 2026.
Click here to learn Data Science in Bangalore
Branches of Software Development:
Web Development
All the web-pages you browse through over your morning tea are developed by the current and future generations of coders. It is an intriguing multifold profession that's diverse and ranges in complexity over dozens of interconnected files and with the emergence of new web technologies and Application Programming Interfaces (APIs), it is a field to look out for.
Click here to explore 360DigiTMG.
Mobile Development
It's popular to create programmes for mobile platforms like Windows 10, Android, and iPhones, which are known as mobile development. The numerous mobile development technologies include Java, HTML5, C#, Objective C, and Swift (for iOS). The adaptability of mobile development, which makes it possible to do just about everything, including playing games, locating a place to have lunch, and even something as basic as being reminded to drink water or morphing your photos for fun.
Data Science
Data provides no value to anyone unless you know what to do with it. Data scientists are the ones who can derive the value of gold from the data and after analyzing large data sets with the help of some cluster-computing approach they can develop AI applications based on the findings from the data.
Click here to learn Data Science in Bangalore
Application Development
On our phones, we all use various applications that make our lives simpler. Whether it's a game app, a news app, or even a map app, all of these apps are created, developed, and utilised by application developers. Application development is the process of developing a collection of programmes that might make it easier for the end user to carry out their everyday tasks.
Back-end Development
Back-end development refers to all activities going on behind the scenes to ensure that the front-end program is running smoothly. The back-end, also known as the "server-side" of a website is where the data is stored and it usually consists of three components: a server, an application, and a database. Back-end developers need to understand programming languages, databases, and architecture. Managing databases is the prime aspect of back-end development.
Software Tools Development
The creation of software tools, which creates tools for other software developers to test their code, is essential to the software development business. Software tools are computer programmes that often operate on desktop or laptop computers and assist programmers in the design, development, modification, and testing of application programmes. Assemblers/compilers, Integrated development environments (IDEs), Text editors, Simulators, and High-level language simulators are a few of the frequently used software development tools.
Scope of Software Development
Software development is a career option that is in demand and will remain in demand for the coming years. A software developer role involves identifying, designing, installing, and testing software that can help businesses be more efficient. It helps in maintaining and updating the program so that it operates with new databases. Software developers work closely with developers, graphic designers, product managers, and business analysts to find out what clients want and the most efficient way to achieve it. A full-stack web developer is one of the career options one can look into since they are valuable assets for any industry and can work on each layer of an application and their wide-ranging knowledge allows them to be flexible, adaptable, and agile. They can build both client and server software and are masters in multiple techniques required in a development project. As far as the pay scales are concerned the average yearly salary for freshers is ₹ 5-6 lakhs and an experienced software professional earns around ₹ 12- 17 per year.
The need for skilled and talented software developers who are familiar with Big Data, AI, and ML is rising significantly as cutting-edge technologies like Big Data, AI, and ML increasingly permeate all sectors of the economy, whether it be business, IT, healthcare, or finance. People who have these talents will have an advantage over their colleagues and have a greater probability of getting hired by the top IT recruiters in the business. Additionally, security software that can defend the networks and crucial electronic infrastructure of many organisations against assaults has emerged in response to the demand for cybersecurity. Blockchain, Deep Learning, the Cloud, and other cutting-edge technologies are being used by software inventors. Algorithms, big data, and cutting-edge AI technologies will shape technology in the future by enabling the extraction of novel and exciting insights.
The internet of things (IoT) is taking over the world around us from trackers to smart appliances to smart houses and other devices communicating with other devices and making it easier to track and monitor our activities. But even for IoT software developers, the chance to write code for internet-connected energy-efficient devices will remain a powerful skill for the future. With the increase in the number of internet users which is only expected to double by 2025 means, there will be multiplied innovation in software development.
Click here to learn Data Analytics in Bangalore, Data Analytics in Hyderabad
Conclusion
The field of software development has a bright future, and if you have the drive to use computer programmes and your creative thinking to create something amazing, there is a place for you there. This industry's rapid growth has created a plethora of work possibilities in the leading rising industries. A smart strategy to future-proof your job and effectively close the skill gap in the software development business is to keep up with emerging technological developments and frequently update your skill set.
Click here to learn Artificial Intelligence in Bangalore, Artificial Intelligence in Hyderabad, Machine Learning in Hyderabad, Machine Learning in Bangalore