What Is a Marketing Analyst? And How to Become One?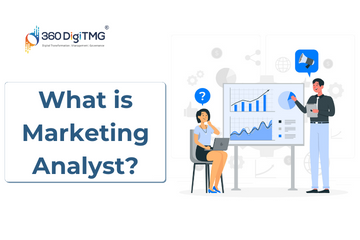 A Marketing Analyst is someone who is responsible for interacting with the company's consumers and analyzing their buying behavior. They are responsible for interpreting the results of their marketing analysis and through this research process, they produce insights and meaningful outcomes. These meaningful outcomes help the companies to move forward. Marketing analysts are also responsible for identifying the target market and audience. They gather web information for the preparation of necessary marketing strategies for enabling successful marketing campaigns with increased sales outcomes. The main objectives of marketing analysts are to research and identify ways to build a brand and procure new clients along the way.
Their responsibilities are varied and they include tracking advertising costs, researching numerous consumer behavior, and exploration of market trends. To be a successful marketing analyst, one should be comfortable with the processing and analysis of data. The ultimate goal of a marketing analyst is to help with the management of the marketing budget.
Many companies strive to stay competitive. Some companies achieve that by investing in brand-new advanced technology and also by providing more resources for advertising campaigns. They also constantly look for ways to improve their workforce, products, and overall performances or outputs. Marketing analysts use consumer data to figure out the choices of consumers. The success of a business is often dependent on marketing analysts who look after the research of the marketing data. Marketing analysts use approaches and strategies of business analytics and it is extremely crucial for a marketing analyst to keep up with current trends and act accordingly.
Marketing analysts are bearers of vital information and they are able to aid companies in making decisions by providing required and necessary information. Insights provided by marketing analysts are in high demand. Their knowledge and research methodologies help companies to develop products and services accordingly. Identification of the target market and audience, understanding of the needs of the company's customers, utilization of data to come up with suggestions or improvements, development of marketing strategies and campaigns, etc are the overview of marketing analytics objectives.
Who is a Marketing Analyst?
Marketing analyst examines data and provides key insights to companies about products and services. They analyze information such as market size, trends, growth rate, profitability, opportunity, distribution channels, key success factors, etc. They should be able to identify and understand patterns in the data that is subjected to analysis. They not only analyze data but also provide constructive criticism that will enable a company to grow and foster improvements. They are responsible for pointing out past mistakes and showing the companies many ways to make amends.
Predictions for achieving improvements in certain areas should be made by Marketing Analysts. They are also responsible for understanding customer behaviors and making recommendations accordingly. Marketing Analysts conduct research for understanding what the customers' needs are. They also measure the effectivenesses of business and marketing strategies that companies use. Minimization of risks in the future is one of their key objectives. They can achieve this by understanding response rates, customer drop-out rates, and return on investment.
Learn the core concepts of Data Science Course video on Youtube:
What does a Marketing Analyst do?
A marketing analyst is responsible for conducting market research to understand customer needs. They are also involved in analyzing and monitoring the competitiveness of a company. The insights, recommendations, and feedback provided by marketing analysts aid companies in achieving improvements, staying in the competitive loop, and obtaining greater sales. In short, marketing analysts allow companies to grow. The sole purpose of marketing analysis is to help companies and clients understand their positions in the market and other such factors.
Responsibilities of a Marketing Analyst
To conduct market research in areas such as consumer, target demographics, competing brands, and market trends.
To design and implement market and consumer surveys
To gather, analyze, and interpret marketing data.
To prepare detailed reports on consumer behavior, activities of the competitors, outcomes, sales, etc.
To monitor customer bases and identify new ones.
To forecast the future market, consumer behavior, sales trends, etc.
Working alongside the marketing team for informing and developing marketing strategies.
Communicate with customers, competitors, suppliers, etc.
Monitor the efficiencies and efficacies of marketing trends through analytical tools and software.
Keeping up with the latest trends and advancements in technology, marketing trends, and customer behavior.
Performing valid and reliable SWOT analysis.
Utilization of online marketing research tools and finding databases.
Evaluating methods for data collection.
Formulation of a plan and presentation of such plans to seniors or clients.
Interpretation of data and formulation of reports.
Making recommendations and providing insights.
Gathering and analyzing statistical data using both modern and traditional methods.
Implementing the best strategies.
What are the Qualifications required for a Marketing Analyst?
5+ years of experience in a marketing or relevant field.
Ability to perform web analytics and business research.
Knowledge of statistical packages like SPSS, SAS, etc.
Knowledge of databases and MS Office.
Strong communication, presentation, and interpersonal skills.
Understanding of data warehousing and mining.
Knowledge of collection of data.
Ability to work with CRM programs.
Analytical and critical thinking skills.
Ability to advise clients on how to improve.
Undergraduate degree qualification in statistics, mathematics, social sciences, marketing, or a relevant field.
Skills of a Marketing Analyst
They require various technical and business skills.
Technical skills involve:
Statistical analysis software
SQL databases and database querying languages
Programming skills (if possible)
Survey/query software
Business intelligence and reporting software (e.g. Tableau)
Data mining
Data visualization
Business skills involve:
Analytical Problem-Solving: Processing of large amounts of complex data. This is done with precision.
Critical Thinking: This ability helps companies to take important decisions.
Effective Communication: The development of strong relationships with consumers, interviewees, researchers, clients, and management is possible with good communication skills.
Industrial Knowledge: Understanding how your chosen industry works is important.
How does one become a successful Marketing Analyst?
Step 1: Earning an Undergraduate Degree
Marketing, statistics, mathematics, economics, computer science, communications, consumer psychology, and business are some of the courses one can study. It is also imperative to also earn certifications that aid in quantitative analysis training.
Step 2: Building up your skills
Strong analytical skills are needed to have a successful career as a marketing analyst or market research analyst. It is important to have a knowledge of Excel, R, SAS, and SPSS. The president of True North Market Insights, David Santee claims that it is important to hire marketing analysts with a strong background in business, statistics, and marketing.
Step 3: Working in an Entry-level job
One should start looking for summer internships while they are still in school. Companies are in the need of freshers with proper training and qualifications.
Step 4: Specialization
An entry-level analyst job will give you an opportunity to work in various sectors but after gaining experience it is advisable to specialize in a certain field according to your liking.
Step 5: Obtaining an advanced degree
This can be done by obtaining a master's degree in business or marketing analytics. By earning this degree one can get into more technical positions.
Step 6: Obtain a promotion
Before transitioning, marketing analysts stay in a position for about 1-4 years. Later they acquire bigger responsibilities and get promoted. This is purely and entirely dependent on the performance of the individual.
Marketing analysts are quite different from business analysts and data analysts. As mentioned above, marketing analysts are responsible for looking after the consumer and competitor data, while business analyst is responsible for analyzing business processes such as production, research, development, etc. Finally, a data analyst focuses on processing and organizing the data of the company.
Salary of a Marketing Analyst
In 2020, it was estimated that an annual salary of a marketing analyst was $65,810 (according to BLS). The marketing analyst professionals earned about $127,410 annually. The following are the salaries of marketing analysts in some top industries:
Publishing industries (excluding Internet) – $79,040
Management of companies – $77,110
Finance and insurance – $73,800
Wholesale trade – $64,170
Management, scientific and technical consulting – $62,400
Conclusion
The marketing analysis field is growing rapidly because of how much every industry needs them in the present day. Marketing analysts can be from different backgrounds like Marketing, statistics, mathematics, economics, computer science, communications, consumer psychology, and business. It is imperative to earn certificates along the way while studying and also studying to build their resume. To become a professional marketing analyst, they should be constantly working and also earning certificates to increase their knowledge and caliber. The ultimate goal is to be on the top of the competition loop by improving their skills. Marketing analysts ensure that the market data is analyzed thoroughly and finally they provide insights based on their findings from the research. These insights are the most valuable for any company because they allow them to improve and overcome problems in the future. They also closely understand consumer behavior and changes in the consumer's attitude with time to make appropriate predictions that help in the growth of the company.
Data Science Placement Success Story
Data Science Training Institutes in Other Locations
Agra
,
Ahmedabad
,
Amritsar
,
Anand
,
Anantapur
,
Bangalore
,
Bhopal
,
Bhubaneswar
,
Chengalpattu
,
Chennai
,
Cochin
,
Dehradun
,
Malaysia
,
Dombivli
,
Durgapur
,
Ernakulam
,
Erode
,
Gandhinagar
,
Ghaziabad
,
Gorakhpur
,
Gwalior
,
Hebbal
,
Hyderabad
,
Jabalpur
,
Jalandhar
,
Jammu
,
Jamshedpur
,
Jodhpur
,
Khammam
,
Kolhapur
,
Kothrud
,
Ludhiana
,
Madurai
,
Meerut
,
Mohali
,
Moradabad
,
Noida
,
Pimpri
,
Pondicherry
,
Pune
,
Rajkot
,
Ranchi
,
Rohtak
,
Roorkee
,
Rourkela
,
Shimla
,
Shimoga
,
Siliguri
,
Srinagar
,
Thane
,
Thiruvananthapuram
,
Tiruchchirappalli
,
Trichur
,
Udaipur
,
Yelahanka
,
Andhra Pradesh
,
Anna Nagar
,
Bhilai
,
Borivali
,
Calicut
,
Chandigarh
,
Chromepet
,
Coimbatore
,
Dilsukhnagar
,
ECIL
,
Faridabad
,
Greater Warangal
,
Guduvanchery
,
Guntur
,
Gurgaon
,
Guwahati
,
Hoodi
,
Indore
,
Jaipur
,
Kalaburagi
,
Kanpur
,
Kharadi
,
Kochi
,
Kolkata
,
Kompally
,
Lucknow
,
Mangalore
,
Mumbai
,
Mysore
,
Nagpur
,
Nashik
,
Navi Mumbai
,
Patna
,
Porur
,
Raipur
,
Salem
,
Surat
,
Thoraipakkam
,
Trichy
,
Uppal
,
Vadodara
,
Varanasi
,
Vijayawada
,
Vizag
,
Tirunelveli
,
Aurangabad
Data Analyst Courses in Other Locations
ECIL
,
Jaipur
,
Pune
,
Gurgaon
,
Salem
,
Surat
,
Agra
,
Ahmedabad
,
Amritsar
,
Anand
,
Anantapur
,
Andhra Pradesh
,
Anna Nagar
,
Aurangabad
,
Bhilai
,
Bhopal
,
Bhubaneswar
,
Borivali
,
Calicut
,
Cochin
,
Chengalpattu
,
Dehradun
,
Dombivli
,
Durgapur
,
Ernakulam
,
Erode
,
Gandhinagar
,
Ghaziabad
,
Gorakhpur
,
Guduvanchery
,
Gwalior
,
Hebbal
,
Hoodi
,
Indore
,
Jabalpur
,
Jaipur
,
Jalandhar
,
Jammu
,
Jamshedpur
,
Jodhpur
,
Kanpur
,
Khammam
,
Kochi
,
Kolhapur
,
Kolkata
,
Kothrud
,
Ludhiana
,
Madurai
,
Mangalore
,
Meerut
,
Mohali
,
Moradabad
,
Pimpri
,
Pondicherry
,
Porur
,
Rajkot
,
Ranchi
,
Rohtak
,
Roorkee
,
Rourkela
,
Shimla
,
Shimoga
,
Siliguri
,
Srinagar
,
Thoraipakkam
,
Tiruchirappalli
,
Tirunelveli
,
Trichur
,
Trichy
,
Udaipur
,
Vijayawada
,
Vizag
,
Warangal
,
Chennai
,
Coimbatore
,
Delhi
,
Dilsukhnagar
,
Hyderabad
,
Kalyan
,
Nagpur
,
Noida
,
Thane
,
Thiruvananthapuram
,
Uppal
,
Kompally
,
Bangalore
,
Chandigarh
,
Chromepet
,
Faridabad
,
Guntur
,
Guwahati
,
Kharadi
,
Lucknow
,
Mumbai
,
Mysore
,
Nashik
,
Navi Mumbai
,
Patna
,
Pune
,
Raipur
,
Vadodara
,
Varanasi
,
Yelahanka
Navigate to Address
360DigiTMG - Data Analytics, Data Science Course Training in Chennai
D.No: C1, No.3, 3rd Floor, State Highway 49A, 330, Rajiv Gandhi Salai, NJK Avenue, Thoraipakkam, Tamil Nadu 600097
1800-212-654-321