Top 8 IT Companies in Mysore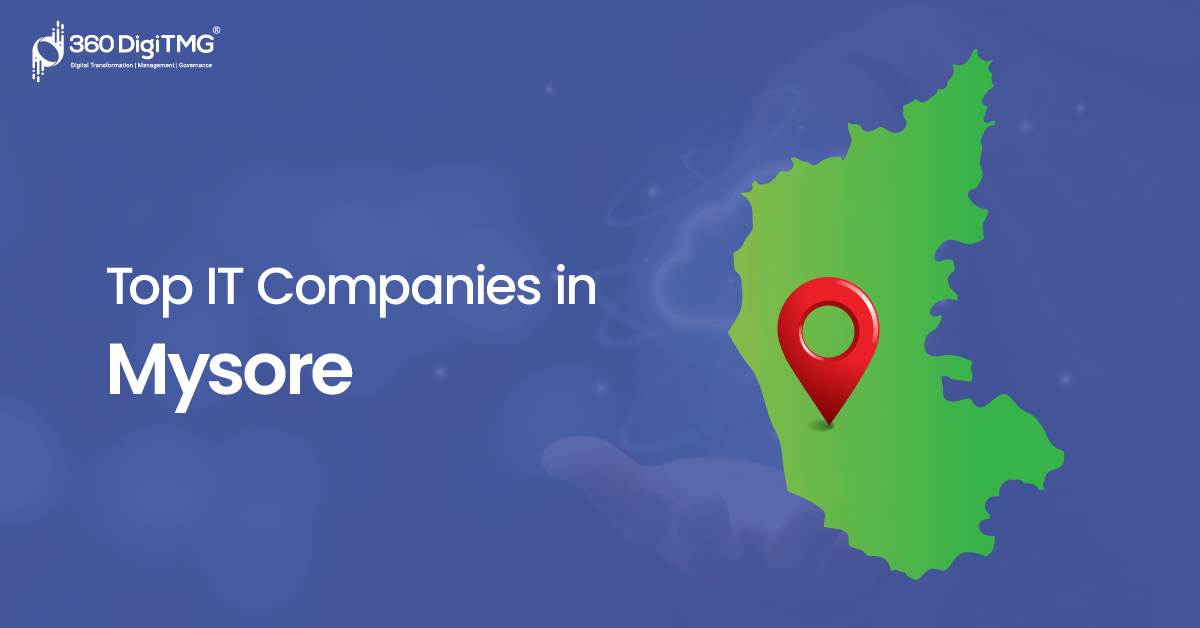 Introduction
Mysore, officially known as Mysuru, is a city located in the southern state of Karnataka, India. Known for its rich cultural heritage, magnificent palaces, and vibrant festivals, Mysore is a popular tourist destination and an important center of art, culture, and education. Here's a brief introduction to Mysore:
Mysore is situated at the foothills of the Chamundi Hills and is known for its pleasant climate and scenic beauty. The city has a long and illustrious history, dating back over several centuries. It was the capital of the Kingdom of Mysore ruled by the Wadiyar dynasty for nearly six centuries until India's independence in 1947.
Mysore has been a center of art and culture for centuries. The city is renowned for its traditional Carnatic music, classical dance forms like Bharatanatyam and Mysore painting. It is also famous for its silk sarees, sandalwood carvings, and intricate craftsmanship.
One of the most iconic landmarks in Mysore is the Mysore Palace, also known as the Amba Vilas Palace. This grand palace, with its exquisite architecture and beautifully illuminated during festivals, attracts visitors from around the world. Other notable attractions include the Chamundeshwari Temple, St. Philomena's Cathedral, and the Brindavan Gardens, famous for its musical fountains.
History of Mysore
The history of Mysore, also known as Mysuru, stretches back several centuries. The city has a rich and illustrious past, marked by the rule of various dynasties and significant contributions to art, culture, and governance. Here is a brief overview of the history of Mysore:
Early History: The recorded history of Mysore dates back to the 4th century BCE when the region was part of the Mauryan Empire. It was later ruled by the Gangas and the Cholas, who played a crucial role in shaping the city's early development. Mysore served as an important center of trade and commerce, benefiting from its strategic location on major trade routes.
The Wadiyars and the Kingdom of Mysore: The history of Mysore is closely associated with the Wadiyar dynasty, which ruled the region for nearly six centuries from the 14th century onwards. The dynasty was established by Yaduraya Wadiyar, who declared himself the king of Mysore in 1399. The Wadiyars played a significant role in shaping the cultural and architectural landscape of Mysore, with contributions to art, music, literature, and governance.
Hyder Ali and Tipu Sultan: In the 18th century, Mysore witnessed the rule of Hyder Ali and his son Tipu Sultan. They expanded the territory of the Kingdom of Mysore and introduced administrative reforms. Tipu Sultan, known as the "Tiger of Mysore," fiercely resisted British colonial rule and fought against the East India Company in a series of wars, known as the Anglo-Mysore Wars.
British Rule and Independence: Following the death of Tipu Sultan in 1799, the British East India Company gained control over Mysore. The Wadiyars were allowed to continue as nominal rulers under the British suzerainty. During the British colonial period, Mysore witnessed several socio-economic and infrastructure developments, including the establishment of educational institutions and the modernization of the city.
Post-Independence: After India gained independence in 1947, Mysore became part of the newly formed state of Mysore, which was later renamed Karnataka. The city continued to grow and develop as a major cultural, educational, and administrative center in southern India. In 1973, the city's name was changed to Mysuru, but it is still commonly referred to as Mysore.
Mysore's rich history is reflected in its architectural marvels, including the magnificent Mysore Palace, forts, temples, and other historical monuments. The city's cultural heritage, festivals, and traditional art forms have also contributed to its enduring charm. Today, Mysore stands as a vibrant city that seamlessly blends its historical past with modern development.
Tech Scene
Mysore, although not as widely recognized as major IT hubs like Bangalore or Chennai, has been experiencing growth in its tech scene in recent years. The city is gradually emerging as a destination for technology-based industries, IT services, and software development. Here's an overview of the tech scene in Mysore:
IT Parks and Tech Infrastructure: Mysore has witnessed the development of dedicated IT parks and infrastructure to support the growth of the tech sector. The Mysore IT Park and Software Technology Parks of India (STPI) Mysore are notable examples. These tech parks provide office spaces, facilities, and a conducive environment for IT companies to operate.
Software Development and IT Services: Mysore is home to a growing number of IT companies that offer software development, IT consulting, and outsourcing services. These companies cater to both domestic and international clients, providing solutions in areas such as application development, software testing, web development, and enterprise solutions.
Skill Development and Training Centers: Mysore has established skill development centers and training institutes to enhance the technical capabilities of its workforce. These centers offer courses and training programs in various IT domains, including programming languages, web development, software testing, and data analytics. The emphasis on skill development contributes to the growth of the tech talent pool in the city.
Startup Ecosystem: Mysore has witnessed the emergence of a startup ecosystem, fostering innovation and entrepreneurship in the tech sector. The city provides support through incubators, mentorship programs, and networking opportunities for aspiring entrepreneurs and startups. The focus is on areas such as software development, e-commerce, digital marketing, and technology- enabled services.
Government Initiatives: The government of Karnataka has been proactive in promoting the growth of the tech sector in Mysore. Initiatives such as the "IT Policy" and "Digital Karnataka" aim to attract investments, encourage entrepreneurship, and create a favorable business environment for IT companies and startups in the region. These initiatives provide financial incentives, infrastructure support, and ecosystem development for the tech industry.
Educational Institutions: Mysore's educational institutions, such as the University of Mysore and various engineering colleges, play a vital role in nurturing the tech talent pool. These institutions offer courses in computer science, information technology, and related fields, providing a skilled workforce for the growing tech sector.
While the tech scene in Mysore is still evolving, the city's focus on infrastructure development, skill enhancement, and support for startups indicates promising opportunities for growth in the tech sector. The combination of IT companies, educational institutions, government initiatives, and a supportive ecosystem positions Mysore as an emerging player in the technology landscape.
Best IT Companies in Mysore
Mysore, although not as well-known as major IT hubs like Bangalore or Hyderabad, is home to several IT companies that contribute to the city's growing tech sector. While the list provided below is not exhaustive, it highlights some notable IT companies in Mysore:
1. Infosys:

Infosys, a global IT and consulting company, has a presence in Mysore. It provides IT consulting, software development, and business solutions to clients worldwide.

2. Larsen & Toubro Infotech (LTI):

LTI is a multinational IT services and solutions company that operates in Mysore. It offers services in software development, infrastructure management, and digital transformation. Excelsoft Technologies: Excelsoft Technologies is an IT company based in Mysore that specializes in e-learning solutions, educational technology, and content development.

3. Reliance Jio Infocomm:

Reliance Jio, a subsidiary of Reliance Industries, has a presence in Mysore. It is a leading telecommunications company that offers a range of digital services, including mobile networks, broadband, and digital applications.

4. Software Paradigms International (SPI):

SPI is an IT services and solutions company with a presence in Mysore. It provides software development, application management, and IT consulting services.

5. Win Information Technology:

WinIT is an IT company based in Mysore that specializes in software development, web development, and mobile application development.

6. Exterro R&D Pvt. Ltd.:

Exterro R&D is an IT company in Mysore that focuses on software development, testing, and quality assurance services.

7. Klouddata Inc.:

Klouddata is an IT services company with a presence in Mysore. It offers digital transformation, cloud services, data analytics, and software development solutions.

8. Sparsh Communications:

Sparsh Communications is an IT company based in Mysore that provides networking and communication solutions, including wireless networking, security systems, and network infrastructure services.
Overview of IT Jobs in Mysore
IT professionals in Mysore have promising opportunities for career progression and development in the field of Information Technology. The city's growing tech sector, presence of IT companies, and supportive ecosystem provide a platform for professionals to advance their careers. Here's an overview of how IT jobs can progress and develop over time in Mysore:
Entry-Level Positions: Fresh graduates or individuals starting their careers in IT can find entry-level positions in Mysore. These roles may include software developers, web designers, quality assurance analysts, system administrators, and technical support associates. In these positions, individuals gain practical experience, develop technical skills, and learn industry best practices.
Skill Development and Specialization: IT professionals in Mysore have opportunities to develop specialized skills and expertise. They can focus on specific technologies such as software development, web development, data analytics, cybersecurity, cloud computing, or artificial intelligence (AI). Acquiring certifications, attending workshops, and participating in online courses can help professionals enhance their skill set and stand out in the competitive IT industry.
Mid-Level Positions: With a few years of experience and expertise, IT professionals in Mysore can progress to mid-level positions. These roles may include software engineers, database administrators, network administrators, project coordinators, and business analysts. Professionals at this level work on complex projects, lead teams, and contribute to the development and implementation of IT solutions.
Leadership and Management Roles: As professionals gain more experience and demonstrate leadership skills, they can move into management positions. These roles include IT managers, project managers, team leads, and department heads. Professionals in these positions oversee teams, manage projects, set strategic goals, and ensure efficient IT operations within organizations.
Entrepreneurship and Startups: Mysore's growing startup ecosystem provides opportunities for IT professionals to venture into entrepreneurship or join early- stage startups. The city offers incubators, mentorship programs, and networking platforms that support innovation and collaboration. Starting a tech venture or joining a startup allows professionals to innovate, work on exciting projects, and potentially experience significant career growth.
Continuous Learning and Networking: Continuous learning and networking are crucial for IT professionals in Mysore to stay competitive in the industry.
Professionals can attend tech events, conferences, and meetups to expand their knowledge, network with industry experts, and stay updated with the latest trends. Engaging in tech communities, online forums, and knowledge-sharing platforms can help professionals enhance their skills and build valuable connections.
Mysore's growing tech sector, presence of IT companies, and supportive ecosystem provide ample opportunities for IT professionals to progress and develop their careers over time. By continuously updating their skills, embracing emerging technologies, and seeking new challenges, professionals in Mysore can achieve significant growth in their IT careers.
Salary of Software Engineer in Mysore
salaries in IT companies in Mysore vary based on factors such as company size, industry, job role, experience level, and educational qualifications. For entry- level positions, fresh graduates can expect salaries ranging from approximately INR 2 lakh to INR 4 lakh per annum. Mid-level professionals with a few years of experience can earn salaries ranging from approximately INR 4 lakh to INR 8 lakh per annum. Senior-level positions, such as IT managers and project managers, offer salaries ranging from approximately INR 8 lakh to INR 20 lakh or more per annum. Professionals with expertise in specialized technologies like cloud computing, data analytics, AI, and cybersecurity can command higher salaries, ranging from approximately INR 6 lakh to INR 25 lakh or more per annum. It's important to consider factors such as compensation structures, industry demand, and negotiation skills when assessing salary ranges in the IT industry in Mysore. Researching specific companies, consulting industry reports, and professional networks can provide more accurate insights into the compensation packages offered by IT companies in Mysore.