Reasons why Financial Analytics is Becoming More Important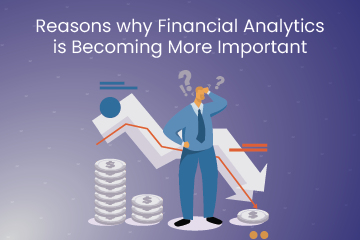 Financial analytics is defined as the process of analytics that provides different perspectives on the financial data of a business. It provides us with detailed knowledge and strategies to improve business and overall performance. Financial analytics gives answers to all unanswerable questions and provides key insights into the smooth running of a business.
Financial analysts are expected to grow 9% by 2031 according to the U.S. Bureau of Labour Statistics. Financial analytics can dissect all the information that involves financial data to determine where a company stands in the competition and provides numerous ways toward improvement. This is done by helping the companies to take the right decisions for their smooth running.
Ability to answer specific business questions and forecast all potential troubles is made possible by financial analytics. This is why companies in entrust financial analysts and allow their insights to aid them in the decision-making process.
So, what is Financial Analytics?
It is a sub-division of BI (Business Intelligence) and EPM (Enterprise Performance Management). Financial analytics affects all aspects of a business and decision-making processes. To allow growth, development, and overall improvement of a company. Today's world is extremely competitive, and companies require more than just a statement or a report. Companies now require insights, forecasts, and predictions that will be essential in the decision-making process. In short, every company relies on financial data analysts for determining the fate of the company.
Over the years, companies have understood the importance of financial data analysis and now every company strictly follows all the insights and advice provided by financial data analysts. Financial data analytics can bring about various perspectives on a problem and solve the problem accordingly. This means numerous approaches (provided by financial data analysts), more than just the well-known, traditional ones can be encouraged by companies for the overall success of the company.
CFOs (Chief Financial Officers) are now becoming the reason behind the growth of a company. They are the determinant of the overall development of a business. Financial data analysis helps businesses answer unanswerable questions. Predicting risks, streamlining, and enhancing a business process to increase efficiency, investing in the right opportunities, forecasting profits, future events, potential troubles, etc are all the objectives of financial data analytics.
Financial analytics provides the ability to see into the foreseeable future and convert large amounts of data into useful pieces of information from which insights can be derived. Further, putting the puzzle pieces together and providing key insights aid in the improvement of a company. These large amounts of data are put to good use by financial data analysts which means they are analysed thoroughly to find outcomes for the enhancement of a business. Financial analytics allows the company heads to be confident about the decision-making process. Financial data analysis begins with the identification of critical problems affecting overall profits and performance. This identification step allows financial data analysts to come face-to-face with all the business problems. Identification then leads financial analysts to look for solutions and overcome these problems.
Identification of areas that require careful consideration and improvements is done by financial data analysts. They focus on these problems and come up with strategic solutions that will ensure that a business is moving forward smoothly. Careful analysis, organization and management of data should also be followed by these analysts as all the answers lie in the large amounts of data that they are analysing. Using unique strategies, solving business problems, and finally pitching in the decision-making processes are all the objectives of a financial data analyst.
Learn the core concepts of Data Analytics Course video on Youtube:
Six key types of Financial Data Analytics
Cash Flow - This helps companies in managing finances and avoid any situation that catches them off-guard.
Customer Profitability - Understanding trends and patterns in profitability and finding ways to improve them.
Accurate Sales Forecast - This is essential to drive profits and manage the overall performance of a business.
Profitability of Products and Channels - These probabilities help in the decision-making process and aid in the enhancement process to obtain higher efficiency and profit.
Shareholder value - Increasing shareholder trust by giving them a clear picture of ROI.
Leading Indicators - Financial analytics provides leading indicators regarding the present performance of the company and predicts the path of the business whether it is leading towards success or not.
What are some important Financial Analytics Tools?
Some basic tools are required for financial analytics to run smoothly. They are:
Common Size Statement - This refers to the identification of how resources are distributed. It aids in determining the profits of the company as well.
Comparative Financial Statement - Comparison of financial statements over time allows companies to identify trends and make amends.
Ratio Analysis - Quantitative financial data analysis method to provide insights, efficiency, and profitability details.
Benchmark Analysis - Comparison with the competitors to ensure that their company is staying in the competition loop. This increases the overall efficiency and performance of the company.
Core Capabilities of Financial Data Analytics
Agility
Sustainability
Extensibility
Predictability
Accountability
CFOs and Financial Analytics
Companies have understood the importance of Financial Analytics and they are moving towards using utilizing Financial Data Analytics for increasing and enhancing business performance. CFOs entirely relied on historical data and traditional methods of analytics before the incorporation of technology.
Using data analytics, machine learning and automation for financial data analytics increased the speed and efficiency of producing results. Quick analysis and better decision-making processes are now possible because of technology. CFOs are now experts who can make this happen.
Forecasting, improvements in overall performance, increased profits and important insights for the decision-making process are all provided by CFOs.
Important types of Financial Analysis
Horizontal Analysis - Side-by-side comparison of the financial performance of different companies for using this information for financial analysis.
Vertical Analysis - Proportional analysis of financial statements.
Short-term Analysis - Detailed review of turnover rates and differentiating between long-term turnovers.
Multi-company Comparison - To determine the financial strengths and weaknesses of a company.
Industry Comparison - Comparison of results of an entire industry.
Popular Financial Analysis software programs
Oracle Financial Analytics: Modular component of Oracle's integrated family under business intelligence. Provides insights into the ledger and visibility into performance.
SAP ERP Financial Analytics: Define financial goals, help develop business plans and monitoring of costs and revenue.
SAS Business Analytics: Data mining, text mining, simulation and predictive modelling, descriptive modelling, mathematical model, etc.
IBM Cognos Finance: Out-of-the-box data analysis for sales, supply chain and workforce management.
NetSuite: Financial dashboards, reports and analytical functions.
MATLAB: allows developers to interface with programs of different languages.
Importance of Financial Data Analytics
Determination of risks a company faces beforehand.
Figuring out ways to enhance and extend business processes.
Ensuring businesses are run more efficiently by providing key inputs.
Ensuring the company's investments are going in the right direction.
Rethinking strategies of the company to solve problems and support business decisions.
Examination of profitability of products to ensure the bar of profits is kept high.
Increase profitability by proper and scrutinized analysis.
Figuring out what impacts business on a long-term basis.
Improving the aspects of business that affect the future and growth of a business.
It also aids in preventing costly turnovers.
Financial analysts address questions and provide required answers.
They help in developing new and unique business processes.
They assist managers and other heads by helping with their tasks and providing solutions.
Financial analytics provides an integrated analysis of data which will provide necessary outcomes.
It adds a certain value to a business.
It provides insights into areas that need improvement.
It increases transparency, trust, confidence and productivity all at one go.
Predictive analysis and forecasting aid in staying ahead of competitors.
Forecasting and prediction allow businesses to understand what areas they need to work on and improve.
Financial analytics gives businesses an overview of overall performance and allows businesses to manage and improve their tasks and work ethic according to the results.
Detailed insights into the financial health of a business.
Details explanations of profits and how to remove them.
Figuring out future risks beforehand aids in improvements.
The most important aspect of Financial analytics is Financial analysts making businesses hold accountability and enhancing their performances accordingly.
Ability to evaluate financial trends and formulation of effective solutions to business problems in the long run.
Financial data analysts save a business from making a bad decision that will impact the profits or the company's reputation as a whole.
Predictive analysis provides many advantages to improve businesses' performance.
Financial data analysis and financial data analysts provide effective and unique inputs which will help a company to avoid spending plenty of money, bad decisions, and a decline in the profits of a business
What are the objectives of a CFO in Financial Analytics?
Financial analysis provides a lot of information concerning a company's performance. Progress and smooth running of financial operations depend on the results of financial data analytics. The CFOs look after the financial data analysis and provide results to the heads for the data-driven decision-making process.
Sales - CFOs should look at the sales while conducting any form of analytics. Growth in sales and drop in sales both should be given importance. Especially the drop in sales should be looked into and analysed for providing better results in the future
Revenue per employee - Understanding the maturity of the company and if the performance is going smoothly is done by calculating the revenue of each employee. This is also done by CFOs using various analysis techniques.
Margins - CFOs conduct financial analysis to understand profits and gross margins. These gross margins are critical to income statements.
Return - Return on Equity is another objective one should have before conducting financial analytics.
Cash Flow - Most important objective of the analysis is to understand the cash flow. It is important to turn this cash flow into profits.
The future of Financial Analytics
Today, the financial analytics capabilities of a company also determine its success rate. This ability to use data and provide meaningful insights to enhance a company's performance is a boon to all businesses. To meet today's challenges in the corporate realm, the incorporation of financial analytics is essential.
Making use of traditional approaches and strategies will no longer serve businesses because of how fast the world is moving and developing. To keep up with the pace and also to stay in the competition loop, companies should realize the importance of financial analytics and allow them to aid in the decision-making process for better and more confident results.
Conclusion
We have thoroughly understood the importance of Financial Data Analytics and Financial Data Analysts. They have a prime role to play in the improvement and development of a company. Companies should trust their financial data analysts and their results because their analysis holds all the keys to solving most business problems.
Financial Data Analysts play a significant role in determining a company's performance and their inputs should be given utmost importance. Their inputs should be understood and considered while a decision is taken. These analysts' sole motive is to improve and enhance the business performance and ensure that a business is ready for all potential troubles. In this way, businesses can prepare themselves for what's next and prepare a strategy to avoid such troubles or find a way to solve them. All of this can only be possible if financial data analysts are given the resources to conduct analysis.
Forecasts, predictions and insights allow a business to stay one step ahead of its competitors and also improve its performance respectively. The only way businesses can improve and enhance their performance is by coming to terms with all the potential troubles. It is important to engage all the people responsible for bringing about this change for improvements in overall performance.
Financial analysts also answer all the questions raised by the employees and heads and provide different perspectives on how to solve or avoid potential troubles. They are an asset for every business as they aid in enhancement.
Click here to learn Data Science Course Syllabus, Data Science Training in Hyderabad, Data Science Course Fees in Bangalore
Data Science Placement Success Story
Data Science Training Institutes in Other Locations
Agra
,
Ahmedabad
,
Amritsar
,
Anand
,
Anantapur
,
Bangalore
,
Bhopal
,
Bhubaneswar
,
Chengalpattu
,
Chennai
,
Cochin
,
Dehradun
,
Malaysia
,
Dombivli
,
Durgapur
,
Ernakulam
,
Erode
,
Gandhinagar
,
Ghaziabad
,
Gorakhpur
,
Gwalior
,
Hebbal
,
Hyderabad
,
Jabalpur
,
Jalandhar
,
Jammu
,
Jamshedpur
,
Jodhpur
,
Khammam
,
Kolhapur
,
Kothrud
,
Ludhiana
,
Madurai
,
Meerut
,
Mohali
,
Moradabad
,
Noida
,
Pimpri
,
Pondicherry
,
Pune
,
Rajkot
,
Ranchi
,
Rohtak
,
Roorkee
,
Rourkela
,
Shimla
,
Shimoga
,
Siliguri
,
Srinagar
,
Thane
,
Thiruvananthapuram
,
Tiruchchirappalli
,
Trichur
,
Udaipur
,
Yelahanka
,
Andhra Pradesh
,
Anna Nagar
,
Bhilai
,
Borivali
,
Calicut
,
Chandigarh
,
Chromepet
,
Coimbatore
,
Dilsukhnagar
,
ECIL
,
Faridabad
,
Greater Warangal
,
Guduvanchery
,
Guntur
,
Gurgaon
,
Guwahati
,
Hoodi
,
Indore
,
Jaipur
,
Kalaburagi
,
Kanpur
,
Kharadi
,
Kochi
,
Kolkata
,
Kompally
,
Lucknow
,
Mangalore
,
Mumbai
,
Mysore
,
Nagpur
,
Nashik
,
Navi Mumbai
,
Patna
,
Porur
,
Raipur
,
Salem
,
Surat
,
Thoraipakkam
,
Trichy
,
Uppal
,
Vadodara
,
Varanasi
,
Vijayawada
,
Vizag
,
Tirunelveli
,
Aurangabad
Data Analyst Courses in Other Locations
ECIL
,
Jaipur
,
Pune
,
Gurgaon
,
Salem
,
Surat
,
Agra
,
Ahmedabad
,
Amritsar
,
Anand
,
Anantapur
,
Andhra Pradesh
,
Anna Nagar
,
Aurangabad
,
Bhilai
,
Bhopal
,
Bhubaneswar
,
Borivali
,
Calicut
,
Cochin
,
Chengalpattu
,
Dehradun
,
Dombivli
,
Durgapur
,
Ernakulam
,
Erode
,
Gandhinagar
,
Ghaziabad
,
Gorakhpur
,
Guduvanchery
,
Gwalior
,
Hebbal
,
Hoodi
,
Indore
,
Jabalpur
,
Jaipur
,
Jalandhar
,
Jammu
,
Jamshedpur
,
Jodhpur
,
Kanpur
,
Khammam
,
Kochi
,
Kolhapur
,
Kolkata
,
Kothrud
,
Ludhiana
,
Madurai
,
Mangalore
,
Meerut
,
Mohali
,
Moradabad
,
Pimpri
,
Pondicherry
,
Porur
,
Rajkot
,
Ranchi
,
Rohtak
,
Roorkee
,
Rourkela
,
Shimla
,
Shimoga
,
Siliguri
,
Srinagar
,
Thoraipakkam
,
Tiruchirappalli
,
Tirunelveli
,
Trichur
,
Trichy
,
Udaipur
,
Vijayawada
,
Vizag
,
Warangal
,
Chennai
,
Coimbatore
,
Delhi
,
Dilsukhnagar
,
Hyderabad
,
Kalyan
,
Nagpur
,
Noida
,
Thane
,
Thiruvananthapuram
,
Uppal
,
Kompally
,
Bangalore
,
Chandigarh
,
Chromepet
,
Faridabad
,
Guntur
,
Guwahati
,
Kharadi
,
Lucknow
,
Mumbai
,
Mysore
,
Nashik
,
Navi Mumbai
,
Patna
,
Pune
,
Raipur
,
Vadodara
,
Varanasi
,
Yelahanka
Navigate to Address
360DigiTMG - Data Analytics, Data Science Course Training in Chennai
D.No: C1, No.3, 3rd Floor, State Highway 49A, 330, Rajiv Gandhi Salai, NJK Avenue, Thoraipakkam, Tamil Nadu 600097
1800-212-654-321