What are the Courses which Fetch Jobs Post-Pandemic?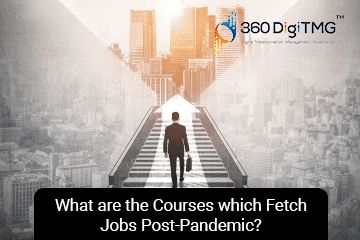 The COVID-19 epidemic has paralysed society on a global scale. Social estrangement has prevented many industries' employees from working remotely by implementing safety precautions like lockdowns. Advanced technologies have emerged as the ideal solution because it needed some time to deal with the uncertain circumstance. People may work from home, kids can take online lessons, and people can buy while relaxing in their own homes. Courts are able to handle ongoing cases online, and even governments are able to keep an eye on the situation and take the necessary precautions to reduce the chance of the virus spreading.
Click here to explore 360DigiTMG.
Source:https://www.simpli-fi.co.uk/
Although this epidemic has caused a great deal of damage, we cannot deny that it has contributed to raising awareness of the significance of these new technologies in many countries throughout the world.
With the aid of technologies like Big Data, Cloud, and AI, many organisations have realised the value of data and learned how to use it efficiently. They have also learned how to reduce cybersecurity concerns.
The majority of organisations have begun to migrate towards digital transformation, and additional organisations will follow suit as a result of this epidemic. This new technology will surely open up fantastic work chances for you in the near future.
Click here to Learn Data Science Training in Chennai
Source:https://helvar.com/
Data Science
Many IT companies have initiated the work from home culture as a result of this COVID-19 pandemic, this has spiked the usage of data globally. As per the statistics, the global data has risen to 38% when compared to past years. There is a huge opportunity and demand for people who have in-depth knowledge of Data Science. The demand for Data Engineers, Data Scientists, Data Analysts, Machine Learning/AI Engineers who can churn the massive amounts of data and draw valuable insights will surge in the next few months.
Click here to learn Data Science in Hyderabad, Data Science in Bangalore
Cloud Computing
Businesses now recognise the advantages of cloud computing platforms. For the cloud, many rely on outsources. According to forecasts made by Gartner in November 2019, the public cloud market will grow to 17% in 2020. Furthermore, according to the Insistent report, 67% of CIOs believe that moving to the cloud should be the top priority. Up to $145 billion is predicted for the cloud computing sector. The dependence on public cloud services will increase further as a result of the COVID-19 epidemic. It is reasonable to assume that there will be a large need for cloud computing experts and cloud architects.
Click here to learn Machine Learning in Bangalore
Cybersecurity
85% of the CIO's opinion is that security will be the highest priority as per the recent study. But due to COVID-19, most of the employees of organizations are working from home. This has lead to a threat/risk for safeguarding the company's data due to less secure wifi connections. As cybersecurity is more essential towards protecting the data from cyber attacks, there would be much demand for cybersecurity engineers/architects in near future.
Click here to learn Machine Learning in Hyderabad
Digital Marketing
Online services are being used by consumers to purchase and obtain information. This has made it possible for businesses to increase ROI. Companies are able to develop their brand image and advertise their products in accordance with customers' preferences and interests by using numerous social media platforms for marketing. This will increase demand for SEO experts, digital marketers, email marketing gurus, and managers of digital marketing by three times.
Click here to learn Artificial Intelligence in Bangalore, Artificial Intelligence in Hyderabad
Business Analysts
Most of the businesses are shifting towards digitization, which includes Education, Retail, Health care, hotels, and many more. As shifting towards digital is rising the need for Business analysts. U.S. Bureau of labor statistics estimated that the demand for analysts including business analysts will rise to 14.5%. So, there would be a high demand for professional Business Analysts in the coming days.
Click here to Learn Data Science Training in Pune
The firm has altered the nature of its activities in response to the COVID-19 and has begun fast adjusting to the new standard. Even while digitalization has been advancing over the past ten years, it will now accelerate quickly. For those with strong digital abilities, this will open up a tonne of options. The moment is right for people who are looking for work or want to advance in their careers to receive training in the cutting-edge technologies mentioned above. To enhance their performance and advance to top positions within their organisations, even staff must upgrade their skill sets.
World-class training in cutting-edge technologies is offered by 360DigiTMG Malaysia, including Data Science, Artificial Intelligence, Digital Marketing, Cybersecurity Analytics, and many more. Top industry professionals carefully develop the programme. These programmes are all HRDF-reimbursable. Learn digital skills so you may succeed in your profession.
Click here to learn Data Science Course, Data Science Course in Hyderabad, Data Science Course in Bangalore
Data Science Training Institutes in Other Locations
Agra
,
Ahmedabad
,
Amritsar
,
Anand
,
Anantapur
,
Bangalore
,
Bhopal
,
Bhubaneswar
,
Chengalpattu
,
Chennai
,
Cochin
,
Dehradun
,
Malaysia
,
Dombivli
,
Durgapur
,
Ernakulam
,
Erode
,
Gandhinagar
,
Ghaziabad
,
Gorakhpur
,
Gwalior
,
Hebbal
,
Hyderabad
,
Jabalpur
,
Jalandhar
,
Jammu
,
Jamshedpur
,
Jodhpur
,
Khammam
,
Kolhapur
,
Kothrud
,
Ludhiana
,
Madurai
,
Meerut
,
Mohali
,
Moradabad
,
Noida
,
Pimpri
,
Pondicherry
,
Pune
,
Rajkot
,
Ranchi
,
Rohtak
,
Roorkee
,
Rourkela
,
Shimla
,
Shimoga
,
Siliguri
,
Srinagar
,
Thane
,
Thiruvananthapuram
,
Tiruchchirappalli
,
Trichur
,
Udaipur
,
Yelahanka
,
Andhra Pradesh
,
Anna Nagar
,
Bhilai
,
Borivali
,
Calicut
,
Chandigarh
,
Chromepet
,
Coimbatore
,
Dilsukhnagar
,
ECIL
,
Faridabad
,
Greater Warangal
,
Guduvanchery
,
Guntur
,
Gurgaon
,
Guwahati
,
Hoodi
,
Indore
,
Jaipur
,
Kalaburagi
,
Kanpur
,
Kharadi
,
Kochi
,
Kolkata
,
Kompally
,
Lucknow
,
Mangalore
,
Mumbai
,
Mysore
,
Nagpur
,
Nashik
,
Navi Mumbai
,
Patna
,
Porur
,
Raipur
,
Salem
,
Surat
,
Thoraipakkam
,
Trichy
,
Uppal
,
Vadodara
,
Varanasi
,
Vijayawada
,
Vizag
,
Tirunelveli
,
Aurangabad
Navigate to Address
360DigiTMG - Data Science Course, Data Scientist Course Training in Chennai
D.No: C1, No.3, 3rd Floor, State Highway 49A, 330, Rajiv Gandhi Salai, NJK Avenue, Thoraipakkam, Tamil Nadu 600097
1800-212-654-321