Cyber Security - The Connected Age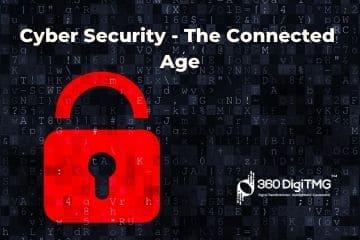 Given that the current generation relies heavily on the internet and that cyberattacks are developing quickly, it is a golden period for hackers. Given the prevalence of hostile hackers that target sensitive data, electronic systems, mobile devices, software, and computers, cyber security has emerged as one of the most pressing global demands. Cybersecurity is the process of defending data and networks from cyberattacks, which are posing a growing threat to businesses, employees, and customers. To improve productivity, the majority of firms today have incorporated cyber security solutions into their operations and procedures. It has been observed that putting in place the proper security measures may stop the majority of these attempts. Attacks by hackers on businesses that are trusted with sensitive financial data frequently result in the loss of important data, costly repairs, and diminished client confidence. The need for methods that may be used to safeguard the integrity of data, networks, and programmes against unauthorised access, assault, or damage has now arisen. We require cybersecurity in this situation in order to protect the integrity and confidentiality of our data.
What is Cybersecurity?
Cyber security refers to the process of safeguarding data centres and other computerized systems from cyber-attacks and data breaches in regards to unauthorized access, deletion, and modification of data and aid in identifying and managing risk. The most effective way to protect yourself from these threats and attacks is knowing the various practices of cyber security so that one can prevent and detect unauthorized use of your computer system. Cyber security has become critical to the framework of any modern business from securing various processes to risk management to application security to investigations and to compliance. Among other benefits of cyber security includes protecting the systems against viruses, worms, spyware and protecting the computer from freezing or crashing. Cyber security is achieved through an infrastructure that is divided into three layers, IT security, cyber security, and computer security.
IT Security - This covers safeguarding both digital and tangible data, i.e., both during storage and network transmission.
Cyber Security - Cyber Security which is a subset of IT security is responsible for protecting the digital data on your computers, networks, and devices.
Computer Security - This kind of protection is used to safeguard computer hardware and software, which together form the IT infrastructure.
Click here to Learn Data Science Training in Chennai
Types of Cyber Security
Infrastructure Security – This includes cyber-physical systems like electricity grid, traffic lights, water purification, malls, hospitals, etc. Organizations handling these critical infrastructures should give due diligence to understand the vulnerabilities to this critical infrastructure which is vital to our society's safety and well-being.
Network Security- Network Security entails safeguarding infrastructure using fresh, strong passwords in order to defend computer networks from hackers. In order to efficiently and effectively identify harmful and unusual traffic, all businesses nowadays are implementing cutting-edge technology like machine learning and utilising tools like intrusion detection systems.Application Security- Application security is among the must-have security measures one must adopt during the design stage to protect their systems like antivirus programs, firewalls, encryption programs that prevent unauthorized access.
Click here to Learn Data Science Training in Pune
Cloud Security- This entails safeguarding and keeping track of the data stored in your cloud resources. Organisations have embraced this technology in large numbers so they can now have a secure backup of their data. Without the expense and effort required to maintain data centres, the risk of security breaches is also very low.
Internet of Things Security - This includes protecting the physical devices such as sensors, televisions, printers, security cameras as well as the networks they're connected to. This new technology is being integrated in many organizations.
Scope of Cyber Security
Given that cybercrime is one of the crimes that are now ravaging the planet, there is a vast opportunity for cyber security. Institutions like the military, government agencies, financial institutions, the banking industry, etc. must secure sensitive and confidential information. Therefore, there will be a need for millions of thousands of cyber security experts in the future. As the number of internet-connected devices rises and wireless technologies like 5G offer many benefits, including good performance, ultra-low latency, higher speed, good performance, more reliability, and massive network capacity, they also significantly increase the risk of cyberattacks. According to Cisco IBSG research, there will likely be 60 billion internet-connected gadgets by 2021. Failure to adopt appropriate cybersecurity technologies exposes your business to a variety of online risks.
Conclusion
It should go without saying that the rate at which cybercrime is increasing is concerning, and we are currently seeing the steady emergence of an online society in which there are no local sheriffs or police to keep us safe online. Cybersecurity is now of utmost importance to any nation's corporate and national interests since cyberattacks and digital eavesdropping have overtaken terrorism as a key worry for countries worldwide. There is an urgent need to create solutions that can deal with these dangers at an advanced level as more organisations use technology and the internet of things. Protecting data, systems, networks, and programmes against unauthorised access, modification, or destruction is the core goal of cyber security. For those with some strategic IT credentials, there are now millions of vacant cybersecurity opportunities in the US and countless more across the world. It is an interesting and rewarding sector with big payoffs.
Cyber Security Course Training Institutes in Other Locations
Agra, Ahmedabad, Amritsar, Anand, Anantapur, Bangalore, Bhopal, Bhubaneswar, Chengalpattu, Chennai, Cochin, Dehradun, Dombivli, Durgapur, Ernakulam, Erode, Gandhinagar, Ghaziabad, Gorakhpur, Gwalior, Hyderabad, Jabalpur, Jalandhar, Jammu, Jamshedpur, Jodhpur, Khammam, Kolhapur, Kothrud, Ludhiana, Madurai, Meerut, Mohali, Moradabad, Noida, Pimpri, Pondicherry, Pune, Ranchi, Rohtak, Roorkee, Rourkela, Shimla, Shimoga, Siliguri, Srinagar, Thane, Thiruvananthapuram, Tiruchchirappalli, Trichur, Udaipur, Yelahanka, Andhra Pradesh, Anna Nagar, Bhilai, Calicut, Chandigarh, Chromepet, Coimbatore, Dilsukhnagar, ECIL, Faridabad, Greater Warangal, Guduvanchery, Guntur, Gurgaon, Guwahati, Indore, Jaipur, Kalaburagi, Kanpur, Kharadi, Kochi, Kolkata, Kompally, Lucknow, Mangalore, Mumbai, Mysore, Nagpur, Nashik, Navi Mumbai, Patna, Porur, Raipur, Salem, Surat, Thoraipakkam, Trichy, Uppal, Vadodara, Varanasi, Vijayawada, Vizag, Tirunelveli, Aurangabad
Navigate to Address
360DigiTMG - Data Analytics, Data Science Course Training Hyderabad
2-56/2/19, 3rd floor, Vijaya Towers, near Meridian School, Ayyappa Society Rd, Madhapur, Hyderabad, Telangana 500081
099899 94319