Cloud Computing Architecture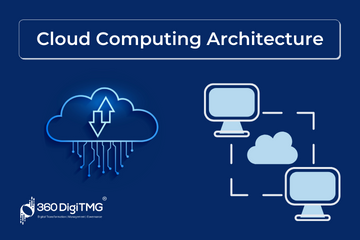 What is Cloud Computing?
The phrase "cloud computing" first appeared in 1997, and Indian professor Ramnath Chellappa is credited with having introduced it and properly defining it as such.
Meaning of Cloud Computing?
When we are accessing servers, networks, and storage services remotely over the internet and process data on them virtually instead of a local server or computer.
Definition of Cloud Computing?
Cloud computing is described as the on-demand provision of computing resources, such as servers, storage space, networks, databases, and other services connected to data centres, as well as software applications, via the internet remotely and without the user's direct active administration. It expects self-service and uses a pay-as-you-go pricing mechanism, which lowers the capital outlay.
Why is Cloud Computing important?
Previously organizations used to manage the data center operations like management and maintenance of the servers, network, and storage of data on their hard drives. They were also responsible for the security of their systems. This way of dealing with the data was not scalable at speed, as the business expands the storage space and the capacity also needs to be increased. For example, if your product gets suddenly popular then more customers will be logging inato your application and get more orders placed. Suddenly if the load increases overnight your servers would crash. For better business means we need better IT capacity available. Click here to learn Data Science Course in Hyderabad
Because the majority of apps are going to be available online, the cloud helps not only corporations but also people. Cloud computing is now used by 90% of the sector, giving you more speed and agility to react, speed up your innovations and company, and simplify operations while lowering costs. Your company will be propelled by cloud computing, which will result in higher growth and sustainable development.
The National Institute of Standards and Technology is shown in the illustration below as a result of cloud computing.
Advantages of cloud computing
Cost Saving: Cloud Computing works on a pay-as-you-go pricing model you can start your business with zero investment and once you are in the cloud, it is easy to access data which saves time and money.
High Speed: With the help of cloud computing, you can easily install all of your servers with a few clicks and in a matter of minutes.
Ease of Accessibility: Cloud resources are accessible from anywhere, everywhere, anytime making it a highly accessible and flexible technology at the current times.
Backup & Restore: When compared to on-premise resources, backing up and restoring data once it has been saved in the cloud would be relatively simple and quick.
Manageability with Ease: Cloud is operated on a shared responsibility model and most of the things like hardware and software maintenance are taken care of by cloud service providers.
Strategic Edge: Technological perspective with cloud computing, you can stay ahead of the competition since you may use the newest services and technology without having to install anything or make any investments. This shifts the emphasis away from technology and onto the business.
Cloud Deployment Models
Who controls the servers you are using depends on the environment, ownership, scalability, access, purpose, and type of usage, which are all specified by cloud deployment models. These describe how your cloud infrastructure is set up, what you can alter, what the servers will receive, and/or everything you can modify.
There are 3 main deployment models
Public Cloud Deployment
Private Cloud Deployment
Hybrid Cloud Deployment
Public Cloud Deployment
If you are using the Internet to access compute resources that are controlled and maintained by a third-party cloud service provider and accessible to the general public or significant industry organisations. Hyper Scalars are the biggest cloud service providers with enormous data centres that allow for significant scalability. There are four bugs. Amazon Web Services, Microsoft Azure, Google Cloud Platform, and Alibaba Cloud are examples of hyper scalars and are referred to as MAAGs together. A form of cloud hosting service called public cloud deployment allows users and clients to quickly access services and systems. This model offers free storage, backup, and retrieval options.
Advantages of Public Cloud
Minimal Investment: we can start our business from zero investment as the services are on a pay-as-you-go pricing model and no upfront hardware need to be set up.
Dynamic Scalability: for your business needs resources are accessible on an on-demand basis and flexible to use
No Maintenance: Maintenance is taken care of by Cloud Service Provider
Private Cloud Deployment Model
When large organizations are concerned about privacy and security and do not want to share the resources like Public Cloud. Best for one-on-one usage for a single user or customer. Infrastructure like Servers, Storage, and Databases are all maintained by the Organization themselves, and resources are accessed over the internet or through the internal network of the organization. If you want to own and take complete control of the data and security then is Private Cloud the best deployment for your business needs. The private cloud gives greater flexibility for control over cloud resources. Click here to learn Data Science Training in Bangalore
Advantages of Private Cloud
Better Control: You are the sole owner of the property/IT Infrastructure. You can have complete command over IT Operations, policies, and service integrations.
Data Security and Privacy: Improved security and access can be achieved by segmenting the resources within the same infrastructure.
Customization: in the Private Cloud you customize your solutions as per the requirements
Hybrid Cloud Deployment Model
A hybrid cloud is what businesses employ when they combine multiple cloud infrastructures. You must configure cloud orchestration amongst several deployments in order to build this architecture.
Advantages of Hybrid Cloud
Flexibility and Control: You can design your personalized solutions that meet their business needs.
Cost: as Public Cloud provides scalability you will be paying only for the extra resources consumed.
Security: As the data is separated the chances of Hacking and Data theft are reduced.
Click here to learn Data Science Course, Data Science Course in Hyderabad, Data Science Course in Bangalore
Cloud Computing Training Institutes in Other Locations
Ahmedabad, Bangalore, Chengalpattu, Chennai, Kothrud, Noida, Pune, Thane, Yelahanka, Andhra Pradesh, Anna Nagar, Bhilai, Calicut, Chandigarh, Chromepet, Coimbatore, Dilsukhnagar, ECIL, Faridabad, Greater Warangal, Guduvanchery, Guntur, Gurgaon, Guwahati, Indore, Jaipur, Kalaburagi, Kanpur, Kharadi, Kochi, Kolkata, Kompally, Lucknow, Mangalore, Mumbai, Mysore, Nagpur, Nashik, Navi Mumbai, Patna, Porur, Raipur, Salem, Surat, Thoraipakkam, Trichy, Uppal, Vadodara, Varanasi, Vijayawada, Vizag, Tirunelveli, Aurangabad
Navigate to Address
360DigiTMG - Data Science Course, Data Scientist Course Training in Chennai
D.No: C1, No.3, 3rd Floor, State Highway 49A, 330, Rajiv Gandhi Salai, NJK Avenue, Thoraipakkam, Tamil Nadu 600097
1800-212-654-321