Top 25 IT Companies in Myanmar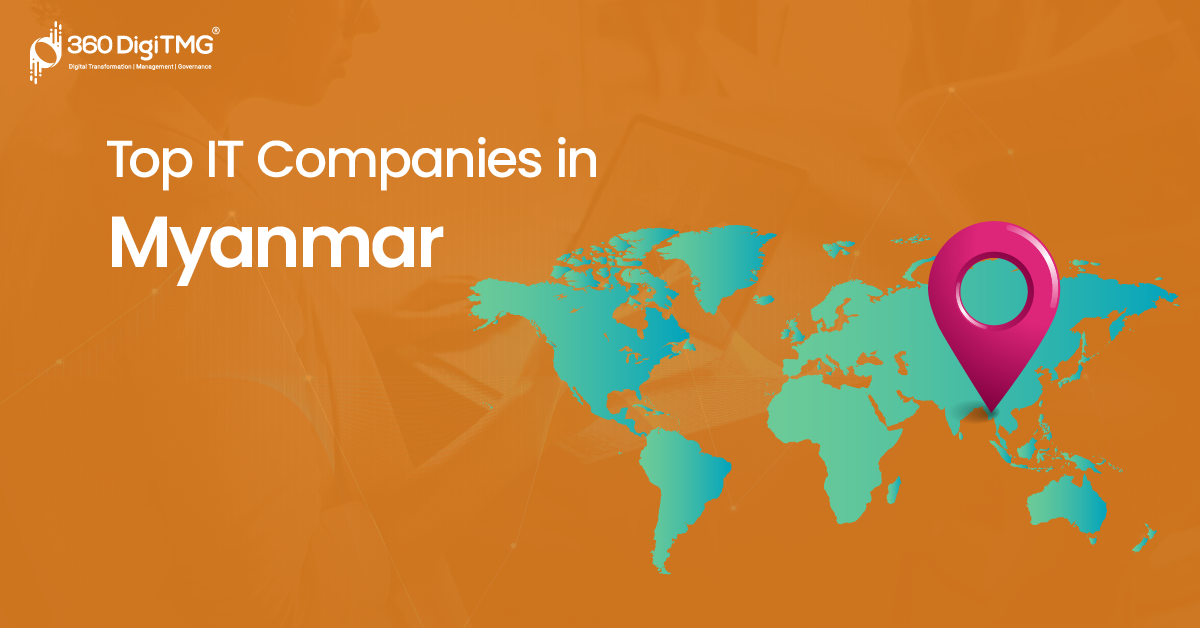 Introduction
Myanmar (formerly Burma) is a Southeast Asian nation of more than 100 ethnic groups, bordering India, Bangladesh, China, Laos and Thailand. Yangon (formerly Rangoon), the country's largest city, is home to bustling markets, numerous parks and lakes, and the towering, gilded Shwedagon Pagoda, which contains Buddhist relics and dates to the 6th century.
The final r in Myanmar was not intended for pronunciation and is there to ensure that the final a is pronounced with the broad ah in "father". officially the Republic of the Union of Myanmar, also known as Burma (the official name until 1989), is a country in Southeast Asia. It is the largest country by area in Mainland Southeast Asia and had a population of about 54 million in 2017. It is bordered by Bangladesh and India to its northwest, China to its northeast, Laos and Thailand to its east and southeast, and the Andaman Sea and the Bay of Bengal to its south and southwest. The country's capital city is Naypyidaw, and its largest city is Yangon (formerly Rangoon).
Early civilisations in the area included the Tibeto-Burman-speaking Pyu city-states in Upper Myanmar and the Mon kingdoms in Lower Myanmar. In the 9th century, the Bamar people entered the upper Irrawaddy valley, and following the establishment of the Pagan Kingdom in the 1050s, the Burmese language, culture, and Theravada Buddhism slowly became dominant in the country. The Pagan Kingdom fell to Mongol invasions, and several warring states emerged. In the 16th century, reunified by the Taungoo dynasty, the country became the largest empire in the history of Southeast Asia for a short period. The early 19th-century Konbaung dynasty ruled over an area that included modern Myanmar and briefly controlled Manipur and Assam as well. The British East India Company seized control of the administration of Myanmar after three Anglo-Burmese Wars in the 19th century, and the country became a British colony. After a brief Japanese occupation, Myanmar was reconquered by the Allies. On 4 January 1948, Myanmar declared independence under the terms of the Burma Independence Act 1947.
History of Myanmar
Archaeological evidence shows that Homo erectus lived in the region now known as Myanmar as early as 750,000 years ago, with no more erectus finds after 75,000 years ago. The first evidence of Homo sapiens is dated to about 25,000 BP with discoveries of stone tools in central Myanmar. Evidence of Neolithic age domestication of plants and animals and the use of polished stone tools dating to sometime between 10,000 and 6,000 BCE has been discovered in the form of cave paintings in Padah-Lin Caves.
The Bronze Age arrived c. 1500 BCE when people in the region were turning copper into bronze, growing rice and domesticating poultry and pigs; they were among the first people in the world to do so. Human remains and artefacts from this era were discovered in Monywa District in the Sagaing Region. The Iron Age began around 500 BCE with the emergence of iron-working settlements in an area south of present-day Mandalay.[58] Evidence also shows the presence of rice-growing settlements of large villages and small towns that traded with their surroundings as far as China between 500 BCE and 200 CE. Iron Age Burmese cultures also had influences from outside sources such as India and Thailand, as seen in their funerary practices concerning child burials. This indicates some form of communication between groups in Myanmar and other places, possibly through trade.
Best IT Companies in Myanmar
The IT industry in Myanmar is continuously evolving, and new companies may have emerged since my last update. Additionally, the political and economic situation in the country may have impacted some businesses. Therefore, I recommend conducting further research or consulting local sources to get the most up-to-date and accurate information about IT companies in Myanmar. The IT landscape in Myanmar is dynamic, and the status of companies may change over time. It's essential to verify the current status and offerings of these companies through their official websites or other reliable sources. Additionally, the political and economic situation in the country may have an impact on the IT industry, so it's crucial to stay informed about any recent developments.
The landscape might have changed since then, so I recommend double-checking for the most up-to-date information:
1. Frontiir:

A prominent internet service provider and technology company in Myanmar, providing connectivity and IT services.

2. Myanma Posts and Telecommunications (MPT):

One of the leading telecommunications operators in Myanmar, offering a range of IT and communication services.

3. Ooredoo Myanmar:

Another major telecommunications company in Myanmar, providing IT and communication solutions to individuals and businesses.

4. Telenor Myanmar:

A telecommunications company that offers mobile and data services and other IT solutions in Myanmar.

5. Redlink Communications:

A local internet service provider and IT company, focusing on connectivity solutions for businesses and individuals.

6. MMT (Myanmar Mobile Technology):

Known for mobile financial services, MMT provides IT solutions related to digital payments and financial technology.

7. Horizon Telecom International (HTI):

Offers IT infrastructure and connectivity services for businesses in Myanmar.

8. Fortune International Limited:

A technology company in Myanmar involved in software development, IT services, and systems integration.

9. Inforithm Technologies:

A software development company offering IT solutions to various industries in Myanmar.

10. Yangon Heartz Solutions:

An IT company specializing in web and mobile application development, as well as software solutions.

11. Myanmar Information Technology (MIT):

An established IT company in Myanmar that provides a wide range of IT services, including software development, system integration, and IT consulting.

12. Yangon Technology Solutions:

Offers IT solutions and services, including web development, mobile apps, and digital marketing.

13. Idea Tomorrow:

A technology and digital marketing agency that offers web design, software development, and digital marketing solutions.

14. Technomation Myanmar:

Provides IT services such as software development, network solutions, and IT infrastructure management.

15. Ultimate Solutions:

An IT company specializing in software development, mobile app development, and IT consulting.

16. MM Dynamic Solutions:

Offers IT solutions for businesses, including software development, enterprise resource planning (ERP), and customer relationship management (CRM) systems.

17. OpenMinds:

A software development company that focuses on creating innovative IT solutions for various industries.

18. Yangon Digital:

Provides web design and development services, as well as digital marketing and IT consulting.

19. Edulink Myanmar:

An IT company that specializes in providing education technology solutions and e-learning platforms.

20. Digital Native (DN):

Offers IT services, including web development, software development, and IT support.

21. Beehive Strategy:

A digital marketing and IT agency that provides services such as social media marketing, SEO, and web development.

22. Golden TMH Telecom Co., Ltd.:

Offers IT infrastructure solutions and telecommunications services to businesses in Myanmar.

23. MMWebs:

A web design and development company that also provides domain registration and hosting services.

24. MRTV-4:

While primarily a television network, MRTV-4 also has an online platform offering digital services and content, making it relevant in the IT space.

25. Creative Fox:

A creative agency that provides IT solutions, including web development and digital branding.
Salary of Software Engineer in Myanmar
The salary range for people working in Myanmar in Information Technology is typically from 297,639 MMK (minimum salary) to 1,271,884 MMK (highest average, actual maximum salary is higher).
Data Science Placement Success Story
Related searches
IT Companies in Myanmar, IT Jobs in Myanmar.