What is the Future of IoT in India?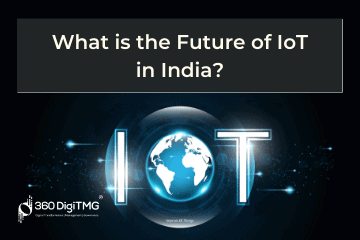 Introduction
The future industrial zone might undergo a change thanks to the Internet of Things (IoT). It has the potential to revolutionise society and create an ecosystem that will benefit all people, turning India into a smart nation. People will have access to everything they request in an IoT-enabled future where society uses resources that are optimised to have little environmental effect. Since the Internet era, the IoT is prepared to bring forth a new technological revolution in India. With its developing technology, the world is becoming digital.
Being a IoT Trainer is just a step away. Check out the Internet of Things Training in Bangalore at 360DigiTMG and get certified today.
Nearly 70% of individuals are now utilising IoT, and more are planning to do so. It implies that IoT has a highly promising future. IoT is still expanding, indicating that it has the ability to flourish despite all the security worries. And the Indian market has been profoundly influenced by this IoT revolution. You may learn about the IoT's future in India in this article. So let's begin investigating IoT's future in India.
Indian Market State
India is growing at full speed as an IoT hub. India has started it at a much later stage than other established countries. But it has got success in IoT in a very short period. And now its connected base of installed units is probable to get more success heights than the developed economies. According to a report of Deloitte, IoT devices will cross 2 billion in number. According to the report, it will grow 32x more and that is 7x more than in the US in 2020.
Key Factors for Growth of IoT in India
The factors involved in the adoption of IoT in India are the following:
Sensors: These are the gadgets that broadcast electronic signals originating from occasions or natural phenomena. These are affordable, compact, and sturdy gadgets. They begin to be used to generate information because of this.
Networks: These are the methods for transmission of electric signals like Wi-Fi and cellular networks, etc.
Standards: The procedures for accepting a tool or a product are as follows.
Augmented Intelligence: These are the tools that are used to analyze, describe, and predict a miracle. The unstructured databases are searched to take corrective actions.
Augmented behavior: The methods employed to enhance compliance with certain activities. Without the involvement of people, machines communicate with other machines.
360DigiTMG the award-winning training institute offers a IoT Training and Placement in Chennai, and other regions of India and become certified professionals.
The industries will use more IoT devices in India than the consumers in the future. The reason behind the fall in usage of IoT devices by consumers is that the cost is high of the products that provide exclusive security. But the application vendors are working on it and it is expected that 50 percent of the Indian market will be under the magic of IoT.
IoT will increase more as a result of hardware companies' R&D efforts to advance and improve it. Along with supporting the rise of the IoT, network providers are also making increased investments in the new network terminology. In India, IoT has a very promising future because of a number of things.
Which IoT applications will be highly demanded in India in the coming time?
IoT is anticipated to expand further across industries. IoT will be driven and propelled to the pinnacle of success by the manufacturing, logistics and transportation, automotive, and utility industries. In the future, IoT adoption will also be significant in the healthcare, agricultural, and retail sectors. Future IoT utilisation will increase for all three types of applications: those used in the public sector, those used in industry, and those used by consumers.
Future Impacts of IoT in India
Want to learn more about Best IoT Course. Enroll in this IoT Course Fees in Hyderabad to do so.
It has been predicted that in the coming years the Indians will greatly be affected by IoT. It will get a huge change in the lives of the people. Not only this, but it will also affect the business, agriculture, and health sector. Below mentioned are the future impacts of IoT in India.
There will be better personal healthcare facilities in India due to IoT in the coming years.
The safety and security of the citizens of India will also be improved in the future by adopting IoT more and more in their daily activities.
The public services can be accessed easily and there will be no issues in the access.
The environmental impact and pollution will also be decreased in this context.
The smart technologies used for parking vehicles will also reduce traffic congestion and queues.
As a result, India will start using more Internet of Things (IoT) devices, including smartphones, household appliances, and numerous industrial electronic equipment. In the future, both houses and cities will be smarter. Comforts come with certain discomforts or difficulties in achieving the objectives.
Looking forward to becoming a IoT Developer Check out the IoT Course Fees in Pune and get certified today.
Challenges for IoT Growth in India
IoT offers a variety of options to customers and companies alike and keeps generating new prospects for both of them to develop. But there are hazards and difficulties involved. The technology still has a lot of issues. The government and the business must work together to solve the fundamental problems with IoT. The IoT device-specific security measures are not holding up well. Because there have been so many assaults in the last few years, cyber-security has been unable to address this problem. It is necessary to embrace strengthened security frameworks, from device authentication to system security, to support the successful expansion of IoT in India.
In addition to this, end-to-end encryption and poor compatibility in the current technologies are problems for the Internet of Things. The end effect will be future IoT device prices that are expensive. Another important point is that each IoT device will require a microcontroller in order to provide intelligence to the gadget. To ensure the security of IoT goods, it is also necessary to create a unified security standard. India is developing a number of IoT solutions that will be successful in the future.
Don't delay your career growth, kickstart your career by enrolling in this IoT Course for Beginners with 360DigiTMG.
FinalThoughts
India is heavily interested in technology. The specialists are working to solve the problems and make IoT the smart India of the future. The use of IoT devices by consumers and businesses will grow. Through IoT, business will become simpler and Indian cities would grow smarter. In conclusion, it is accurate to state that IoT from India won't disappear in the future. It will continue to control the market.
IoT Training Institutes in Other Locations
Ahmedabad, Bangalore, Chengalpattu, Chennai, Hyderabad, Kothrud, Noida, Pune, Thane, Thiruvananthapuram, Yelahanka, Andhra Pradesh, Anna Nagar, Bhilai, Calicut, Chandigarh, Chromepet, Coimbatore, Dilsukhnagar, ECIL, Faridabad, Greater Warangal, Guduvanchery, Guntur, Gurgaon, Guwahati, Hoodi, Indore, Jaipur, Kalaburagi, Kanpur, Kharadi, Kochi, Kolkata, Kompally, Lucknow, Mangalore, Mumbai, Mysore, Nagpur, Nashik, Navi Mumbai, Patna, Porur, Raipur, Salem, Surat, Thoraipakkam, Trichy, Uppal, Vadodara, Varanasi, Vijayawada, Vizag, Tirunelveli, Aurangabad
Navigate to Address
360DigiTMG - Data Analytics, Data Science Course Training Hyderabad
2-56/2/19, 3rd floor, Vijaya Towers, near Meridian School, Ayyappa Society Rd, Madhapur, Hyderabad, Telangana 500081
099899 94319