How Do I Protect my IoT Devices?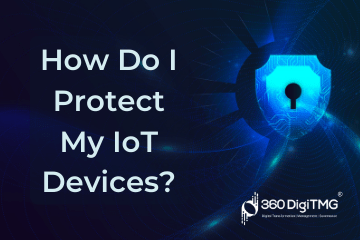 Introduction
You are investing in brand-new household gadgets that utilise the fad-trending Internet of Things (IoT). You're taking these steps in an effort to make your house smarter. Your life will become simple and effective thanks to the linked home. Yes, you're correct. IoT gadgets unquestionably alter how we live. As you neglect to switch the AC or lights off, they alleviate the majority of your tensions. But by giving your house more smarts, you can be making it less safe despite all the conveniences.
Become a IoT Course Fees expert with a single program. Go through 360DigiTMG's IoT Course fee in Bangalore Enroll today!
With smart IoT gadgets, you can live a pleasant life, but you also increase the risk of cybercriminals entering your house. When you decide to use smart devices to make your home smart, you must assure the security and privacy of both the devices and the information they hold. How to safeguard your Internet of Things (IoT) devices is explained in this article. Continue reading.
How to protect IoT devices?
It is essential to secure your IoT devices. Otherwise, the attacker will attack your device easily and can get access to sensitive information. You must be thinking that how can you keep this threat away. Here is the solution to your problem. You should follow the below tips to make your home secure and protected along with smart.
Accurate Settings of Routers

Setting your router correctly is the first step in securing your IoT devices. This is so because your home's router serves as a gateway for intruders. You must protect it from hacker attacks by making it indestructible.

A secure router is your starting point for safeguarding your IoT devices. It's because your home's router links every gadget there. Because of this, you must first modify the router's default name. The makers provide the standard name. After discovering that your device is using the default name, the attackers' next move is to discover the default login password. You might not have changed the default password if you haven't changed the default name.

They gain quick access to your devices and violate your privacy in this way. In order to prevent hackers from guessing your password, alter the name of your router. Upgrade your router to the maximum degree of encryption after doing this.

Looking forward to becoming a IoT Certification Trainer Check out the Internet of Things Course in Pune and get certified today.

Passwords Must Be Strong and Non-Guessable

When you have changed the password and name of your router, then there are also many areas in your home where you need to set a strong password. When IoT devices are connected with the router, they require building an account and setting a login password. Set the strong password of each IoT device and remember the password. If you have a fear that you will forget the passwords then write them down on something and keep them in a secure place. You can also use password management tools to save and secure your password.

Distinct Wi-Fi for IoT Devices

The ability to set up a secondary network is accessible on current routers. When you connect IoT devices to your primary router without setting up a guest network, you put your entire home's IoT devices at risk from attackers.

Your primary router will be protected from online threats by the guest network created specifically for IoT devices. You can sign in to the network that is not connected to IoT devices using this method with your family.

In this way, the hackers are unable to access your valuable computers and mobile phones. The experts advise using this method since it has protected their critical data from fraudsters who have targeted IoT devices in particular.

Deactivate Unused Features of IoT Devices

IoT devices have different control options like controlling them using Wi-Fi or remote access. If you are using these devices with a Wi-Fi connection, then you should deactivate all other features. If you are not connecting a speaker with Bluetooth, then you should disable it. And the voice control feature of TVs should remain disabled. Deactivate all the features which you are not using. This is because the hackers can get access to the other options or features that you are not using. But if you deactivate these features, that means you are closing the way for the hackers.

Updated Devices

Keeping your routers and IoT devices updated is crucial. IoT devices and the router do not automatically update. You must periodically check for updates from the appropriate source. Unknown sources for firmware updates might potentially result in assaults or hacking.

Install any updates you discover to keep current with the latest features. Additionally, you may configure alerts to alert you when new updates are available. You can protect your IoT devices from cybercriminals in this way.

IoT Training and Placement Course is a promising career option. Enroll in Internet of Things Course in Chennai offered by 360DigiTMG to become a successful.

Activate Multi-Factor Verification

Multi-factor authentication is very famous in net banking. This is a two-layer security measure outside a simple password. If you have enabled this feature then every login to your IoT device require to provide additional proof of authorization. When you set this authentication feature, you will receive an email or a message on your phone to inform you about the login activity.

Most of the devices come with default multi-factor features. Check if your devices have it, and then keep calm because you are in a secure environment. But if this feature is not enabled in your IoT device then enable it. This will give you secure IoT devices.

Use a Next-Generation Firewall

Most security features are absent from the standard router. Installing a next-generation firewall that has extra features in addition to its standard router features will accomplish this. These firewalls include virus protection, content filtering, and virtual private network functionality. These are the priciest but offer a unique security check. Installing this firewall means you are protecting your gadgets and yourself from online thieves.
Want to learn more about Best IoT Course. Enroll in this IoT Course Fees in Hyderabad to do so.
Final Verdict
No doubt you can purchase the most expensive IoT devices but their security is still in your hands. So, take time to perform all the mentioned steps to get secure and protected devices.
IoT Training Institutes in Other Locations
Ahmedabad, Bangalore, Chengalpattu, Chennai, Hyderabad, Kothrud, Noida, Pune, Thane, Thiruvananthapuram, Yelahanka, Andhra Pradesh, Anna Nagar, Bhilai, Calicut, Chandigarh, Chromepet, Coimbatore, Dilsukhnagar, ECIL, Faridabad, Greater Warangal, Guduvanchery, Guntur, Gurgaon, Guwahati, Hoodi, Indore, Jaipur, Kalaburagi, Kanpur, Kharadi, Kochi, Kolkata, Kompally, Lucknow, Mangalore, Mumbai, Mysore, Nagpur, Nashik, Navi Mumbai, Patna, Porur, Raipur, Salem, Surat, Thoraipakkam, Trichy, Uppal, Vadodara, Varanasi, Vijayawada, Vizag, Tirunelveli, Aurangabad
Navigate to Address
360DigiTMG - Data Science, IR 4.0, AI, Machine Learning Training in Malaysia
Level 16, 1 Sentral, Jalan Stesen Sentral 5, Kuala Lumpur Sentral, 50470 Kuala Lumpur, Wilayah Persekutuan Kuala Lumpur, Malaysia
+60 19-383 1378