What is Data Science Syllabus in Bangalore?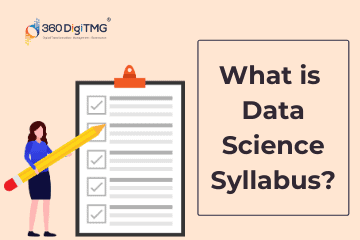 Today, data is present everywhere and serves as fuel for many organizations. It helps them better understand the customer and business needs.
Not only that, but the data also helps organizations find new customers, increase retention, improve customer service, predict sales trends, and better manage marketing efforts, etc.
Are you looking to become a Data Scientist? Go through 360DigiTMG's PG Diploma in Data Science and Artificial Intelligence!.
This is where the data science professionals come in. These skilled data science experts have extensive knowledge of various skills such as mathematics, statistics, programming, ML, IT, and other related disciplines. This immense knowledge helps them to organize large datasets and find valuable patterns or insights from them.
That's why a very popular website called Glassdoor, in its 2019 report, named the data scientist as the number one job in the United States.
This article is especially for those who are interested in data science and want to know about the data science syllabus.
In this article, we will give you a brief overview of some of the most important concepts that are included in the data science syllabus.
Want to learn more about data science? Enroll in the Best Data Science courses in Chennai to do so.
Data Science Syllabus
Data science is avery broad and interdisciplinary field that includes many subjects like mathematics, statistics, computer science, machine learning, AI, and business, etc.
It doesn't matter if you start a career in data science through online courses or a full-time university program because the syllabus remains almost the same everywhere.
Here we've shared a brief overview of all the concepts, skills, and learning techniques that are mostly included in any of the data science courses or program curriculum.
Let's explore them one by one.
Mathematical & Statistical Skills

Generally, the whole mathematics is not used in the data science syllabus except for a few important concepts. Probability, calculus, and linear algebra are the most widely used concepts in data science.

These concepts play a key role in developing the most advanced and next-level machine learning algorithms. While other concepts such as Logarithm, matrix/vector operations, exponential, geometry, and theorems, etc. are also helpful in data science to find patterns from raw data.

Learn the core concepts of Data Science Course video on YouTube:

Programming

The data science syllabus also includes many programming languages which can be bad news for people who hate coding or have a non-coding background.

The fact is that to become a successful data science expert you do not need to learn all the programming languages, but you just need to be an expert in Python and R.

Python has become one of the first choices of all data science experts because it streamlines large complex data sets, while R is really helpful for big data analysis, and machine learning.

Domain Expertise

One thing we want to make clear here is that the data science syllabus is not just about theory. If you do not have a command in your field of work, it will be difficult for you to become a successful data scientist.

With the help of domain expertise skill, it becomes easier to solve the problems faced by the company and to create the most accurate and precise prediction model

Earn yourself a promising career in data science by enrolling in the Data Science Classes in Pune offered by 360DigiTMG.

Machine Learning Algorithms

One of the most complex and time-consuming subjects in the data science syllabus is the machine learning algorithm. Machine learning is used to analyze large datasets to make accurate predictions. Using the following most commonly used machine learning algorithms, one can successfully solve a variety of problems.

Linear Regression
Logistic Regression
Support Vector Machine (SVM)

Communication

Effective communication skill is another part of the data science syllabus that helps you present ideas or conclusions with stakeholders. Having commands in communication with storytelling skills will also help you explain your ideas to even those who have a non-technical background. If you are not well at communication, then it can affect your career too..

Data Analysis&Visualization

After collecting data from various sources, the next big step is to analyze it to find some valuable information or insights from it.

Most of the data scientists here use different algorithms to collect, filter, and analyze the data more accurately.

Looking forward to becoming a Data Scientist? Check out the Data Science Course and get certified today.

After converting raw data into useful information, it also needs to be explained graphically with the help of many components such as diagrams, charts, tables, comparisons, and pictures, etc.

Problem Solving

Last but not least, problem-solving is a key component of the data science curriculum. By learning this skill, one can determine why a problem is occurring and how to solve it. Your approach to solving a particular problem will determine how good you are as a data science expert.
Data Science Placement Success Story
Data Science Training Institutes in Other Locations
Agra, Ahmedabad, Amritsar, Anand, Anantapur, Bangalore, Bhopal, Bhubaneswar, Chengalpattu, Chennai, Cochin, Dehradun, Malaysia, Dombivli, Durgapur, Ernakulam, Erode, Gandhinagar, Ghaziabad, Gorakhpur, Gwalior, Hebbal, Hyderabad, Jabalpur, Jalandhar, Jammu, Jamshedpur, Jodhpur, Khammam, Kolhapur, Kothrud, Ludhiana, Madurai, Meerut, Mohali, Moradabad, Noida, Pimpri, Pondicherry, Pune, Rajkot, Ranchi, Rohtak, Roorkee, Rourkela, Shimla, Shimoga, Siliguri, Srinagar, Thane, Thiruvananthapuram, Tiruchchirappalli, Trichur, Udaipur, Yelahanka, Andhra Pradesh, Anna Nagar, Bhilai, Borivali, Calicut, Chandigarh, Chromepet, Coimbatore, Dilsukhnagar, ECIL, Faridabad, Greater Warangal, Guduvanchery, Guntur, Gurgaon, Guwahati, Hoodi, Indore, Jaipur, Kalaburagi, Kanpur, Kharadi, Kochi, Kolkata, Kompally, Lucknow, Mangalore, Mumbai, Mysore, Nagpur, Nashik, Navi Mumbai, Patna, Porur, Raipur, Salem, Surat, Thoraipakkam, Trichy, Uppal, Vadodara, Varanasi, Vijayawada, Visakhapatnam, Tirunelveli, Aurangabad
Data Analyst Courses in Other Locations
ECIL, Jaipur, Pune, Gurgaon, Salem, Surat, Agra, Ahmedabad, Amritsar, Anand, Anantapur, Andhra Pradesh, Anna Nagar, Aurangabad, Bhilai, Bhopal, Bhubaneswar, Borivali, Calicut, Cochin, Chengalpattu , Dehradun, Dombivli, Durgapur, Ernakulam, Erode, Gandhinagar, Ghaziabad, Gorakhpur, Guduvanchery, Gwalior, Hebbal, Hoodi , Indore, Jabalpur, Jaipur, Jalandhar, Jammu, Jamshedpur, Jodhpur, Kanpur, Khammam, Kochi, Kolhapur, Kolkata, Kothrud, Ludhiana, Madurai, Mangalore, Meerut, Mohali, Moradabad, Pimpri, Pondicherry, Porur, Rajkot, Ranchi, Rohtak, Roorkee, Rourkela, Shimla, Shimoga, Siliguri, Srinagar, Thoraipakkam , Tiruchirappalli, Tirunelveli, Trichur, Trichy, Udaipur, Vijayawada, Vizag, Warangal, Chennai, Coimbatore, Delhi, Dilsukhnagar, Hyderabad, Kalyan, Nagpur, Noida, Thane, Thiruvananthapuram, Uppal, Kompally, Bangalore, Chandigarh, Chromepet, Faridabad, Guntur, Guwahati, Kharadi, Lucknow, Mumbai, Mysore, Nashik, Navi Mumbai, Patna, Pune, Raipur, Vadodara, Varanasi, Yelahanka
Navigate to Address
360DigiTMG - Data Science, Data Scientist Course Training in Bangalore
No 23, 2nd Floor, 9th Main Rd, 22nd Cross Rd, 7th Sector, HSR Layout, Bengaluru, Karnataka 560102
1800-212-654-321