What is Data Science in Simple Words?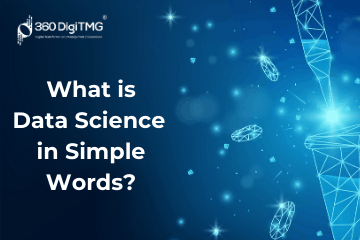 Utilising the data is necessary if an organisation is to keep current with trends and outperform other businesses in the market.
Data is a valuable source of knowledge that enables organisations to solve a wide range of challenging issues and make wise decisions. Since data is now seen as the fuel of the future, it is transforming the way the world looks.
An organisation may use data to enhance its goods or services while also boosting income. It is also true that an organisation will be in a better position to explore several new and untapped opportunities the more data it possesses.
Looking forward to becoming a Data Scientist? Check out the Data Science Course and get certified today.
But you should also be aware that without analysis, processing, and manipulation by a human, data is meaningless in and of itself. The miracle of data science has made all of this possible.
In order for even those who are utterly ignorant of the significance of the data science area in today's society to comprehend it, we will do our best to define data science in straightforward terms in this article. In addition, we'll talk about the several career routes in data science, the knowledge and abilities required to master the field, and the pay scales for various data science positions.
So, let's start this beautiful path of learning right away.
Also, check this Data Science Institute in Bangalore to start a career in Data Science.
What is Data Science in Simple Words?
If we try to understand data science in simple words, then it is all about studying data. But to study this data more effectively and gain valuable insights or knowledge from it, data science uses various modern tools, techniques, algorithms, scientific methods, and approaches.
Another definition of data science is that it is an interdisciplinary field that combines various fields of study like mathematics, statistics, physics, and computer science, etc to find hidden patterns from the data collected from various sources.
Learn the core concepts of Data Science Course video on YouTube:
Why Data Science is Important?
Organisations are gaining extraordinary and limitless advantages from data science.
Every organisation that significantly relies on data is producing data at a rapid rate with each passing day.
Due to the fact that 2.5 quintillion bytes of data are currently produced every day from all corners of the globe and that this number is steadily increasing, it is predicted that by the year 2025, 463 exabytes of data will be produced per day.
Every organisation now considers data science to be essential, and with each passing day, they come to the realisation that they cannot compete in the market without it.
As a result of all of these factors, data science is an absolute necessity for every business, including the following:
Finance
Entertainment Logistics
Logistics
Banking
Transport
Healthcare
Manufacturing
Earn yourself a promising career in data science by enrolling in the Data Science Classes in Pune offered by 360DigiTMG.
What are the Different Data Science Career Paths?
Data science is a very vast field in which multiple career paths are available for all types of learners.
Skills and education requirements for any of them are almost similar but not the same as the main task of data science experts is to analyze and process the data to find useful trends or insights.
However, they also predict the future using different machine learning algorithms or models and make strategies for that.
Here are some of the most popular, demanding, and lucrative career paths in the field of data science.
Data Scientist
Data Analyst
Business Analyst
Statistician
Database Administrator
Data Engineer
Data Architect
What are the Required Data Science Skills?
It is crucial to gain the following skills if you want to pursue a career in data science since there is a huge need for professional data science specialists, particularly for data scientists. These abilities will make you stand out from the crowd, facilitate your work, and dazzle interviewers.
Solving communication-related issues
Analysis and Manipulation of Data
Python and R programming for data wrangling and visualisation
Statistics and mathematics
Machine learning algorithms
What is the Salary of in-Demanding Data Science Job Roles?
Well, even in 2021, data science is a very lucrative career and the salaries of data science experts are very high. This is because there is a huge shortage of skilled data science experts in the market while the demand is high. Therefore, companies are paying data science, experts, well. Here are the average salary figures for some of the most popular data science job roles in Bangalore, according to PayScale.
Data Scientists

₹388k/year - With less than 1 year of experience

₹986k/year - With 1 to 4 year of experience

₹2m/year - With 5 to 9 year of experience

Data Analyst

₹255k/year - With less than 1 year of experience

₹509k/year - With 1 to 4 year of experience

₹1m/year - With 5 to 9 year of experience

Data Engineers

₹395k/year - With less than 1 year of experience

₹926k/year - With 1 to 4 year of experience

₹2m/year - With 5 to 9 year of experience

Statistician

₹400k/year - With less than 1 year of experience

₹1m/year - With 1 to 4 year of experience

₹2m/year - With 5 to 9 year of experience

Want to learn more about data science? Enroll in the Best Data Science courses in Chennai to do so.

Data Architect

₹832k/year - With less than 1 year of experience

₹2m/year - With 1 to 4 year of experience

₹3m/year - With 5 to 9 year of experience
Data Science Placement Success Story
Data Science Training Institutes in Other Locations
Agra, Ahmedabad, Amritsar, Anand, Anantapur, Bangalore, Bhopal, Bhubaneswar, Chengalpattu, Chennai, Cochin, Dehradun, Malaysia, Dombivli, Durgapur, Ernakulam, Erode, Gandhinagar, Ghaziabad, Gorakhpur, Gwalior, Hebbal, Hyderabad, Jabalpur, Jalandhar, Jammu, Jamshedpur, Jodhpur, Khammam, Kolhapur, Kothrud, Ludhiana, Madurai, Meerut, Mohali, Moradabad, Noida, Pimpri, Pondicherry, Pune, Rajkot, Ranchi, Rohtak, Roorkee, Rourkela, Shimla, Shimoga, Siliguri, Srinagar, Thane, Thiruvananthapuram, Tiruchchirappalli, Trichur, Udaipur, Yelahanka, Andhra Pradesh, Anna Nagar, Bhilai, Borivali, Calicut, Chandigarh, Chromepet, Coimbatore, Dilsukhnagar, ECIL, Faridabad, Greater Warangal, Guduvanchery, Guntur, Gurgaon, Guwahati, Hoodi, Indore, Jaipur, Kalaburagi, Kanpur, Kharadi, Kochi, Kolkata, Kompally, Lucknow, Mangalore, Mumbai, Mysore, Nagpur, Nashik, Navi Mumbai, Patna, Porur, Raipur, Salem, Surat, Thoraipakkam, Trichy, Uppal, Vadodara, Varanasi, Vijayawada, Visakhapatnam, Tirunelveli, Aurangabad
Data Analyst Courses in Other Locations
ECIL, Jaipur, Pune, Gurgaon, Salem, Surat, Agra, Ahmedabad, Amritsar, Anand, Anantapur, Andhra Pradesh, Anna Nagar, Aurangabad, Bhilai, Bhopal, Bhubaneswar, Borivali, Calicut, Cochin, Chengalpattu , Dehradun, Dombivli, Durgapur, Ernakulam, Erode, Gandhinagar, Ghaziabad, Gorakhpur, Guduvanchery, Gwalior, Hebbal, Hoodi , Indore, Jabalpur, Jaipur, Jalandhar, Jammu, Jamshedpur, Jodhpur, Kanpur, Khammam, Kochi, Kolhapur, Kolkata, Kothrud, Ludhiana, Madurai, Mangalore, Meerut, Mohali, Moradabad, Pimpri, Pondicherry, Porur, Rajkot, Ranchi, Rohtak, Roorkee, Rourkela, Shimla, Shimoga, Siliguri, Srinagar, Thoraipakkam , Tiruchirappalli, Tirunelveli, Trichur, Trichy, Udaipur, Vijayawada, Vizag, Warangal, Chennai, Coimbatore, Delhi, Dilsukhnagar, Hyderabad, Kalyan, Nagpur, Noida, Thane, Thiruvananthapuram, Uppal, Kompally, Bangalore, Chandigarh, Chromepet, Faridabad, Guntur, Guwahati, Kharadi, Lucknow, Mumbai, Mysore, Nashik, Navi Mumbai, Patna, Pune, Raipur, Vadodara, Varanasi, Yelahanka
Navigate to Address
360DigiTMG - Data Science, Data Scientist Course Training in Bangalore
No 23, 2nd Floor, 9th Main Rd, 22nd Cross Rd, 7th Sector, HSR Layout, Bengaluru, Karnataka 560102
1800-212-654-321