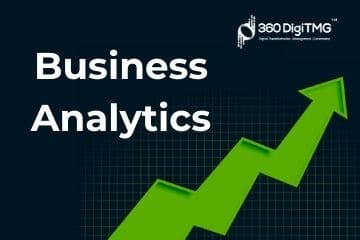 Business analytics is a synthesis of several disciplines, including computer programming, data analytics, and business intelligence. Data analysis is the process of looking for patterns in data to draw out important lessons and create solutions.
IDC forecasts that by 2025, there will be a massive buildup of gigantic data totaling 164 zettabytes, created year after year. Governments, large businesses, and many sectors will use data science to decode these hidden patterns in data to uncover and provide insightful knowledge. These observations will effectively and efficiently aid in the development of worthwhile plans and creative solutions for a range of company issues.
Businesses are using analytics-based strategies to obtain a competitive edge and keep in front of the competition. Companies have come to understand that Business Analytics is a powerful tool for creating insightful data as they are inundated with vast volumes of data.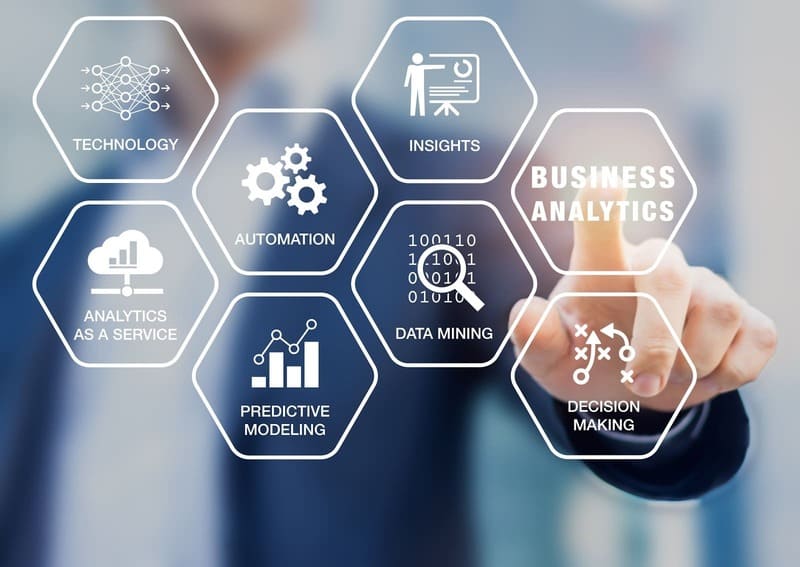 Click here to explore 360DigiTMG.
Types of Analytics
There are types of Analytics that help in extracting valuable information from huge amounts of data. There are:
1. Descriptive Analytics

As its name suggests, it is a discipline of business analytics that examines problems and develops solutions.

Its purpose is to characterise or condense the raw data so that humans may more easily grasp and analyse it.

2. Prescriptive Analytics

These analytics deals with providing the best solutions or advising possible outcomes. It depends on optimization and simulation algorithms. This is one of the new types of analytics that prescribes possible solutions to the different solutions and guides them with the best course of action.

Click here to Learn Data Science Course in Chennai

3. Predictive Analytics

To forecast future results, it makes use of forecasting strategies and statistical models. It also concerns with giving the knowledge and instructions needed to prepare for potential events.
Click here to learn Data Science Courses in Hyderabad
Learn the core concepts of Data Science Course video on Youtube:
Applications of Business Analytics
The applications of business analytics are varied and wide among different sectors. It includes Gaming, Fraud detection, Image recognition, Speech recognition, Recommender system, price comparison. It is widely used in Telecommunications, IT, and e-commerce sectors. The Telecom industry is the highest salary payer to its analytics professionals paying up to 18.5 Lakhs.
Click here to Learn Data Science Course in Pune
Career Prospects
The field of business analytics offers applicants a career that is undoubtedly bright. Numerous sectors are quickly adopting business analytics, which is generating a wealth of employment prospects for job seekers.
Due to the ongoing growth in data, business analytics has enormous potential. As a result, there is a demand for specialists who can analyse these data, find relevant trends, and take choices based on that data.
Job Roles

The top job roles related to Business Analytics are Business Analyst, Data Scientist, Data Analyst, Data Architect, Data Administrator, etc.

Salaries

The average salary for a Business analyst in India is ₹605,969 in India.

As per the reports, 77% of analytics professionals receive a salary up to Rs. 6 lakhs, indicating that freshers with business analytics skills have great openings. Professionals with advanced analytics skills are paid more when compared to their peers.
Skills
The essential skills required for becoming a professional in Business Analytics include: In-depth knowledge of programming languages Python and R, Mathematics and Statistical knowledge, and Computer programming. The ability to think logically and develop strategies will be an added advantage.
If you want to work in business analytics, now is the time to be trained in the field and take advantage of rewarding prospects. For business experts and aspirants who want to learn about the numerous analytics approaches and business intelligence processes, 360DigiTMG provides a special business analytics training programme. Professionals will benefit from this program's understanding of a variety of ideas, including data management, data mining, optimisation, and data visualisation. Each idea is thoroughly discussed with reference to both theory and practical applications. Real-time initiatives allow experts to hone their abilities and approach to decision-making.
Click here to learn Data Science Course, Data Science Course in Hyderabad, Data Science Course in Bangalore
Data Science Placement Success Story
Other Domain Analytics in our 360DigiTMG
Political Analytics, Transit Analytics, Forest Analytics, Wild Analytics, Agriculture Analytics, Army Analytics, E-commerce Analytics, Energy and Resource Analytics, Hospital Analytics, Healthcare Analytics, Hospitality Analytics, Oil and Gas Analytics, Regulatory Analytics, Security Analytics, Trade Analytics, Railway Analytics, Defense Analytics, Education Analytics, Accounting Analytics, Fraud Analytics, Legal and Law Analytics, Banking Analytics, Insurance Analytics, Life Science Analytics, Pharma Analytics, Aviation Analytics, Retail Analytics, Cyber Security Analytics, Supply Chain Analytics, Marketing Analytics
Data Science Training Institutes in Other Locations
Agra
,
Ahmedabad
,
Amritsar
,
Anand
,
Anantapur
,
Bangalore
,
Bhopal
,
Bhubaneswar
,
Chengalpattu
,
Chennai
,
Cochin
,
Dehradun
,
Malaysia
,
Dombivli
,
Durgapur
,
Ernakulam
,
Erode
,
Gandhinagar
,
Ghaziabad
,
Gorakhpur
,
Gwalior
,
Hebbal
,
Hyderabad
,
Jabalpur
,
Jalandhar
,
Jammu
,
Jamshedpur
,
Jodhpur
,
Khammam
,
Kolhapur
,
Kothrud
,
Ludhiana
,
Madurai
,
Meerut
,
Mohali
,
Moradabad
,
Noida
,
Pimpri
,
Pondicherry
,
Pune
,
Rajkot
,
Ranchi
,
Rohtak
,
Roorkee
,
Rourkela
,
Shimla
,
Shimoga
,
Siliguri
,
Srinagar
,
Thane
,
Thiruvananthapuram
,
Tiruchchirappalli
,
Trichur
,
Udaipur
,
Yelahanka
,
Andhra Pradesh
,
Anna Nagar
,
Bhilai
,
Borivali
,
Calicut
,
Chandigarh
,
Chromepet
,
Coimbatore
,
Dilsukhnagar
,
ECIL
,
Faridabad
,
Greater Warangal
,
Guduvanchery
,
Guntur
,
Gurgaon
,
Guwahati
,
Hoodi
,
Indore
,
Jaipur
,
Kalaburagi
,
Kanpur
,
Kharadi
,
Kochi
,
Kolkata
,
Kompally
,
Lucknow
,
Mangalore
,
Mumbai
,
Mysore
,
Nagpur
,
Nashik
,
Navi Mumbai
,
Patna
,
Porur
,
Raipur
,
Salem
,
Surat
,
Thoraipakkam
,
Trichy
,
Uppal
,
Vadodara
,
Varanasi
,
Vijayawada
,
Visakhapatnam
,
Tirunelveli
,
Aurangabad
Data Analyst Courses in Other Locations
ECIL
,
Jaipur
,
Pune
,
Gurgaon
,
Salem
,
Surat
,
Agra
,
Ahmedabad
,
Amritsar
,
Anand
,
Anantapur
,
Andhra Pradesh
,
Anna Nagar
,
Aurangabad
,
Bhilai
,
Bhopal
,
Bhubaneswar
,
Borivali
,
Calicut
,
Cochin
,
Chengalpattu
,
Dehradun
,
Dombivli
,
Durgapur
,
Ernakulam
,
Erode
,
Gandhinagar
,
Ghaziabad
,
Gorakhpur
,
Guduvanchery
,
Gwalior
,
Hebbal
,
Hoodi
,
Indore
,
Jabalpur
,
Jaipur
,
Jalandhar
,
Jammu
,
Jamshedpur
,
Jodhpur
,
Kanpur
,
Khammam
,
Kochi
,
Kolhapur
,
Kolkata
,
Kothrud
,
Ludhiana
,
Madurai
,
Mangalore
,
Meerut
,
Mohali
,
Moradabad
,
Pimpri
,
Pondicherry
,
Porur
,
Rajkot
,
Ranchi
,
Rohtak
,
Roorkee
,
Rourkela
,
Shimla
,
Shimoga
,
Siliguri
,
Srinagar
,
Thoraipakkam
,
Tiruchirappalli
,
Tirunelveli
,
Trichur
,
Trichy
,
Udaipur
,
Vijayawada
,
Vizag
,
Warangal
,
Chennai
,
Coimbatore
,
Delhi
,
Dilsukhnagar
,
Hyderabad
,
Kalyan
,
Nagpur
,
Noida
,
Thane
,
Thiruvananthapuram
,
Uppal
,
Kompally
,
Bangalore
,
Chandigarh
,
Chromepet
,
Faridabad
,
Guntur
,
Guwahati
,
Kharadi
,
Lucknow
,
Mumbai
,
Mysore
,
Nashik
,
Navi Mumbai
,
Patna
,
Pune
,
Raipur
,
Vadodara
,
Varanasi
,
Yelahanka
Navigate to Address
360DigiTMG - Data Science Course, Data Scientist Course Training in Chennai
D.No: C1, No.3, 3rd Floor, State Highway 49A, 330, Rajiv Gandhi Salai, NJK Avenue, Thoraipakkam, Tamil Nadu 600097
1800-212-654-321