Role of Logistics and Inventory Management in Supply Chain Analytics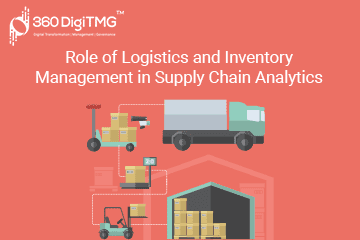 The entirety of the value chain, including production, sourcing, distribution, and transportation, is essentially covered by supply chain analytics. Through the integration of data-driven information into your company's data-driven choices, it seeks to increase operational efficiency and effectiveness at the strategic, operational, and tactical levels. A supply chain is a network of people, businesses, resources, techniques, and technology used in the production and administration of a good or service. It comprises actively simplifying all aspect of corporate operations, from supply-side activities by suppliers through product development to production, in order to manage a supply chain that is effective and affordable. A supply chain begins with the distribution of raw materials from a supplier to a manufacturer, and it monitors every stage of the production process until the finished good or service is delivered to the customer.
Click here to learn Data Science in Hyderabad, Data Science in Bangalore
(Source: https://www.kepler-consulting.com/)
Click here to explore 360DigiTMG.
Learn the core concepts of Data Analytics Course video on Youtube:
Inventory Management and Supply Chain
Click here to Learn Data Science Course in Chennai
Any business organization aims to serve as many numbers of customers as possible in the most efficient and best possible way. Supply Chain Inventory Optimization is vital for any enterprise that authentically wants to have a world-class supply chain because an efficient supply chain can add value to the company's reputation, increase revenues, improve margins and reduce the overall cost to serve and manage working capital in a better way and enhance the control points across the supply chain. Inventory management includes controlling and overseeing purchases, maintaining the storage of stock, and keeping a track of the amount of product required for sale and order fulfilment. The entire process of inventory includes three core steps- Purchasing inventory, Storing inventory, and Profiting from inventory. With every business expanding its market footprint and becoming globalized, inventory processes are becoming complex and challenging across varied industries. But in today's era of big data supply chains are becoming constantly dependent on data to track the goods as they move towards their destination which includes serial numbers, lot numbers, price of goods, amount of goods, and the dates when they will reach or move from one point to another in the process. This helps Supply chain managers leverage analytics to manage supply chain functions and make informed business decisions. Supply chain analytics acts as a bridge between industries and pools of supply chain information lying at their disposal. Supply chain analytics provides customer-orientated solutions for the most complex supply chain issues in inventory. It can help anticipate demand, predict and monitor supply, and plan the flow of goods and services along with reducing material purchases through improvements in price negotiation and streamlining supply chain practices. Supply chain analytics can also contribute to enhancing the performance of the supply chain by raising supply chain visibility, reducing fluctuations in cost, and managing volatility. With analytics companies can perform root cause analysis for excess inventory or reduced inventory or devise inventory norms for all nodes and accordingly release cash.
Click here to learn Data Analytics in Bangalore, Data Analytics in Hyderabad
(Source: https://www.tomassociatesng.com/)
However, in the age of big data, supply chains are increasingly reliant on data to track the goods as they travel to their destination. This data includes serial numbers, lot numbers, product prices, quantities, and dates when the goods will arrive at or move from one point to another in the process. As a result, supply chain managers may better manage supply chain operations and make wiser business decisions by utilising analytics. The pools of supply chain data available to different sectors are connected by supply chain analytics. The most difficult supply chain problems in inventories can be solved using customer-focused supply chain analytics. By improving price negotiating skills and optimising supply chain procedures, it can reduce the need for material purchases and assist estimate demand, predict and monitor supply, and organise the flow of products and services. By increasing supply chain visibility, lowering cost variations, and minimising volatility, supply chain analytics may also help the supply chain function better. Companies may employ analytics to create inventory standards for every node, run root cause analyses for excess or decreased inventory, and release cash as a result.
Click here to learn Artificial Intelligence in Bangalore, Artificial Intelligence in Hyderabad
Logistics and Supply Chain
Logistics is the movement, storage, and flow of products, services, and information along the whole supply chain. Supply chain management refers to a number of procedures that are involved in obtaining competitive advantage. By tracking delivery routes, delivery times, and delivery methods, organisations are utilising the benefits of data analytics today to improve operational efficiency in the logistics and supply chain. Integrating seamless logistics is essential and is increasingly at the core of supply chains. It guarantees that every successful organisation may beat their rivals, save expenses and time spent on product transportation, and stay up with client expectations. Supply chains are growing more sensitive and complicated as firms grow on a regional, global, and international scale. When delivering things from one location to another, businesses must assure high value. At that point, logistics becomes one of the most important components of any supply chain's quality and needs professional support to ensure that it runs smoothly and prevents wastage of resources and time.
Click here to Learn Data Science Course in Pune
Logistics is used to plan and synchronize the movement of products so that they are delivered timely, safely, and effectively in the most convenient and practical way. Well-organized logistics helps your business build and maintain a positive public image. Without effective and well-organized logistics, the unique network between businesses that deal with the production, shipment, warehousing, and delivery of products will lead to losing customers and decreased sales.
Conclusion
An organization's success or failure is greatly influenced by the flow of information and items from raw materials to ultimate sale. The management of the flow of goods and supplies to provide the desired service level to customers and ultimately be able to effectively manage inventory is nothing short of a challenge in the new competitive landscape where consumers are demanding more customer service from businesses throughout the supply chain. Companies are also relying more and more on data to make these decisions. However, data analytics has the ability to aggregate data from numerous sources to support a business in making better operational decisions, boosting profit margins through cost savings and increased efficiency. With the help of new, complex analytical tools, it is now feasible to delve deeper into supply chain data in search of tactics that can help increase efficiency and save costs across different supply chain operations.
Click here to learn Data Science Course, Data Science Course in Hyderabad, Data Science Course in Bangalore
Other Domain Analytics courses
Forest Analytics, Air Force Analytics, Oceanography Analytics, Construction Analytics, Network Analytics, Sales Analytics, Manufacturing Analytics, Travel Analytics, Media Analytics, Hospitality Analytics, Hospital Analytics, Regulatory Analytics, Workforce Analytics, Logistics Analytics, Insurance Analytics, Business Analytics, Financial Analytics, Marketing Analytics
Data Science Placement Success Story
Data Science Training Institutes in Other Locations
Agra
,
Ahmedabad
,
Amritsar
,
Anand
,
Anantapur
,
Bangalore
,
Bhopal
,
Bhubaneswar
,
Chengalpattu
,
Chennai
,
Cochin
,
Dehradun
,
Malaysia
,
Dombivli
,
Durgapur
,
Ernakulam
,
Erode
,
Gandhinagar
,
Ghaziabad
,
Gorakhpur
,
Gwalior
,
Hebbal
,
Hyderabad
,
Jabalpur
,
Jalandhar
,
Jammu
,
Jamshedpur
,
Jodhpur
,
Khammam
,
Kolhapur
,
Kothrud
,
Ludhiana
,
Madurai
,
Meerut
,
Mohali
,
Moradabad
,
Noida
,
Pimpri
,
Pondicherry
,
Pune
,
Rajkot
,
Ranchi
,
Rohtak
,
Roorkee
,
Rourkela
,
Shimla
,
Shimoga
,
Siliguri
,
Srinagar
,
Thane
,
Thiruvananthapuram
,
Tiruchchirappalli
,
Trichur
,
Udaipur
,
Yelahanka
,
Andhra Pradesh
,
Anna Nagar
,
Bhilai
,
Borivali
,
Calicut
,
Chandigarh
,
Chromepet
,
Coimbatore
,
Dilsukhnagar
,
ECIL
,
Faridabad
,
Greater Warangal
,
Guduvanchery
,
Guntur
,
Gurgaon
,
Guwahati
,
Hoodi
,
Indore
,
Jaipur
,
Kalaburagi
,
Kanpur
,
Kharadi
,
Kochi
,
Kolkata
,
Kompally
,
Lucknow
,
Mangalore
,
Mumbai
,
Mysore
,
Nagpur
,
Nashik
,
Navi Mumbai
,
Patna
,
Porur
,
Raipur
,
Salem
,
Surat
,
Thoraipakkam
,
Trichy
,
Uppal
,
Vadodara
,
Varanasi
,
Vijayawada
,
Visakhapatnam
,
Tirunelveli
,
Aurangabad
Data Analyst Courses in Other Locations
ECIL
,
Jaipur
,
Pune
,
Gurgaon
,
Salem
,
Surat
,
Agra
,
Ahmedabad
,
Amritsar
,
Anand
,
Anantapur
,
Andhra Pradesh
,
Anna Nagar
,
Aurangabad
,
Bhilai
,
Bhopal
,
Bhubaneswar
,
Borivali
,
Calicut
,
Cochin
,
Chengalpattu
,
Dehradun
,
Dombivli
,
Durgapur
,
Ernakulam
,
Erode
,
Gandhinagar
,
Ghaziabad
,
Gorakhpur
,
Guduvanchery
,
Gwalior
,
Hebbal
,
Hoodi
,
Indore
,
Jabalpur
,
Jaipur
,
Jalandhar
,
Jammu
,
Jamshedpur
,
Jodhpur
,
Kanpur
,
Khammam
,
Kochi
,
Kolhapur
,
Kolkata
,
Kothrud
,
Ludhiana
,
Madurai
,
Mangalore
,
Meerut
,
Mohali
,
Moradabad
,
Pimpri
,
Pondicherry
,
Porur
,
Rajkot
,
Ranchi
,
Rohtak
,
Roorkee
,
Rourkela
,
Shimla
,
Shimoga
,
Siliguri
,
Srinagar
,
Thoraipakkam
,
Tiruchirappalli
,
Tirunelveli
,
Trichur
,
Trichy
,
Udaipur
,
Vijayawada
,
Vizag
,
Warangal
,
Chennai
,
Coimbatore
,
Delhi
,
Dilsukhnagar
,
Hyderabad
,
Kalyan
,
Nagpur
,
Noida
,
Thane
,
Thiruvananthapuram
,
Uppal
,
Kompally
,
Bangalore
,
Chandigarh
,
Chromepet
,
Faridabad
,
Guntur
,
Guwahati
,
Kharadi
,
Lucknow
,
Mumbai
,
Mysore
,
Nashik
,
Navi Mumbai
,
Patna
,
Pune
,
Raipur
,
Vadodara
,
Varanasi
,
Yelahanka
Navigate to Address
360DigiTMG - Data Science, Data Scientist Course Training in Bangalore
No 23, 2nd Floor, 9th Main Rd, 22nd Cross Rd, 7th Sector, HSR Layout, Bengaluru, Karnataka 560102
1800-212-654-321