Deep Learning - Computer Vision Interview questions and Answers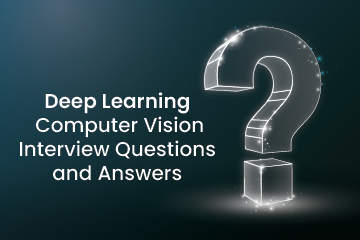 Bharani Kumar Depuru is a well known IT personality from Hyderabad. He is the Founder and Director of Innodatatics Pvt Ltd and 360DigiTMG. Bharani Kumar is an IIT and ISB alumni with more than 17 years of experience, he held prominent positions in the IT elites like HSBC, ITC Infotech, Infosys, and Deloitte. He is a prevalent IT consultant specializing in Industrial Revolution 4.0 implementation, Data Analytics practice setup, Artificial Intelligence, Big Data Analytics, Industrial IoT, Business Intelligence and Business Management. Bharani Kumar is also the chief trainer at 360DigiTMG with more than Ten years of experience and has been making the IT transition journey easy for his students. 360DigiTMG is at the forefront of delivering quality education, thereby bridging the gap between academia and industry.
Read More >
What is the difference between Object Classification & Object Detection?

a) Object classification only provides one class label as output per image under discussion. Object detection includes identifying the location of the objects in the image and then providing the class label of each of those images
b) Object classification takes a lot of time in comparison to Object detection
c) Object classification includes object localization. However, Object detection does not include object localization.
d) Object classification and detection mean the same. They both perform the same tasks and there are no differences.

Answer - a)

Object detection includes first putting a bounding box around objects in an image and then assigning a class label to each of the objects. Since there are 2 steps involved - One step involves a bounding box and another step for classifying. Localization is a feature of object detection. Object classification includes only one step of classifying and assigning a class label to the image. Hence, object detection is slower in comparison to object classification because it involves two steps. Localization is not a feature of object classification.

What is IOU (Intersection Over Union)?

a) IOU is a technique used to classify the image
b) "IOU is a technique used to detect an object "
c) IoU is an accuracy measure used in object detection business problems
d) "IoU is a mathematical concept used in the CNN algorithm"

Answer - c) IoU is an accuracy measure used in object detection business problems

"IoU is an accuracy measure that is calculated using the following formula. Figure 1 The intersection is the overlapping region between predicted vs actual bounding boxes. Union is the entire bounding box region of predicted & actual regions combined. IoU of zero means prediction is not at all aligned with actual. IoU of 0.95 means prediction is very well aligned with actual. Figure 2"