Applications of analytics in Construction Industry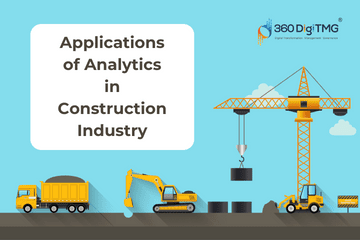 When contrasted to other sectors of the economy like manufacturing and the automobile industries, the construction sector struggles symbolically to adopt technological advances. The construction industry acknowledges a significant challenge to profitability. The construction industry has had a negligible yearly improvement of 1%. A revolutionary solution for the building sector is the capacity to monitor real-time data and transform it into more insightful predictions.
Accurate clone before construction
Design issue prediction
Design issues prediction helps the constructors to avoid problems in the process of elevation and operation of the building. Designing very huge large buildings and complexes involves a huge amount of calculations, matchings, and combination operations.
Analysing construction project risks:
The essential components for a successful building project and subsequent operations in terms of risk management. Planning, identification, response analysis, surveillance, and many more activities are included. The main goal of risk analysis is to estimate future assets, outcomes, and consequences. With so many successes and technological developments, there are various methods and instruments available to help lower the risk. Construction projects are usually difficult since there are so many factors to take into account, including siting, technical considerations, complexity, a lot of variables, etc. The primary method for resolving majority hazards uses probabilistic methods.
In the absence of construction data analytics, patterns go unnoticed, issues arise when they might have been avoided, and more time and money are spent on describing, planning, and forecasting.
Learn the core concepts of Data Science Course video on Youtube:
Few of the data types which may have to focus
On-site temperature
Dust particulates
Noise levels
Material and labour costs
Progress reports
Equipment utilisation
Past and present meteorological data
To inform corporate decision-making, construction businesses must employ financial analytics to track and estimate total earnings. Whether it has to do with staffing, upcoming initiatives, or strategic goals. Good experience and judgement are crucial in the decision-making process, but data is gathered to support these choices and reveal patterns and flaws that could have escaped human detection or gone unreported in the absence of a well-coordinated data analysis platform.
In the past, the construction industry relied heavily on paper for reporting and administration; now, with the growing use of paperless management systems, data that was formerly saved in binders is now stored in the cloud.
Any reliable solution may provide businesses the ability to harness the potential of predictive analytics and go beyond merely gathering and evaluating data for future use.
Predictive analytics uses historical data to predict future events and outcomes to conclude the decision making process, prevent hurdles before they materialise, and try to identify the opportunities for efficiencies in processes, safety and operations.
The probabilities of data analytics for any construction project are endless. Whether it is increased safety and efficiency on-site to better measurement and understanding of project outcomes.It is time for the construction industry to grab digital technologies and bring analytics and data-driven decision making into every level of their work.
The most important aspects of all company fields are the tracking and operation of construction assets. For monitoring the functioning of equipment of varying sizes, numerous tools are available. Physical assets include buildings, cars, office and computer technology, tools, and other items. The resources owned by the business are those that help with operations and building. Modern assets monitoring solutions are the finest option these days. Assets tracking would be helpful in the prevention of theft and equipment loss.
It's no secret that paper-based progress and safety reporting in the construction industry has its drawbacks: documents get lost, reports are muddled with other crowded data, or subcontractors are late with their submission.
Whatever might be the reason, paper-kind reporting is filled with challenges and inefficiencies. It not only slows down the working process, but limits its efficacy by making it more difficult to understand data and compile information across different sources.
A solution report that could be easily accessible on an internal network or the cloud is good . This is going to save time manually as compiling paper data sources is a tough task,which also avoids the access problems and can avoid human error in the data entry process.
We can Increase Worker Safety and Productivity also.
Improving labour count is a very crucial way to complete construction projects on-time and on-budget.
When workers aren't engaged in a task properly , that costs an amount that could be spent in a better way elsewhere. Overworking labour can lead to overtime as well as over burdened ,increased turnover are all avoidable sources of added costs and time.
Data analytics will solve these scheduling issues, as well as broad-gauge trends in injuries or hazardous situation reports to address the root causes of problems before more serious incidents occur.
Not only diagnosing problems with worker's productivity, it can also unveil areas of improvement for proper workflow. For example, if workers are waiting for materials they need to be delivered, this is an indication that changes in labour rescheduling is what should be changed and/or material delivery is needed.
It is good to find a balance between productivity and safety. It is a one -one situation for contractors to get involved and construction analytics being a useful resource to find this equilibrium.
Conclusion :
In the construction sector, there is a particularly great need for data. Automation in construction will result from the use of data and ML. Additionally, several technologies increase overall productivity by reducing numerous obstacles and blockages that might cause delays in a variety of situations. This sector of the economy is highly active and demanding, requiring workers and resources to ensure that work is completed efficiently. To keep everyone on schedule and ensure that new buildings and structures are built to contemporary standards, the obstacles should be minimised. By foreseeing potential delays, the main goal of analytics in the construction sector is to improve the planning stages and hasten the entire building process.
Click here to learn Data Science Course, Data Science Course in Hyderabad, Data Science Course in Bangalore
Data Science Placement Success Story
Other Domain Analytics in our 360DigiTMG
Political Analytics, Transit Analytics, Forest Analytics, Wild Analytics, Agriculture Analytics, Army Analytics, E-commerce Analytics, Energy and Resource Analytics, Hospital Analytics, Healthcare Analytics, Hospitality Analytics, Oil and Gas Analytics, Regulatory Analytics, Security Analytics, Trade Analytics, Railway Analytics, Defense Analytics, Education Analytics, Accounting Analytics, Fraud Analytics, Legal and Law Analytics, Banking Analytics, Insurance Analytics, Life Science Analytics, Pharma Analytics, Aviation Analytics, Retail Analytics, Cyber Security Analytics, Supply Chain Analytics, Marketing Analytics
Data Science Training Institutes in Other Locations
Agra, Ahmedabad, Amritsar, Anand, Anantapur, Bangalore, Bhopal, Bhubaneswar, Chengalpattu, Chennai, Cochin, Dehradun, Malaysia, Dombivli, Durgapur, Ernakulam, Erode, Gandhinagar, Ghaziabad, Gorakhpur, Gwalior, Hebbal, Hyderabad, Jabalpur, Jalandhar, Jammu, Jamshedpur, Jodhpur, Khammam, Kolhapur, Kothrud, Ludhiana, Madurai, Meerut, Mohali, Moradabad, Noida, Pimpri, Pondicherry, Pune, Rajkot, Ranchi, Rohtak, Roorkee, Rourkela, Shimla, Shimoga, Siliguri, Srinagar, Thane, Thiruvananthapuram, Tiruchchirappalli, Trichur, Udaipur, Yelahanka, Andhra Pradesh, Anna Nagar, Bhilai, Borivali, Calicut, Chandigarh, Chromepet, Coimbatore, Dilsukhnagar, ECIL, Faridabad, Greater Warangal, Guduvanchery, Guntur, Gurgaon, Guwahati, Hoodi, Indore, Jaipur, Kalaburagi, Kanpur, Kharadi, Kochi, Kolkata, Kompally, Lucknow, Mangalore, Mumbai, Mysore, Nagpur, Nashik, Navi Mumbai, Patna, Porur, Raipur, Salem, Surat, Thoraipakkam, Trichy, Uppal, Vadodara, Varanasi, Vijayawada, Visakhapatnam, Tirunelveli, Aurangabad
Data Analyst Courses in Other Locations
ECIL, Jaipur, Pune, Gurgaon, Salem, Surat, Agra, Ahmedabad, Amritsar, Anand, Anantapur, Andhra Pradesh, Anna Nagar, Aurangabad, Bhilai, Bhopal, Bhubaneswar, Borivali, Calicut, Cochin, Chengalpattu , Dehradun, Dombivli, Durgapur, Ernakulam, Erode, Gandhinagar, Ghaziabad, Gorakhpur, Guduvanchery, Gwalior, Hebbal, Hoodi , Indore, Jabalpur, Jaipur, Jalandhar, Jammu, Jamshedpur, Jodhpur, Kanpur, Khammam, Kochi, Kolhapur, Kolkata, Kothrud, Ludhiana, Madurai, Mangalore, Meerut, Mohali, Moradabad, Pimpri, Pondicherry, Porur, Rajkot, Ranchi, Rohtak, Roorkee, Rourkela, Shimla, Shimoga, Siliguri, Srinagar, Thoraipakkam , Tiruchirappalli, Tirunelveli, Trichur, Trichy, Udaipur, Vijayawada, Vizag, Warangal, Chennai, Coimbatore, Delhi, Dilsukhnagar, Hyderabad, Kalyan, Nagpur, Noida, Thane, Thiruvananthapuram, Uppal, Kompally, Bangalore, Chandigarh, Chromepet, Faridabad, Guntur, Guwahati, Kharadi, Lucknow, Mumbai, Mysore, Nashik, Navi Mumbai, Patna, Pune, Raipur, Vadodara, Varanasi, Yelahanka
Navigate to Address
360DigiTMG - Data Science Course, Data Scientist Course Training in Chennai
D.No: C1, No.3, 3rd Floor, State Highway 49A, 330, Rajiv Gandhi Salai, NJK Avenue, Thoraipakkam, Tamil Nadu 600097
1800-212-654-321