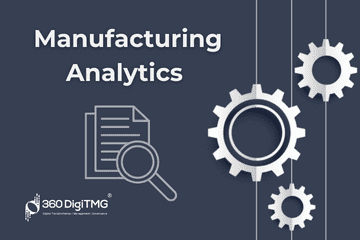 Introduction
The emergence of Industry 4.0 and the Industrial Internet of Things has sparked a digital transformation. Manufacturing companies are beginning to employ analytics driven by real-time production data to allow automation throughout the organisation and aid decision-makers in reaching judgements more quickly and accurately.Massive volumes of data are collected from equipment connected by sensors and edge devices and fed to cloud-based analytics systems which can analyze and comprehend data even faster than a human brain. Organizations can then capitalize on this data to take immediate and informed decisions and to make significant process improvements.
Cloud-based analytics systems, which can analyse and grasp data even quicker than a human brain, are fed enormous amounts of data that are gathered from equipment connected via sensors and edge devices. Then, organisations may use this information to make major process changes as well as quick, educated choices.
Learn the core concepts of Data Science Course video on Youtube:
What is Manufacturing Analytics?
The application of system, machine, and operational, data to manage and optimize production, including crucial processes like process planning, scheduling, maintenance, quality control, etc. is known as manufacturing analytics. Manufacturers can use this data to make decisions more precisely and quickly.
Data has been used by manufacturers to boost productivity and expand their market share. However, there has been a significant change in the data gathering techniques. In many firms today, manual processes like factor verification and recording, form filling, and the recording of operation and maintenance histories for the equipment on the floor are still prevalent. But it is mostly due to human mistake that these approaches are inaccurate. In addition to being time-consuming and biassed, they also do not generate the type of analysis required to make an informed conclusion.However, with advancements in the field of analytics, manufacturing also has undergone a digital transition, connected devices can also minimize the labor required for manual data collecting and documentation. In addition to this, the software and technologies make use of advanced analytics and algorithms, and the conclusions drawn from them are current and much more useful.
Automated machine data collecting has opened up a completely new field for industrial analytics, opening up a wide range of cutting-edge use cases including process automation, predictive maintenance, and monitoring and diagnostics.
In manufacturing analytics, recorded events from data capture may be utilised to improve process efficiency, save costs, boost equipment utilisation, decrease human error, and provide precise machine states and production trend information.
Manufacturing Analytics Use Cases
The manufacturing sector is altering drastically as a result of real-time production data. Let's take a look at a few factory analytics use cases that real-time machine connectivity has enabled
Fault Prediction and Preventive Maintenance
Manufacturing has always used preventive maintenance strategies. Real-time data can be used for more than just averting malfunctions by utilizing analytics. It can accurately forecast the possibility of a breakdown and the precise minute it will happen. Enabling technicians to stage components and make repairs when the machine is most efficient, lowers costs. As a result, productivity rises, and overall downtime is decreased. Find out more about manufacturing's use of predictive analytics.
Demand Forecasting and Inventory Management
Today's manufacturers must have complete control over the supply chain inventory management. They ought to be able to anticipate the necessary demand. But demand planning might be challenging. To better manage buying, inventory control, and transportation, end-to-end supply chain management may be utilised in conjunction with real-time shop floor data and data science methodologies. Plans for demand may be made that are quite exact and identify trends that would otherwise go unnoticed. If manufacturers have a better grasp of how long it takes to make parts, how long project runs will continue, and what the expected costs and profit of a specific work are, they may more correctly predict their material requirements for better planning.
Price Optimization
Cycle periods have a significant impact on cost. Additionally, realistic cost models and improved pricing strategies can be created with the help of specific part fabrication times and associated costs. Setting them too high could affect demand while setting them too low could diminish profitability. This information can be brought forward by a manufacturing platform with powerful analytics to make sure costs are set appropriately. Manufacturers may improve their job standards with Machine Metrics to guarantee precise cycle times.
Warranty Analysis
Supporting warranties may be expensive for many manufacturers. Warranties frequently adopt a "one size fits all" philosophy. This makes up for uncertainty and unanticipated problems. By using data science and knowledge from active warranties in the field, goods may be improved or altered to lower failure rates. Costs are decreased as a result of this. By producing more knowledgeable product iterations for brand-new product lines, this can aid in the prevention of consumer complaints.
Robotization
The rise of robotics is almost inevitable with the evolution of AI and sophisticated machine learning algorithms. With the development of these robots, more amount of data can be collected as they carry out their tasks.
By integrating this data with a powerful cloud-based manufacturing analytics platform, the quality can be controlled at the micro level. This evolution of robotics also leads to improved machine construction from machine builders.
Product Development
One of the more expensive manufacturing processes is product development. If businesses want to stay competitive, they must spend money on R&D to create new product lines, improve existing models, and provide value-added services.
In the past, several modelling iterations were used to generate the greatest outcome. But today, data science and contemporary industrial analytics make it possible to imitate a significant amount of this process. Using "digital twins" and other modelling approaches, real-world situations may be electronically simulated to forecast performance and reduce R&D costs.
Computer Vision Applications
Automated quality assurance has advanced significantly. Trip sensors, drop wires, and other mechanical devices gave way to a very complex assortment of cutting-edge optical gadgets. Sensors can provide data to the stream through optics, temperature, and cutting-edge vision applications like thermal and infrared detection to precisely manage stops by integrating these devices into data collecting. This enables "lights out" manufacturing, the holy grail of any plant, as well as faster speeds and less labor.
Managing Supply Chain Risk
Data may also be gathered from commodities in transit and sent directly from vendor equipment to the software platform to assist provide end-to-end visibility in the supply chain.
Manufacturing analytics may be used by businesses to manage their supply chains in a "control tower" way, directing and diverting resources to speed up or slow down. They can also order buffer inventories, backup supplies, and backup vendors when an interruption arises.
Benefits of Manufacturing Analytics
Modern industrial systems must be aware of their context. Real-time awareness is provided via manufacturing analytics. Companies become more competitive as a result of the optimization of cost, quality, product development, and customer happiness. By utilizing the enormous data stream produced by their production equipment, manufacturing analytics enables businesses to increase efficiency and profitability. Actionable insights are available to managers and decision-makers across the organization thanks to user-friendly visualization tools, dashboards, machine learning algorithms, and advanced analytics.
The advantages of manufacturing analytics, in our opinion, can be divided into three groups:
Reduced Costs
Since procedures may be optimised with the help of the insights gained through analytics, the cost can be significantly reduced. The development of robots and autonomous or semi-autonomous machine decision-making also reduces the need for manpower. The same is true for preventative and prescriptive maintenance plans, which have been demonstrated to save costs and increase production by decreasing downtime and improving part inventories.
Increased Revenue
Manufacturers can react swiftly to changes in demand thanks to real-time information accessible in production, inventory management, and demand and supply forecasting. Let's say the data indicates that they are approaching their capacity limit. In that situation, they can increase production time by adding overtime, increasing capacity, changing processes, or adjusting other production-related factors.
Miscellaneous Benefits
There are various advantages to the expansion of capabilities offered by manufacturing analytics. These include reduced energy use, safer environmental practices, reduced compliance errors, and better customer satisfaction.
Goals of Manufacturing Analytics
Data collection in manufacturing used to be fragmented and error-prone. It was challenging to translate data into practical action and decision-making. Either there was a lack of information, a delay, or unintentional human bias (such as rounding downtimes or part counts). Manufacturing analytics strives to eliminate data silos, assess it in real-time, and utilise it to drive better, quicker choices throughout the organisation, or maybe automate those decisions completely.
By recognising issues beforehand, production processes may be made much more effective, and total equipment utilisation can be significantly boosted. It also helps to streamline supply chains and makes them visible. Since manufacturing analytics uses cutting-edge machine learning techniques, it may help with opportunity discovery and process optimisation.
Product consumption can be taken into account when developing new products, as demonstrated in the manufacturing analytics use cases above. Additionally, it can inspire the development of new, better goods with lower failure rates and production costs by working with digital twin technology and incoming warranty information. Throughput can be boosted by using the same use case examples to quickly identify and notify personnel of machine-level issues. This lowers scrap rates and downtime.
Selecting the Right Solution
Due to the emergence of technologies that can gather production data and use it to regularly make better decisions, the manufacturing sector is going through significant changes.
However, producers should take a few key-value propositions into account when choosing the best technology to enable analytics on the shop floor. Consider the following inquiries before choosing a course of action:
Can real-time production data be collected by the solution?
Where did the production data come from? The system, people, or equipment? ALL OF THE ABOVE?
Has the data been standardized into a model that other management systems (MES, ERP, CMMS) can simply consume and propagate in out-of-the-box reports?
How quickly can you reach value with the software? Which issues will it resolve?
We'd like to introduce you to Machine Metrics' Manufacturing Analytics Software. Our solution enables automated, real-time machine data collection for accurate production reporting. In order to reduce downtimes, identify production bottlenecks, increase capacity, track your most important KPIs, and provide complete visibility and shop floor management, out-of-the-box reports and visualisations may be quickly consumed by stakeholders at all levels of the operation.
Click here to learn Data Science Course, Data Science Course in Hyderabad, Data Science Course in Bangalore
Data Science Placement Success Story
Other Domain Analytics in our 360DigiTMG
Political Analytics, Transit Analytics, Forest Analytics, Wild Analytics, Agriculture Analytics, Army Analytics, E-commerce Analytics, Energy and Resource Analytics, Hospital Analytics, Healthcare Analytics, Hospitality Analytics, Oil and Gas Analytics, Regulatory Analytics, Security Analytics, Trade Analytics, Railway Analytics, Defense Analytics, Education Analytics, Accounting Analytics, Fraud Analytics, Legal and Law Analytics, Banking Analytics, Insurance Analytics, Life Science Analytics, Pharma Analytics, Aviation Analytics, Retail Analytics, Cyber Security Analytics, Supply Chain Analytics, Marketing Analytics
Data Science Training Institutes in Other Locations
Agra, Ahmedabad, Amritsar, Anand, Anantapur, Bangalore, Bhopal, Bhubaneswar, Chengalpattu, Chennai, Cochin, Dehradun, Malaysia, Dombivli, Durgapur, Ernakulam, Erode, Gandhinagar, Ghaziabad, Gorakhpur, Gwalior, Hebbal, Hyderabad, Jabalpur, Jalandhar, Jammu, Jamshedpur, Jodhpur, Khammam, Kolhapur, Kothrud, Ludhiana, Madurai, Meerut, Mohali, Moradabad, Noida, Pimpri, Pondicherry, Pune, Rajkot, Ranchi, Rohtak, Roorkee, Rourkela, Shimla, Shimoga, Siliguri, Srinagar, Thane, Thiruvananthapuram, Tiruchchirappalli, Trichur, Udaipur, Yelahanka, Andhra Pradesh, Anna Nagar, Bhilai, Borivali, Calicut, Chandigarh, Chromepet, Coimbatore, Dilsukhnagar, ECIL, Faridabad, Greater Warangal, Guduvanchery, Guntur, Gurgaon, Guwahati, Hoodi, Indore, Jaipur, Kalaburagi, Kanpur, Kharadi, Kochi, Kolkata, Kompally, Lucknow, Mangalore, Mumbai, Mysore, Nagpur, Nashik, Navi Mumbai, Patna, Porur, Raipur, Salem, Surat, Thoraipakkam, Trichy, Uppal, Vadodara, Varanasi, Vijayawada, Visakhapatnam, Tirunelveli, Aurangabad
Data Analyst Courses in Other Locations
ECIL, Jaipur, Pune, Gurgaon, Salem, Surat, Agra, Ahmedabad, Amritsar, Anand, Anantapur, Andhra Pradesh, Anna Nagar, Aurangabad, Bhilai, Bhopal, Bhubaneswar, Borivali, Calicut, Cochin, Chengalpattu , Dehradun, Dombivli, Durgapur, Ernakulam, Erode, Gandhinagar, Ghaziabad, Gorakhpur, Guduvanchery, Gwalior, Hebbal, Hoodi , Indore, Jabalpur, Jaipur, Jalandhar, Jammu, Jamshedpur, Jodhpur, Kanpur, Khammam, Kochi, Kolhapur, Kolkata, Kothrud, Ludhiana, Madurai, Mangalore, Meerut, Mohali, Moradabad, Pimpri, Pondicherry, Porur, Rajkot, Ranchi, Rohtak, Roorkee, Rourkela, Shimla, Shimoga, Siliguri, Srinagar, Thoraipakkam , Tiruchirappalli, Tirunelveli, Trichur, Trichy, Udaipur, Vijayawada, Vizag, Warangal, Chennai, Coimbatore, Delhi, Dilsukhnagar, Hyderabad, Kalyan, Nagpur, Noida, Thane, Thiruvananthapuram, Uppal, Kompally, Bangalore, Chandigarh, Chromepet, Faridabad, Guntur, Guwahati, Kharadi, Lucknow, Mumbai, Mysore, Nashik, Navi Mumbai, Patna, Pune, Raipur, Vadodara, Varanasi, Yelahanka
Navigate to Address
360DigiTMG - Data Analytics, Data Science Course Training Hyderabad
2-56/2/19, 3rd floor, Vijaya Towers, near Meridian School, Ayyappa Society Rd, Madhapur, Hyderabad, Telangana 500081
099899 94319