Is Data Science a Stressful Job in Bangalore?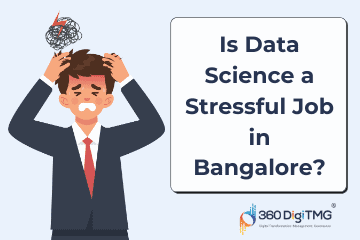 Data science is becoming viewed as a crucial instrument for the growth of any company or nonprofit. Every day, enormous amounts of raw data are created. Data science provides the cutting-edge methods and procedures needed to glean valuable insights from this unstructured data.
Businesses, governmental agencies, and other nonprofit organisations later utilise the valuable information and insights that were retrieved to increase productivity and make data-driven choices. Among other advantages, businesses utilise these actionable data to find new investment possibilities.
Also, check this Data Science Institute in Bangalore to start a career in Data Science.
Data science is gaining popularity all around the world due to the exciting benefits it provides. There are a lot of job openings every year, but there aren't enough competent workers to fill them. It has evolved into one of the highest paying professions at the moment as a result of the shortage and high compensation packages.
Because of the necessary skills one must master, there is currently a misperception that data science is a difficult and monotonous career. We will educate readers on data science and how desirable a career it is with the aid of this article. So, read this essay through to the finish attentively.
Looking forward to becoming a Data Scientist? Check out the Data Science Course and get certified today.
Scope of Data Science in Bangalore
Data science tools are not only needed in the business sector but also in some other areas of life such as the health sector, Information technology, transport E-commerce, etc. Data is connected to every single moment of our life which can only be dealt with advanced state-of-the-art techniques and approaches encompassed by data science.
Every business association is collecting tons of unstructured and raw data that should be categorized, analyzed, and used for producing actionable insights. Companies have realized that the potential of hiring skilled and well-trained data scientists who are capable of making this raw data manageable and presentable for them.
Learn the core concepts of Data Science Course video on YouTube:
Mainly because of the above-mentioned advantage, Companies are in regular need of finding skilled data scientists. Other than offering lucrative pay packages, companies are more than willing to take care of the skilled talent of this field. Shortage of the well-trained individuals and high pay packages has made data science the hottest profession of this century.
According to the Upgrade, currently, there are more than 50 thousand data science vacancies in India mostly from Bangalore. Other than that, the average salary of a data scientist in Bangalore is 1000000 per annum which is far greater than the other high-tier professions like doctors and engineers. Just think about the potential this marvelous field is offering for skilled individuals.
Is Data Science a Stressful Job?
To become a successful data scientist, one needs to learn some skills like machine learning, coding, statistics, programming languages such as Python which many individuals may find boring and stressful. Because of the applied necessary condition of learning these skills, some individuals mistakenly consider data science as a very boring and stressful job.
Earn yourself a promising career in data science by enrolling in the Data Science Classes in Pune offered by 360DigiTMG.
Learning skills like machine learning, coding, statistics, and programming languages like Python—which many people could find uninteresting and stressful—is necessary to become a great data scientist. Because mastering these abilities is a practical requirement, some people wrongly believe that working in data science is both uninteresting and unpleasant.
The data science curriculum includes a number of hard and soft skills that might be quite difficult for certain people to master. Mastering data science involves a lot of effort and steadfast resolve, just like learning any other new area. Any person with a strong will, however, may easily overcome any difficulties when learning data science. The reality is that it is one of the most adaptable professions, offering its workers a wide range of alternatives. The sole prerequisite is that the applicant must possess the necessary skills and educational background.
In addition, we aim to remove the idea that data science job is monotonous or difficult.
Because there is a severe lack of qualified candidates and assured substantially high earnings, data science is one of the most intriguing job options. It is a broad and extremely diverse field. A person can work as a data architect, business intelligence developer, data engineer, data analyst, machine learning scientist or engineer, infrastructure architect, statistician, etc. in addition to being a data scientist.
Given the wide range of job options, you may have anticipated that data science is not as dull as many people believe it to be. Based on his or her interests and educational background, one can readily select one of these job alternatives. We would reiterate that data science is a very enticing field for the reason that it is a very important one.
Want to learn more about data science? Enroll in the Best Data Science courses in Chennai to do so.
Data Science Placement Success Story
Data Science Training Institutes in Other Locations
Agra, Ahmedabad, Amritsar, Anand, Anantapur, Bangalore, Bhopal, Bhubaneswar, Chengalpattu, Chennai, Cochin, Dehradun, Malaysia, Dombivli, Durgapur, Ernakulam, Erode, Gandhinagar, Ghaziabad, Gorakhpur, Gwalior, Hebbal, Hyderabad, Jabalpur, Jalandhar, Jammu, Jamshedpur, Jodhpur, Khammam, Kolhapur, Kothrud, Ludhiana, Madurai, Meerut, Mohali, Moradabad, Noida, Pimpri, Pondicherry, Pune, Rajkot, Ranchi, Rohtak, Roorkee, Rourkela, Shimla, Shimoga, Siliguri, Srinagar, Thane, Thiruvananthapuram, Tiruchchirappalli, Trichur, Udaipur, Yelahanka, Andhra Pradesh, Anna Nagar, Bhilai, Borivali, Calicut, Chandigarh, Chromepet, Coimbatore, Dilsukhnagar, ECIL, Faridabad, Greater Warangal, Guduvanchery, Guntur, Gurgaon, Guwahati, Hoodi, Indore, Jaipur, Kalaburagi, Kanpur, Kharadi, Kochi, Kolkata, Kompally, Lucknow, Mangalore, Mumbai, Mysore, Nagpur, Nashik, Navi Mumbai, Patna, Porur, Raipur, Salem, Surat, Thoraipakkam, Trichy, Uppal, Vadodara, Varanasi, Vijayawada, Visakhapatnam, Tirunelveli, Aurangabad
Data Analyst Courses in Other Locations
ECIL, Jaipur, Pune, Gurgaon, Salem, Surat, Agra, Ahmedabad, Amritsar, Anand, Anantapur, Andhra Pradesh, Anna Nagar, Aurangabad, Bhilai, Bhopal, Bhubaneswar, Borivali, Calicut, Cochin, Chengalpattu , Dehradun, Dombivli, Durgapur, Ernakulam, Erode, Gandhinagar, Ghaziabad, Gorakhpur, Guduvanchery, Gwalior, Hebbal, Hoodi , Indore, Jabalpur, Jaipur, Jalandhar, Jammu, Jamshedpur, Jodhpur, Kanpur, Khammam, Kochi, Kolhapur, Kolkata, Kothrud, Ludhiana, Madurai, Mangalore, Meerut, Mohali, Moradabad, Pimpri, Pondicherry, Porur, Rajkot, Ranchi, Rohtak, Roorkee, Rourkela, Shimla, Shimoga, Siliguri, Srinagar, Thoraipakkam , Tiruchirappalli, Tirunelveli, Trichur, Trichy, Udaipur, Vijayawada, Vizag, Warangal, Chennai, Coimbatore, Delhi, Dilsukhnagar, Hyderabad, Kalyan, Nagpur, Noida, Thane, Thiruvananthapuram, Uppal, Kompally, Bangalore, Chandigarh, Chromepet, Faridabad, Guntur, Guwahati, Kharadi, Lucknow, Mumbai, Mysore, Nashik, Navi Mumbai, Patna, Pune, Raipur, Vadodara, Varanasi, Yelahanka
Navigate to Address
360DigiTMG - Data Science, Data Scientist Course Training in Bangalore
No 23, 2nd Floor, 9th Main Rd, 22nd Cross Rd, 7th Sector, HSR Layout, Bengaluru, Karnataka 560102
1800-212-654-321