Is Getting a Degree Necessary for Data Science in Bangalore?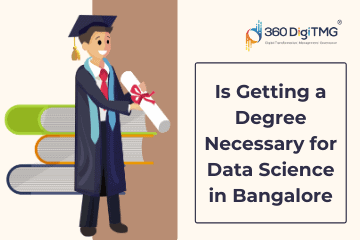 A sizable number of young and aspirational people have begun to pay attention to data science, a burgeoning area. Data science has actually risen to the top of the list of jobs that are now in demand. The reliance on data science is continually growing as a result of digitization.
Want to learn more about data science? Enroll in the Best Data Science courses in Chennai to do so.
Data modelling, machine learning modelling, statistical operations, data transformation, and other statistical methodologies may all be used in data science to make data more comprehensible and processable to create relevant insights. Additionally, these data science-provided optimisation strategies may be applied successfully to satisfy business needs.
Data science approaches are being used by a variety of industries, including health care, information technology, and transportation, to increase efficiency and make more data-driven choices. Any organization's ability to advance would be all but impossible without making use of crucial data science methodologies.
Learn the core concepts of Data Science Course video on YouTube:
Some people find data science to be extremely uninteresting and difficult, perhaps as a result of the specific abilities that a skilled person in this subject is expected to possess. One must realise, nevertheless, that there is no gain without suffering. To acquire what he wants out of this sector, one needs to be educated and have the necessary abilities.
Many educational paths lead to a career in data science, so some people are concerned about which one could be best for them. We have provided a logical overview of why obtaining a degree is vital and which degree is the most appropriate for such people in order to assist them.
Why Getting a Degree is Necessary?
A data scientist is supposed to unlock predictive insights and analyze business data so that actionable intelligence could be collected and used for getting required results. However, to provide what is being expected from him, he is supposed to have some required skills and sound educational background.
Are you looking to become a Data Scientist? Go through 360DigiTMG's PG Diploma in Data Science and Artificial Intelligence!.
Being a very wide and vast field, it would be hard for a layman or someone withinsufficient educational background to learn the must-have skills. Machine learning, Coding, Python, R, and some other statistical concepts would be extremely hard for a common person to learn and understand. He may not be able to understand the fundamentals of the said skills.
It should be noted that almost 88% of data scientists have a Master's degree whereas 46% of them are Ph.D. Considering this, it should be understood that business companies tend to hire educated individuals. So, for becoming a successful data scientist, it is extremely necessary to get at least a Bachelor's degree in the social sciences, computer sciences, statistics, and physical sciences.
Earning an educational degree is not enough; a data scientist is also supposed to possess a solid command of the related technical skills. These technical skills include programming in R or Python, machine learning, SQL, data visualization, problem-solving, solid communications, and some statistical approaches too.
Learning these said technical skills and getting an educational degree may take a sufficient amount of time. However, all these challenges can be overcome with strong willpower and consistent determination. It is recommended that one should start learning skills while earning an educational degree. It will save both time and money.
Become a Data Scientist with 360DigiTMG Data Science course in Hyderabad Get trained by the alumni from IIT, IIM, and ISB.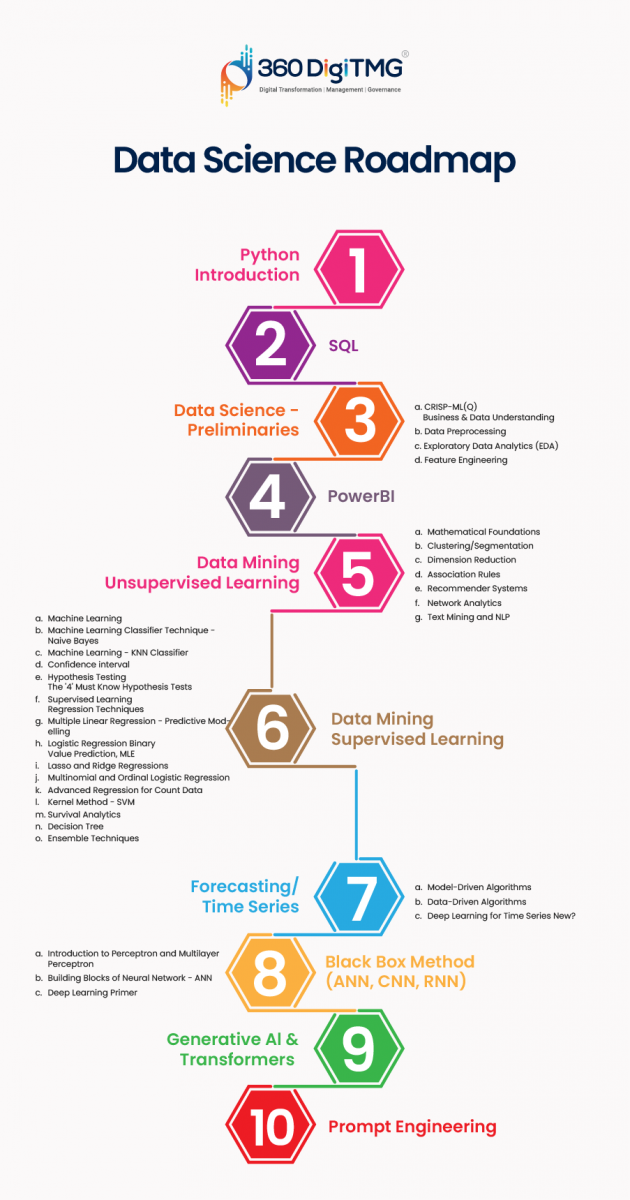 Important Educational Degrees
Mathematics, data science, engineering, computer science, physics, and other fields are among those with the highest demand for educational degrees in this area. It should be easy to find a degree programme in data science because so many reputable educational institutions have begun to do so. In addition, there are various additional computer and technical degrees that might aid a person in beginning a career in data science.
Also, check this Data Science Institute in Bangalore to start a career in Data Science.
One can master some of the most well-known abilities that are later employed in data science after receiving the aforementioned academic degrees. Among these abilities include experimenting, managing enormous amounts of data, solving quantitative puzzles, coding, etc.
Currently, statistics and mathematics (32%), engineering (16%), computer science (19%), and engineering are some of the most common academic degrees related to data science.
From our perspective, earning a degree in one of the aforementioned programmes should be chosen over the more specialised data science. A person's job options are increased by earning a degree from one of these programmes.
Data Science Placement Success Story
Data Science Training Institutes in Other Locations
Agra, Ahmedabad, Amritsar, Anand, Anantapur, Bangalore, Bhopal, Bhubaneswar, Chengalpattu, Chennai, Cochin, Dehradun, Malaysia, Dombivli, Durgapur, Ernakulam, Erode, Gandhinagar, Ghaziabad, Gorakhpur, Gwalior, Hebbal, Hyderabad, Jabalpur, Jalandhar, Jammu, Jamshedpur, Jodhpur, Khammam, Kolhapur, Kothrud, Ludhiana, Madurai, Meerut, Mohali, Moradabad, Noida, Pimpri, Pondicherry, Pune, Rajkot, Ranchi, Rohtak, Roorkee, Rourkela, Shimla, Shimoga, Siliguri, Srinagar, Thane, Thiruvananthapuram, Tiruchchirappalli, Trichur, Udaipur, Yelahanka, Andhra Pradesh, Anna Nagar, Bhilai, Borivali, Calicut, Chandigarh, Chromepet, Coimbatore, Dilsukhnagar, ECIL, Faridabad, Greater Warangal, Guduvanchery, Guntur, Gurgaon, Guwahati, Hoodi, Indore, Jaipur, Kalaburagi, Kanpur, Kharadi, Kochi, Kolkata, Kompally, Lucknow, Mangalore, Mumbai, Mysore, Nagpur, Nashik, Navi Mumbai, Patna, Porur, Raipur, Salem, Surat, Thoraipakkam, Trichy, Uppal, Vadodara, Varanasi, Vijayawada, Visakhapatnam, Tirunelveli, Aurangabad
Data Analyst Courses in Other Locations
ECIL, Jaipur, Pune, Gurgaon, Salem, Surat, Agra, Ahmedabad, Amritsar, Anand, Anantapur, Andhra Pradesh, Anna Nagar, Aurangabad, Bhilai, Bhopal, Bhubaneswar, Borivali, Calicut, Cochin, Chengalpattu , Dehradun, Dombivli, Durgapur, Ernakulam, Erode, Gandhinagar, Ghaziabad, Gorakhpur, Guduvanchery, Gwalior, Hebbal, Hoodi , Indore, Jabalpur, Jaipur, Jalandhar, Jammu, Jamshedpur, Jodhpur, Kanpur, Khammam, Kochi, Kolhapur, Kolkata, Kothrud, Ludhiana, Madurai, Mangalore, Meerut, Mohali, Moradabad, Pimpri, Pondicherry, Porur, Rajkot, Ranchi, Rohtak, Roorkee, Rourkela, Shimla, Shimoga, Siliguri, Srinagar, Thoraipakkam , Tiruchirappalli, Tirunelveli, Trichur, Trichy, Udaipur, Vijayawada, Vizag, Warangal, Chennai, Coimbatore, Delhi, Dilsukhnagar, Hyderabad, Kalyan, Nagpur, Noida, Thane, Thiruvananthapuram, Uppal, Kompally, Bangalore, Chandigarh, Chromepet, Faridabad, Guntur, Guwahati, Kharadi, Lucknow, Mumbai, Mysore, Nashik, Navi Mumbai, Patna, Pune, Raipur, Vadodara, Varanasi, Yelahanka
Navigate to Address
360DigiTMG - Data Science, Data Scientist Course Training in Bangalore
No 23, 2nd Floor, 9th Main Rd, 22nd Cross Rd, 7th Sector, HSR Layout, Bengaluru, Karnataka 560102
1800-212-654-321