Is Data Science a Good Career in Bangalore?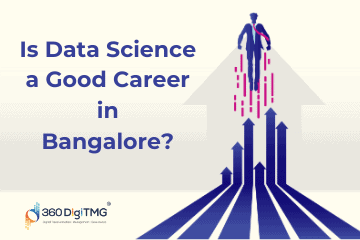 In current technological age, data science has developed into a buzzword, and every organisation and corporation are contemplating recruiting data science specialists.
In 2021, we can expect to see a lot of excitement around this subject, and it's understandable why: after successfully deriving valuable insights from the data, it aids the organisation in increasing ROI.
A very promising career that has recently secured the future of millions of professionals due to the increasing need for data science.
Want to learn more about data science? Enroll in the Best Data Science courses in Chennai to do so.
Additionally, there is strong indication that data science will rank among the most rewarding professions in the next years.
By 2022, data scientists and analysts will be the most in-demand and developing occupation, according to the World Economic Forum, and by 2026, 11.5 million new jobs are expected to be generated, according to the US Bureau of Labour Statistics.
Overall, data science is one of the finest job alternatives, and there are countless reasons why students should study data science or why data science is the future of all organisations.
Earn yourself a promising career in data science by enrolling in the Data Science Classes in Pune offered by 360DigiTMG.
6 Reasons Why Data Science is a Good Career Even in 2021
Here are 6 most sensible reasons why data science is a good career choice for all types of students even in 2021:
Learn the core concepts of Data Science Course video on YouTube:
Challenges to Organizations

One of the first reasons that why data science is a good career option is that organizations of all kinds are currently facing major data-related challenges.

Numerous studies show that about 2.5 quintillion of bytes are being produced daily, of which only 0.5% have been analyzed so far.

This data is being compiled from a variety of sources including business transactions, sales data, customer logs, and stakeholders.

Industries are rapidly evolving in an age of advanced technology where no organization can function without data.

Because of which organizations now understand the importance of the data science field and want to hire experts to enhance decision-making.

Many Opportunities

Due to its limitless advantages, data science is a young topic that has quickly attracted the interest of all organisations.

According to Glassdoor, demand for employment in data science has increased by 650% since 2012, making it the most sought-after vocation in the country.

Furthermore, with a 56% rise in occupations linked to data science, it is a very promising and profitable vocation in the United States.

In addition to the abundance of chances in the US, India (particularly Bangalore) has a significant market for data scientists.

Different Job Roles

There are several career options available in the extremely wide discipline of data science. Anyone can select the option that best suits their interests.

Data science workers are being hired by every size of business, including some of the biggest and most successful ones like Google, Amazon, Apple, Microsoft, and Facebook.

The need for all data science job categories has significantly increased in every other business that uses data.

From that, it is obvious that you will have access to a variety of work opportunities all around the world once you have finished the data science degree or programme.

Here are some of the most lucrative data science careers that are molding the future:

Data Scientists
Data Analyst
Data Engineer

Looking forward to becoming a Data Scientist? Check out the Data Science Course and get certified today.

Best for Existing Professionals

The data science field is also a very profitable option for those who are thinking of quitting their current profession to move towards data science. If anyone has a keen interest in data and likes to solve every day complex puzzles, then he can show the essence of his skills in the field of data science.

Salary

Data science is, without a question, a highly lucrative career. A data science professional can even reach the six figures if he has several years of experience and all the essential abilities. Data scientists' pay may be significantly impacted by a number of different criteria, including experience, abilities, geography, and employer.

However, data scientists are generally well compensated practically everywhere. Here are typical salaries for data scientists in Bangalore, as reported by PayScale.

Data Scientists

₹388k/year - With less than 1 year of experience

₹986k/year - With 1 to 4 year of experience

₹2m/year - With 5 to 9 year of experience

Data Engineers

₹395k/year - With less than 1 year of experience

₹926k/year - With 1 to 4 year of experience

₹2m/year - With 5 to 9 year of experience

Data Analyst

₹255k/year - With less than 1 year of experience

₹509k/year - With 1 to 4 year of experience

₹1m/year - With 5 to 9 year of experience

Data Architect

₹832k/year - With less than 1 year of experience

₹2m/year - With 1 to 4 year of experience

₹3m/year - With 5 to 9 year of experience

Statistician

₹400k/year - With less than 1 year of experience

₹1m/year - With 1 to 4 year of experience

₹2m/year - With 5 to 9 year of experience

Also, check this Data Science Institute in Bangalore to start a career in Data Science.

Low Competition

Indeed, there will still be a chance for anyone interested in data science to start a successful career in 2021. Globally, there is a severe lack of qualified data science professionals. In India alone, there were 93,500 open data science positions in 2020 due to a shortage of qualified candidates.

According to Quant Hub, there will be a demand for 250,000 data science specialists by the year 2020. Due to the low level of competition, anyone may simply seize this chance.
Data Science Placement Success Story
Data Science Training Institutes in Other Locations
Agra
,
Ahmedabad
,
Amritsar
,
Anand
,
Anantapur
,
Bangalore
,
Bhopal
,
Bhubaneswar
,
Chengalpattu
,
Chennai
,
Cochin
,
Dehradun
,
Malaysia
,
Dombivli
,
Durgapur
,
Ernakulam
,
Erode
,
Gandhinagar
,
Ghaziabad
,
Gorakhpur
,
Gwalior
,
Hebbal
,
Hyderabad
,
Jabalpur
,
Jalandhar
,
Jammu
,
Jamshedpur
,
Jodhpur
,
Khammam
,
Kolhapur
,
Kothrud
,
Ludhiana
,
Madurai
,
Meerut
,
Mohali
,
Moradabad
,
Noida
,
Pimpri
,
Pondicherry
,
Pune
,
Rajkot
,
Ranchi
,
Rohtak
,
Roorkee
,
Rourkela
,
Shimla
,
Shimoga
,
Siliguri
,
Srinagar
,
Thane
,
Thiruvananthapuram
,
Tiruchchirappalli
,
Trichur
,
Udaipur
,
Yelahanka
,
Andhra Pradesh
,
Anna Nagar
,
Bhilai
,
Borivali
,
Calicut
,
Chandigarh
,
Chromepet
,
Coimbatore
,
Dilsukhnagar
,
ECIL
,
Faridabad
,
Greater Warangal
,
Guduvanchery
,
Guntur
,
Gurgaon
,
Guwahati
,
Hoodi
,
Indore
,
Jaipur
,
Kalaburagi
,
Kanpur
,
Kharadi
,
Kochi
,
Kolkata
,
Kompally
,
Lucknow
,
Mangalore
,
Mumbai
,
Mysore
,
Nagpur
,
Nashik
,
Navi Mumbai
,
Patna
,
Porur
,
Raipur
,
Salem
,
Surat
,
Thoraipakkam
,
Trichy
,
Uppal
,
Vadodara
,
Varanasi
,
Vijayawada
,
Vizag
,
Tirunelveli
,
Aurangabad
Data Analyst Courses in Other Locations
ECIL, Jaipur, Pune, Gurgaon, Salem, Surat, Agra, Ahmedabad, Amritsar, Anand, Anantapur, Andhra Pradesh, Anna Nagar, Aurangabad, Bhilai, Bhopal, Bhubaneswar, Borivali, Calicut, Cochin, Chengalpattu , Dehradun, Dombivli, Durgapur, Ernakulam, Erode, Gandhinagar, Ghaziabad, Gorakhpur, Guduvanchery, Gwalior, Hebbal, Hoodi , Indore, Jabalpur, Jaipur, Jalandhar, Jammu, Jamshedpur, Jodhpur, Kanpur, Khammam, Kochi, Kolhapur, Kolkata, Kothrud, Ludhiana, Madurai, Mangalore, Meerut, Mohali, Moradabad, Pimpri, Pondicherry, Porur, Rajkot, Ranchi, Rohtak, Roorkee, Rourkela, Shimla, Shimoga, Siliguri, Srinagar, Thoraipakkam , Tiruchirappalli, Tirunelveli, Trichur, Trichy, Udaipur, Vijayawada, Vizag, Warangal, Chennai, Coimbatore, Delhi, Dilsukhnagar, Hyderabad, Kalyan, Nagpur, Noida, Thane, Thiruvananthapuram, Uppal, Kompally, Bangalore, Chandigarh, Chromepet, Faridabad, Guntur, Guwahati, Kharadi, Lucknow, Mumbai, Mysore, Nashik, Navi Mumbai, Patna, Pune, Raipur, Vadodara, Varanasi, Yelahanka
Navigate to Address
360DigiTMG - Data Science, Data Scientist Course Training in Bangalore
No 23, 2nd Floor, 9th Main Rd, 22nd Cross Rd, 7th Sector, HSR Layout, Bengaluru, Karnataka 560102
1800-212-654-321