Is it Hard to Get a Job In Data Science?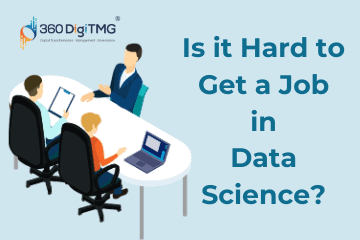 Image from pixabay
Starting On
The most profitable sector is said to be the data science sector. Since there is a growing need for data scientists, this industry is lucrative, and many people enter it without any training or experience. The outcome demonstrates that, despite a lack of qualified applicants, it is challenging to get employment in data science.
Why do people think this way, and why are qualified candidates so unlikely to get hired? Let's examine the causes of this predicament.
Looking forward to becoming a Data Scientist? Check out the Data Science Course and get certified today.
Why Data Science Have Huge Opportunities?
Glassdoor declared data science a satisfactory job with a rating of 4.8 out of 5 and a median salary of $110,000 in the US. The data science industry beat all lucrative jobs because of high demand in every field.
The recent increasing demand for data science, big data, machine learning, and Al has changed the job market situation. Data science is a vast field and the domain requires a lot of opportunities. From the finance sector to medical science to cyber-security to the stock market and many other fields require a data scientist.
The data science domain requires a lot of skills and true determination to succeed in the field. Besides the skills set, individuals need the practice to become data scientists.
Here, a question should rise that when there are many available opportunities and globally has considered the shortage of data scientists, why does an aspiring data scientist can't get a job?
Outrageous Job Requirement

Businesses and organisations are searching collectively. When you look for a career as a data scientist, you'll notice that many job descriptions don't correspond to the duties of the position. As a result, many ambitious data scientists who wish to apply for this position would be deceived.

Many qualified people are misled by the advertised job description and decide not to apply for the position.

Companies Interview Process

Also, check this Data Science Institute in Bangalore to start a career in Data Science.

Most organizations and companies only focus on specific areas, such as asking only about commands and tools. They don't test or ask but other skills. A passionate data scientist has a complete skill set, but when employees only questioning specific commands or functions and candidates don't remember at that time, an employer does not consider him for the job.

The interview process fails many suitable candidates and doesn't allow them to qualify for the job. It's better to ask relevant questions.

The Extraordinary Expectation of Companies

Even when employers post job openings, they are unsure of what they are looking for. As a job requirement, they only include technical words and tool names. There have been occasions when full job descriptions have been advertised.

Learn the core concepts of Data Science Course video on YouTube:

Consequently, high expectations from candidates discourage them from applying for the position. Many data scientists who entered the area of data science from other disciplines believe themselves to be experts. Data science is a broad area that draws from practically all disciplines.

Nobody can claim to be an expert in all things data science. No one can claim to be an expert in the subject because technology is constantly evolving and bringing up new improvements. Never say during a job interview that you are an expert in everything; doing so will get you nowhere.

You may disagree, but few businesses actually undertake job descriptions, and occasionally hiring managers are unaware of technical jargon. This is the viewpoint of the firm. Now consider the opposing side of the argument to determine why a prospective employee is not qualified for the position. What are the causes of it?
Why it is Difficult to Get a Job for an Aspiring Data Scientist
People complain that they have essential skills but don't get a job in the data science industry. Let's understand.
Earn yourself a promising career in data science by enrolling in the Data Science Classes in Pune offered by 360DigiTMG.

Candidate Don't Justify Their Academic Experience

All skills do not have to be present at once. A data scientist is the ideal blend of soft and hard talents for the position of data scientist. A data scientist has to be proficient in data mining, analysis, and modelling. Additionally, they must possess marketing and presentation abilities to increase customer business.

The majority of candidates possess the necessary talents, but they lack the confidence to demonstrate them. How can a job seeker land a position when he is unable to impress employers with his experience or academic accomplishments?

Bonus Tip

Before going to an interview, write a professional paper about the experiences you gained. Prominent theoretical and practical data science skills in your CV so that employer can judge your ability. Present your practical project and showcase that you can be proved as an asset to their company.

Image from pixabay

Candidate's Lack of Understanding

It is essential to fully comprehend job descriptions and criteria when you encounter an advertisement in a newspaper, on a job board, or through community networking. Update and modify your resume/CV right now.

But many job hopefuls miss out on possibilities because they update their resumes to reflect the job description despite possessing the necessary qualifications.

In order for companies to know that a candidate is up to date and has solid industry expertise, they must update their resume with the most recent data technologies and applications.

Misconceptions at the End of the Employers

To cut down their costs, most companies are looking to hire candidates with a diverse skill set. They look for a candidate who can be multitasking in different professional branches.

Companies and organizations want to hire candidates for data scientists' jobs, but they also look like software engineers, thus misconception is created at employers' end.

These implied misunderstandings make the employer less efficient and rigid because the up-gradation and required knowledge are ignored on purpose.

Want to learn more about data science? Enroll in the Best Data Science courses in Chennai to do so.

Let's end the debate and see how an aspirant data scientist can get a job.

Built a Strong Portfolio

A potential applicant has to have a solid portfolio in order to land a position in the data science sector. You must work on actual projects if you wish to pursue a career in data science. To build your portfolio, consider posting online and looking for problems you can answer.

Prepare for the Interview:

Before going to an interview, you must do some preparation for the interview. Study programming, important concepts, business questions, and other important issues. Moreover, you must prepare to answer about different work situations.

Connect With the Data Science Industry

It's important to connect with the community. So you will know the job opportunities and upgrading of the data science industry.

Update Resume /CV According to Job Requirements

Before applying for a job, you must update your CV /resume. Add relevant skills and showcase your abilities.

Build Trust With Employers

Establish a relationship with the employer and ask any and all questions you have regarding the position. Trust the recruiter and give them an honest assessment of your skills since they want to select the best applicant.

Employers are interested in learning how you approach challenges and solve difficulties. Despite the fact that they are familiar with your CV and your skill set, they nonetheless evaluate you in light of the circumstances.

Look for an Internship

If you are working hard to get a job but can't acquire your dream job then must think about an internship. This way, you will get a chance to put your feet in and get the experience. Many companies visit campus or institute and interview candidates for an internship. You can get an internship at that time.

Showcase your Skills

It's time to showcase your skills. Make a creative and clean portfolio. Post your projects on GitHub, LinkedIn, and other platforms. Kaggle is another option to work. Here you can Practice machine learning problems and show your ability.
Final Thought
Data scientists now have various career prospects because to the current data science sector surge. From the perspective of the organisation, their astronomical expectations, ridiculous employment criteria, and interviewing procedure let down many aspirant data scientists.
The inability to demonstrate their talents prevents many qualified applicants from applying for the position. Allowing the interview panel to have faith in your abilities is challenging. Recognise your aptitude for problem-solving and knowledge.
Although it seems strange and clear, the interviewer frequently has no idea what he is asking or what talents you have in data science.
In essence, the interviewer is applying selection bias to you, and if your data science philosophy differs from his, you are not a suitable candidate.
The primary issue is that the employer is unsure of what they want. Additionally, there is a wealth of information and technical expertise available in this field to move beyond the fundamentals.
However, there are several work options available everywhere. A motivated applicant must seek a position that fits their qualifications. Display their talent to land a job. If you are the appropriate person, it isn't difficult.
Data Science Placement Success Story
Data Science Training Institutes in Other Locations
Agra, Ahmedabad, Amritsar, Anand, Anantapur, Bangalore, Bhopal, Bhubaneswar, Chengalpattu, Chennai, Cochin, Dehradun, Malaysia, Dombivli, Durgapur, Ernakulam, Erode, Gandhinagar, Ghaziabad, Gorakhpur, Gwalior, Hebbal, Hyderabad, Jabalpur, Jalandhar, Jammu, Jamshedpur, Jodhpur, Khammam, Kolhapur, Kothrud, Ludhiana, Madurai, Meerut, Mohali, Moradabad, Noida, Pimpri, Pondicherry, Pune, Rajkot, Ranchi, Rohtak, Roorkee, Rourkela, Shimla, Shimoga, Siliguri, Srinagar, Thane, Thiruvananthapuram, Tiruchchirappalli, Trichur, Udaipur, Yelahanka, Andhra Pradesh, Anna Nagar, Bhilai, Borivali, Calicut, Chandigarh, Chromepet, Coimbatore, Dilsukhnagar, ECIL, Faridabad, Greater Warangal, Guduvanchery, Guntur, Gurgaon, Guwahati, Hoodi, Indore, Jaipur, Kalaburagi, Kanpur, Kharadi, Kochi, Kolkata, Kompally, Lucknow, Mangalore, Mumbai, Mysore, Nagpur, Nashik, Navi Mumbai, Patna, Porur, Raipur, Salem, Surat, Thoraipakkam, Trichy, Uppal, Vadodara, Varanasi, Vijayawada, Visakhapatnam, Tirunelveli, Aurangabad
Data Analyst Courses in Other Locations
ECIL, Jaipur, Pune, Gurgaon, Salem, Surat, Agra, Ahmedabad, Amritsar, Anand, Anantapur, Andhra Pradesh, Anna Nagar, Aurangabad, Bhilai, Bhopal, Bhubaneswar, Borivali, Calicut, Cochin, Chengalpattu , Dehradun, Dombivli, Durgapur, Ernakulam, Erode, Gandhinagar, Ghaziabad, Gorakhpur, Guduvanchery, Gwalior, Hebbal, Hoodi , Indore, Jabalpur, Jaipur, Jalandhar, Jammu, Jamshedpur, Jodhpur, Kanpur, Khammam, Kochi, Kolhapur, Kolkata, Kothrud, Ludhiana, Madurai, Mangalore, Meerut, Mohali, Moradabad, Pimpri, Pondicherry, Porur, Rajkot, Ranchi, Rohtak, Roorkee, Rourkela, Shimla, Shimoga, Siliguri, Srinagar, Thoraipakkam , Tiruchirappalli, Tirunelveli, Trichur, Trichy, Udaipur, Vijayawada, Vizag, Warangal, Chennai, Coimbatore, Delhi, Dilsukhnagar, Hyderabad, Kalyan, Nagpur, Noida, Thane, Thiruvananthapuram, Uppal, Kompally, Bangalore, Chandigarh, Chromepet, Faridabad, Guntur, Guwahati, Kharadi, Lucknow, Mumbai, Mysore, Nashik, Navi Mumbai, Patna, Pune, Raipur, Vadodara, Varanasi, Yelahanka
Navigate to Address
360DigiTMG - Data Science, Data Scientist Course Training in Bangalore
No 23, 2nd Floor, 9th Main Rd, 22nd Cross Rd, 7th Sector, HSR Layout, Bengaluru, Karnataka 560102
1800-212-654-321