Is Data Science Still a High-Demand Job?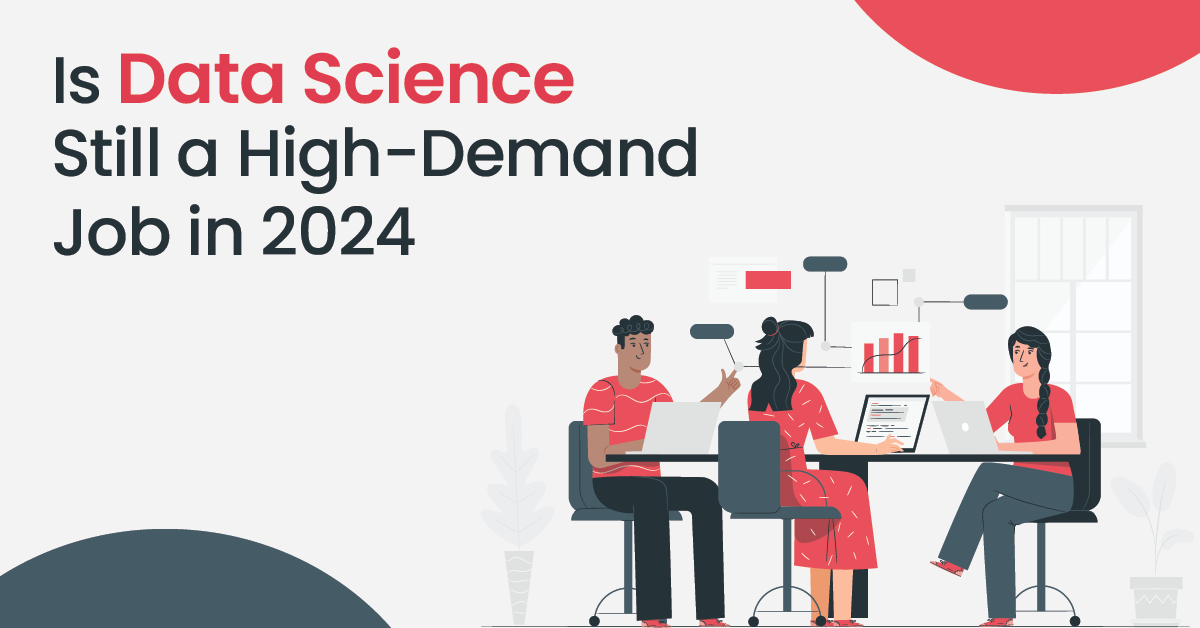 Are you looking to become a Data Scientist? Go through 360DigiTMG's PG Diploma in Data Science and Artificial Intelligence!.
Let's examine why the data sector is still in great demand and profitable. Identify the elements that contribute to data science's success.
Nowadays, practically every sector makes considerable use of data science. Data science applications support a wide range of sectors, including banking, gambling, healthcare, manufacturing, autos, and many more, as new technology is developed and updated.
Before we explain the factors that make data science a highly sought-after profession, let's first clarify what data science is.
Data Science is a Revolution

Data science is known as an emerging field. Data science is a fast-growing industry that provides exciting opportunities for professionals. Increasing demand for data scientists makes this field lucrative and professionals enter the job market. Nowadays, experienced data scientists are getting high salaries.

Data science is the process of collecting data, storing and analyzing valuable insights, and then present as a visible picture that will help an organization or company to make the right decision.

Now, come to the question, is data science still a high-demand job in 2021?

Want to learn more about data science? Enroll in the Best Data Science courses in Chennai to do so.

YES!!

According to Glassdoor's annual ranking, the data science industry gets the third position in the job market in the US. Since 2016, it was the first year when the data science industry gets the third position in America.

The title for the highest-paying job category goes to Front End engineer, the second position goes to Java Developer and then Data scientist.

This doesn't mean that data science significance is falling off. The Data science industry comprehended many advanced tech concepts such as the internet, Artificial intelligence, machine learning, and many others. In the current world, the role of data scientists is crucial because they enable businesses and companies to handle a huge amount of data.

Data Science Job Profiles

Almost every field is impacted by data science. Data scientists are in high demand on all levels, and career prospects are not only restricted to certain industries. Here is a list of some well-known job titles in data science.

Data Analyst
Applications
Data architect
Business Intelligence
Developer
Architect Data Engineer
Scientist in Machine Learning
Machine Learning Engineer
Statistician

In order to determine if data science will still be a highly sought-after profession in 2021, we must comprehend the demand and supply chains. Aside from the data scientists' growing importance in every industry.

High Demand

A simple rule of economics is demand and supply chain which is an influencing factor. Continuous supply balance the requirement and supply chain. When this supply chain continuously gets proper supply, it will fulfill the needs.

In the early 2010s, there was a huge demand for web designers and programmers. They entitled to high-paying salaries, but when more people came into this field, their demand caught up with huge supply.

Earn yourself a promising career in data science by enrolling in the Data Science Classes in Pune offered by 360DigiTMG.

The data science industry is quite different because the requirement of data scientists encompasses almost every field. Thus, the main reason behind the huge demand for data scientists is their increasing value.

Data science jobs are still coming in the highest-paying. The necessity of data scientists is still quite high and there is no indication of slowing down their importance.

Learn the core concepts of Data Science Course video on YouTube:

The Demand of Data Scientist

Large corporations, firms, and organisations place the demand. They support decision-making based on data and grow their companies. Every successful business in the twenty-first century needs to exploit data and profit from it; else, they will soon be driven off the market.

Many firms used basic data analysis techniques before the data science revolution, but today's enterprises employ data-crunching technologies like Tableau, Google Analytics, R, Python, and Power Bi, among others.

Data science is used by large corporations like Instagram, Facebook, Google, Netflix, and Amazon to grow their businesses. As an illustration, Facebook utilises a data science algorithm to gather data, which is then processed and used for targeted advertising.

Google is used by everyone to seek for information, and it provides answers to even the most absurd queries. In accordance with keyword research, Google ranks the websites. They gather information on the most frequently asked inquiries or queries and rank the webpage that contains the solutions.

The outcome demonstrates that the data science sector is still in great demand since businesses want data-driven choices to help them outperform rivals.

Supply of Qualified Data Scientist

As compare to heavy demand, the supply figures are less, just because data science is still a field even in 2021.

Many years ago, in the absence of internet connections and low programming languages, it was impossible to collect and analyze data. But as advanced technology is being evolved, it has changed everything. Now, with the help of fast internet connections, modern programming languages and super-fast analytical tools are here to make the impossible possible.

Looking forward to becoming a Data Scientist? Check out the Data Science Course and get certified today.

The traditional educational system is not ready to produce qualified data scientists, but with the help of advanced courses, universities and institutes educate aspiring data scientists.

Most data scientists land in this field from other grounds such as psychology, life science, or business. Therefore, they learn data science skills on their own.

The requirement of qualified data scientists increases the opportunities for high-paying jobs for skilled data scientists.

The Growth of Data Science Industry has Increased

Let's examine the expansion of career options in data science. According to LinkedIn, which is well-known for connecting people in the business world, there has been a 650% increase in the number of data science employment since 2021.

In 2016, Glassdoor claimed to have had roughly 1700 job ads for data scientists. Thus, we may conclude that data science has the ability to compete with practically all highly-paid positions now available.

Employment Facts and Figures

Data science is an emerging industry and people still consider it as the most lucrative job. That's true because in the field there are heavy opportunities than qualified candidates.

Data science job posting remains open for a long time as compare to other job categories. It means there is a lack of qualified candidate and due to less competition, employers require extra time to hire a suitable person.

Due to fewer competition companies hire the candidate with only bachelor's degree. The less supply of data scientists has resulted in less qualified candidates get hired. Almost 61% of candidates have only had a bachelor's degree. On the other hand, 39% of data scientists have a Master's or Ph.D.

Must Think About Choosing Data Science as a Career

IBM predicts that there will be a long-term demand for data scientists. Due to the high demand and little supply, it will continue to be regarded as a high-paying position.

The U.S. Bureau of Labour estimates that through 2026, the demand for jobs will increase by around 28%. Careers like research engineer, machine learning, data analytics, etc., provide enormous potential.

Data scientists are anticipated to provide accurate and timely predictions as a result of the development of big data analysis technologies. These tools make it simple to make decisions based on facts. The accuracy of many forecasts, including those for weather, medical issues, and space missions, ranges from 70 to 80 percent.

Data Scientists - The Real Game-Changers Still in 2021

Data Scientists are declared as the Real Game Changers for the organization. Great potential lies in Data science, as there isn't any organization that doesn't want to flourish. Is there any in your knowledge? I know the answer is sure, A BIG NO. The Data scientist makes sure to apply correct methods resulting in a jaw-dropping increment of ROI of the organization and make it touch the skies of success.

Despite the advancement of this modern era still, people often doubt the potential of data science. This doubt arises just because of unclear concepts and not having confidence in applying relevant skill sets practically to bring change in already existing ways. By solving these key issues of concept clarification, more potential of Data Science can be unleashed!
Final Thought
The demand for qualified data scientists has grown steadily as technology is improved and updated. There is a huge imbalance between supply and demand. People now have additional options for choosing a job in the data science business.
Because there is little competition for positions as data scientists, the industry is seen as a profitable job market. Because there is less competition in the job market, you have the opportunity to learn some fundamental skills and enter it.
Because there are several alternatives in the data science sector, you must pick it as a student. You can pursue a profession and work in a variety of industries.
The term "data scientist" may evolve into other titles in the future, but need for data scientists won't go away. mostly because technology is continuously evolving.
Get a piece of the world's highest-paying occupations by joining the data science sector. You'll undoubtedly land a job with a bright future.
Data Science Placement Success Story
Data Science Training Institutes in Other Locations
Agra, Ahmedabad, Amritsar, Anand, Anantapur, Bangalore, Bhopal, Bhubaneswar, Chengalpattu, Chennai, Cochin, Dehradun, Malaysia, Dombivli, Durgapur, Ernakulam, Erode, Gandhinagar, Ghaziabad, Gorakhpur, Gwalior, Hebbal, Hyderabad, Jabalpur, Jalandhar, Jammu, Jamshedpur, Jodhpur, Khammam, Kolhapur, Kothrud, Ludhiana, Madurai, Meerut, Mohali, Moradabad, Noida, Pimpri, Pondicherry, Pune, Rajkot, Ranchi, Rohtak, Roorkee, Rourkela, Shimla, Shimoga, Siliguri, Srinagar, Thane, Thiruvananthapuram, Tiruchchirappalli, Trichur, Udaipur, Yelahanka, Andhra Pradesh, Anna Nagar, Bhilai, Borivali, Calicut, Chandigarh, Chromepet, Coimbatore, Dilsukhnagar, ECIL, Faridabad, Greater Warangal, Guduvanchery, Guntur, Gurgaon, Guwahati, Hoodi, Indore, Jaipur, Kalaburagi, Kanpur, Kharadi, Kochi, Kolkata, Kompally, Lucknow, Mangalore, Mumbai, Mysore, Nagpur, Nashik, Navi Mumbai, Patna, Porur, Raipur, Salem, Surat, Thoraipakkam, Trichy, Uppal, Vadodara, Varanasi, Vijayawada, Visakhapatnam, Tirunelveli, Aurangabad
Data Analyst Courses in Other Locations
ECIL, Jaipur, Pune, Gurgaon, Salem, Surat, Agra, Ahmedabad, Amritsar, Anand, Anantapur, Andhra Pradesh, Anna Nagar, Aurangabad, Bhilai, Bhopal, Bhubaneswar, Borivali, Calicut, Cochin, Chengalpattu , Dehradun, Dombivli, Durgapur, Ernakulam, Erode, Gandhinagar, Ghaziabad, Gorakhpur, Guduvanchery, Gwalior, Hebbal, Hoodi , Indore, Jabalpur, Jaipur, Jalandhar, Jammu, Jamshedpur, Jodhpur, Kanpur, Khammam, Kochi, Kolhapur, Kolkata, Kothrud, Ludhiana, Madurai, Mangalore, Meerut, Mohali, Moradabad, Pimpri, Pondicherry, Porur, Rajkot, Ranchi, Rohtak, Roorkee, Rourkela, Shimla, Shimoga, Siliguri, Srinagar, Thoraipakkam , Tiruchirappalli, Tirunelveli, Trichur, Trichy, Udaipur, Vijayawada, Vizag, Warangal, Chennai, Coimbatore, Delhi, Dilsukhnagar, Hyderabad, Kalyan, Nagpur, Noida, Thane, Thiruvananthapuram, Uppal, Kompally, Bangalore, Chandigarh, Chromepet, Faridabad, Guntur, Guwahati, Kharadi, Lucknow, Mumbai, Mysore, Nashik, Navi Mumbai, Patna, Pune, Raipur, Vadodara, Varanasi, Yelahanka
Navigate to Address
360DigiTMG - Data Science, IR 4.0, AI, Machine Learning Training in Malaysia
Level 16, 1 Sentral, Jalan Stesen Sentral 5, Kuala Lumpur Sentral, 50470 Kuala Lumpur, Wilayah Persekutuan Kuala Lumpur, Malaysia
+60 19-383 1378