Countries for Data Science Opportunities in 2023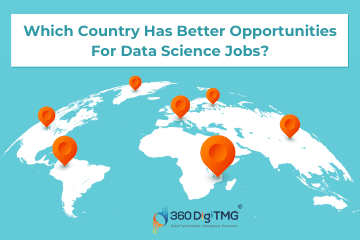 Want to learn more about data science? Enroll in the Best Data Science courses in Chennai to do so.
Starting On
Data science is allegedly the most attractive profession in the twenty-first century. Data science is also regarded as the most lucrative professional field due to a variety of factors. Data science is utilised by almost all countries with sizable firms for a number of factors.
Since data science has the capacity to grow enterprises, no one can deny its importance. Every field undergoes a transformation thanks to data science. The world needs more data scientists because of how widely data science is being used. Every day, new positions are produced and advertised across a range of sectors.
Due to the enormous disparity between supply and demand, there is still a growing need for trained data scientists. As more employment are generated, more organisations begin employing data science algorithms to strengthen their operations. This is the main justification behind the claim that data science is the most rewarding profession worldwide.
Earn yourself a promising career in data science by enrolling in the Data Science Classes in Pune offered by 360DigiTMG.
When data scientists have all essential skills and are ready to face challenges, then what can data science expect?
Of course, a high-paying job.
Let's reveal the statistics and understand which country has more lucrative job opportunities for data professionals.
Learn the core concepts of Data Science Course video on YouTube: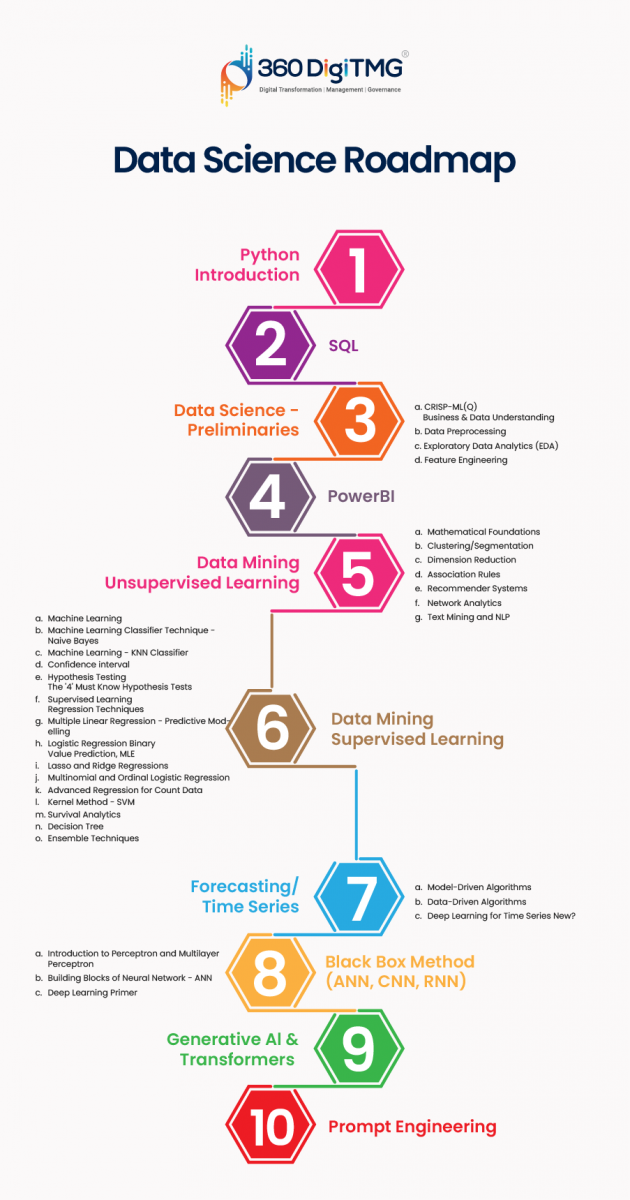 Data Professional Profiles:

Scientists working in the data science industry known as data professionals. The most common data professional job profiles are listed here.

Data scientist
DBA (Database Administrators)
Software Engineers/ Developers
Data Analysts
Data Architects
Managers

Data Professional's Key Responsibilities:

Data professionals have an obligation to handle unforeseen difficulties and support their business, organisation, or industry. A data specialist must address major problems and drive company objectives. Here is a list of these major difficulties.

Making choices based on data—A data professional's responsibility is to assist with decision-making and apply decisions to operations.

Building Pipelines: A data professional is in charge of creating the infrastructure necessary for a model to be deployed.

A data professional is in charge of creating or developing statistical models. effectively test them.

So now everyone is aware of what a data scientist's duties are. Now look at the best locations for data professionals to work.

Statistic Sources and Basis About Job Designation:

To extract accurate information about high-paying salaries to data professionals, we use some authentic sources. Such as,

Glassdoor and payscale
Online job boards like Monster and Indeed
Various job board
Online blogs and forums
Calculate median salaries for each country
Changed the local currency to dollars
Converted the dollars to PPP relative to US$.

Now, let's understand this situation.

A data scientist's salary is not directly reflective of the demand for data professionals in these countries. The salary of data professionals is influenced by many factors apart from minimum basic salaries, purchasing power, exchange rate, and demand. These median salaries are based on skill level, industries, and experience level.
Looking forward to becoming a Data Scientist? Check out the Data Science Course and get certified today.
Top 10 Countries That Pay the High-Paying Jobs to Data Professionals, Along With the Median Salaries in $.
Accordingly, the region with the highest median wage is the most profitable for data professionals.
Denmark
Switzerland,
Australia
Belgium
USA
Israel
Italy
Singapore
UK
Norway
In terms of median wage and purchasing power parity, Denmark is the best place for data professionals.
Compared to 2017, the median pay for data professionals in the USA dropped from $110K to $100.5K. On the other hand, data professionals' incomes stayed the same.
Data professionals in Norway now make $74K on average, down from $87K previously. In parallel, between 2017 and 2020, the income of data professionals climbed from $65k to $100.3k.
| # | Country | Median Data Scientist Salary in $ | $ PPP |
| --- | --- | --- | --- |
| 1 | Denmark | $ 1,75,905 | $ 1,70,044 |
| 2 | Switzerland | 1,13,018 | $ 91,103 |
| 3 | Australia | 1,03,459 | $ 91,103 |
| 4 | Belgium | 1,01,791 | $ 1,62,674 |
| 5 | USA | 1,00,560 | $ 1,00,560 |
| 6 | Israel | 94,706 | $ 87,479 |
| 7 | Italy | 85,880 | $ 1,54,726 |
| 8 | Singapore | 83,667 | $ 1,30,110 |
| 9 | UK | 78,360 | $ 1,51,122 |
| 10 | Norway | 73,911 | $ 70,481 |
Image Source
Now, let's talk about
Which Country Has Wider Opportunities For Data Professionals
United States

The US holds a prime position among all countries because America has wide opportunities for data professionals. When we talk about Al's salaries, no one can beat America because it is a highly paid job; even an entry-level can earn the highest salaries as compared to other countries.

The US technology companies acquire the best talent in the world by spending over $1 billion by 2020. The US's technology giant is continuously looking for qualified data professionals, offering them a huge average annual salary of $314,000. Due to a shortage of qualified candidates, they have to offer this mammoth amount of salary to data professionals.

The world's technology giant US is in fierce competition to target cream talent. And doesn't feel any hesitation in offering a lucrative amount of salary to the right candidate.

Technology giants like Apple, Samsung, Facebook, and Microsoft continuously looking for talent and wherever they find a suitable candidate, they offer a high-package salary to acquire the talent.

Europe

Europe, like every other nation, is lacking in data experts, particularly those with expertise in machine learning and AI. Nearly every IT cluster in Europe is experiencing a data scientist shortage. For data experts, especially those with Al talents, large European locations like Paris, Berlin, Eindhoven, Amsterdam, London, and Stockholm offer a wide range of options.

Sweden leads all other major IT nations in terms of a skills shortage. Data specialists in deep learning, AI, blockchain, robots, and cloud security/encryption are needed in the European Union.

In Europe, there are several job prospects for data scientists. To cover the gaps left by competent professionals, they are also trying to hire expertise from other nations.

Only Finland needs 9,000 software developers to meet the demands of its industry. Because their population and industrial need are still expanding like in other nations, it is anticipated that this number would rise by 15,000 in the upcoming years.

By the end of 2030, Germany, another high-tech nation, may have a 3 million-person data professional deficit.

United Kingdom

According to recruitment centers, the Uk faces a huge demand for data professionals, especially Al skills. Over time, the demand will increase much faster as compared to Australia, the US, and Canada.

China

China is seen as an appropriate location for data experts, particularly when discussing the adoption of technology by Al and others. China said in July 2017 that by the year 2030, they will be leading the world in both theory and implementation of Al technology.

China is, of course, extensively involved in the aluminium industry. Police personnel will soon be able to purchase face recognition glasses developed by Chinese businesses. A police officer may identify a wanted offender with the use of sunglasses with cameras fitted to them.

Due to a similar shortage of data experts to other nations, China offers lucrative prospects for data professionals. Because local personnel cannot meet industry demands, data experts with Al skills are in great demand. Chinese businesses are thus searching all over the world for talent to meet the demands of their respective industries.

Canada

Canada has the potential to hire aspiring data scientists at high-paying salaries. The Canadian government and big companies are investing a huge amount in developing a framework on policy, ethics, and legal implication of artificial intelligence.

India

India is also known as a high-tech country. India has huge opportunities for data professionals. They are continuously testing grounds on which they launch an exciting application of artificial intelligence. Their goal is to equip 50% or more workforce with digital skills.
Also, check this Data Science Institute in Bangalore to start a career in Data Science.
Final Thought
Data science is a fast-expanding discipline that integrates nearly all other fields. Today, everyone is producing important data, but how is this done?
Large corporations and organisations go deep into the data, process it, and analyse it to get precise findings. Almost all industrialised nations employ data science to improve the quality of life for their citizens.
Professionals in data science earn good wages in their home nations, but they are free to leave for opportunities that are more favourable. They should keep in mind that living expenditures and other costs might differ from one nation to the next.
Understand the job requirement before switching to a higher package wage because it could alter from what is stated in the advertisement.
Professionals in data science have more prospects in the US, Canada, UK, China, Denmark, and India. However, it's essential to take into account additional elements in addition to high package salary, such as the cost of living, taxes, job duties, and way of life in that nation.
Before considering alternative possibilities, bear in mind that the more experience you have in your industry, the greater your prospects of earning enormous earnings.
Additionally, there are greater odds of receiving a high-package pay in your home nation as you develop or polish your talents. Maintain communication with the data science community to increase your chances of landing a decent job.
Increase your knowledge and benefit from the groundbreaking subject of data science.
Data Science Placement Success Story
Data Science Training Institutes in Other Locations
Agra, Ahmedabad, Amritsar, Anand, Anantapur, Bangalore, Bhopal, Bhubaneswar, Chengalpattu, Chennai, Cochin, Dehradun, Malaysia, Dombivli, Durgapur, Ernakulam, Erode, Gandhinagar, Ghaziabad, Gorakhpur, Gwalior, Hebbal, Hyderabad, Jabalpur, Jalandhar, Jammu, Jamshedpur, Jodhpur, Khammam, Kolhapur, Kothrud, Ludhiana, Madurai, Meerut, Mohali, Moradabad, Noida, Pimpri, Pondicherry, Pune, Rajkot, Ranchi, Rohtak, Roorkee, Rourkela, Shimla, Shimoga, Siliguri, Srinagar, Thane, Thiruvananthapuram, Tiruchchirappalli, Trichur, Udaipur, Yelahanka, Andhra Pradesh, Anna Nagar, Bhilai, Borivali, Calicut, Chandigarh, Chromepet, Coimbatore, Dilsukhnagar, ECIL, Faridabad, Greater Warangal, Guduvanchery, Guntur, Gurgaon, Guwahati, Hoodi, Indore, Jaipur, Kalaburagi, Kanpur, Kharadi, Kochi, Kolkata, Kompally, Lucknow, Mangalore, Mumbai, Mysore, Nagpur, Nashik, Navi Mumbai, Patna, Porur, Raipur, Salem, Surat, Thoraipakkam, Trichy, Uppal, Vadodara, Varanasi, Vijayawada, Visakhapatnam, Tirunelveli, Aurangabad
Data Analyst Courses in Other Locations
ECIL, Jaipur, Pune, Gurgaon, Salem, Surat, Agra, Ahmedabad, Amritsar, Anand, Anantapur, Andhra Pradesh, Anna Nagar, Aurangabad, Bhilai, Bhopal, Bhubaneswar, Borivali, Calicut, Cochin, Chengalpattu , Dehradun, Dombivli, Durgapur, Ernakulam, Erode, Gandhinagar, Ghaziabad, Gorakhpur, Guduvanchery, Gwalior, Hebbal, Hoodi , Indore, Jabalpur, Jaipur, Jalandhar, Jammu, Jamshedpur, Jodhpur, Kanpur, Khammam, Kochi, Kolhapur, Kolkata, Kothrud, Ludhiana, Madurai, Mangalore, Meerut, Mohali, Moradabad, Pimpri, Pondicherry, Porur, Rajkot, Ranchi, Rohtak, Roorkee, Rourkela, Shimla, Shimoga, Siliguri, Srinagar, Thoraipakkam , Tiruchirappalli, Tirunelveli, Trichur, Trichy, Udaipur, Vijayawada, Vizag, Warangal, Chennai, Coimbatore, Delhi, Dilsukhnagar, Hyderabad, Kalyan, Nagpur, Noida, Thane, Thiruvananthapuram, Uppal, Kompally, Bangalore, Chandigarh, Chromepet, Faridabad, Guntur, Guwahati, Kharadi, Lucknow, Mumbai, Mysore, Nashik, Navi Mumbai, Patna, Pune, Raipur, Vadodara, Varanasi, Yelahanka
Navigate to Address
360DigiTMG - Data Analytics, Data Science Course Training Hyderabad
2-56/2/19, 3rd floor, Vijaya Towers, near Meridian School, Ayyappa Society Rd, Madhapur, Hyderabad, Telangana 500081
099899 94319