Shape Your Data with Revolution in Analytics in Hyderabad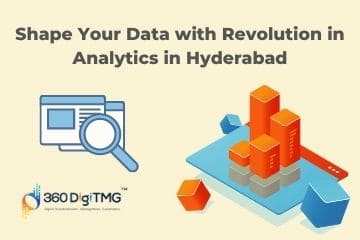 The process of looking through and analysing raw data to extract patterns and metrics from the sea of information is known as data analytics. This technique is used to optimise different operations and processes in order to boost a business's overall effectiveness and efficiency. Data is segmented according to age, demography, income, or gender during the procedure. Organising it on certain software that enables dealing with statistical data after gathering it from a range of sources, including cameras, social media platforms, environmental sources, etc. Before the data is submitted to an analyst, who subsequently draws intelligent conclusions, it must first be cleaned to remove any duplicates or errors. By analysing and analysing data, data analytics plays a vital role in improving the operation of your organisation. Data analytics, according to experts, will be the next important professional step and will lead to a variety of opportunities in the fields of human resources, statistics, finance, mathematics, marketing, etc.
Image Source
Kickstart your career by enrolling in this Data Analyst Course Fees in Chennai.
Demand for Data Analysts
According to the forecasts of the World Economic Forum, Data Analysts will be the most in-demand professionals in organizations across the world. The reason for this demand is very simple, and that is the explosion in the generation of data from smartphones, social media platforms, emails, and searches on Google. The Data Analytics course in Hyderabad will train you to use analytics tools and techniques and become an expert in data analysis. The value of data ultimately depends on your ability to process, manipulate, and translate that data into making power decisions, boosting sales, winning new customers, improving internal operations, and maximizing profits, etc.
In this area of analytics, there are several employment options to consider, including those for a business analyst, data analyst, product manager, digital marketer, etc. The foundation of any analyst function is the collection of the appropriate data, its improvement in quality, its manipulation, its interpretation using statistical techniques, and its presentation using graphs, visualisations, charts, tables, etc. Businesses may use this to identify trends and patterns and make choices. According to the Bureau of Labour Statistics, jobs for data professionals are expected to expand by 20% between 2020 and 2028. Data analytics is a profitable and in-demand profession.
Image Source - IT Portal
Pursue a career in Data Analytics with the number one training institute 360DigiTMG. Enroll in the Best Data Analytics Courses in Hyderabad with placements to start your journey.
Salaries of a Data Analyst
Data analysts are experts who evaluate facts, figures, and data before converting them into plain language. With the use of sophisticated analytic software, businesses utilise this data to acquire information about their consumers in order to make relevant inferences, identify patterns, and generate metrics. The need for data analysts is rapidly increasing as the modern world becomes increasingly digital. The primary duties of a data analyst include data mining, analysis, management, and presentation. The compensation of a Data Analyst in India will depend on a variety of criteria, including experience, industry, region, organisation, and abilities. A Data Analyst Salary in India ranges from 415,216 for entry-level positions to 721,571 for mid-level positions to 10,52,116 for experienced positions.
Also, check this Data Analytics Course to start a career in Data Analytics.
Job Responsibilities
The basic work that Data Analysts do involves Data Mining where unstructured data is sorted and transformed into a meaningful format which is then stored for later analysis. The next step is creating and managing the data collected into databases that allow easy access to the results derived from data mining. Once the data is stored into an understandable format, it's time to create insights from data using Statistics and Machine Learning techniques that would reveal trends in the data. The final step is of course to present the data using compelling visualizations that are then shared with stakeholders. So, in a nutshell, a Data Analyst is responsible for-
Examining and Analyzing Trends and Patterns
Creating and Presenting Data Report
Deriving valuable insights from the Data
Collection, Processing, and Summarizing of Data
Don't delay your career growth, kickstart your career by enrolling in this Data Analyst Course in Pune.
Conclusion
Organisations are forced to recruit data analysts to make sense of the expanding data in order to make or enhance choices due to the variety of data that is created and gathered nowadays. Data analytics is a very attractive job option. Making sense of data and extracting insights that can be put to use to improve operations and boost revenues has become a crucial corporate talent. Businesses in the healthcare, marketing, and industrial sectors use data analytics to gain insightful information. The two most crucial areas of expertise for data analysts are statistics and the ability of interpreting those figures to tell a story. People with a range of educational backgrounds—including those in economics, the humanities, statistics, mathematics, and information technology—are drawn to this career. Therefore, enrol in the Hyderabad Data Analytics course and discover the various career paths that this technology has to offer.
Data Science Placement Success Story
Data Analytics Training Institutes in Other Locations
Agra, Ahmedabad, Amritsar, Anand, Anantapur, Bangalore, Bhopal, Bhubaneswar, Chengalpattu, Chennai, Cochin, Dehradun, Malaysia, Dombivli, Durgapur, Ernakulam, Erode, Gandhinagar, Ghaziabad, Gorakhpur, Gwalior, Hebbal, Hyderabad, Jabalpur, Jalandhar, Jammu, Jamshedpur, Jodhpur, Khammam, Kolhapur, Kothrud, Ludhiana, Madurai, Meerut, Mohali, Moradabad, Noida, Pimpri, Pondicherry, Pune, Rajkot, Ranchi, Rohtak, Roorkee, Rourkela, Shimla, Shimoga, Siliguri, Srinagar, Thane, Thiruvananthapuram, Tiruchchirappalli, Trichur, Udaipur, Yelahanka, Andhra Pradesh, Anna Nagar, Bhilai, Borivali, Calicut, Chandigarh, Chromepet, Coimbatore, Dilsukhnagar, ECIL, Faridabad, Greater Warangal, Guduvanchery, Guntur, Gurgaon, Guwahati, Hoodi, Indore, Jaipur, Kalaburagi, Kanpur, Kharadi, Kochi, Kolkata, Kompally, Lucknow, Mangalore, Mumbai, Mysore, Nagpur, Nashik, Navi Mumbai, Patna, Porur, Raipur, Salem, Surat, Thoraipakkam, Trichy, Uppal, Vadodara, Varanasi, Vijayawada, Vizag, Tirunelveli, Aurangabad
Data Analyst Courses in Other Locations
ECIL
,
Jaipur
,
Pune
,
Gurgaon
,
Salem
,
Surat
,
Agra
,
Ahmedabad
,
Amritsar
,
Anand
,
Anantapur
,
Andhra Pradesh
,
Anna Nagar
,
Aurangabad
,
Bhilai
,
Bhopal
,
Bhubaneswar
,
Borivali
,
Calicut
,
Cochin
,
Chengalpattu
,
Dehradun
,
Dombivli
,
Durgapur
,
Ernakulam
,
Erode
,
Gandhinagar
,
Ghaziabad
,
Gorakhpur
,
Guduvanchery
,
Gwalior
,
Hebbal
,
Hoodi
,
Indore
,
Jabalpur
,
Jaipur
,
Jalandhar
,
Jammu
,
Jamshedpur
,
Jodhpur
,
Kanpur
,
Khammam
,
Kochi
,
Kolhapur
,
Kolkata
,
Kothrud
,
Ludhiana
,
Madurai
,
Mangalore
,
Meerut
,
Mohali
,
Moradabad
,
Pimpri
,
Pondicherry
,
Porur
,
Rajkot
,
Ranchi
,
Rohtak
,
Roorkee
,
Rourkela
,
Shimla
,
Shimoga
,
Siliguri
,
Srinagar
,
Thoraipakkam
,
Tiruchirappalli
,
Tirunelveli
,
Trichur
,
Trichy
,
Udaipur
,
Vijayawada
,
Vizag
,
Warangal
,
Chennai
,
Coimbatore
,
Delhi
,
Dilsukhnagar
,
Hyderabad
,
Kalyan
,
Nagpur
,
Noida
,
Thane
,
Thiruvananthapuram
,
Uppal
,
Kompally
,
Bangalore
,
Chandigarh
,
Chromepet
,
Faridabad
,
Guntur
,
Guwahati
,
Kharadi
,
Lucknow
,
Mumbai
,
Mysore
,
Nashik
,
Navi Mumbai
,
Patna
,
Pune
,
Raipur
,
Vadodara
,
Varanasi
,
Yelahanka
Navigate to Address
360DigiTMG - Data Analytics, Data Science Course Training Hyderabad
2-56/2/19, 3rd floor, Vijaya Towers, near Meridian School, Ayyappa Society Rd, Madhapur, Hyderabad, Telangana 500081
099899 94319