Best Data Science Course in Bangalore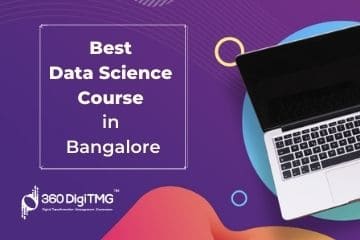 Data Science is buzzing all over the world. It is the emerging technology that is being the foundation for many latest useful innovations. Many sectors have realized its potential and started adapting it in its process for increasing the production and generation of revenue. To stay ahead in this competitive data-driven world, irrespective of business size, organizations started adapting Data Science and recruiting Data Scientists into their operations. As per the report, there are more than 93,000 Data Science jobs vacant in India, and the maximum vacancy is observed in Bengaluru. Bengaluru continues to create the highest jobs in the field of analytics around 23.5% compared to last year followed by Delhi, Mumbai, Hyderabad, Pune, and Chennai.
Also, check this Data Science Institute in Bangalore to start a career in Data Science.
Before learning where to find Bangalore's top data science courses, it is important to understand what data science is and why it is becoming more and more popular.
Data Science
Data Science is the interdisciplinary field of study which is a combination of domain expertise, Mathematics, Statistics, and programming skills that is used to extract valuable insights from a sea of data. Data Scientists use Machine Learning algorithms to extract insights from different patterns of data like videos, images, texts, etc and design AI systems tasks that primarily require human intelligence. These systems produce meaningful insights that business users and analysts can convert into tangible business value.
Looking forward to becoming a Data Scientist? Check out the Data Science Course and get certified today.
Demand
Learn the core concepts of Data Science Course video on YouTube:
Organisations are struggling with how to glean insightful information from vast volumes of data. The capacity to turn massive volumes of data into insightful knowledge will have a significant influence on new inventions, such as creating a cancer therapy and preventing any security concerns. As a result, many commercial and governmental sectors are recruiting data scientists to produce useful insights. Data scientists will be able to collect, analyse, and provide important information from the data that aids the organisation in resolving challenging issues. They support the use of data to inform choices.
Skills
Data Scientists design data models, create algorithms, and build predictive models to extract data as per the business needs and help to analyze the data and extract insights and share with Analysts.
The essential skills required for a successful Data Scientist are they can have any educational background but basic knowledge of Mathematics and statistics is quite essential. Basic computer programming skills are necessary so that they can easily understand prominent programming languages like Python and R.
Job Roles
Data Scientist, Data Engineers, Data Analyst, Machine Learning Engineer, Database Administrator, Data Architect, Business Analyst, and Statistician are among the challenging employment responsibilities that firms provide once students have completed the Data Science course.
Salaries
Also, check this Data Science Institute in Bangalore to start a career in Data Science.
As per the Glassdoor survey, based on salary, employee satisfaction rates, job openings, etc ranked Data Scientists as the top 10 jobs in America. It is considered the most desirable career. Harvard Business Review stated Data Science as the sexiest job of the 21st century. Professionals who are curious about discovering and working with Big data are in great demand.
Likewise, LinkedIn stated that Data Science is one of the popular emerging jobs in 2020.
In Bangalore, let us know the average salaries for Data Scientists with 3 to 4 years of work experience.
The average salary for Data Scientists in Bangalore is around Rs. 9lacs per annum as per Payscale.
The average salary for a Data Analyst in Bangalore is around Rs. 5lacs for beginners.

We have learned so far about the demand for and pay for data science specialists. Despite the fact that there is a high need for data scientists, there aren't enough qualified candidates. The moment is ideal for hopefuls to take advantage of this chance to improve their skills. The top data science education in Bangalore is provided by 360DigiTMG. It provides instructor-led training both in-person and online. The Data Science program's course curriculum is carefully created based on the current business demands and includes the ideal balance of theoretical and practical sessions. With study materials, in-the-moment case studies, and capstone projects, we provide students with a flexible learning environment. Numerous projects will be offered to students so they may develop in-depth understanding of well-known ideas and languages for programming like R and Python. LMS access will be provided to the students so they may review the lessons in order to get ready for interviews and additional certification examinations. Additionally offered to assist students in their study is one-on-one mentoring. Students who participate in resume-writing workshops and simulated interviews are better prepared for interviews and more likely to land jobs at reputable firms.
Become a Data Scientist with 360DigiTMG Data Science course in Hyderabad Get trained by the alumni from IIT, IIM, and ISB.
Data Science Placement Success Story
Data Science Training Institutes in Other Locations
Agra
,
Ahmedabad
,
Amritsar
,
Anand
,
Anantapur
,
Bangalore
,
Bhopal
,
Bhubaneswar
,
Chengalpattu
,
Chennai
,
Cochin
,
Dehradun
,
Malaysia
,
Dombivli
,
Durgapur
,
Ernakulam
,
Erode
,
Gandhinagar
,
Ghaziabad
,
Gorakhpur
,
Gwalior
,
Hebbal
,
Hyderabad
,
Jabalpur
,
Jalandhar
,
Jammu
,
Jamshedpur
,
Jodhpur
,
Khammam
,
Kolhapur
,
Kothrud
,
Ludhiana
,
Madurai
,
Meerut
,
Mohali
,
Moradabad
,
Noida
,
Pimpri
,
Pondicherry
,
Pune
,
Rajkot
,
Ranchi
,
Rohtak
,
Roorkee
,
Rourkela
,
Shimla
,
Shimoga
,
Siliguri
,
Srinagar
,
Thane
,
Thiruvananthapuram
,
Tiruchchirappalli
,
Trichur
,
Udaipur
,
Yelahanka
,
Andhra Pradesh
,
Anna Nagar
,
Bhilai
,
Borivali
,
Calicut
,
Chandigarh
,
Chromepet
,
Coimbatore
,
Dilsukhnagar
,
ECIL
,
Faridabad
,
Greater Warangal
,
Guduvanchery
,
Guntur
,
Gurgaon
,
Guwahati
,
Hoodi
,
Indore
,
Jaipur
,
Kalaburagi
,
Kanpur
,
Kharadi
,
Kochi
,
Kolkata
,
Kompally
,
Lucknow
,
Mangalore
,
Mumbai
,
Mysore
,
Nagpur
,
Nashik
,
Navi Mumbai
,
Patna
,
Porur
,
Raipur
,
Salem
,
Surat
,
Thoraipakkam
,
Trichy
,
Uppal
,
Vadodara
,
Varanasi
,
Vijayawada
,
Vizag
,
Tirunelveli
,
Aurangabad
Data Analyst Courses in Other Locations
ECIL
,
Jaipur
,
Pune
,
Gurgaon
,
Salem
,
Surat
,
Agra
,
Ahmedabad
,
Amritsar
,
Anand
,
Anantapur
,
Andhra Pradesh
,
Anna Nagar
,
Aurangabad
,
Bhilai
,
Bhopal
,
Bhubaneswar
,
Borivali
,
Calicut
,
Cochin
,
Chengalpattu
,
Dehradun
,
Dombivli
,
Durgapur
,
Ernakulam
,
Erode
,
Gandhinagar
,
Ghaziabad
,
Gorakhpur
,
Guduvanchery
,
Gwalior
,
Hebbal
,
Hoodi
,
Indore
,
Jabalpur
,
Jaipur
,
Jalandhar
,
Jammu
,
Jamshedpur
,
Jodhpur
,
Kanpur
,
Khammam
,
Kochi
,
Kolhapur
,
Kolkata
,
Kothrud
,
Ludhiana
,
Madurai
,
Mangalore
,
Meerut
,
Mohali
,
Moradabad
,
Pimpri
,
Pondicherry
,
Porur
,
Rajkot
,
Ranchi
,
Rohtak
,
Roorkee
,
Rourkela
,
Shimla
,
Shimoga
,
Siliguri
,
Srinagar
,
Thoraipakkam
,
Tiruchirappalli
,
Tirunelveli
,
Trichur
,
Trichy
,
Udaipur
,
Vijayawada
,
Vizag
,
Warangal
,
Chennai
,
Coimbatore
,
Delhi
,
Dilsukhnagar
,
Hyderabad
,
Kalyan
,
Nagpur
,
Noida
,
Thane
,
Thiruvananthapuram
,
Uppal
,
Kompally
,
Bangalore
,
Chandigarh
,
Chromepet
,
Faridabad
,
Guntur
,
Guwahati
,
Kharadi
,
Lucknow
,
Mumbai
,
Mysore
,
Nashik
,
Navi Mumbai
,
Patna
,
Pune
,
Raipur
,
Vadodara
,
Varanasi
,
Yelahanka
Navigate to Address
360DigiTMG - Data Science, Data Scientist Course Training in Bangalore
No 23, 2nd Floor, 9th Main Rd, 22nd Cross Rd, 7th Sector, HSR Layout, Bengaluru, Karnataka 560102
1800-212-654-321