Top Programming Languages for Data Science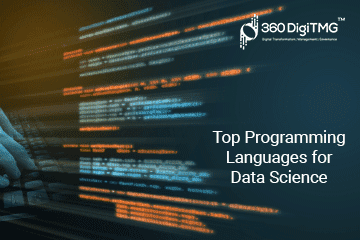 In this day and age, data science is the hottest field. Thanks to ongoing innovation and new technology, people's lives are becoming simpler and mistakes are being reduced. There are several programming languages used in data science. let's look at the top or most used ones.
Become a Data Scientist with 360DigiTMG Data Science course in Hyderabad Get trained by the alumni from IIT, IIM, and ISB.
Source:www.geeksforgeeks.org
Want to learn more about data science? Enroll in the Best Data Science courses in Chennai to do so.
Python

Python is the top Data Science programming language worldwide. It is a user- friendly and easy language which is object-oriented. It came into existence since 1991 which is dynamic and general-purpose language. It supports many paradigms from functional programming to structured programming. It is a better option for data manipulations with less than 1000 iterations. Natural data processing and Data learning have become easy with Python. By creating a CSV output, Python makes it easier to read the data for programs in a spreadsheet.

Are you looking to become a Data Scientist? Go through 360DigiTMG's PG Diploma in Data Science and Artificial Intelligence!.

Python is being used by giant companies like Netflix, Uber, and Grab. Even NASA has used Python to discover the image of the black hole.

R

Another crucial programming language for data science is this one. It offers a wide range of graphical and statistical approaches. One of R's advantages is that it is simple to use with publications that are well-designed and output formulas whenever they are needed. Additionally, it may be used for ad hoc analysis and data exploration. Additionally, it may be built and run on a variety of UNIX operating systems, including macOS, FreeBSD, Linux, and Windows.

Learn the core concepts of Data Science Course video on YouTube:

Java Script

Java Script was earlier known as LiveScript, again Netscape changed its name to JavaScript. Java Script is one of the dynamic programming languages. It is easy to use and widely used as a part of web pages, which is implemented for Client-side script to interact with the user and allowed to prepare dynamic pages. It is popularly known as an interpreted language with object-oriented efficiency. There are more than a hundred Java libraries where the programmer can use. This dynamic language has the capacity to handle multiple tasks. Famous processing frameworks like Hadoop depends on Java. It is one of the Data Science languages that can be used for large applications.

Scala

It is a powerful language for managing Big data and is scalable. In 2013, Scala was developed with the intention of resolving problems with Java. It may be used for a variety of things, including machine learning and web programming. It allows synchronised and concurrent processing and is statically typed, object-oriented, and functional.

SQL

The structured Query language is used to deal with large amounts of data. This is called domain-specific language which is used for storing, extracting or retrieving, and transforming data in relational databases. Knowledge of SQL is an essential skill for Data Scientists where they can manage database systems with tables and queries.

Julia

For technical computing, Julia is a high-performance dynamic language. This is designed for a variety of uses, including mathematical ideas like linear algebra, computer science, and numerical analysis. It is the ideal language for matrices, and both front end and back end programming may make use of its API, which can be integrated into programmes.

There are several programming languages for data science, to put it briefly. With millions of users worldwide and more than 71,000 libraries, Python stands out among them as the champion. Libraries like TensorFlow, Keras, and many more are available in Python. Python is regarded as a fundamental programming language that may be learned in order to leverage big data analytics and data engineering. You must master these top programming languages if you want to develop your abilities and advance.

Earn yourself a promising career in data science by enrolling in the Data Science Classes in Pune offered by 360DigiTMG.

In-depth understanding of the fundamental programming languages is fundamentally necessary to succeed as a data scientist. Check out the many Data Science courses that are created for all levels, such as from beginners to expert levels, if you're interested in learning more about the courses that emphasise explaining from fundamental principles. Data Science training with UTM certification is provided by 360DigiTMG in Malaysia and is 100% HRDF claimable. Utilise this training to advance your profession.
Data Science Placement Success Story
Data Science Training Institutes in Other Locations
Agra
,
Ahmedabad
,
Amritsar
,
Anand
,
Anantapur
,
Bangalore
,
Bhopal
,
Bhubaneswar
,
Chengalpattu
,
Chennai
,
Cochin
,
Dehradun
,
Malaysia
,
Dombivli
,
Durgapur
,
Ernakulam
,
Erode
,
Gandhinagar
,
Ghaziabad
,
Gorakhpur
,
Gwalior
,
Hebbal
,
Hyderabad
,
Jabalpur
,
Jalandhar
,
Jammu
,
Jamshedpur
,
Jodhpur
,
Khammam
,
Kolhapur
,
Kothrud
,
Ludhiana
,
Madurai
,
Meerut
,
Mohali
,
Moradabad
,
Noida
,
Pimpri
,
Pondicherry
,
Pune
,
Rajkot
,
Ranchi
,
Rohtak
,
Roorkee
,
Rourkela
,
Shimla
,
Shimoga
,
Siliguri
,
Srinagar
,
Thane
,
Thiruvananthapuram
,
Tiruchchirappalli
,
Trichur
,
Udaipur
,
Yelahanka
,
Andhra Pradesh
,
Anna Nagar
,
Bhilai
,
Borivali
,
Calicut
,
Chandigarh
,
Chromepet
,
Coimbatore
,
Dilsukhnagar
,
ECIL
,
Faridabad
,
Greater Warangal
,
Guduvanchery
,
Guntur
,
Gurgaon
,
Guwahati
,
Hoodi
,
Indore
,
Jaipur
,
Kalaburagi
,
Kanpur
,
Kharadi
,
Kochi
,
Kolkata
,
Kompally
,
Lucknow
,
Mangalore
,
Mumbai
,
Mysore
,
Nagpur
,
Nashik
,
Navi Mumbai
,
Patna
,
Porur
,
Raipur
,
Salem
,
Surat
,
Thoraipakkam
,
Trichy
,
Uppal
,
Vadodara
,
Varanasi
,
Vijayawada
,
Vizag
,
Tirunelveli
,
Aurangabad
Data Analyst Courses in Other Locations
ECIL
,
Jaipur
,
Pune
,
Gurgaon
,
Salem
,
Surat
,
Agra
,
Ahmedabad
,
Amritsar
,
Anand
,
Anantapur
,
Andhra Pradesh
,
Anna Nagar
,
Aurangabad
,
Bhilai
,
Bhopal
,
Bhubaneswar
,
Borivali
,
Calicut
,
Cochin
,
Chengalpattu
,
Dehradun
,
Dombivli
,
Durgapur
,
Ernakulam
,
Erode
,
Gandhinagar
,
Ghaziabad
,
Gorakhpur
,
Guduvanchery
,
Gwalior
,
Hebbal
,
Hoodi
,
Indore
,
Jabalpur
,
Jaipur
,
Jalandhar
,
Jammu
,
Jamshedpur
,
Jodhpur
,
Kanpur
,
Khammam
,
Kochi
,
Kolhapur
,
Kolkata
,
Kothrud
,
Ludhiana
,
Madurai
,
Mangalore
,
Meerut
,
Mohali
,
Moradabad
,
Pimpri
,
Pondicherry
,
Porur
,
Rajkot
,
Ranchi
,
Rohtak
,
Roorkee
,
Rourkela
,
Shimla
,
Shimoga
,
Siliguri
,
Srinagar
,
Thoraipakkam
,
Tiruchirappalli
,
Tirunelveli
,
Trichur
,
Trichy
,
Udaipur
,
Vijayawada
,
Vizag
,
Warangal
,
Chennai
,
Coimbatore
,
Delhi
,
Dilsukhnagar
,
Hyderabad
,
Kalyan
,
Nagpur
,
Noida
,
Thane
,
Thiruvananthapuram
,
Uppal
,
Kompally
,
Bangalore
,
Chandigarh
,
Chromepet
,
Faridabad
,
Guntur
,
Guwahati
,
Kharadi
,
Lucknow
,
Mumbai
,
Mysore
,
Nashik
,
Navi Mumbai
,
Patna
,
Pune
,
Raipur
,
Vadodara
,
Varanasi
,
Yelahanka
Navigate to Address
360DigiTMG - Data Science, IR 4.0, AI, Machine Learning Training in Malaysia
Level 16, 1 Sentral, Jalan Stesen Sentral 5, Kuala Lumpur Sentral, 50470 Kuala Lumpur, Wilayah Persekutuan Kuala Lumpur, Malaysia
+60 19-383 1378