Data Science Colleges in Hyderabad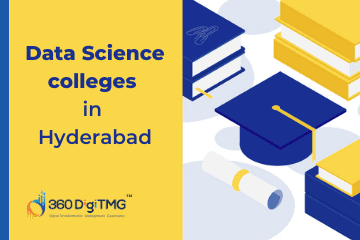 Want to learn more about data science? Enroll in the Best Data Science courses in Chennai to do so.
A tool of the twenty-first century, data science transforms data into knowledge and portrays reality by making data accessible through visual representation. It mines and extracts useful information using cutting-edge technologies and algorithms. It is applicable to practically every industry, including healthcare, education, social networking, business, and communications. A data ecosystem can be compared to data science. It has created a world of opportunities for your firm to benefit from insights and product suggestions utilising vast amounts of unstructured data. With the advent of Data Analytics and Machine Learning, the scope for Data Scientists is currently the best in the industry, and people with the necessary skill set are among the highest paid employees in the private or public sector. The importance of data has been well established in today's competitive economy.
Are you looking to become a Data Scientist? Go through 360DigiTMG's PG Diploma in Data Science and Artificial Intelligence!.
Source: https://www.sandipuniversity.edu.in/
Colleges Offering B.SC in Data Science in Hyderabad
Data science uses statistics, mathematics, algorithms, tools, and machine learning language techniques to discover patterns from raw data to make crucial business decisions. Data Science deals with structured and unstructured data to find out the trends based on historical data which can be modeled to make predictions for businesses that help them to manage to gain a competitive advantage over their competitors. Basic skills required to pursue a degree in Data science requires one to have a strong analytical bend of mind with basic knowledge of Statistics. According to PayScale, the average Data Scientist salary in India is Rs. 710, 214 per year and for a Data Scientist with more than five years of experience, it is Rs. 1,217,126 per year. Multinational companies and emerging startups are hiring Data Scientists who can help organizations make better decisions after examining huge amounts of data. Therefore, there is a rise in the demand for Data Scientists and to fill up the lack of qualified professionals, many colleges have started providing courses and degrees in Data Science to skill-up the budding talent. Some of the top colleges to offer B.SC in Data Science in Hyderabad include
Vivekananda Degree College, Kukatpally, Hyderabad
Nizam College, Basheerbagh, Hyderabad
Capital Degree College, Chintal, Hyderabad
Andhra Mahila Sabha College, Jamia Osmania, Hyderabad
New Science college, Ameerpet Rd, Hyderabad
Indian School of Business, Gachibowli, Hyderabad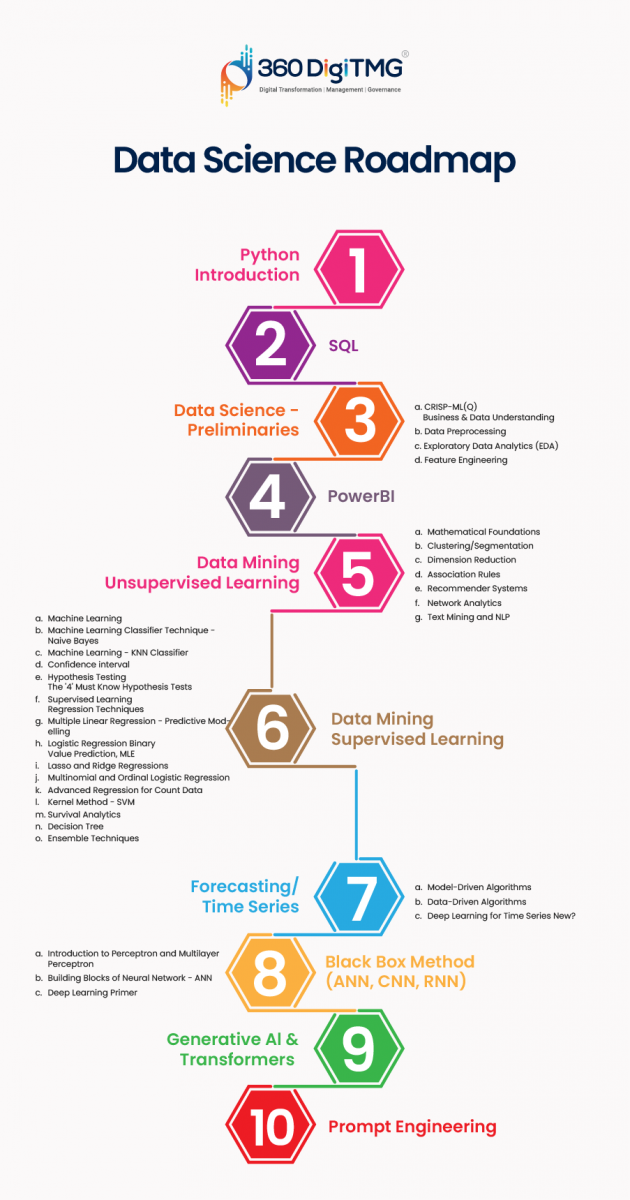 Job Roles and Salaries in the field of Data Science
Data generation and consumption have accelerated at a never-before-seen rate because to the use of the internet. Because of this, there is a growing need for data scientists. There are several Data Science Job Roles listed.
Learn the core concepts of Data Science Course video on YouTube:
1. Data Scientist
As a Data Scientist, you will be working closely with your project team, internal business units, and customer stakeholders. You will have to devise and create an analytical outlook to solve business problems. With proficiency in statistics, you will be developing algorithms and models in machine learning and you will also play a crucial role in the optimization of product performance and gross profit. According to PayScale, an experienced Data Scientist on average can get up to 19,07,016 per annum.
2. Data Analyst
A data analyst must do a variety of activities, such as processing, processing, and processing huge volumes of data. They are also in charge of obtaining important data without damaging it from some of the large databases. According to PayScale, the average annual salary for a data analyst is Rs. 9,12,316.
3. Business Analyst
Become a Data Scientist with 360DigiTMG Data Science course in Hyderabad Get trained by the alumni from IIT, IIM, and ISB.
A Business Analyst uses a data-driven outlook to make business decisions. He also acts as a bridge between the IT operations and management. He also analyzes data to smoothen business processes and make future business plans. An experienced Business Analyst salary ranges between Rs.11,89,684 – 14,11, 023 per annum according to PayScale.
4. Data and Analytics Manager
According to the data science team's experience and skill set, a data and analytics manager is in charge of assigning various duties and activities. He is also required to investigate the data team's hiring and training needs. Above all, he is in charge of translating and communicating the findings of the analyses and how they will affect the stakeholders. With more than five years of expertise, a Data and Analytics Manager may easily earn roughly Rs. 21,24,317 per year.
5. Statistician
Also, check this Data Science Institute in Bangalore to start a career in Data Science.
A Statistician uses his skills to conclude the data collected through surveys. He has a sound understanding of the statistical theories and methodologies required to create reports by analyzing and interpreting data for various departments. A Statistician approximately makes Rs.12,01,523 per annum.
Conclusion
One of the top IT training facilities in Hyderabad is 360DigiTMG, which provides Data Science training in Hyderabad that is applicable to the business world. Candidates can study advanced modules created to grasp the tools and applications of data science by enrolling in this course. The fundamental principles of artificial intelligence, machine learning, cluster analysis, deep learning, analytics, forecasting, text mining, big data, data wrangling, data exploration, and many more topics will be covered by participants. This course will offer up a number of new chances that will serve as a doorway into top MNCs that are seeking educated people with the abilities to effectively evaluate data to draw insights that will assist improved decision making. You will be able to fulfil the duties of a with the help of this training. Those who wish to jumpstart a career in data science should take this course. So, advance your career in the field of data science by becoming an expert with 360DigiTMG.
Data Science Placement Success Story
Data Science Training Institutes in Other Locations
Agra
,
Ahmedabad
,
Amritsar
,
Anand
,
Anantapur
,
Bangalore
,
Bhopal
,
Bhubaneswar
,
Chengalpattu
,
Chennai
,
Cochin
,
Dehradun
,
Malaysia
,
Dombivli
,
Durgapur
,
Ernakulam
,
Erode
,
Gandhinagar
,
Ghaziabad
,
Gorakhpur
,
Gwalior
,
Hebbal
,
Hyderabad
,
Jabalpur
,
Jalandhar
,
Jammu
,
Jamshedpur
,
Jodhpur
,
Khammam
,
Kolhapur
,
Kothrud
,
Ludhiana
,
Madurai
,
Meerut
,
Mohali
,
Moradabad
,
Noida
,
Pimpri
,
Pondicherry
,
Pune
,
Rajkot
,
Ranchi
,
Rohtak
,
Roorkee
,
Rourkela
,
Shimla
,
Shimoga
,
Siliguri
,
Srinagar
,
Thane
,
Thiruvananthapuram
,
Tiruchchirappalli
,
Trichur
,
Udaipur
,
Yelahanka
,
Andhra Pradesh
,
Anna Nagar
,
Bhilai
,
Borivali
,
Calicut
,
Chandigarh
,
Chromepet
,
Coimbatore
,
Dilsukhnagar
,
ECIL
,
Faridabad
,
Greater Warangal
,
Guduvanchery
,
Guntur
,
Gurgaon
,
Guwahati
,
Hoodi
,
Indore
,
Jaipur
,
Kalaburagi
,
Kanpur
,
Kharadi
,
Kochi
,
Kolkata
,
Kompally
,
Lucknow
,
Mangalore
,
Mumbai
,
Mysore
,
Nagpur
,
Nashik
,
Navi Mumbai
,
Patna
,
Porur
,
Raipur
,
Salem
,
Surat
,
Thoraipakkam
,
Trichy
,
Uppal
,
Vadodara
,
Varanasi
,
Vijayawada
,
Vizag
,
Tirunelveli
,
Aurangabad
Data Analyst Courses in Other Locations
ECIL
,
Jaipur
,
Pune
,
Gurgaon
,
Salem
,
Surat
,
Agra
,
Ahmedabad
,
Amritsar
,
Anand
,
Anantapur
,
Andhra Pradesh
,
Anna Nagar
,
Aurangabad
,
Bhilai
,
Bhopal
,
Bhubaneswar
,
Borivali
,
Calicut
,
Cochin
,
Chengalpattu
,
Dehradun
,
Dombivli
,
Durgapur
,
Ernakulam
,
Erode
,
Gandhinagar
,
Ghaziabad
,
Gorakhpur
,
Guduvanchery
,
Gwalior
,
Hebbal
,
Hoodi
,
Indore
,
Jabalpur
,
Jaipur
,
Jalandhar
,
Jammu
,
Jamshedpur
,
Jodhpur
,
Kanpur
,
Khammam
,
Kochi
,
Kolhapur
,
Kolkata
,
Kothrud
,
Ludhiana
,
Madurai
,
Mangalore
,
Meerut
,
Mohali
,
Moradabad
,
Pimpri
,
Pondicherry
,
Porur
,
Rajkot
,
Ranchi
,
Rohtak
,
Roorkee
,
Rourkela
,
Shimla
,
Shimoga
,
Siliguri
,
Srinagar
,
Thoraipakkam
,
Tiruchirappalli
,
Tirunelveli
,
Trichur
,
Trichy
,
Udaipur
,
Vijayawada
,
Vizag
,
Warangal
,
Chennai
,
Coimbatore
,
Delhi
,
Dilsukhnagar
,
Hyderabad
,
Kalyan
,
Nagpur
,
Noida
,
Thane
,
Thiruvananthapuram
,
Uppal
,
Kompally
,
Bangalore
,
Chandigarh
,
Chromepet
,
Faridabad
,
Guntur
,
Guwahati
,
Kharadi
,
Lucknow
,
Mumbai
,
Mysore
,
Nashik
,
Navi Mumbai
,
Patna
,
Pune
,
Raipur
,
Vadodara
,
Varanasi
,
Yelahanka
Navigate to Address
360DigiTMG - Data Analytics, Data Science Course Training Hyderabad
2-56/2/19, 3rd floor, Vijaya Towers, near Meridian School, Ayyappa Society Rd, Madhapur, Hyderabad, Telangana 500081
099899 94319