Data Science Tutorials for Beginners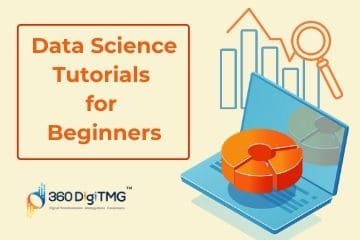 The globe continues to advance towards the digital era. Additionally, as data generation accelerates, so does the demand for storage. In 2020, the issue of storage requirements was effectively resolved, but the problem of processing that data is now getting worse every day, and Data Science is the answer to all of the problems. As a result, making Data Science fundamental to comprehend and a necessary talent to have in the future will enhance your business and provide important insights.
By the time you've finished reading this blog, you'll completely grasp what data science is, how important it is for you to know, and how it can help you find information in the data that's freely available.
Source: javatpoint
Also, check this Data Science Institute in Bangalore to start a career in Data Science.
What is Data Science?
Before we start understanding how Data Science will add value to our lives and businesses around and that the value would keep on increasing year on year. We need to first understand the basics of Data Science.
Data Science is a mixture of various algorithms, techniques, methods, tools, and principles with a single goal of discovering the hidden patterns from the data that is available to an individual or a person and to create information from it. However, it would pose a new question that isn't it the same thing that mathematicians and statisticians have been doing for a very long time?
An analyst or statistician only provides an explanation for the past by analysing the history of the facts at his disposal, and he bases his forecasts and opinions on the past or what has already occurred. However, given the current state of the world and how things are done, this isn't as significant as it once was. Since fashion changes frequently and trends are constantly emerging, data that was fresh a week ago is no longer relevant, whereas a data scientist uses a variety of techniques, methods, and machine learning algorithms to determine the likelihood of an event occurring.
A data scientist examines the data from a variety of angles, and occasionally may even develop or unearth a new view of the data that wasn't even previously known.
Therefore, Predictive Casual Analytics, Prescriptive Analytics (predictive analysis and decision science), and Machine Learning, which increases the credibility of the judgements, are the three main components of Data Science that assist to create decisions and predictions for the future.
Predictive Casual Analytics: In case you want to predict the possibilities of a certain event in the future then you need to use Predictive Causal Analytics. This is really helpful in the banking sector. For example, you want to provide money on credit to a particular person and then the next important concern of yours would be whether that person would be repaying the future credit payments on time. Then you can perform Predictive Analytics on the payment history of the customer then you can make use of the Predictive Casual Analytics model to make predictive analytics with the help of past payment history of the person to predict accurately whether the future payments will be on time or not.

Prescriptive Analytics: You may provide this model different conditions to which it can adapt the judgements it has made in order to assist you make wise decisions and adjust the decisions in accordance. It can certainly be useful to offer insights and suggestions on the different criteria offered to it, but at this time it cannot be entirely trusted to make judgements on its own. In other words, it recommends other actions and results in addition to making predictions. Self-driving cars might be one of the best instances of this analytics since they can be used to teach other self-driving cars. By using a variety of algorithms, the cars can make sense of the data and decide when to brake, turn, and which way to travel.

Machine Learning to make future predictions: If you have a financial sector business or deal with a lot of transactional data and would like to determine the future trend or identify the future patterns and make further predictions on the basis of that. Then you can surely rely on the algorithms of Machine Learning. You can supervise the machine while providing the relevant data. For example, if you have a company that deals with fraudulent transactional activities then you can provide the historical data of all the fraudulent activities and then the Machine Learning can accurately predict the future direction.

Machine Learning for pattern discovery: We won't always have the various inputs or bases upon which to base our projections. To produce precise predictions when the parameters are lacking, we must find the hidden patterns in the data. Since there are no set parameters or underlying assumptions, this model is not supervised, which means you cannot oversee it. Cluster analysis is applicable in this case. As an illustration, suppose you operate in a telephone exchange booth and you need to build towers since the local network is inadequate. Then, you may apply clustering analysis to identify the ideal tower placement locations, ensuring that all users receive strong signal.
While Data Science focuses more on the predictive component and employs machine learning, Data Analysis uses more descriptive analytics and pays less attention to forecasting. After reading this, it will be much apparent to you what data science is and why it will continue to grow in importance over time.
Looking forward to becoming a Data Scientist? Check out the Data Science Course and get certified today.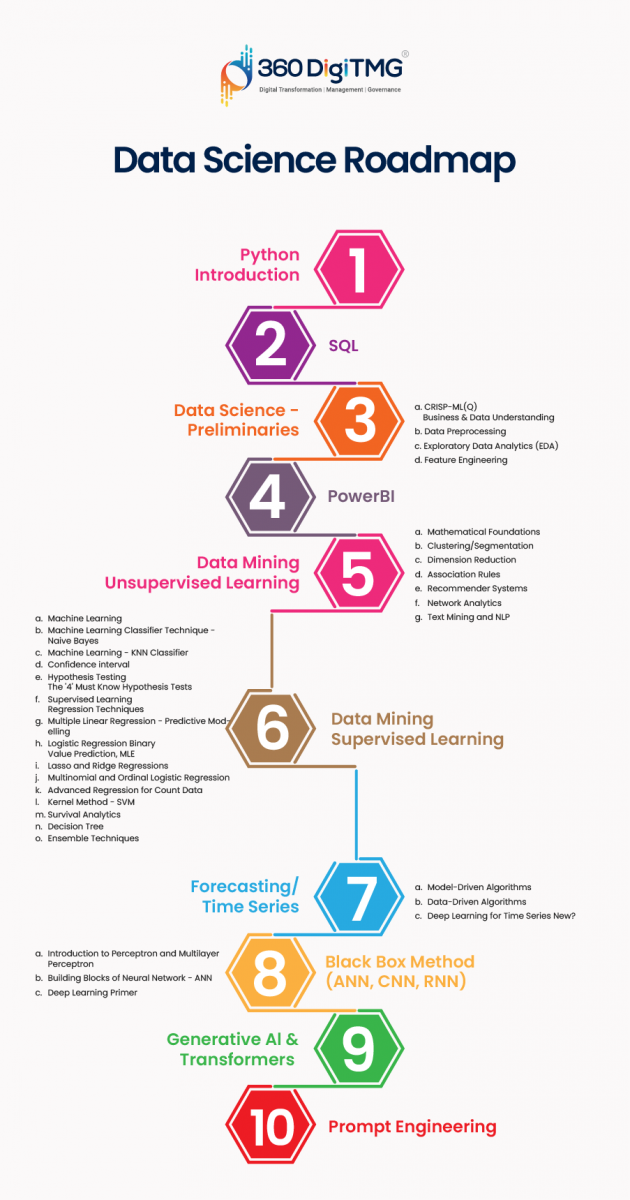 Why Data Science
Let's talk about why we need data science now that we've covered the fundamentals of data science. Is it actually that crucial?
In the earlier era, the data that was produced was relatively smaller in size and structured; also the technology wasn't advanced enough to do high-level computations. Nowadays, the amount of structured data is relatively less while unstructured data and semi-structured data are widely available

Now data is generated through various sources like text files, questionnaires, multimedia, instruments, financial logs, etc. Hence the earlier methods and tools aren't compatible with working with this huge volume and variety of data. That's why we need more complex and advanced analytical tools and methods to compute the data available and draw meaningful insights from it.
Learn the core concepts of Data Science Course video on YouTube:
These were a good number of the justifications for the necessity of data science. Let's examine a few application scenarios from diverse industries.
Identifying the purchase patterns: The data regarding the browsing history, age, income, lifestyle, past purchases are all available on the internet and easily accessible by any corporation. This isn't something new, we had it with us earlier too but with each passing day the data is increasing at a good rate and with this information, we can train the Machine Learning models more efficiently and accurately predict the product which our customers want and successfully meet their wants.

Helps in decision making: It helps you to take decisions like ERP systems and MRP systems used in the supply chain, that are supposed to accurately identify when you are going to be out of stock so it can reorder it again because of the different factors involved in it like the safety stock, lead order time and reorder quantity or else it can stop your production process which would result in losses. So, therefore, helping you to make decisions regarding it.

Predictive Analytics: Weather forecasting can be a good example of this. Data from radars, satellites, aircraft, and ships can be collected and combined. This would not only forecast the weather but also help to predict the occurrence of any natural calamity. Warning you of any natural calamities beforehand and helping to save lives.

Earn yourself a promising career in data science by enrolling in the Data Science Classes in Pune offered by 360DigiTMG.
Source: javatpoint
Data Science Syllabus
Machine learning, big data, and data science modelling are the three elements that make up data science. When all three are united, it becomes easier to properly forecast future events.
The disciplines listed below are covered by practically all organisations in India that provide data science courses.
Introduction to Data Science
Mathematical & Statistical Skills
Machine Learning
Coding
Algorithms used in Machine Learning
Statistical Foundations for Data Science
Data Structures & Algorithms
Optimization Techniques
Data Visualization
Matrix Computations
Scholastic Models
Experimentation, Evaluation, and Project Deployment Tools
Predictive Analytics and Segmentation using Clustering
Applied Mathematics and Informatics
Exploratory Data Analysis
Business Acumen & Artificial Intelligence
*The syllabus may vary according to the locations.
Want to learn more about data science? Enroll in the Best Data Science courses in Chennai to do so.
Components of Data Science Syllabus
Machine learning, big data, and modelling data science are the three components of data science, as was previously said. Therefore, in order to face and overcome organisational problems, those who are serious about pursuing a career in this field need to develop a particular set of abilities. Beginners who wish to pursue a career in this field must learn the key elements of data science.
Big Data
Machine Learning
Business Acumen & Artificial Intelligence
Big Data
This part focuses on imparting knowledge about the data tools and techniques to the students so the unstructured and semi-structured data could be converted into structured data. The data that is present usually consists of Multimedia, Articles, clicks, etc. Further, if you want to make a comparison between certain products then you can crawl through the web API's and RSS feeds of different websites for that product.
Machine Learning
This section of the Data Science curriculum includes a variety of mathematical models and algorithms that are used in programming and instructing the computers so that they can adapt to advances in the real world and comprehend the difficulties that they confront on a daily basis in a particular situation. The BFSI (Banking, Financial Services, and Insurance) industry may benefit greatly from machine learning, as we have already covered in relation to predictive analysis, time series forecasting, and future projections. Additionally, we have spoken about the various circumstances and their potential benefits.
Business Acumen or Intelligence
As there is a ton of data available with an organization, it really gets confusing as to how to use it and often leads to wastage of data rather than efficiently using it. After the data is collected it is important to present them in a dashboard which means to present them in good reports and graphs, which can be analyzed effectively and can help to make good business decisions. Artificial Intelligence could be used to make good business decisions as it will only develop knowledge over the subject but also present different outcomes and scenarios.
Data Science in 2021
The pandemic in 2020 will cause many changes in 2021 in terms of fashion, consumption habits, purchasing patterns, and preferred purchase places, thus we could soon see a significant change in the data we have gathered during the time period. Therefore, the historical information we now have would no longer be useful. Companies must thus be ready for the future of data science.
There are several methods for businesses to get ready for the future. This entails the development of Machine Learning models for a range of scenarios, standardisation, and improved data gathering and storage.
Creation of a Data Science Unit

The best thing that a company can do is create a separate Data Science unit that can help to work and coordinate across various company verticals. This will ensure to reuse of skills and models on a variety of data available with the company. It also ensures dedication towards Data Science and prioritizes it over other matters.

Standardization

It would be simpler to gather and store the data that is being created, digitalize everything, and eventually automate the process thanks to this equally vital procedure. Any organization's growth is greatly aided by automation since it streamlines processes and reduces human error.

Always Experiment

With new data generated from sources of IoT, it is important to explore new data sets and see how they can be used to increase your existing models. There is a constant stream of new data to discover.
Maybe adding two new variables from a batch of cryptic data to your model can improve the driver's model generation accuracy by 5%. The key is to constantly try new things and to have no fear of failing.
Make a space where people may experiment and strive to enhance the current business processes even further. Data scientists will find it simpler to implement new models and will concentrate on minor advancements rather than more ambitious, riskier broad goals. Keep in mind that data science is quite similar to software development, and the more complicated the project, the more likely it is to fail.
Build an application that clients or suppliers may use to communicate with your offerings. It will be simpler to get pertinent data. The volume of data will expand as a result of creating incentives to encourage the use of the produced application. Additionally, it is crucial that the UX application is appealing and promotes use.
Data Science Placement Success Story
Data Science Training Institutes in Other Locations
Agra
,
Ahmedabad
,
Amritsar
,
Anand
,
Anantapur
,
Bangalore
,
Bhopal
,
Bhubaneswar
,
Chengalpattu
,
Chennai
,
Cochin
,
Dehradun
,
Malaysia
,
Dombivli
,
Durgapur
,
Ernakulam
,
Erode
,
Gandhinagar
,
Ghaziabad
,
Gorakhpur
,
Gwalior
,
Hebbal
,
Hyderabad
,
Jabalpur
,
Jalandhar
,
Jammu
,
Jamshedpur
,
Jodhpur
,
Khammam
,
Kolhapur
,
Kothrud
,
Ludhiana
,
Madurai
,
Meerut
,
Mohali
,
Moradabad
,
Noida
,
Pimpri
,
Pondicherry
,
Pune
,
Rajkot
,
Ranchi
,
Rohtak
,
Roorkee
,
Rourkela
,
Shimla
,
Shimoga
,
Siliguri
,
Srinagar
,
Thane
,
Thiruvananthapuram
,
Tiruchchirappalli
,
Trichur
,
Udaipur
,
Yelahanka
,
Andhra Pradesh
,
Anna Nagar
,
Bhilai
,
Borivali
,
Calicut
,
Chandigarh
,
Chromepet
,
Coimbatore
,
Dilsukhnagar
,
ECIL
,
Faridabad
,
Greater Warangal
,
Guduvanchery
,
Guntur
,
Gurgaon
,
Guwahati
,
Hoodi
,
Indore
,
Jaipur
,
Kalaburagi
,
Kanpur
,
Kharadi
,
Kochi
,
Kolkata
,
Kompally
,
Lucknow
,
Mangalore
,
Mumbai
,
Mysore
,
Nagpur
,
Nashik
,
Navi Mumbai
,
Patna
,
Porur
,
Raipur
,
Salem
,
Surat
,
Thoraipakkam
,
Trichy
,
Uppal
,
Vadodara
,
Varanasi
,
Vijayawada
,
Vizag
,
Tirunelveli
,
Aurangabad
Data Analyst Courses in Other Locations
ECIL
,
Jaipur
,
Pune
,
Gurgaon
,
Salem
,
Surat
,
Agra
,
Ahmedabad
,
Amritsar
,
Anand
,
Anantapur
,
Andhra Pradesh
,
Anna Nagar
,
Aurangabad
,
Bhilai
,
Bhopal
,
Bhubaneswar
,
Borivali
,
Calicut
,
Cochin
,
Chengalpattu
,
Dehradun
,
Dombivli
,
Durgapur
,
Ernakulam
,
Erode
,
Gandhinagar
,
Ghaziabad
,
Gorakhpur
,
Guduvanchery
,
Gwalior
,
Hebbal
,
Hoodi
,
Indore
,
Jabalpur
,
Jaipur
,
Jalandhar
,
Jammu
,
Jamshedpur
,
Jodhpur
,
Kanpur
,
Khammam
,
Kochi
,
Kolhapur
,
Kolkata
,
Kothrud
,
Ludhiana
,
Madurai
,
Mangalore
,
Meerut
,
Mohali
,
Moradabad
,
Pimpri
,
Pondicherry
,
Porur
,
Rajkot
,
Ranchi
,
Rohtak
,
Roorkee
,
Rourkela
,
Shimla
,
Shimoga
,
Siliguri
,
Srinagar
,
Thoraipakkam
,
Tiruchirappalli
,
Tirunelveli
,
Trichur
,
Trichy
,
Udaipur
,
Vijayawada
,
Vizag
,
Warangal
,
Chennai
,
Coimbatore
,
Delhi
,
Dilsukhnagar
,
Hyderabad
,
Kalyan
,
Nagpur
,
Noida
,
Thane
,
Thiruvananthapuram
,
Uppal
,
Kompally
,
Bangalore
,
Chandigarh
,
Chromepet
,
Faridabad
,
Guntur
,
Guwahati
,
Kharadi
,
Lucknow
,
Mumbai
,
Mysore
,
Nashik
,
Navi Mumbai
,
Patna
,
Pune
,
Raipur
,
Vadodara
,
Varanasi
,
Yelahanka
Navigate to Address
360DigiTMG - Data Science, IR 4.0, AI, Machine Learning Training in Malaysia
Level 16, 1 Sentral, Jalan Stesen Sentral 5, Kuala Lumpur Sentral, 50470 Kuala Lumpur, Wilayah Persekutuan Kuala Lumpur, Malaysia
+60 19-383 1378