HOTTEST JOBS / COURSES FOR 2021 IN INDIA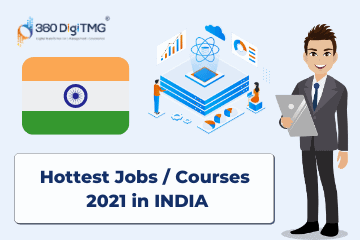 Hottest Jobs / Courses For 2021 In India
India is the most advanced and successful nation in the field of information technology, according to surveys and research. As you are aware, Indians serve as the CEOs of large corporations like Google. Information technology workers are always looking for and acquiring new skills as technology advances at a rapid pace. Additionally, they are moving up in the corporate sector outside of India.
The IT sector is refocusing following the COVID-19 pandemic shutdown, according to several news sources in India. Since technology today forms the basis of every organisation, hiring IT specialists has increased dramatically in India in fields like artificial intelligence (AI), data analytics, machine learning, and the internet of things (IoT).
Making the right decision, several multinational corporations in India have started hiring brilliant and fresh professionals for the right IT Jobs. Although hiring rates have increased, the IT industry has started to notice a shift in recruitment strategies as businesses increasingly go to unconventional, high-esteem ways to find up-and-comers with unique skills.
What is Data science?
Data science came into existence with the need to process the stored data. Data science with the help of modern technologies studies the data. From this study, it can learn about the pattern. Data is collected from various sources. It then uses Machine learning algorithms to "build models". Data Science is the future of Artificial intelligence principle. Data Science with various tools, algorithms and machine learning principle evaluates the data. Click here to learn Data Science Course in Hyderabad
Data analysts by processing data explain the history of data but Data scientist using machine learning algorithms predict the future occurrence of an event.
Why Choose Information Technology As A Career
The world's most prosperous people work in the sector of information technology. They have the intelligence to pursue a profession as technology enthusiasts. Mark Zuckerberg, Steve Jobs, Bill Gates, Jack Ma, and Sundar Pichai serve as examples. These individuals are all sat on the best corporate chairs in the whole globe. There are several factors that will encourage you to make a profession out of information technology.
Affordable Study

A person doesn't need to take admission in highly paid institutes or universities. You can also take certified courses in specific areas and enhance your skill set.

Dynamic Industry

Information technology, as previously said, is an ever-expanding area as people transition to the fifth generation and everything from workplaces to household appliances to combat weapons is digitalized. People are startled by the significant advancements that IT experts are producing. Institutions are searching for recent graduates and students with strong skill sets as there is still much research and study to be done.

Highest Paid Jobs

The basic position a student can gain after graduating from the IT institute is a computer programmer or system analyst. An average salary of a computer programmer is 50,000 Indian rupees. This sector has greater chances of promotion as compared to other fields like business management and finance and accounts.

Information technology is the field of sparkling, energetic, curious, and enthusiastic individuals. Man has continued to invent and discover for ages and its enthusiasm is still growing.
Learn the core concepts of Data Analytics Course video on Youtube:
Information Technology Ecosystem In India
Companies that are IT-enabled include programming innovation, software development, IT consulting, online services, and online commerce. Its applications are not just limited to the goods sector, though. Practically every foundation may benefit from using digital capabilities, including hospitals, schools, libraries, banks, detention centres, airports, and railway stations. Today, information technology is a globally thriving business with 2.8 million employees and sales of close to $70 billion. According to research, the success of India's IT sector depends on five essential factors: a wealth of talent, a metropolitan base, operational success, a favourable business climate, and further growth of the indigenous region.
Hottest Jobs For 2021 In India
In this article, we will focus on the hottest jobs and courses in India. Moreover, we will look upon what qualification is needed to approach that position.
Data Scientist

What is Data Science?

The idea behind data science is to collect unprocessed data from many sources and transform it into informative data. Organisations that aid in their prosperity employ this helpful knowledge after that. Machine learning, artificial intelligence, statistical, and probability methods are used to transform raw data.

Who is a Data Scientist?

Data scientists are the ones who can analyse raw data or information to turn it into useful data. Many organisations utilise this information to develop and compete globally. Big data sets are gathered and analysed by data scientists using their programming, machine learning, and analytical abilities.

Skills Required

Advanced analytical knowledge of data
Conducting big data analysis
Programming advanced computing
Knowledge of programming languages like python, R, C++, and SQL
Knowledge of machine learning techniques like regression, properties of distributions, statistical tests, and proper usage, etc., and experience with applications.
Train data set and run algorithm
Knowledge of data analytics

Artificial Intelligence Engineer

What is Artificial Intelligence?

The broad field of "artificial intelligence" refers to the idea of robots and computers acting like people. Computer systems can think and solve issues, just like people.

Who is an AI Engineer?

An artificially intelligence (AI) engineer is someone who can create models utilising deep neural networks and machine learning algorithms to provide business insights. The remainder of the organisation is then improved using these findings. The engineer also develops intelligent initiatives that make use of AI methods.

c. Skills Required

Good programming skills
Able to make logical reasoning
Linear algebra
Mathematics
Statistics and Probability theory
Big data techniques
Sound knowledge of machine learning algorithms
How to train data set
Deep learning algorithms
Deep neural networks

Machine Learning (ML) Engineer

What is Machine Learning?

Computer systems learn from their prior experiences through a form of artificial intelligence known as machine learning. It indicates that the system has been trained using a pre-defined collection of data, and that when a new item, such as a picture, is presented outside of the data set, the computer is able to recognise the thing. This intriguing method is only made possible by machine learning.

Who is a Machine Learning Engineer?

As a machine learning engineer, you are expected to write programs and algorithms that will make a machine learn and behave accordingly without any further directions. For example, self-driving cars, automated grids, and several more.

Skills Required

Applied mathematics
Statistics and probability theory
Analytical reasoning
Logical thinking
Computer programming and problem-solving
Data modeling and evaluation
Machine learning algorithms such as YOLO, LBPH, etc.
Neural networks
Natural language processing
Strong communication skills

Full Stack Engineer

What is Full-Stack Engineering?

The combined understanding and application of front-end and backend development is known as full-stack engineering. It relates to the understanding of client-side and server-side programming as well as database management systems.

Who is a Full Stack Engineer?

A full-stack engineer or full-stack developer is the one who can handle both front-end development and backend development of website applications. They can handle complete projects starting from the project planning phase to database management and maintenance.

Skills Required

Following skills are essential for a full stack developer:

Minimum 2 year experience working as a developer
Knowledge of computer system and programming
Knowledge of programming languages
Knowledge of front end languages such as HTML, CSS, Bootstrap, JavaScript, React.js
Knowledge of backend programming languages such as PHP, Node.js, Angular.js, Vue.js
Knowledge of servlets, APIs, web applications etc.

Digital Marketing Specialist

What is Digital Marketing?

Since it makes use of the internet and online platforms to connect with clients, digital marketing is often referred to as online marketing or internet marketing. To contact their customers and sell out the goods and services, they need computer systems, internet technology, social media platforms, mobile phones, and certain promotional talents.

Who is a Digital Marketing Specialist?

A digital marketing professional is someone with a comprehensive skill set who can use various online social media platforms to promote goods and services to a global audience.

Work with team members for SEO operations
Monitor and implement PPC operations
Writing creative and attractive content for the products
Generate leads
Communicate with end customer for better understanding

Skills Required

Data analysis
Writing skills
Technical writing skills
Communication skills
In page and off-page SEO skills
SEM skills
Listening skills
Convincing skills
Positive mindset
Email marketing skills
Social media skills
Paid social media advertising skills

Cybersecurity

What is cybersecurity?

The most important sector of information technology is cybersecurity, which deals with computer dangers and safeguards against viruses and other dangerous software. It is the activity of giving social media sites and internet businesses security. Additionally, cybersecurity is a preventative strategy that shields all digital assets, as well as the computer's hardware, software, and apps, against any form of cyberattack.

Who is a cybersecurity specialist?

Cybersecurity engineers are also known as cybersecurity specialists or information security specialists. He identifies threats and vulnerabilities in web applications or embedded software and tries to fix them. He tests the software applications and figures out weak loopholes and vulnerabilities in them. In other words, a person who safeguards the computer and software systems from threats and viruses is known as a cybersecurity engineer. It is an approach in which you can pursue your career in many fields such as:

Network Security:

Network security refers to protecting networks, cables, and LANs from hackers.

Data Security:

The protection of sensitive information and useful data from cybercriminals is known as data security. Usually, intruders harm the data by harming their integrity, confidentiality and availability.

Application Security:

Application security relates to the safeguarding of computer programmes, websites, and desktop apps against online criminals.

Database Security:

It refers to the security of data stored in the database and data centers of companies. Hackers attack the database and steal the information from it. Moreover, sometimes hackers harm the integrity of the data by changing the data.

Cloud Security:

It alludes to the safeguarding of cloud-based databases, servers, apps, and other digital assets.

Skills Required

Should be a detailed oriented person
Curiosity to know about technical things and find mistakes in them
Enthusiastic about research
Highly adaptable
Strong analytical skills
Strong diagnostic skills
Well aware of cyber technology
Excellent communication skills
Understanding of system architecture, software development lifecycle
Programming skills related to C/ C++, assembly language, python, R, PHP, scripting language, etc.
Deep understanding of firewalls, switches, and routers

Knowledge of these things will be a plus point:

Linux Operating Systems
Microsoft Technologies
Wireless Technologies
Database Modeling
Web Application Technologies
Compiled and Interpreted Development Languages
Network Implementation (Operational and Security)
Telephony Technologies (Analog and IP)
Social Engineering
Physical Security

Web Developer

What is web development?

As implied by the names, web development or website development is the art of creating website applications. It covers everything from single-page websites to fully developed websites with several pages.

Who is a web developer?

To be able to create detailed plans on web sites, web developers require a combination of visual computerization skills and specialised PC abilities. Websites should not only be visually appealing but also functional and safe. Website designers need to create locations that satisfy clients' or employers' requirements. Web designers sometimes take ideas from less knowledgeable partners who lack the ability to translate their concept into a real, useful website.

Skills Required

Bachelor's degree in software engineering, computer science or equivalent
Minimum 1 year experience in development project
Knowledge of latest programming languages such as Java, Python, C++ and C
Good practice of HTML, CSS, Bootstrap, JavaScript, Ajax
Knowledge of backend programming languages node.js, angular.js, react.js etc.
Able to follow best programming practice
Practice of using comments in the code
Knowledge of software requirement engineering and database systems
Courses To Learn In 2021 In India
Following Information Technology courses are trending in India:
JAVA or J2EE

Almost all medium and big organisations in industries like banking and medicine, life science, telecom, financial groups, retail, and wholesale marketers use Java or J2EE, which is quite probably the most reliable, amazing, and widely used invention. You have a lot to learn about Java or J2EE, including the middle section, J2SE, JSP, STRUTS, SPRING, and maybe HIBERNATE. This programme is very exceptional and quite sophisticated. If you need to learn Java, you must gradually go from the basic level to the high level. Although there are many systems and auxiliary improvements that Java candidates will need to understand, the supplied items should be deeply understood in the present programming industry.

Networking or CISCO

Regardless of whether you are captivated about learning network and switching advances, at that point, CISCO advances would be your decision. You can learn CCNA, CCNP, and more from the CISCO institute. These sorts of authentications are worldwide accreditations. You will get worldwide possibilities after finishing and learning these kinds of courses. CCNA and Cisco courses are the plus points for those who have a strong information technology background and if someone do not posses the IT background then he should definitely take these courses. At that point, you need to take some specially appointed classes for non-engineering understudies. The extraordinary number of fresher and experienced competitors, nowadays, are seeking after networking courses, on the off chance that you are one of them, CISCO advances can be your decision. A larger part of CISCO foundations needs a degree – graduation in any order.

MYSQL

One of the most well-known databases in the world, MySQL is utilised by all software organisations, including huge international corporations like Google and Microsoft. This is a course or appointment that is specifically designed for students who are interested in studying MySQL and SQL functions and who like to create, manage, and supervise the enormous information records and other database types that are on the market. When you are familiar with the database and other supporting technologies, becoming a DBA might be your best choice for a professionally organised course. You can certainly and quickly master MySQL and DB2 in a lot less amount of time. The demand for DBA programmes is growing steadily, and this demand demonstrates how well-known and marketable this field is.

Cloud Computing

The present greatest buzz taking all things together little, medium and huge IT town is about cloud computing. You should utilize Google, Amazon, and so forth a portion of the huge weapon of cloud innovation. If someone wants to secure his or her future in one of the growing field of cloud computing, then he should learn about IaaS, SaaS and PaaS. You would be wondering what is IaaS, PaaS, and SaaS. Let me tell you.

Software-As-A-Service

Customers that pay for this service receive a software system in return. This kind of service is available through Microsoft Office 365.

Infrastructure-As-A-Service

In this service, everything from the operating system to storage space is delivered to the customer through an IP-based connection. Microsoft Azure and IBM cloud are examples of (IaaS).

Platform-As-A-Service

One of the three services that is the most complicated is PaaS. In contrast to SaaS, it offers a framework for the development of software that is supplied online rather than the entire piece of software itself.

Microsoft Technologies

Microsoft Technologies are high in prevalence nowadays. You can be a database designer or an MS innovation engineer in the wake of passing one or different conformations, such as MCSE, MCAD, MCSD, MCDST, MCDBA, MCAS, and others. For big business and application improvement, MCITP is truly outstanding for amateurs and progressed level engineers. Though this sort of certificate isn't at all a programming affirmation, yet a framework upkeep sort of, however, has great future possibility.

Cybersecurity

Most sure, the growth of technology and the introduction of the internet have made our lives simpler, but they have also introduced a number of risks. PCs have become defenceless against damage, assaults, or unauthorised access, endangering both an individual's or an organization's private information and the data of a whole nation. As a result, governments, businesses, and organisations are paying close attention to cybersecurity today, and professionals in this area are in high demand. Despite the fact that there is a degree programme in cybersecurity, it is expensive because the degree requires you to take a number of elective courses. It will be much better for you to seek a career in cybersecurity through forensics and actual cybersecurity training.

Graphic Designing

Graphic Designing is an extremely immense and intriguing field. It means to create abilities to investigate and plan computerized applications with contemporary settings. This course offers the understudies a chance to deal with different computerized applications. Through this course, understudies can get a handle on the most recent reasoning cycles which are pertinent to the planned business and are likewise encouraged essential plans so they may make wonders and give their best to the creative world. Besides innovation, an imaginative psyche loaded with unique thoughts, great perception, and insightful reasoning can assist you with dominating this field. You can take this certification in any part of life no matter after your bachelor's or master's or doctorate.
Conclusion
In India, there are numerous skilled vocations and courses to pursue, but the ones mentioned above are the most challenging and well-paid across the country. By enrolling in the courses, you may streamline your abilities and then apply for high-paying employment in a variety of industries, including banking, financial institutions, corporate sectors, etc.
Click here to learn Data Science Course, Data Science Course in Hyderabad, Data Science Course in Bangalore
Data Science Placement Success Story
Data Science Training Institutes in Other Locations
Agra
,
Ahmedabad
,
Amritsar
,
Anand
,
Anantapur
,
Bangalore
,
Bhopal
,
Bhubaneswar
,
Chengalpattu
,
Chennai
,
Cochin
,
Dehradun
,
Malaysia
,
Dombivli
,
Durgapur
,
Ernakulam
,
Erode
,
Gandhinagar
,
Ghaziabad
,
Gorakhpur
,
Gwalior
,
Hebbal
,
Hyderabad
,
Jabalpur
,
Jalandhar
,
Jammu
,
Jamshedpur
,
Jodhpur
,
Khammam
,
Kolhapur
,
Kothrud
,
Ludhiana
,
Madurai
,
Meerut
,
Mohali
,
Moradabad
,
Noida
,
Pimpri
,
Pondicherry
,
Pune
,
Rajkot
,
Ranchi
,
Rohtak
,
Roorkee
,
Rourkela
,
Shimla
,
Shimoga
,
Siliguri
,
Srinagar
,
Thane
,
Thiruvananthapuram
,
Tiruchchirappalli
,
Trichur
,
Udaipur
,
Yelahanka
,
Andhra Pradesh
,
Anna Nagar
,
Bhilai
,
Borivali
,
Calicut
,
Chandigarh
,
Chromepet
,
Coimbatore
,
Dilsukhnagar
,
ECIL
,
Faridabad
,
Greater Warangal
,
Guduvanchery
,
Guntur
,
Gurgaon
,
Guwahati
,
Hoodi
,
Indore
,
Jaipur
,
Kalaburagi
,
Kanpur
,
Kharadi
,
Kochi
,
Kolkata
,
Kompally
,
Lucknow
,
Mangalore
,
Mumbai
,
Mysore
,
Nagpur
,
Nashik
,
Navi Mumbai
,
Patna
,
Porur
,
Raipur
,
Salem
,
Surat
,
Thoraipakkam
,
Trichy
,
Uppal
,
Vadodara
,
Varanasi
,
Vijayawada
,
Vizag
,
Tirunelveli
,
Aurangabad
Data Analyst Courses in Other Locations
ECIL
,
Jaipur
,
Pune
,
Gurgaon
,
Salem
,
Surat
,
Agra
,
Ahmedabad
,
Amritsar
,
Anand
,
Anantapur
,
Andhra Pradesh
,
Anna Nagar
,
Aurangabad
,
Bhilai
,
Bhopal
,
Bhubaneswar
,
Borivali
,
Calicut
,
Cochin
,
Chengalpattu
,
Dehradun
,
Dombivli
,
Durgapur
,
Ernakulam
,
Erode
,
Gandhinagar
,
Ghaziabad
,
Gorakhpur
,
Guduvanchery
,
Gwalior
,
Hebbal
,
Hoodi
,
Indore
,
Jabalpur
,
Jaipur
,
Jalandhar
,
Jammu
,
Jamshedpur
,
Jodhpur
,
Kanpur
,
Khammam
,
Kochi
,
Kolhapur
,
Kolkata
,
Kothrud
,
Ludhiana
,
Madurai
,
Mangalore
,
Meerut
,
Mohali
,
Moradabad
,
Pimpri
,
Pondicherry
,
Porur
,
Rajkot
,
Ranchi
,
Rohtak
,
Roorkee
,
Rourkela
,
Shimla
,
Shimoga
,
Siliguri
,
Srinagar
,
Thoraipakkam
,
Tiruchirappalli
,
Tirunelveli
,
Trichur
,
Trichy
,
Udaipur
,
Vijayawada
,
Vizag
,
Warangal
,
Chennai
,
Coimbatore
,
Delhi
,
Dilsukhnagar
,
Hyderabad
,
Kalyan
,
Nagpur
,
Noida
,
Thane
,
Thiruvananthapuram
,
Uppal
,
Kompally
,
Bangalore
,
Chandigarh
,
Chromepet
,
Faridabad
,
Guntur
,
Guwahati
,
Kharadi
,
Lucknow
,
Mumbai
,
Mysore
,
Nashik
,
Navi Mumbai
,
Patna
,
Pune
,
Raipur
,
Vadodara
,
Varanasi
,
Yelahanka
Navigate to Address
360DigiTMG - Data Science Course, Data Scientist Course Training in Chennai
D.No: C1, No.3, 3rd Floor, State Highway 49A, 330, Rajiv Gandhi Salai, NJK Avenue, Thoraipakkam, Tamil Nadu 600097
1800-212-654-321