Becoming a Data Scientist Without a Degree: A Comprehensive Guide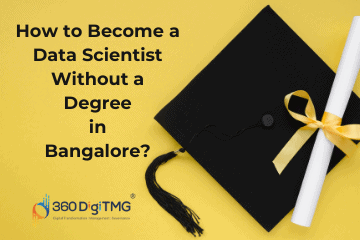 Companies are now having a lot of trouble locating qualified data scientists with the needed data science capabilities.
To address the expanding data-related issues, every organisation enthusiastically wants the services of skilled data scientists.
For an organisation to thrive in the turbulent business climate of today, making well-informed decisions based on insightful data analysis is crucial.
These and other factors have caused the need for such gifted data scientists to soar over the past several years in practically every industry.
With 11 million jobs in data science and analytics anticipated by 2026, data scientists are already among the most in-demand professions worldwide.
Therefore, if you are one of those people who is considering becoming a data scientist, one question that must have crossed your mind is how to do it without a college degree.
We have done extensive study on this issue and will now provide you with a perfectly logical response.
Learn the core concepts of Data Science Course video on Youtube:
Does the Role of a Data Scientist Require a Degree?
Well, after spending so many hours researching and looking at all the major platforms, we are now in a good position to tell you that without a graduation degree you not only can become a data scientist but it is also possible to get a promising job.
Yes, you heard it right!
Degreein any of the data science related subjects have their pros and cons, but it is clear that it is possible to become a data scientist without having a degree.
If we take a look at some of the job descriptions, we will find that most of them do not even mention a degree because the supply of skilled data scientists is already very low.
A company or business wants to hire a data scientist who can learn new skills and implement new technologies, whether that person has a degree or not.
But keep in mind that some companies don't even mention a bachelor's degree, but rather they directly mention a master's or Ph.D. degree in some prominent subjects like computer science, engineering, math, or statistics.
Therefore, both situations are possible depending on the needs and requirements of the company.
But it becomes even clearer when we look at some successful tech professionals who have achieved success and goals without having a degree. It includes many names like Bill Gates, Mark Zuckerberg, and Steve Jobs, all of whom are college dropouts but are known around the world today.
How to Become a Data Scientist Without a Degree?
Pay close attention to the instructions below if you want to succeed as a data scientist without a degree.
Obtain Some Required Prior Knowledge

Data engineering, mathematics, statistics, data mining, predictive analytics, machine learning, and data visualisation are just a few of the many disciplines that make up the very broad topic of data science.

Without a degree, it is essential to have a strong grasp of numerous mathematical and statistical topics as well as a passion for computer science and programming (Python & R). You may learn them better using a variety of sites, such as Google and YouTube.

Learn the fundamentals of data science

You must comprehend the data science ABCs in order to work as a data scientist without a degree. One need be completely knowledgeable about data extraction, analysis, manipulation, and transformation in order to use various data science technologies.

Additionally, having a thorough understanding of problem-solving techniques and machine learning methods such as linear regression, logistic regression, k-means clustering, etc.

Search Case Studies Based on Industry

You may get a sense of how businesses utilise data to boost output and income by exploring and reading numerous case studies.

You can discover a tonne of Data Science Case Studies on DataFlair, which can help you identify issues and provide solutions.

Investigate and work on active projects

Working on numerous actual projects based on the industry is essential since it will teach you how to apply the various tools and abilities in real-world situations.

A person won't understand how things function in real life unless they put their theories into practise.

Always look for new projects to work on, and DataFlair is once again the finest resource for finding cost-free data science-related projects with source codes that will give you practise addressing practical issues.

Attend a number of hackathons

Participating in hackathons can help you develop as a data scientist since they provide you the chance to work with people on actual projects. The Kaggle platform is the perfect venue to take part in different data science challenges for that reason.

Obtain a certificate by enrolling in a data science course.

Last but not least, do not overlook signing up for a Data Scientist course that also offers certification. Your chances of landing a job as a data scientist will enhance if you have an official credential in data science from a reputable institution.
Data Science Placement Success Story
Data Science Training Institutes in Other Locations
Agra, Ahmedabad, Amritsar, Anand, Anantapur, Bangalore, Bhopal, Bhubaneswar, Chengalpattu, Chennai, Cochin, Dehradun, Malaysia, Dombivli, Durgapur, Ernakulam, Erode, Gandhinagar, Ghaziabad, Gorakhpur, Gwalior, Hebbal, Hyderabad, Jabalpur, Jalandhar, Jammu, Jamshedpur, Jodhpur, Khammam, Kolhapur, Kothrud, Ludhiana, Madurai, Meerut, Mohali, Moradabad, Noida, Pimpri, Pondicherry, Pune, Rajkot, Ranchi, Rohtak, Roorkee, Rourkela, Shimla, Shimoga, Siliguri, Srinagar, Thane, Thiruvananthapuram, Tiruchchirappalli, Trichur, Udaipur, Yelahanka, Andhra Pradesh, Anna Nagar, Bhilai, Borivali, Calicut, Chandigarh, Chromepet, Coimbatore, Dilsukhnagar, ECIL, Faridabad, Greater Warangal, Guduvanchery, Guntur, Gurgaon, Guwahati, Hoodi, Indore, Jaipur, Kalaburagi, Kanpur, Kharadi, Kochi, Kolkata, Kompally, Lucknow, Mangalore, Mumbai, Mysore, Nagpur, Nashik, Navi Mumbai, Patna, Porur, Raipur, Salem, Surat, Thoraipakkam, Trichy, Uppal, Vadodara, Varanasi, Vijayawada, Visakhapatnam, Tirunelveli, Aurangabad
Data Analyst Courses in Other Locations
ECIL, Jaipur, Pune, Gurgaon, Salem, Surat, Agra, Ahmedabad, Amritsar, Anand, Anantapur, Andhra Pradesh, Anna Nagar, Aurangabad, Bhilai, Bhopal, Bhubaneswar, Borivali, Calicut, Cochin, Chengalpattu , Dehradun, Dombivli, Durgapur, Ernakulam, Erode, Gandhinagar, Ghaziabad, Gorakhpur, Guduvanchery, Gwalior, Hebbal, Hoodi , Indore, Jabalpur, Jaipur, Jalandhar, Jammu, Jamshedpur, Jodhpur, Kanpur, Khammam, Kochi, Kolhapur, Kolkata, Kothrud, Ludhiana, Madurai, Mangalore, Meerut, Mohali, Moradabad, Pimpri, Pondicherry, Porur, Rajkot, Ranchi, Rohtak, Roorkee, Rourkela, Shimla, Shimoga, Siliguri, Srinagar, Thoraipakkam , Tiruchirappalli, Tirunelveli, Trichur, Trichy, Udaipur, Vijayawada, Vizag, Warangal, Chennai, Coimbatore, Delhi, Dilsukhnagar, Hyderabad, Kalyan, Nagpur, Noida, Thane, Thiruvananthapuram, Uppal, Kompally, Bangalore, Chandigarh, Chromepet, Faridabad, Guntur, Guwahati, Kharadi, Lucknow, Mumbai, Mysore, Nashik, Navi Mumbai, Patna, Pune, Raipur, Vadodara, Varanasi, Yelahanka
Navigate to Address
360DigiTMG - Data Science, Data Scientist Course Training in Bangalore
No 23, 2nd Floor, 9th Main Rd, 22nd Cross Rd, 7th Sector, HSR Layout, Bengaluru, Karnataka 560102
1800-212-654-321