Is It Too Late to Become a Data Scientist?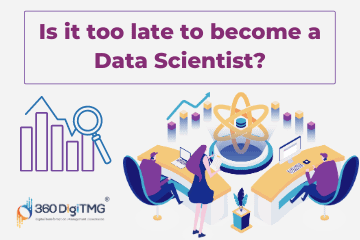 Image from pixabay
Starting On
Are you dissatisfied with your present position or line of work? Do you desire a profitable position? At the very least, are you interested in the subject of data science?Are you dissatisfied with your present position or line of work? Do you desire a profitable position? At the very least, are you interested in the subject of data science?
You now work for a corporation, bank, or retailer, but you want to change careers and become a data scientist. However, do you believe it is too late to pursue a career in data science?
Of course not, if you are intelligent enough and enthusiastic enough data science to become a data scientist.
The top economist of Google, Hal Varian, is renowned for declaring that statisticians will have the most desirable jobs in the ten years that follow. With one small exception: they're now called "Data Scientists," thus we couldn't have realised how accurate he was claiming to be in 2009. Now they're about to rule the entire planet.
So why not choose the data science sector and develop your talents appropriately? Analytical brains with the necessary abilities are welcomed by the data science sector.
Learn the core concepts of Data Analytics Course video on Youtube:
What does a Data Scientist do?
Data scientist's work responsibilities are moved around using machine learning, statistics, and other computational skills to tease meaningful and actionable insights from collected data. At their best, data scientists help organizations understand key findings from the information collected so that they can make informed, data-backed decisions instead of shooting in the dark. Click here to learn Data Scientist Course in Bangalore
The duties of a data scientist go beyond only processing and analysing data. A data scientist's job description might change depending on the organisation, their area of specialisation, their experience, their talents, and other factors.
However, the generic role of a Data scientist will involve:
Assessing new data
Development of custom data models and algorithms
Analyzing tools to prepare reports
Working with stakeholders to leverage data optimization opportunities
Creating predictive models to improve the organizational goals
Data mining to optimize and improve products, techniques, & strategies
Building A/B testing frameworks
Quality management
It's Never too Late to Become a Data Scientist
While changing careers might be difficult, it isn't impossible. Even if you lack a formal education, you can work as data scientist at any point in your life. Some individuals believe that since they don't have a degree in statistics or computer science, they are ineligible, however this is untrue.
Although it might help you approach a job application more systematically, a professional degree is not required. If you seek to acquire practical knowledge and technical expertise through a learning process, you can pursue a new job.
In the upcoming days, there will be a significant shortage of Data Scientists and other positions based on Data Science all across the world.
Since the big data movement has gained widespread acceptance, there is a greater need for qualified data scientists. Businesses are increasingly seeking for innovative methods to obtain insights from the vast volumes of data they are gathering and keeping.
Click here to explore 360DigiTMG.
Do you Need a Degree to Become a Data Scientist?
There are no degrees that make you a credible data scientist. Then again, there are no degrees that prevent you from becoming a credible data scientist either.
Data scientist" is not a protected title, unlike some other job titles. Occupations like a medical doctor, nurse, or lawyer have strict prerequisites. Data science does not.
Data science is naturally cross-disciplinary and has a wide range of applications. Numerous educations are useful as a result. Data scientists come from a variety of educational backgrounds.
Instead of a degree, hiring managers typically seek for practical abilities. You must develop a great portfolio to display your abilities as a data scientist to the world.
A data scientist must possess prerequisite technical skills, the ability to wrangler data sets, problem-solving skills and find actionable insight from data. These skills can be practiced and learned outside of college.
Online programs and virtual bootcamps can help you become a data scientist
An ambitious individual who desires a mid-career pivot might enrol in online courses or pursue other independent learning avenues to develop their data scientist abilities. With independent study, you may go at your own speed. Many online training courses and virtual bootcamps provide students the framework and resources they need to land a job as a data scientist.
An online programme can assist you in obtaining the fundamental skills needed to become a data scientist. Let's see how they support you.
The Online Program Focus on Applied Knowledge

A reputable program or institute teaches technical concepts. They assign you some projects to gain hands-on skills and master you to work as a real-world data scientist.

Quality Program Offer Mentorships

Through mentorship programmes, well-known and respectable programmes or institutions provide internships. In mentoring, a professional in your field is assigned to you so you may benefit from their knowledge and assistance in all areas.

Online Programs Encourage to Make a Portfolio

During a training experience, you will have the chance to complete projects. You can add these projects to build a professional portfolio and show it to your future employer.

Online Programs Provide Career Counseling

You can receive the training you need to become a data scientist online. They will offer career guidance. You have the opportunity to provide supporting resources like mock interviews, resume guidance, and networking aid in these types of programmes.
Conclusion
It isn't too late to start pursuing an education that could lead to a career in data science. Yes, data science is one of the hottest new things right now. You can take data science courses in Bangalore, which is known as the IT hub of India.
Technology is quickly developing and changing. However, it's crucial to remember that Data Science is what much modern technology revolves on.
The data science sector is simply too large and the jack of all crafts idea won't persist, so now is a good moment to start focusing on a particular area of the discipline.
Click here to learn Data Science Course, Data Science Course in Hyderabad, Data Science Course in Bangalore
Data Science Placement Success Story
Data Science Training Institutes in Other Locations
Agra
,
Ahmedabad
,
Amritsar
,
Anand
,
Anantapur
,
Bangalore
,
Bhopal
,
Bhubaneswar
,
Chengalpattu
,
Chennai
,
Cochin
,
Dehradun
,
Malaysia
,
Dombivli
,
Durgapur
,
Ernakulam
,
Erode
,
Gandhinagar
,
Ghaziabad
,
Gorakhpur
,
Gwalior
,
Hebbal
,
Hyderabad
,
Jabalpur
,
Jalandhar
,
Jammu
,
Jamshedpur
,
Jodhpur
,
Khammam
,
Kolhapur
,
Kothrud
,
Ludhiana
,
Madurai
,
Meerut
,
Mohali
,
Moradabad
,
Noida
,
Pimpri
,
Pondicherry
,
Pune
,
Rajkot
,
Ranchi
,
Rohtak
,
Roorkee
,
Rourkela
,
Shimla
,
Shimoga
,
Siliguri
,
Srinagar
,
Thane
,
Thiruvananthapuram
,
Tiruchchirappalli
,
Trichur
,
Udaipur
,
Yelahanka
,
Andhra Pradesh
,
Anna Nagar
,
Bhilai
,
Borivali
,
Calicut
,
Chandigarh
,
Chromepet
,
Coimbatore
,
Dilsukhnagar
,
ECIL
,
Faridabad
,
Greater Warangal
,
Guduvanchery
,
Guntur
,
Gurgaon
,
Guwahati
,
Hoodi
,
Indore
,
Jaipur
,
Kalaburagi
,
Kanpur
,
Kharadi
,
Kochi
,
Kolkata
,
Kompally
,
Lucknow
,
Mangalore
,
Mumbai
,
Mysore
,
Nagpur
,
Nashik
,
Navi Mumbai
,
Patna
,
Porur
,
Raipur
,
Salem
,
Surat
,
Thoraipakkam
,
Trichy
,
Uppal
,
Vadodara
,
Varanasi
,
Vijayawada
,
Vizag
,
Tirunelveli
,
Aurangabad
Data Analyst Courses in Other Locations
ECIL
,
Jaipur
,
Pune
,
Gurgaon
,
Salem
,
Surat
,
Agra
,
Ahmedabad
,
Amritsar
,
Anand
,
Anantapur
,
Andhra Pradesh
,
Anna Nagar
,
Aurangabad
,
Bhilai
,
Bhopal
,
Bhubaneswar
,
Borivali
,
Calicut
,
Cochin
,
Chengalpattu
,
Dehradun
,
Dombivli
,
Durgapur
,
Ernakulam
,
Erode
,
Gandhinagar
,
Ghaziabad
,
Gorakhpur
,
Guduvanchery
,
Gwalior
,
Hebbal
,
Hoodi
,
Indore
,
Jabalpur
,
Jaipur
,
Jalandhar
,
Jammu
,
Jamshedpur
,
Jodhpur
,
Kanpur
,
Khammam
,
Kochi
,
Kolhapur
,
Kolkata
,
Kothrud
,
Ludhiana
,
Madurai
,
Mangalore
,
Meerut
,
Mohali
,
Moradabad
,
Pimpri
,
Pondicherry
,
Porur
,
Rajkot
,
Ranchi
,
Rohtak
,
Roorkee
,
Rourkela
,
Shimla
,
Shimoga
,
Siliguri
,
Srinagar
,
Thoraipakkam
,
Tiruchirappalli
,
Tirunelveli
,
Trichur
,
Trichy
,
Udaipur
,
Vijayawada
,
Vizag
,
Warangal
,
Chennai
,
Coimbatore
,
Delhi
,
Dilsukhnagar
,
Hyderabad
,
Kalyan
,
Nagpur
,
Noida
,
Thane
,
Thiruvananthapuram
,
Uppal
,
Kompally
,
Bangalore
,
Chandigarh
,
Chromepet
,
Faridabad
,
Guntur
,
Guwahati
,
Kharadi
,
Lucknow
,
Mumbai
,
Mysore
,
Nashik
,
Navi Mumbai
,
Patna
,
Pune
,
Raipur
,
Vadodara
,
Varanasi
,
Yelahanka
Navigate to Address
360DigiTMG - Data Science, IR 4.0, AI, Machine Learning Training in Malaysia
Level 16, 1 Sentral, Jalan Stesen Sentral 5, Kuala Lumpur Sentral, 50470 Kuala Lumpur, Wilayah Persekutuan Kuala Lumpur, Malaysia
+60 19-383 1378