Can a Data Scientist become a Hacker?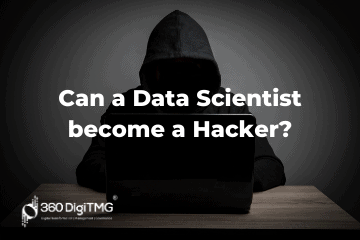 Image from Pixabay
Hacking
It is a process of looking for security holes in the computer system to get access to customer or personal information. Hackers utilise a password cracking technique to access a password-protected computer.
System Hacking
Computers are an essential part of any successful business. These computers are networked with external businesses to facilitate communication, reveals them to hacking and the outside world. System hacking means stealing corporate data, personal data, privacy invasion, or any other important information that can harm the business Hackers use computers to do such fraudulent acts. Many organizations lose millions of dollars due to cybercrime.
Learn the core concepts of Data Science Course video on Youtube:
Hacker
A hacker is someone who engages in such behaviour. A "cybercriminal" comes to mind when the word "hacker" is used, yet hackers are not always terrible people. A hacker is a computer expert who is knowledgeable about computer security and who use computer technology and programming abilities to solve issues or meet challenges. In order to obtain access, hackers identify and take advantage of the computer's flaw.
Types of hacker

Cracker
Grey hat
Hacktivist
Phreaker

a. Ethical hacker

This kind of hacker cooperates with the organisations just to acquire access to the systems in order to address the systems' vulnerabilities rather than exploit them. They go by the name White Hat as well.

b. Cracker

A hacker gains illegal access to the system for his gain. Such a person's main objective is to steal corporate data, transfer funds from a bank account, and violate privacy rights. They are known as Black Hat

c. Grey hat

The aim of a hacker is to operate between white and black hat. They notify the system owner of the vulnerabilities and then demand payment to address them.

d. Script kiddies

They are non-skilled hackers, purchase and use ready-made hacking tools to gain access to the computer system.

e. Hacktivist

A hacktivist is a hacker who utilises technology to spread messages about social, religious, and political issues. They achieved this by taking control of the websites and posting messages there.

Click here to explore 360DigiTMG.

f. Phreaker

By finding and using a phone's vulnerability, the hacker can compromise the phone system.

People have been breaking into computers ever since they were created. Every time information and data are created, hacking increases. Organisations are placing a higher focus on information security since hackers can access critical data. Once he or she has access, they are free to do anything they want with the information. In addition to stealing the data, the hacker modifies it to present false information.
Image from Pixabay
Can a Data Scientist become a Hacker?
For the past decade, the field of data science has been growing day by day and the demand for data scientists has also sub sequentially increased. The skills needed for data scientists nowadays are divided into three categories.
Hacking skills
Math and statistical knowledge
Substantive expertise
In the words of a data scientist, "a data scientist is the one who can explore, scrub, model, obtain, and interpret data and then blend hacking, machine learning, and statistics."
In a world full of data and information, hacking skills become crucial since data is spread across several systems and places, making data identification difficult. One should be conversant with a variety of databases, computer languages, and operating systems before communicating across them. You must learn where and how to extract the data, and you take pleasure in doing so.
Data Science Prevents Hacking.
Data Science is the way to prevent the world from hacking by providing cybersecurity woes. Cybersecurity companies are heavily investing in AI, Data Science, Machine Learning, and related fields to protect themselves from cybercriminals.
Cyber Security
Real hackers acquire access to a computer system to detect theft, acts of retail terrorism, or social media activity. In the mechanical area, computers are essential for providing security against hackers. Both public and private businesses require cybersecurity to safeguard their clients' private information as well as to attract top talent by paying well. Daily demand is increasing. Jobs in information security are in high demand.
Skills need in cyber security

IT fundamentals (web applications, system administration)
Coding (C, C++. Java, PHP, R, Python)
Architecture, administration, and operating systems
Certifications (for instance, CISSP, CEH, and Comp TIA Security)
How can a Data Scientist Help Cyber Experts?
Due to data, businesses are making or breaking. From large businesses to local logistic companies, everyone analyzes data to earn a profit. Cybercriminals are hacking this important data. As an estimation, it is stated that cybercriminals stole 33 billion records. To prevent these attacks, data scientists play a vital role in cybersecurity. For this purpose, there is an increase in the demand for data scientists.
Modern data science involves processing and studying vital information to extract valuable insights from data. Data scientists use AI to find cybersecurity threats, and through this, they can predict risk on experience and behavior patterns.
Example

You may identify trends on your e-commerce website using data science, and when Distributed Denial of Service (DDoS) occurs, all required precautions are taken right once to stop it. This allows you to view the cyberattacks occurring in your company at a certain time of day.

Data science and cybersecurity have to function hand in hand.

Implementing data science in organizations helps them measure effective information security systems by using historical and current cyber instructions information. Data scientists feed machine learning algorithms. Machine learning is a significant and important feature of data science and finds loopholes in an information security environment. Click here to learn Data Scientist Training in Bangalore

Due to data science capabilities, cybersecurity technologies are evolving, including firewalls, behavior-based analytics, reactions into antivirus suites, and traffic analyzers to create intelligent products. The cybersecurity sector has developed during the past few years.Cybersecurity tools are upgrading due to data science capabilities, including firewalls, behavior-based analytics, responses into antivirus suits, and traffic analyzers to make products smart. In past years cybersecurity has matured as an industry.

Conclusion

Don't let your companies sit idly, start investing in the data science field because your data is only secured when you have a cybersecurity system. Cybersecurity is another career path that is providing one of the biggest opportunities to growth.

The saying "Great Opportunities lie in every Crisis" applies to the present, and you have the chance to influence things positively.
Click here to learn Data Science Course, Data Science Course in Hyderabad, Data Science Course in Bangalore
Data Science Placement Success Story
Data Science Training Institutes in Other Locations
Agra
,
Ahmedabad
,
Amritsar
,
Anand
,
Anantapur
,
Bangalore
,
Bhopal
,
Bhubaneswar
,
Chengalpattu
,
Chennai
,
Cochin
,
Dehradun
,
Malaysia
,
Dombivli
,
Durgapur
,
Ernakulam
,
Erode
,
Gandhinagar
,
Ghaziabad
,
Gorakhpur
,
Gwalior
,
Hebbal
,
Hyderabad
,
Jabalpur
,
Jalandhar
,
Jammu
,
Jamshedpur
,
Jodhpur
,
Khammam
,
Kolhapur
,
Kothrud
,
Ludhiana
,
Madurai
,
Meerut
,
Mohali
,
Moradabad
,
Noida
,
Pimpri
,
Pondicherry
,
Pune
,
Rajkot
,
Ranchi
,
Rohtak
,
Roorkee
,
Rourkela
,
Shimla
,
Shimoga
,
Siliguri
,
Srinagar
,
Thane
,
Thiruvananthapuram
,
Tiruchchirappalli
,
Trichur
,
Udaipur
,
Yelahanka
,
Andhra Pradesh
,
Anna Nagar
,
Bhilai
,
Borivali
,
Calicut
,
Chandigarh
,
Chromepet
,
Coimbatore
,
Dilsukhnagar
,
ECIL
,
Faridabad
,
Greater Warangal
,
Guduvanchery
,
Guntur
,
Gurgaon
,
Guwahati
,
Hoodi
,
Indore
,
Jaipur
,
Kalaburagi
,
Kanpur
,
Kharadi
,
Kochi
,
Kolkata
,
Kompally
,
Lucknow
,
Mangalore
,
Mumbai
,
Mysore
,
Nagpur
,
Nashik
,
Navi Mumbai
,
Patna
,
Porur
,
Raipur
,
Salem
,
Surat
,
Thoraipakkam
,
Trichy
,
Uppal
,
Vadodara
,
Varanasi
,
Vijayawada
,
Vizag
,
Tirunelveli
,
Aurangabad
Data Analyst Courses in Other Locations
ECIL
,
Jaipur
,
Pune
,
Gurgaon
,
Salem
,
Surat
,
Agra
,
Ahmedabad
,
Amritsar
,
Anand
,
Anantapur
,
Andhra Pradesh
,
Anna Nagar
,
Aurangabad
,
Bhilai
,
Bhopal
,
Bhubaneswar
,
Borivali
,
Calicut
,
Cochin
,
Chengalpattu
,
Dehradun
,
Dombivli
,
Durgapur
,
Ernakulam
,
Erode
,
Gandhinagar
,
Ghaziabad
,
Gorakhpur
,
Guduvanchery
,
Gwalior
,
Hebbal
,
Hoodi
,
Indore
,
Jabalpur
,
Jaipur
,
Jalandhar
,
Jammu
,
Jamshedpur
,
Jodhpur
,
Kanpur
,
Khammam
,
Kochi
,
Kolhapur
,
Kolkata
,
Kothrud
,
Ludhiana
,
Madurai
,
Mangalore
,
Meerut
,
Mohali
,
Moradabad
,
Pimpri
,
Pondicherry
,
Porur
,
Rajkot
,
Ranchi
,
Rohtak
,
Roorkee
,
Rourkela
,
Shimla
,
Shimoga
,
Siliguri
,
Srinagar
,
Thoraipakkam
,
Tiruchirappalli
,
Tirunelveli
,
Trichur
,
Trichy
,
Udaipur
,
Vijayawada
,
Vizag
,
Warangal
,
Chennai
,
Coimbatore
,
Delhi
,
Dilsukhnagar
,
Hyderabad
,
Kalyan
,
Nagpur
,
Noida
,
Thane
,
Thiruvananthapuram
,
Uppal
,
Kompally
,
Bangalore
,
Chandigarh
,
Chromepet
,
Faridabad
,
Guntur
,
Guwahati
,
Kharadi
,
Lucknow
,
Mumbai
,
Mysore
,
Nashik
,
Navi Mumbai
,
Patna
,
Pune
,
Raipur
,
Vadodara
,
Varanasi
,
Yelahanka
Navigate to Address
360DigiTMG - Data Science, Data Scientist Course Training in Bangalore
No 23, 2nd Floor, 9th Main Rd, 22nd Cross Rd, 7th Sector, HSR Layout, Bengaluru, Karnataka 560102
1800-212-654-321