Is There Any IoT Certification?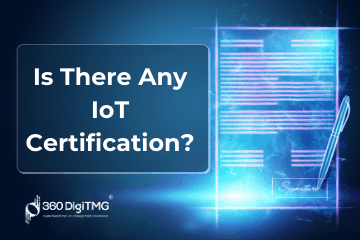 Introduction:
The globe has been very fascinated by the Internet of Things (IoT), which is why so many people are drawn to it. Some people are moving careers to IoT, while others wish to specialise in the field. Some applicants are coming because they have the necessary degree, while others are drawn in by the prospect of working in this profession and earning a significant annual salary. In IoT, it is not necessary to have a degree. You can definitely pursue a career in IoT if you have the subject expertise and abilities necessary to become an IoT specialist. You can obtain IoT certifications if you don't have a degree in computers. You may enhance your resume in this method. And businesses favour candidates with relevant certifications. You will learn in this post that some of the most well-known certifications in the industry are recognised for IoT.
Are you looking to become a IoT? Go through 360DigiTMG's IoT Training and Placement in Bangalore.
Why needs certification?
A certificate can boost one's career. If you have a certificate from a popular site or development company in the IoT industry, then you will have an advantage over the others when you are giving an interview for a job. The certificate is proof that you have skills that are required for the job and you have domain experience. So, certification is needed to show your expertise and make your CV impressive.
Top Certifications of IoT
There are several online courses that, upon successful completion, award a certificate. You should obtain IoT certification if you dare to innovate despite not having a degree in computers. After that, you'll get employment easily and become prosperous. Below is a discussion of a few courses. You may make a decision based on your interests and begin going right away.
Industrial IoT offered by Google Cloud
IoT devices offered by Illinois
Introduction to the internet of things and embedded systems
Introduction to programming
Microsoft Professional Program of IoT
Industrial IoT offered by Google Cloud

After successfully completing the course, you will receive a certificate from Google cloud, which is a top-rated course on Coursera. It has many advantages, and by enrolling in the course, you will have the opportunity to expand your knowledge since you will have access to many subject-matter experts on the Google cloud platform. By doing this, you'll expand your social network and maybe get a job recommendation from professionals.

360DigiTMG offers the Best IoT Course Fees in Pune to start a career in Internet of Things. Enroll now!

Syllabus

This course is of beginner level and it teaches the following:

It will teach you how the IoT on the cloud side
You will get to know about sensors, devices, and communication
Using IoT cloud core
Implementation of a pipeline to BigQuery

Time

The course is 15 hours long and is online. And you can learn it by spending only 3 hours a week. It has a flexible schedule, so you do not need to worry.After taking all lessons, watching videos, and giving quizzes you will get a certificate that you can share with the IoT companies.

IoT devices offered by Illinois

You may take this course from the comfort of your home using Coursera. You may schedule it to fit into your schedule, and once you've finished it successfully, you'll receive a certificate that you can display wherever.

Syllabus

You will learn the basics of IoT devices, their circuits, architecture, and hands-on practice on Arduino programming.

Time required for completion

You just need to spend 13 hours and you will have a certificate in your hands. This does not mean that you must complete it in one sitting. You can learn for 3 to 4 hours a week.

Introduction to the internet of things and embedded systems

This course is a part of a specialisation programme that comprises of six other courses and is also offered on Coursera. The University of California, Irvine also provides this. Additionally, it is a flexible course that can be taken at any time and from any location. You will receive a certificate upon completion, which will strengthen your resume.

To learn more about Internet of Things, the best place is 360DigiTMG, with multiple awards in its name 360DigiTMG is the Best place to start your Best IoT Training in Hyderabad. Enroll now!

Syllabus

This course will teach you the following:

Internet of Things.
Embedded Systems.
Hardware & software.
Networking and the Internet.

Time required

You only need 12 hours to complete this course which comprises readings, quizzes, videos, and hands-on practices.

Introduction to programming by UCI

The University of California is the provider of this entirely online course. It will instruct you on how programming functions in an IoT context using useful IoT platforms like Raspberry Pi and Arduino. You will study the IoT-related programming languages, and examinations will allow you to evaluate your knowledge.

Time

You need 3 months to complete this course, but you must complete a project for getting this certificate. And then you can share your certificate with your company or with your friends for a recommendation.

Microsoft Professional Program for IoT

Microsoft is offering this course on EdX. The business offers comprehensive understanding of all IoT-related topics. It is also a well-regarded course, so you should enrol in it if you want to fully understand IoT. There are 8 courses total, and each one has a different certificate, so you may take one, two, or all eight.

yourself a promising career in IoT Training Institute in Chennai by enrolling in the IoT Training and Placement Program offered by 360DigiTMG.

Time

Every course is 4 weeks long but if you think that you already know of any of the courses then you can jump to the next one and can save your time. You only need to spend 3 or 4 hours a week.

Cost

The courses are fully free and available online, but you must pay $99 for each course if you want a certificate for any of the eight courses or all of them. Online, there are several courses offered that lead to certification. You may learn from whatever source that appeals to you and that you feel comfortable with.
Conclusion
By the article's conclusion, it can be inferred that while certification is not required, having one won't hurt you. At some point, it will undoubtedly be valuable.
IoT Training Institutes in Other Locations
Ahmedabad, Bangalore, Chengalpattu, Chennai, Hyderabad, Kothrud, Noida, Pune, Thane, Thiruvananthapuram, Yelahanka, Andhra Pradesh, Anna Nagar, Bhilai, Calicut, Chandigarh, Chromepet, Coimbatore, Dilsukhnagar, ECIL, Faridabad, Greater Warangal, Guduvanchery, Guntur, Gurgaon, Guwahati, Hoodi, Indore, Jaipur, Kalaburagi, Kanpur, Kharadi, Kochi, Kolkata, Kompally, Lucknow, Mangalore, Mumbai, Mysore, Nagpur, Nashik, Navi Mumbai, Patna, Porur, Raipur, Salem, Surat, Thoraipakkam, Trichy, Uppal, Vadodara, Varanasi, Vijayawada, Vizag, Tirunelveli, Aurangabad
Navigate to Address
360DigiTMG - Data Science Course, Data Scientist Course Training in Chennai
D.No: C1, No.3, 3rd Floor, State Highway 49A, 330, Rajiv Gandhi Salai, NJK Avenue, Thoraipakkam, Tamil Nadu 600097
1800-212-654-321