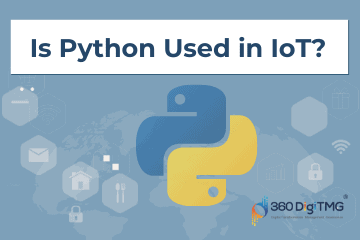 Introduction:
In this era of artificial intelligence (AI), many household items use this technology. Our household appliances have sensors inside of them that react to our activities. The majority of household appliances come equipped with a network connection and communication technology that allows for Internet usage. The Internet of Things (IoT) encompasses all of this. Because it offers comfort, it has altered the lives of those who use it. The code for these gadgets is created using programming languages. To create intelligent devices, IoT developers employ a variety of programming languages. You will learn more about a Python programming language that can be utilised in the Internet of Things in this post.
Don't delay your career growth, kickstart your career by enrolling in this IoT Course for Beginners with 360DigiTMG.
Is Python Used in IoT?
"Yes" is the resounding response to whether Python is utilised in IoT. Python is widely utilised in the IoT industry. It was the first to establish itself as a scripting language, but over time it gained prominence and began to be utilised as a crucial programming language. It is being utilised in AI, microcontrollers, gaming, and the Internet of Things, among other applications. It is a general-purpose programming language that is used in conjunction with other programming languages and is not simply for a single goal. You might thus be curious as to why developers favour the Python programming language. So that you may grasp the benefit of utilising Python, you should read the following advantages.
In Python, making a prototype is very easy because it works with the interpreter
Python relates to multiple libraries that make it easy to use it
The syntax of Python is very easy to learn and understand
It is supported by several communities so that they ensure to enhance it further
The code written in Python for one sensor of IoT can also be used for other sensors by making few changes. And as you know that IoT is changing day by day and writing the same code each time can be difficult. Python resolves this issue, that is why the developers prefer to write codes in this language
There are many more advantages that make Python well-liked in the IoT and raise its value. Python is a superior programming language for IoT systems than other languages.
Are you looking to become a IoT Expert? Go through 360DigiTMG's IoT Course in Bangalore.
The greatest IoT solutions that were written in Python are described here as evidence that Python is used in IoT. These illustrations will offer a comprehensive response to the posed issue.
Raspberry Pi:
In this platform, Python is already installed, and you can start working on it by directly writing the script of your project. A lot of controllers are available, which you can choose according to your budget and IoT system. All the models of the Raspberry are supported by Python. There are multiple standard libraries available that can help you to write the code for controlling I/O ports. This is a very famous platform, and it is based on Python. If you will use this for your IoT system then you will have access to the standard libraries, catholic variety of development tools, and communications which can lead to a perfect solution even for your complex system of IoT.
PyBoard
The PyBoard platform is excellent for implementing Python in IoT devices. It is a strong development platform for electronics that makes use of a microcontroller. It utilises MicroPython and is USB-connected to your PC. You may keep your scripts and short commands on the USB. The MicroPython implements memory-saving optimisations and gives you access to the libraries. It differs from Python's original version because of the restrictions placed on its users. However, writing client-side client software in MicroPython is simple.
The most widely used IoT platforms are those listed above, and Python is their primary programming language. IoT's backend also includes Python commands. The well-known Python-based IoT device connectivity solutions include MQTT, Flask, and Microsoft Azure.
Want to learn more about Best IoT Course. Enroll in this Internet of Things Course in Hyderabad to do so.
Python in IoT
Python is proving its value in the industry of IoT. All the developers prefer to use it because it has a smaller number of steps and supports many libraries. The above discussion reveals the truth that Python has made its roots in this emerging field. And it is considered that in future it will become more dominant in the industry. As you know IoT is evolving every day and it will become difficult to decide which tool can be used for a particular project. The Python programming language has flexibility in it that makes it popular with IoT developers. The databases are required to store the data that these IoT devices exchange so here Python plays an important part.
360DigiTMG the award-winning training institute offers a Internet of Things Course in Chennai, and other regions of India and become certified professionals.
Why use Python?
You may wonder why Python is employed in the Internet of Things. This is so that it can compete with the rapidly advancing technologies. In contrast to other high-level languages, Python directly implements the commands on a device, requiring new devices to be implemented in a different way. It can comprehend the needs of your project and has decreased the amount of data. Python is a language that employs an interpreter, so you can use it to get results quickly. In this language, debugging is relatively straightforward and rapid. It draws developers to it because of its simple syntax.
How to learn Python?
Learning Python is a very easy process as you do not need to get admission to any of the physical or online courses. If you have a computer science background, then you must be aware of the language. But if you do not have a relevant degree then you can learn it online by watching different kinds of videos and tutorials. You can join some platforms where IoT is based on using Python. In this way, you can learn Python as well as get practical experience. You can also work on your projects.
360DigiTMG offers the Best IoT Course Fees in Pune to start a career in Internet of Things. Enroll now!
Summing up
The Internet of Things has altered how we live. People rely more and more on convenience-oriented car technology to make their lives easier and conform to their schedules. The reliance will grow in the future, and Python is prepared to handle the rapidly evolving technology. As a result, it is utilised in IoT and will continue to do so.
IoT Training Institutes in Other Locations
Ahmedabad, Bangalore, Chengalpattu, Chennai, Hyderabad, Kothrud, Noida, Pune, Thane, Thiruvananthapuram, Yelahanka, Andhra Pradesh, Anna Nagar, Bhilai, Calicut, Chandigarh, Chromepet, Coimbatore, Dilsukhnagar, ECIL, Faridabad, Greater Warangal, Guduvanchery, Guntur, Gurgaon, Guwahati, Hoodi, Indore, Jaipur, Kalaburagi, Kanpur, Kharadi, Kochi, Kolkata, Kompally, Lucknow, Mangalore, Mumbai, Mysore, Nagpur, Nashik, Navi Mumbai, Patna, Porur, Raipur, Salem, Surat, Thoraipakkam, Trichy, Uppal, Vadodara, Varanasi, Vijayawada, Vizag, Tirunelveli, Aurangabad
Navigate to Address
360DigiTMG - Data Science, IR 4.0, AI, Machine Learning Training in Malaysia
Level 16, 1 Sentral, Jalan Stesen Sentral 5, Kuala Lumpur Sentral, 50470 Kuala Lumpur, Wilayah Persekutuan Kuala Lumpur, Malaysia
+60 19-383 1378