Home / Blog / Data Science / The 'Data Dating Game': Offline Data vs Online Data in Data Science Model Building
The 'Data Dating Game': Offline Data vs Online Data in Data Science Model Building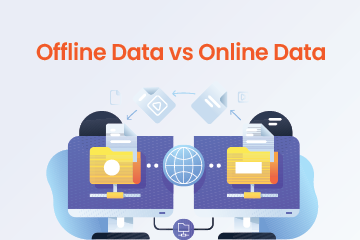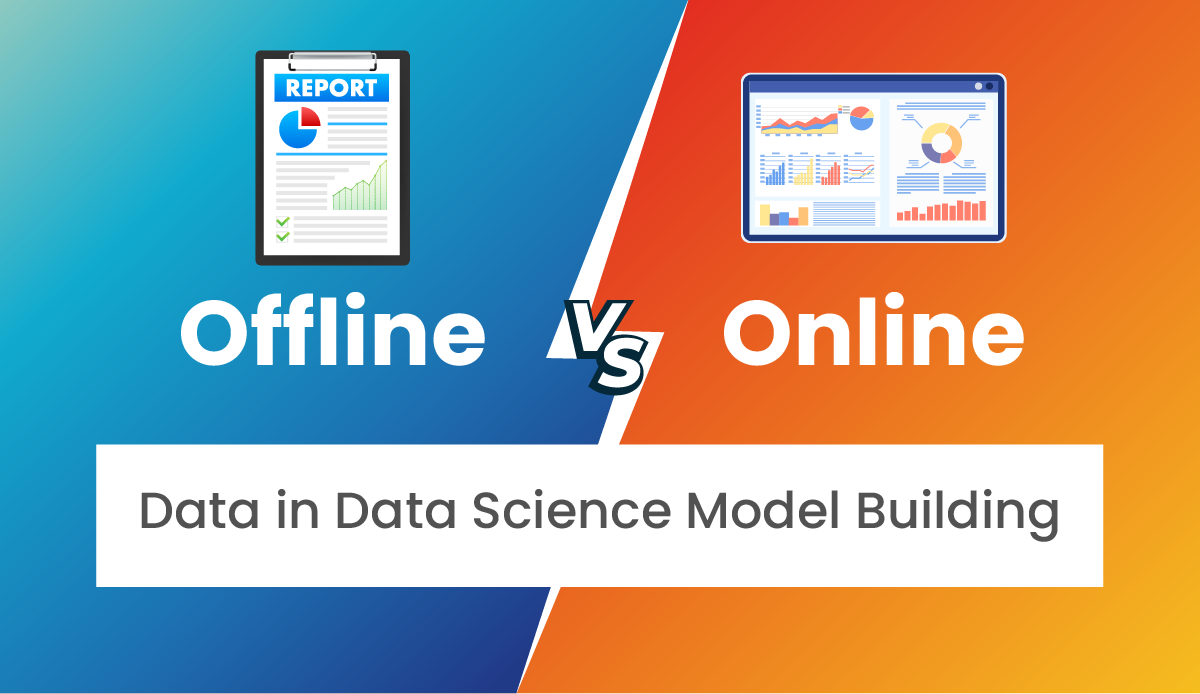 Introduction
Imagine you are traveling a foreign country and are at an all-you-can-eat buffet, where you're not entirely sure what's on offer? That is exactly what the 'age of information' is - exciting and overwhelming at the same time!! Data science, which is a field that specialises in the art of making sense of this data smorgasbord, extracts knowledge and insights from the stockpiles of data we're producing daily. While dealing with this gastronomy of data scientists and analysts are often facing a conundrum: "Should I go for offline or online data, or perhaps a mix of both?
What is Offline Data?
Everyone loves their grandmas. They spoil you with love and gifts and are often a welcome relief from your sometimes strict and demanding parents.You might be scratching your head, wondering how we suddenly teleported from the realm of data science to a universe teeming with chuckle-spreading grandmas. Relax, we are getting there. One of the most cherished heirlooms bestowed upon us by our grandmas are their treasured recipes, zealously safeguarded like priceless jewels. Imagine offline data as your grandma's handwritten recipe book: it's manual, treasured, and filled with secrets that digital platforms can't capture. This includes information gathered from physical forms, face-to-face interactions (remember when people used to meet in person?, yeah those!!), direct mail responses, and survey responses. At times, offline data can also encapsulate digital data utilised in an offline setting, akin to when grandma transitions from her traditional recipe book to an iPad for jotting down her culinary secrets.
What is Online Data?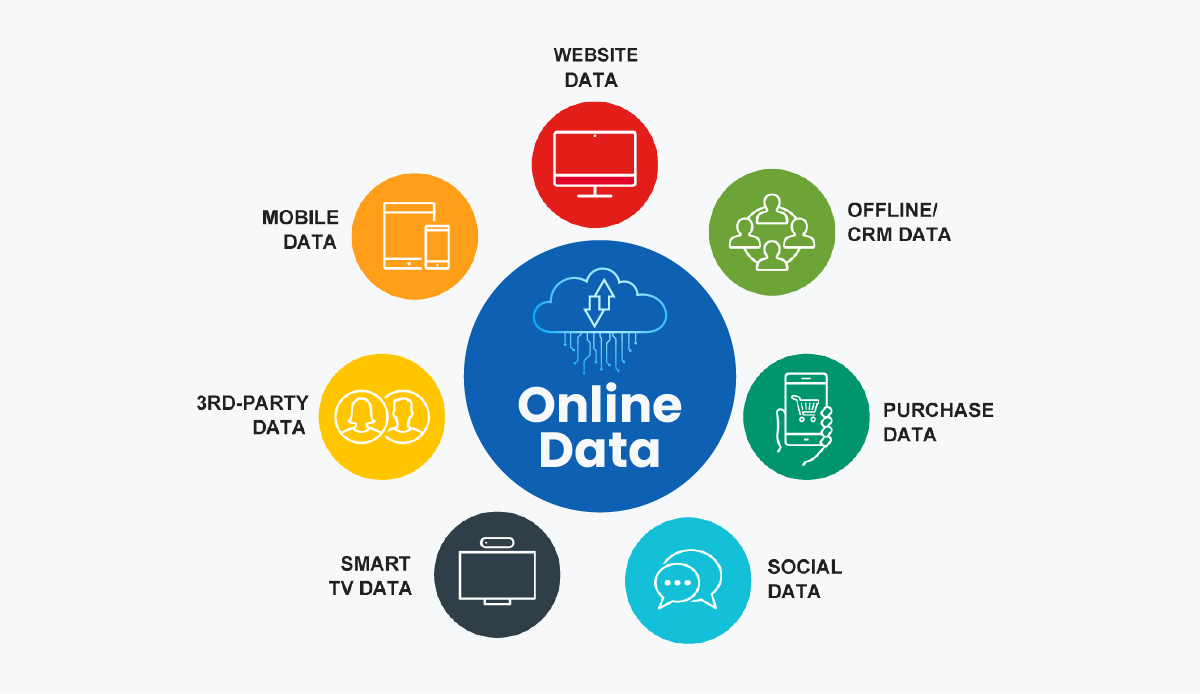 On the flip side, online data is like the comments section of a YouTube cooking tutorial. Just like how my Uncle Ted passionately debates the correct way to boil water under any cooking video or when Aunt Patty tried to correct Gordon Ramsay's chopping technique, online data pours in from a flurry of digital platforms, including websites, apps, online surveys, and social media. It's as fast as a teenager running from chores, immediate like the regret after a questionable haircut, and occasionally comes with an unrequested side of spam, as surprising as my Aunt Mabel's mystery casserole
Offline Data vs Online Data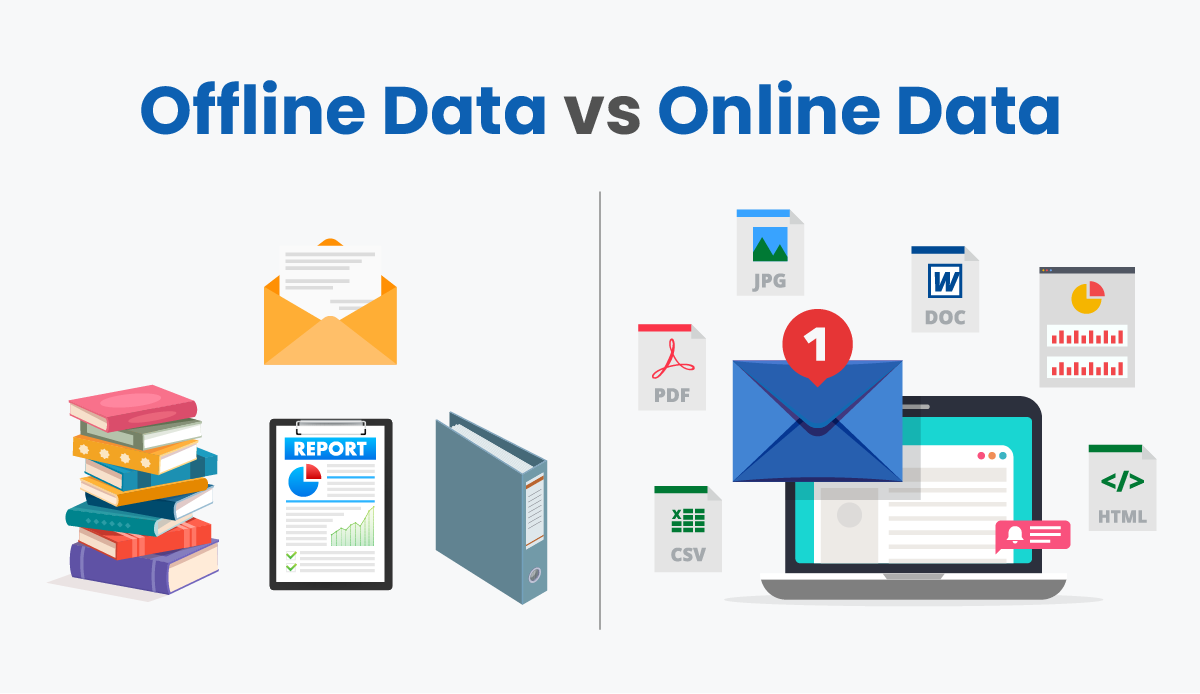 Just as you wouldn't attempt slurping spaghetti with a ladle or sipping soup with a fork (unless you're into experimental dining), offline and online data each have their unique roles in the grand feast of Data Science. However, marrying these two types of data can feel like trying to blend oil and water – it's as tricky as getting a cat to participate in synchronised swimming. You're going to need the right 'data emulsifier' for this culinary challenge.
Learn the core concepts of Data Science Course video on YouTube:
The Pros and Cons of Collecting Online Data and Offline Data
i) Offline Data
Advantages:
1. Reliability: Generally speaking, Grandma's handwritten recipes are typically reliable (unless she's forgotten her reading glasses). The story is no different for offline data. Its regulated collection methods improve the accuracy of the data, akin to how grandma wields her secret ingredient for her legendary lasagna - with the precision of a ninja balancing on a unicycle.
2. Depth of Information: Just like peeling back the layers of grandma's mystical seven-layer dip, each revealing a new flavor surprise, offline data unfurls rich, detailed, and qualitative information. Online data, in contrast, can sometimes overlook these subtle nuances, much like a toddler bypassing the veggies on a dinner plate.
3. Offline Behavior Insights: Offline data dishes out insights into offline customer behaviors. It's a bit like deducing Uncle Bob's profound love for stuffing, given the way he inhales it like a vacuum cleaner every Thanksgiving.
Drawbacks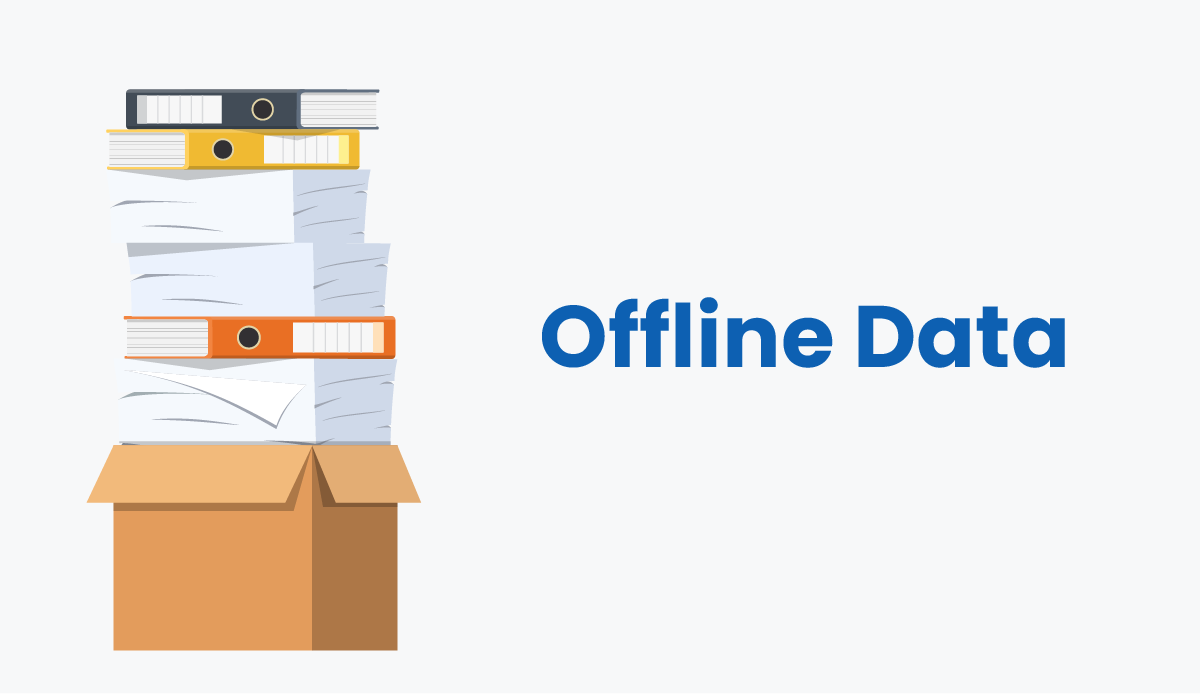 1. Time and Cost-Intensive: Gathering offline data can feel like trying to bake a 5-tier wedding cake in a toaster oven. It's laborious, time-consuming, and resource-heavy.
2. Susceptibility to Errors: Manual data entry can be as error-prone as grandma trying to text on her new smartphone. Errors are pretty much inevitable, much like Dad's "hilarious" dad jokes at family gatherings.
3. Limited Scope: Just like there's a cap on how many cookies you can bake before the oven starts protesting (or your waistline for that matter), physical and logistical constraints often put a leash on the size of your offline data collection. It's a bit like trying to host a rock concert in a phone booth.
Online Data
Advantages:
1. Scalability: Much like viral cat videos, online data can reach a far larger audience in a shorter time frame.
2. Real-Time Insights: Online data is as instant as your reaction to a jump scare in a horror movie.
3. Automation:Online data collection can be as automated as a self-driving car – you just set the course and enjoy the ride (there is NO self driving car yet so you should always keep your hands on the steering wheel).
Drawbacks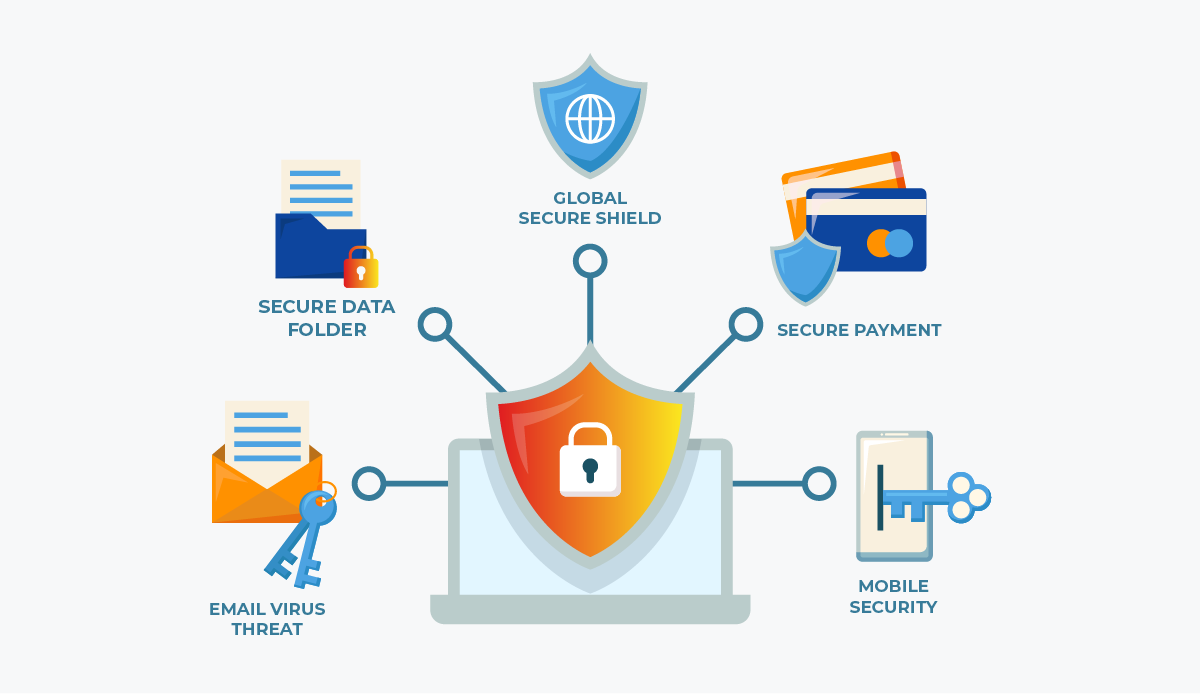 1. Data Privacy and Ethics: With online data, privacy concerns can pop up faster than ads on a free streaming site.
2. Data Quality: Much like trying to find a meaningful tweet on April Fool's Day, the quality of online data can be compromised by noise, irrelevant information, or just plain old hoaxes.
3. Complexity: The sheer volume and variability of online data is much like trying to keep up with the ever-evolving teen slang – you need sophisticated tools to make sense of it.
Earn yourself a promising career in data science by enrolling in the data science institute in Bangalore offered by 360DigiTMG.
Conclusion
Choosing between offline and online data isn't like choosing between cats or dogs; it's not an either-or situation. Offline data offers reliability and depth, much like a well-cooked homemade meal. On the other hand, online data is like fast food - it's quick, convenient, and caters to the masses. Often, the optimal strategy is to have a balanced diet, incorporating both offline and online data, along with the right tools and methods to cook up a successful data science project.
Data Science Placement Success Story
Data Science Training Institutes in Other Locations
Agra, Ahmedabad, Amritsar, Anand, Anantapur, Bangalore, Bhopal, Bhubaneswar, Chengalpattu, Chennai, Cochin, Dehradun, Malaysia, Dombivli, Durgapur, Ernakulam, Erode, Gandhinagar, Ghaziabad, Gorakhpur, Gwalior, Hebbal, Hyderabad, Jabalpur, Jalandhar, Jammu, Jamshedpur, Jodhpur, Khammam, Kolhapur, Kothrud, Ludhiana, Madurai, Meerut, Mohali, Moradabad, Noida, Pimpri, Pondicherry, Pune, Rajkot, Ranchi, Rohtak, Roorkee, Rourkela, Shimla, Shimoga, Siliguri, Srinagar, Thane, Thiruvananthapuram, Tiruchchirappalli, Trichur, Udaipur, Yelahanka, Andhra Pradesh, Anna Nagar, Bhilai, Borivali, Calicut, Chandigarh, Chromepet, Coimbatore, Dilsukhnagar, ECIL, Faridabad, Greater Warangal, Guduvanchery, Guntur, Gurgaon, Guwahati, Hoodi, Indore, Jaipur, Kalaburagi, Kanpur, Kharadi, Kochi, Kolkata, Kompally, Lucknow, Mangalore, Mumbai, Mysore, Nagpur, Nashik, Navi Mumbai, Patna, Porur, Raipur, Salem, Surat, Thoraipakkam, Trichy, Uppal, Vadodara, Varanasi, Vijayawada, Visakhapatnam, Tirunelveli, Aurangabad
Data Analyst Courses in Other Locations
ECIL, Jaipur, Pune, Gurgaon, Salem, Surat, Agra, Ahmedabad, Amritsar, Anand, Anantapur, Andhra Pradesh, Anna Nagar, Aurangabad, Bhilai, Bhopal, Bhubaneswar, Borivali, Calicut, Cochin, Chengalpattu , Dehradun, Dombivli, Durgapur, Ernakulam, Erode, Gandhinagar, Ghaziabad, Gorakhpur, Guduvanchery, Gwalior, Hebbal, Hoodi , Indore, Jabalpur, Jaipur, Jalandhar, Jammu, Jamshedpur, Jodhpur, Kanpur, Khammam, Kochi, Kolhapur, Kolkata, Kothrud, Ludhiana, Madurai, Mangalore, Meerut, Mohali, Moradabad, Pimpri, Pondicherry, Porur, Rajkot, Ranchi, Rohtak, Roorkee, Rourkela, Shimla, Shimoga, Siliguri, Srinagar, Thoraipakkam , Tiruchirappalli, Tirunelveli, Trichur, Trichy, Udaipur, Vijayawada, Vizag, Warangal, Chennai, Coimbatore, Delhi, Dilsukhnagar, Hyderabad, Kalyan, Nagpur, Noida, Thane, Thiruvananthapuram, Uppal, Kompally, Bangalore, Chandigarh, Chromepet, Faridabad, Guntur, Guwahati, Kharadi, Lucknow, Mumbai, Mysore, Nashik, Navi Mumbai, Patna, Pune, Raipur, Vadodara, Varanasi, Yelahanka