Home / Blog / Data Science / Unleash Your Data Science Potential: Exploring the Excellence of Training in Bangalore
Unleash Your Data Science Potential: Exploring the Excellence of Training in Bangalore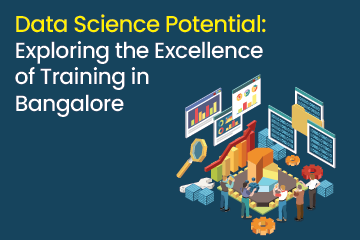 Data Science has evolved as a transformational field that is reshaping industries all around the world. It is essential to find the best training opportunities to provide oneself the skills and knowledge needed as the need for experienced data scientists continues to increase. Bangalore stands out as a significant location for data science training, providing top-notch courses for aspirant data scientists. Bangalore offers the perfect setting for people looking for top-notch Data Science training thanks to its vibrant digital ecosystem, well-regarded educational institutions, and market-leading businesses.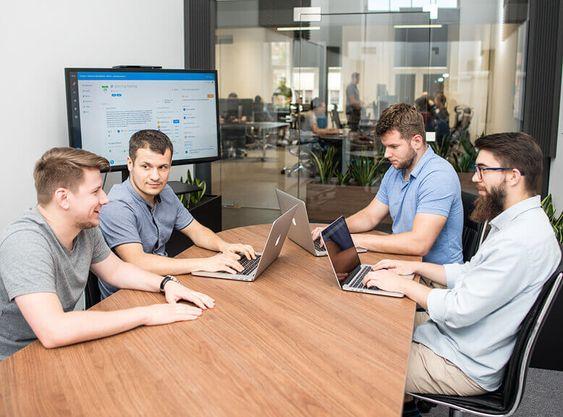 In this article, we will examine Bangalore's excellent data science training and the elements that make it a desirable location for prospective data scientists. We will look at the curriculum and course structure, the knowledge of the instructors and mentors, the accessibility of projects related to the industry, and the support given by training institutions for job placement. In addition, we will emphasise how the excellent Data Science training in Bangalore is a result of networking possibilities, alumni networks, and the general learning environment.
This blog will act as a complete reference to assist you navigate the terrain of Data Science training in Bangalore, whether you are a data enthusiast, a working professional looking to upskill, or a fresh graduate aspiring to embark on a lucrative career in Data Science. In this thriving city noted for its brilliance in Data, come along as we explore the outstanding training possibilities, industry connections, and future prospects that are waiting for you.
Overview of Data Science Training in Bangalore
Data Science programs and courses are widely available in Bangalore, and they are all intended to give students the knowledge and abilities they need to succeed in this quickly expanding field. A thorough understanding of numerous ideas and methods, such as data analysis, machine learning, statistical modeling, data visualisation, and more, is provided by these training programs. They frequently combine theoretical learning with practical application, enabling participants to put their abilities to use on actual projects and datasets.
Why Bangalore is a Hub for Data Science Training

Due to a number of important considerations, Bangalore has become a centre for data science education. First off, the city is home to a large number of illustrious colleges and research institutes that provide specialised Data Science programs. These schools draw eminent academics and business leaders, guaranteeing a high standard of instruction and training.

Second, there is a demand for qualified data scientists due to Bangalore's vibrant IT sector and the presence of top IT Companies and analytics firms. To meet the needs of the industry, this demand in turn encourages the provision of advanced Data Science training programs.

In addition, Bangalore's thriving startup scene encourages experimentation and innovation in the Data Science sector. Bangalore is a great destination for practical study and exposure to real-world applications of data science because many startups and IT organisations there are at the forefront of utilising cutting-edge data science approaches.

Growth and Importance of Data Science in Bangalore

Bangalore's quick growth of the discipline within the city is evidence of its prominence and growth. The use of data science has significantly increased in Bangalore across a range of sectors, including e-commerce, healthcare, finance, and more. Businesses are using data science to improve consumer experiences, make data-driven choices, streamline processes, and spur innovation.

The importance of Data Science is further increased by the presence of international tech behemoths and multinational corporations in Bangalore. These businesses are making significant investments in Data Science talent and infrastructure, opening up a wide range of opportunities for qualified individuals.

A robust environment for learning and career development has been created in the city as a result of its strong concentration on research and development in data science and the accessibility of advanced training programmes. Because of this, those who receive training in data science in Bangalore are in a good position to benefit from the numerous career opportunities and support the city's ongoing development in this area.
Choosing the Best Data Science Training Institute in Bangalore
Making an informed decision that fits your learning objectives and career aspirations is crucial when choosing a Data Science training institute in Bangalore. Before selecting a training facility, keep the following things in mind:
Curriculum and Course Content: Examine the training center's course offerings and curricula. To learn more about the fundamentals of data science, including statistics, machine learning, data analysis, computer languages, and tools, look for comprehensive programmes. Your education will be well-structured to provide you a solid foundation in data science.
Industry experience and academic specialisation: Check the credentials and area of specialisation of the instructors who will be leading the course. Trainers with experience and industry exposure can offer insightful advice and useful information. Choose instructors who are knowledgeable about the most recent trends and technologies and who have a solid experience in data science.
Hands-on Practical Experience: Verify whether the training facility offers real-world projects and case studies that allow students to gain practical experience. For you to hone your Data Science abilities and develop the confidence to apply principles to real-world situations, practical experience is essential. Look for institutions that provide access to relevant datasets or opportunity to collaborate on initiatives that are relevant to your sector.
Placement Assistance and Industry contacts: Take into account the institute's history with regard to placement support and industry contacts. Look for institutions that work with businesses or provide placement assistance. It's critical to pick a programme that can assist you in obtaining internships or employment chances at renowned businesses.
Alumni Network and Reviews: Investigate the alumni network of the school and read evaluations or endorsements from former pupils. A credible alumni network lends credibility to the institution and might open doors to beneficial networking possibilities. You can gain knowledge about former students' learning experiences and outcomes by reading reviews and testimonials.
Comparison of Data Science Training Institutes in Bangalore
When comparing different Data Science training institutes in Bangalore, it's important to consider the following pros and cons generally:
Pros:
Comprehensive Curriculum: Seek out institutes with a well-structured curriculum that covers the fundamental Data Science concepts, methods, and equipment.
Experienced Faculty: Institutions with seasoned academicians who have a solid foundation in data science and business knowledge can offer insightful advice.
Practical Training: Practical training that puts you through real-world projects and case studies can improve your practical abilities and get you ready for genuine Data Science difficulties.
Placement Support: Institutions with strong industry connections, placement assistance, or career fairs can improve your chances of finding internships or employment.
Alumni Network: A robust and active alumni network can offer networking opportunities, mentorship, and business knowledge.
Cons:
Cost: Given that certain institutions may have higher price schedules, it is crucial to weigh the expense of the training programme against the benefits and calibre of the instruction it offers.
Limited Flexibility: Some educational institutions may have rigid schedules or few options for learning styles (e.g., only classroom-based or online-based), which may not suit your chosen learning preferences or availability.
Reputation and Quality: It's important to look into and evaluate the institute's reputation and quality. For information about the educational experience, read reviews and customer comments or get in touch with current or former students.
Limited Specialisation: Some institutes may offer a smaller selection of courses or not specialise in your particular areas of interest or career aspirations within data science.
Industry Connections: Institutes with limited industry collaborations or weak industry connections may provide fewer opportunities for internships, industry projects, or job placements.
Keep in mind that these advantages and disadvantages are basic factors to compare when looking at Data Science training centres in Bangalore. It's critical to conduct in-depth research and analyse each college in light of your unique requirements, educational objectives, financial situation, and desired career path. Additionally, visiting the school, taking a trial class, and interacting with current or former students can all offer insightful information to help you make a decision.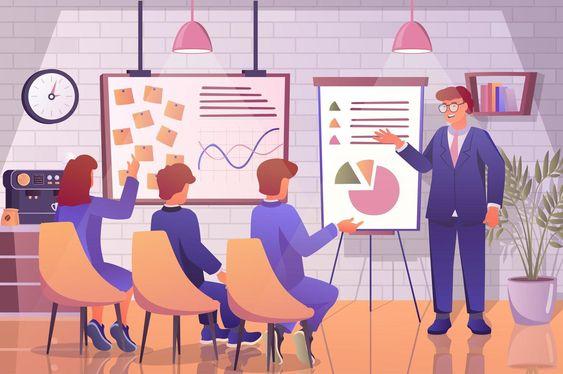 Testimonials and Reviews from Data Science Trainees in Bangalore
Gathering information from former students will help you better understand their experiences and the value they derive from the training when you're thinking about enrolling in a Data Science training programme in Bangalore. Reviews and testimonials offer insightful insight and firsthand perspectives of the instruction's quality, curriculum, lecturers, and overall learning experience. Here are some prevalent themes and conclusions drawn from reviews and testimonials of data science students in Bangalore:
Comprehensive Curriculum: The broad and well-organized curriculum that training institutions offer is frequently praised by trainees. They emphasise how important subjects like statistics, machine learning, data visualisation, and big data technologies are covered. A thorough curriculum makes sure that students gain a solid understanding of Data Science topics and methods.
Hands-on Approach: The value of actual hands-on exercises and projects is frequently brought up by trainees. These practical exercises give students the chance to apply their learning to actual datasets, strengthening their application talents and problem-solving capabilities.
Experienced Faculty: Positive reviews frequently highlight the knowledge and direction of seasoned faculty members. The faculty's ability to clearly and understandably explain difficult ideas while offering insightful commentary and relevant examples from real-world situations is greatly valued by trainees.
Encouragement of Learning Environments: The encouraging learning environment produced by the training institutions is frequently mentioned in testimonials. The collaborative environment, where trainees can connect with other students, exchange knowledge, and request guidance from instructors as needed, is valued by trainees. Training participants are more engaged and motivated to actively participate in their learning process when they are in a supportive learning environment.
Placement Assistance: The help with placement that training institutions offer is valued by many trainees. Testimonials frequently point out how successful the institutes' career counselling, resume development, interview practise, and networking possibilities are. After obtaining placement support, trainees feel secure and well-prepared to start their careers in data science.
Continuous Learning and Alumni Network: Positive reviews frequently stress the value of lifelong learning and the advantages of being a part of a vibrant alumni network. Trainees value having access to continuing education materials, webinars, and alumni gatherings so they can keep up with industry developments and network with experts in the field.
It is significant to keep in mind that testimonies and reviews can range from person to person because individual experiences can vary depending on elements including past knowledge, learning preferences, and personal objectives. Therefore, it is advisable to take into account a variety of endorsements and reviews to get a whole picture of the training program's advantages and shortcomings.
Overall, testimonials and evaluations offer insightful information about the calibre of Bangalore's Data Science training programmes. By taking into account the opinions and experiences of previous trainees, they assist prospective trainees in making informed decisions, ultimately resulting in a more confident and fulfilling learning experience in data science.
Learn the core concepts of Data Science Course video on Youtube:
Choosing the Right Institute Based on Individual Needs
To choose the right Data Science training institute in Bangalore, consider the following factors based on your individual needs:
Learning Goals: Establish your unique learning objectives and check that the institute provides courses that support them. Check the curriculum to see if it includes the subjects and abilities you hope to learn.
Budget: Take into account your financial situation and evaluate the various institutions' fee schedules. Do not forget to compare the expense of the training to the value you will receive from it.
Schedule and Flexibility: Check each institute's course schedule and available learning methods. Make sure they are consistent with your schedule and preferred method of learning, whether it is in a traditional classroom setting, online, or a combination of both.
Industry Exposure: Examine the connections, partnerships, and placement support provided by the institute. To improve your chances of landing internships or jobs, look for institutions that have a strong network with respected businesses.
Alumni Reviews and Network: Examine the institute's alumni network and former students' reviews. Reviews offer perceptions into the educational experience, while a robust alumni network suggests the institute's repute and prospective networking opportunities.
The ideal Data Science training centre will ultimately depend on your interests, objectives, and situation. Spend some time comparing and evaluating various providers, touring their locations or websites, and thinking about enrolling in trial classes or chatting with current or former students. Making an informed choice will enable you to select a school that best meets your goals and puts you on the road to a lucrative career in data science.
Future Trends and Advancements in Data Science Training
There are a number of upcoming trends and developments that are influencing the Data Science training landscape as the subject of data science continues to develop and grow. The fast expansion of data, technical developments, and the rising demand for qualified Data Scientists are the themes that are driving these changes. Here are some crucial areas to investigate for training in data science in the future:
Advanced Machine Learning Techniques: Deep learning, reinforcement learning, and natural language processing are three examples of sophisticated machine learning techniques that are increasingly being used due to the increasing accessibility of massive datasets and improvements in computing power. Future data science training courses will emphasise teaching these cutting-edge methods and how they may be used in a variety of businesses.
Integrity in Data Science: There is a growing need for ethical considerations in data collecting, analysis, and decision-making as data science becomes more ingrained in our daily lives. Future data science education will emphasise ethical behaviour, privacy protection, and responsible data use, ensuring that data scientists have the knowledge and abilities to deal with these challenging ethical issues.
Explainable AI: Transparency and interpretability in AI-driven decision-making processes are increasingly in demand as Artificial Intelligence (AI) algorithms get more complex. Future data science education will emphasise the teaching of methods and procedures that allow data scientists to create AI models that are not only precise but also explicable, enabling stakeholders to comprehend and trust the judgements made by AI systems.
Data science for particular domains: More and more, data science is being used in specialised fields including healthcare, finance, marketing, and cybersecurity. Future Data Science training programmes will provide specialised coursework and industry-specific expertise to provide Data Scientists the knowledge and abilities they need to tackle the particular problems and possibilities that these sectors present.
Collaborative Data Science: Due to the multidisciplinary nature of data science, it necessitates cooperation between data scientists, subject matter experts, and business stakeholders. Future Data Science training will include a strong emphasis on collaboration, communication, and the capacity to operate well in cross-functional teams. Training programmes will incorporate collaborative projects and case studies to imitate real-world situations and improve collaboration abilities.
Upskilling and Lifelong Learning: Because of the speed at which technology is developing, data scientists must embrace lifelong learning and skill improvement. By granting access to online resources, workshops, and mentoring programmes, future data science training programmes will facilitate ongoing learning and enable professionals to keep current with the newest tools, techniques, and market trends.
The future of data science training will emphasise ethical issues, explainable AI, domain-specific expertise, teamwork skills, and lifelong learning. Data Science training programmes may guarantee that prospective Data Scientists are outfitted with the skills necessary to flourish in this quickly evolving sector by staying ahead of these future trends and breakthroughs.
Data Science Placement Success Story
Data Science Training Institutes in Other Locations
Agra, Ahmedabad, Amritsar, Anand, Anantapur, Bangalore, Bhopal, Bhubaneswar, Chengalpattu, Chennai, Cochin, Dehradun, Malaysia, Dombivli, Durgapur, Ernakulam, Erode, Gandhinagar, Ghaziabad, Gorakhpur, Gwalior, Hebbal, Hyderabad, Jabalpur, Jalandhar, Jammu, Jamshedpur, Jodhpur, Khammam, Kolhapur, Kothrud, Ludhiana, Madurai, Meerut, Mohali, Moradabad, Noida, Pimpri, Pondicherry, Pune, Rajkot, Ranchi, Rohtak, Roorkee, Rourkela, Shimla, Shimoga, Siliguri, Srinagar, Thane, Thiruvananthapuram, Tiruchchirappalli, Trichur, Udaipur, Yelahanka, Andhra Pradesh, Anna Nagar, Bhilai, Borivali, Calicut, Chandigarh, Chromepet, Coimbatore, Dilsukhnagar, ECIL, Faridabad, Greater Warangal, Guduvanchery, Guntur, Gurgaon, Guwahati, Hoodi, Indore, Jaipur, Kalaburagi, Kanpur, Kharadi, Kochi, Kolkata, Kompally, Lucknow, Mangalore, Mumbai, Mysore, Nagpur, Nashik, Navi Mumbai, Patna, Porur, Raipur, Salem, Surat, Thoraipakkam, Trichy, Uppal, Vadodara, Varanasi, Vijayawada, Visakhapatnam, Tirunelveli, Aurangabad
Data Analyst Courses in Other Locations
ECIL, Jaipur, Pune, Gurgaon, Salem, Surat, Agra, Ahmedabad, Amritsar, Anand, Anantapur, Andhra Pradesh, Anna Nagar, Aurangabad, Bhilai, Bhopal, Bhubaneswar, Borivali, Calicut, Cochin, Chengalpattu , Dehradun, Dombivli, Durgapur, Ernakulam, Erode, Gandhinagar, Ghaziabad, Gorakhpur, Guduvanchery, Gwalior, Hebbal, Hoodi , Indore, Jabalpur, Jaipur, Jalandhar, Jammu, Jamshedpur, Jodhpur, Kanpur, Khammam, Kochi, Kolhapur, Kolkata, Kothrud, Ludhiana, Madurai, Mangalore, Meerut, Mohali, Moradabad, Pimpri, Pondicherry, Porur, Rajkot, Ranchi, Rohtak, Roorkee, Rourkela, Shimla, Shimoga, Siliguri, Srinagar, Thoraipakkam , Tiruchirappalli, Tirunelveli, Trichur, Trichy, Udaipur, Vijayawada, Vizag, Warangal, Chennai, Coimbatore, Delhi, Dilsukhnagar, Hyderabad, Kalyan, Nagpur, Noida, Thane, Thiruvananthapuram, Uppal, Kompally, Bangalore, Chandigarh, Chromepet, Faridabad, Guntur, Guwahati, Kharadi, Lucknow, Mumbai, Mysore, Nashik, Navi Mumbai, Patna, Pune, Raipur, Vadodara, Varanasi, Yelahanka