The power of Data Analytics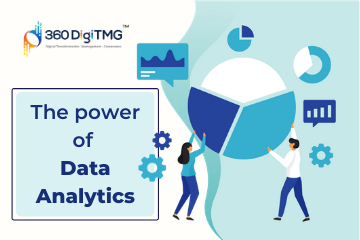 The only way to stay up with the pace of digital business, quickly changing markets, constantly shifting client needs, business disruptions, and competing tactics is via analytics now. The trend of analytics will continue to grow in the future as a result of the development of technologies like Artificial Intelligence (AI), Data Science, and Machine Learning (ML). Data analytics is a field that involves the analysis of unstructured data to develop insights that may be applied to improve the general effectiveness of the organisations that utilise it to identify patterns, generate metrics, and respond to challenging issues.
Kickstart your career by enrolling in this Data Analyst Course Fees in Chennai.
Demand for Data Analysts
Types of Data Analytics
Data analytics is categorized broadly into four types:
Descriptive Analytics

Using descriptive analytics, organisations may determine which product categories they should concentrate on by learning about events that occurred over a specified time period, such as the number of views on a website for a specific product. Descriptive analytics works with unprocessed data gathered from many data sources to extract and provide insightful information. These outcomes, however, typically indicate whether something is right or wrong without providing a clear explanation. Descriptive analytics are therefore combined with other forms of analytics in highly data-driven businesses.

Diagnostic Analytics

Diagnostic analytics explains the reasons behind the happenings or past performances. It gives in-depth insights into a specific problem, like exploring whether it was the cold weather or poor marketing strategies that affected the sales of cold drinks, or retailers trying to find the reasons behind why they missed their net profit target.

Also, check this Data Analytics Course to start a career in Data Analytics.

Predictive Analytics

With the use of predictive analytics, you may find out what will happen in the near future, such as the weather or sales for a specific quarter. In order to predict future trends and identify clusters or exceptions using machine or deep learning, it makes use of the findings from descriptive and diagnostic analytics. Although a more sophisticated type of analytics, its accuracy is based on the calibre of the data gathered and the market's stability.

Prescriptive Analytics

Prescriptive analytics is used to recommend what needs to be done or it reveals a course of action best suited. For example, a retailer is selling 200 units of a given product and using prescriptive analysis it is advised to increase production to 210 units keeping in view the rise in demand. The same can be leveraged by any group or industry and is considered the most valuable kind of analysis.
Pursue a career in Data Analytics with the number one training institute 360DigiTMG. Enroll in the Best Data Analytics Courses in Hyderabad with placements to start your journey.
Roles of a Data Analyst
A data analyst's primary duty is to improve a process' performance and efficiency by finding patterns and insights in the data using a variety of approaches, including analysis, mining, management, and visual display.
Sorting data from unstructured data sources, such as text, sensor data, photos, large databases, etc., is what data mining entails. At this stage, the main task is to extract, process, and load the data into an appropriate format for analysis and storage.
In order to access the findings of data mining, databases must be designed, managed, and created using SQL.
In order to forecast or identify trends, statistical analysis entails extracting insights from data and building statistical models. Python, statistics, and machine learning are utilised.
As the final step in the process, data presentation involves sharing insights from the data with stakeholders through a visual presentation that tells the data's story. This step also aids management in taking the proper actions to enhance an organization's performance.
Don't delay your career growth, kickstart your career by enrolling in this Data Analyst Course in Pune.
Data Science Placement Success Story
Data Analytics Training Institutes in Other Locations
Agra, Ahmedabad, Amritsar, Anand, Anantapur, Bangalore, Bhopal, Bhubaneswar, Chengalpattu, Chennai, Cochin, Dehradun, Malaysia, Dombivli, Durgapur, Ernakulam, Erode, Gandhinagar, Ghaziabad, Gorakhpur, Gwalior, Hebbal, Hyderabad, Jabalpur, Jalandhar, Jammu, Jamshedpur, Jodhpur, Khammam, Kolhapur, Kothrud, Ludhiana, Madurai, Meerut, Mohali, Moradabad, Noida, Pimpri, Pondicherry, Pune, Rajkot, Ranchi, Rohtak, Roorkee, Rourkela, Shimla, Shimoga, Siliguri, Srinagar, Thane, Thiruvananthapuram, Tiruchchirappalli, Trichur, Udaipur, Yelahanka, Andhra Pradesh, Anna Nagar, Bhilai, Borivali, Calicut, Chandigarh, Chromepet, Coimbatore, Dilsukhnagar, ECIL, Faridabad, Greater Warangal, Guduvanchery, Guntur, Gurgaon, Guwahati, Hoodi, Indore, Jaipur, Kalaburagi, Kanpur, Kharadi, Kochi, Kolkata, Kompally, Lucknow, Mangalore, Mumbai, Mysore, Nagpur, Nashik, Navi Mumbai, Patna, Porur, Raipur, Salem, Surat, Thoraipakkam, Trichy, Uppal, Vadodara, Varanasi, Vijayawada, Vizag, Tirunelveli, Aurangabad
Data Analyst Courses in Other Locations
ECIL
,
Jaipur
,
Pune
,
Gurgaon
,
Salem
,
Surat
,
Agra
,
Ahmedabad
,
Amritsar
,
Anand
,
Anantapur
,
Andhra Pradesh
,
Anna Nagar
,
Aurangabad
,
Bhilai
,
Bhopal
,
Bhubaneswar
,
Borivali
,
Calicut
,
Cochin
,
Chengalpattu
,
Dehradun
,
Dombivli
,
Durgapur
,
Ernakulam
,
Erode
,
Gandhinagar
,
Ghaziabad
,
Gorakhpur
,
Guduvanchery
,
Gwalior
,
Hebbal
,
Hoodi
,
Indore
,
Jabalpur
,
Jaipur
,
Jalandhar
,
Jammu
,
Jamshedpur
,
Jodhpur
,
Kanpur
,
Khammam
,
Kochi
,
Kolhapur
,
Kolkata
,
Kothrud
,
Ludhiana
,
Madurai
,
Mangalore
,
Meerut
,
Mohali
,
Moradabad
,
Pimpri
,
Pondicherry
,
Porur
,
Rajkot
,
Ranchi
,
Rohtak
,
Roorkee
,
Rourkela
,
Shimla
,
Shimoga
,
Siliguri
,
Srinagar
,
Thoraipakkam
,
Tiruchirappalli
,
Tirunelveli
,
Trichur
,
Trichy
,
Udaipur
,
Vijayawada
,
Vizag
,
Warangal
,
Chennai
,
Coimbatore
,
Delhi
,
Dilsukhnagar
,
Hyderabad
,
Kalyan
,
Nagpur
,
Noida
,
Thane
,
Thiruvananthapuram
,
Uppal
,
Kompally
,
Bangalore
,
Chandigarh
,
Chromepet
,
Faridabad
,
Guntur
,
Guwahati
,
Kharadi
,
Lucknow
,
Mumbai
,
Mysore
,
Nashik
,
Navi Mumbai
,
Patna
,
Pune
,
Raipur
,
Vadodara
,
Varanasi
,
Yelahanka
Navigate to Address
360DigiTMG - Data Science Course, Data Scientist Course Training in Chennai
D.No: C1, No.3, 3rd Floor, State Highway 49A, 330, Rajiv Gandhi Salai, NJK Avenue, Thoraipakkam, Tamil Nadu 600097
1800-212-654-321