Top 5 IT Companies in Ahmedabad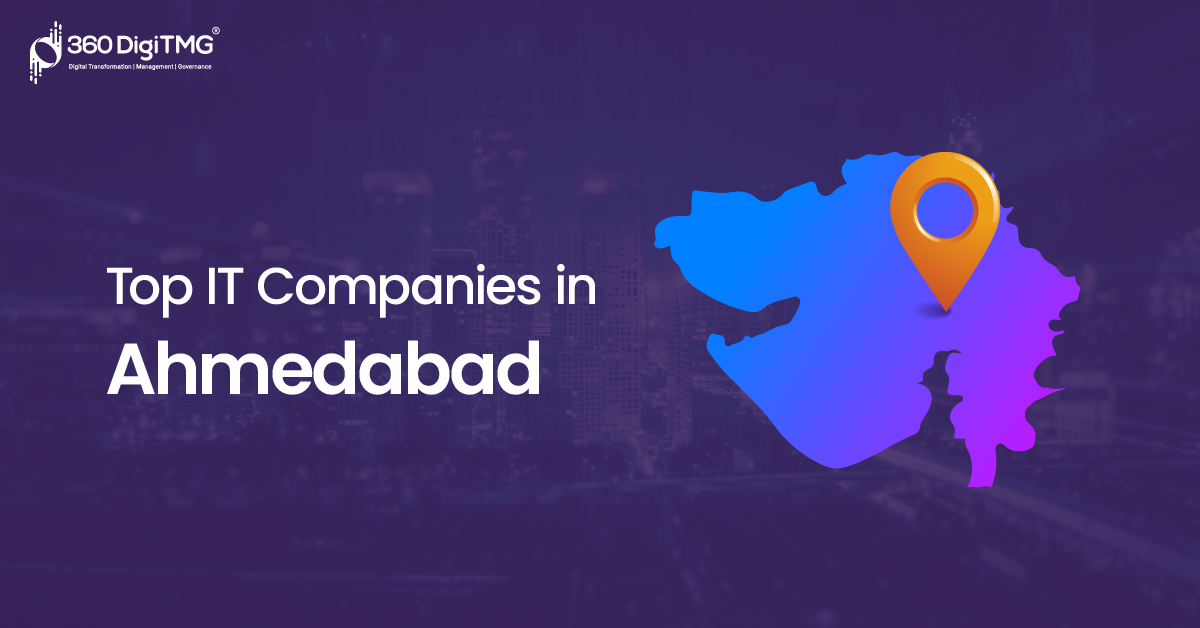 Ahmedabad, a thriving city in the state of Gujarat, India, has emerged as a major hub for Information Technology (IT) companies. Its rich history, vibrant tech scene, and a host of top IT companies make it an attractive destination for IT professionals and businesses alike. In this article, we will delve into the history of Ahmedabad, explore its tech scene, highlight the top IT companies in the city, and discuss salary prospects. By the end, you will have a comprehensive understanding of Ahmedabad's IT landscape.
Moreover, the city boasts a strong network of supportive organizations and associations that actively promote and facilitate the growth of the IT sector. These organizations provide platforms for networking, knowledge-sharing, and collaboration, further enhancing the tech ecosystem in Ahmedabad.
History of Ahmedabad:
Ahmedabad, founded in the 15th century, has a fascinating history that stretches back centuries. It was an important center of trade and commerce during the Mughal era. In the early 20th century, it played a significant role in India's freedom struggle. Over time, the city's economy diversified, and the IT sector emerged as a key contributor to its growth.
Ahmedabad's journey as an IT hub can be traced back to the late 1990s when the city witnessed the advent of software development and IT-enabled services. This period marked the beginning of a transformation that would propel Ahmedabad into the forefront of the technology landscape. The presence of esteemed educational institutions like the Indian Institute of Technology(IIT) and the National Institute of Design (NID) provided a strong foundation by nurturing a talented pool of IT professionals.
Today, Ahmedabad boasts a thriving tech scene, with numerous technology parks, incubation centers, and coworking spaces that facilitate innovation, collaboration, and entrepreneurship. These spaces provide a conducive environment for IT companies, startups, and entrepreneurs to work, exchange ideas, and grow their businesses. The city's infrastructure, including high-speed internet connectivity and reliable power supply, further supports the growth of the IT sector.
In addition to the physical infrastructure, the entrepreneurial ecosystem in Ahmedabad plays a pivotal role in shaping its tech scene. The city's culture of innovation, risk-taking, and problem-solving has fostered a vibrant startup culture. Entrepreneurs are supported by various initiatives, mentorship programs, and funding opportunities, which have contributed to the city's thriving tech ecosystem.
Tech Scene:
Ahmedabad has witnessed a rapid transformation in recent years, becoming one of India's leading IT destinations. The city's robust infrastructure, favorable business environment, and availability of skilled talent have contributed to its tech boom. The Gujarat government's initiatives, such as the establishment of technology parks and incubation centers, have further nurtured the tech ecosystem in Ahmedabad.
Apart from the infrastructure, initiatives, and organizations, Ahmedabad's tech scene is further enriched by various tech events, hackathons, and meetups. These events serve as platforms for networking, learning, and showcasing innovations. Some of the notable tech events in Ahmedabad include the Ahmedabad Tech Summit, DevFest Ahmedabad, and GDG DevFest.
While exploring Ahmedabad's tech scene, it's worth mentioning the city's famous food culture. Ahmedabad is known for its culinary delights, offering a wide range of traditional Gujarati dishes and street food. The city's food scene is a vibrant mix of flavors, from mouthwatering street snacks like khaman dhokla and fafda-jalebi to traditional thali meals and delectable sweets like basundi and jalebi. The presence of diverse food options adds to the overall experience of professionals working in Ahmedabad's IT sector, providing them with a delightful culinary journey alongside their professional pursuits.
Ahmedabad's tech scene has flourished due to a combination of factors including its entrepreneurial ecosystem, government initiatives, and supportive organizations. The presence of technology parks, incubation centers, and coworking spaces has fostered innovation and collaboration, transforming Ahmedabad into a major IT hub. Additionally, the city's vibrant tech community is further enhanced by various tech events, hackathons, and meetups. And while diving into the tech scene, one cannot ignore the delicious food culture that Ahmedabad offers, adding an extra dimension to the overall experience.
Best IT Companies in Ahmedabad:
Ahmedabad is home to a plethora of renowned IT companies that have made remarkable contributions to the industry. In this section, we will provide an overview of the top IT companies in Ahmedabad based on their reputation, growth trajectory, technological innovations, and clientele. Each company will be discussed in detail, including their noteworthy projects.
1. Infosys:

Infosys is a global leader in consulting, technology, and outsourcing services. It has a significant presence in Ahmedabad, providing software development, application management, and infrastructure services.

2. Tata Consultancy Services (TCS):

TCS, a subsidiary of the Tata Group, is one of the largest IT services and consulting companies globally. It has a strong presence in Ahmedabad, offering a wide range of IT solutions and services.

3. Cybage:

Cybage is a leading technology consulting and outsourcing company with a focus on software development, quality assurance, and testing. It has a development center in Ahmedabad, catering to clients worldwide.

4. eInfochips:

eInfochips, an Arrow Electronics company, specializes in product engineering and semiconductor design services. It has a significant presence in Ahmedabad and has worked with numerous global clients.

5. Pegasystems:

Pegasystems is a software company that provides customer engagement and operational excellence solutions. It has a development center in Ahmedabad, contributing to its global product offerings.
Salary of Software Engineer in Ahmedabad:
Ahmedabad offers competitive salary prospects for IT professionals. Salaries vary depending on factors such as experience, job role, and company. Entry- level positions in IT companies generally offer a starting salary of around INR 3-5 lakhs per annum, while experienced professionals can earn significantly higher. However, it's important to note that salaries may vary based on individual negotiations, qualifications, and market conditions.
Conclusion:
In conclusion, Ahmedabad's IT sector offers exciting opportunities for both professionals and businesses. Its favorable business ecosystem, top-tier IT companies, and competitive salary prospects make it an attractive destination for IT professionals seeking growth and development. With its rich history and vibrant tech scene, Ahmedabad is poised to continue its upward trajectory as a leading IT hub in India.
Ahmedabad's journey from a historical city to a thriving IT hub has been remarkable. The city's rich history, favorable business environment, and a pool of talented professionals have contributed to its growth. The top IT companies in Ahmedabad, such as Infosys, TCS, Cybage, eInfochips, and Pegasystems, have played a pivotal role in shaping the city's tech landscape. As the demand for IT services continues to grow, Ahmedabad is likely to attract more investments and become an even more prominent player in the global IT industry.
Data Science Placement Success Story
Related searches
IT companies in Ahmedabad , top IT companies in Ahmedabad , best IT company in Ahmedabad , Ahmedabad IT company list , top 10 IT companies in Ahmedabad , mnc IT companies in Ahmedabad , IT company in Prahladnagar Ahmedabad , IT companies in Ahmedabad for freshers