Top 10 IT Companies in Bhopal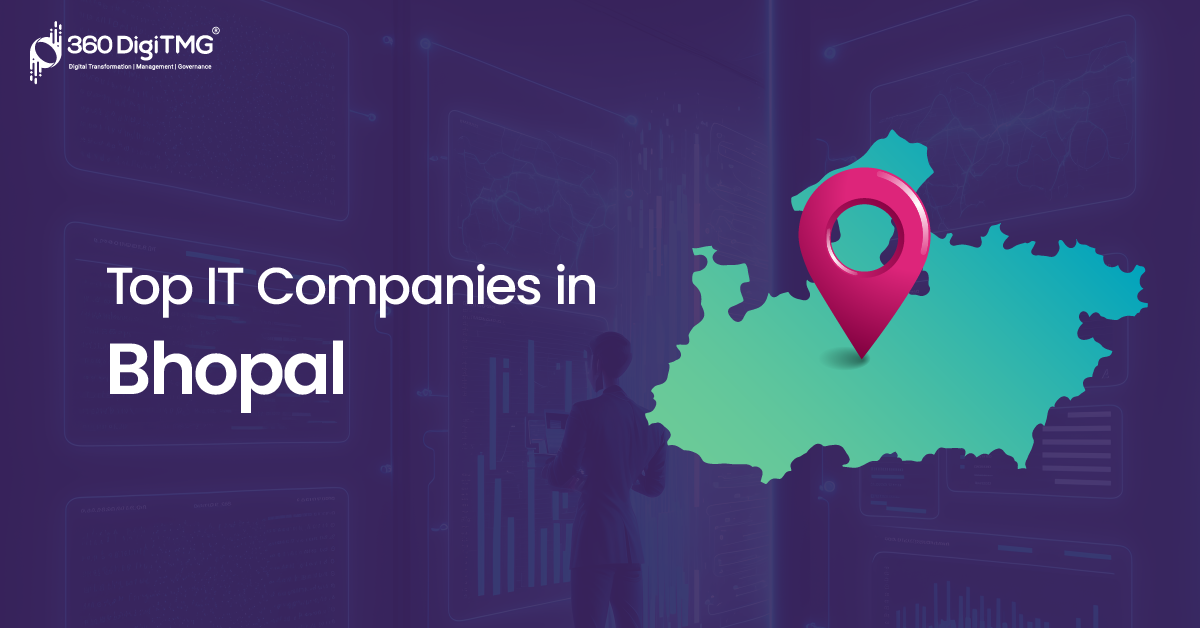 Introduction
Bhopal is a city located in the central part of India, specifically in the state of Madhya Pradesh. It is the capital city of Madhya Pradesh and is situated in the Malwa Plateau region. Bhopal is known for its rich history, culture, and architectural heritage. The city of Bhopal is situated on the banks of the Upper Lake and the Lower Lake, which are artificial lakes built during the reign of Raja Bhoj. These lakes, along with the surrounding hills and forests, contribute to the scenic beauty of the city. Bhopal is geographically located at approximately 23.2599° N latitude and 77.4126° E longitude. It is about 741 kilometres (460 miles) southeast of New Delhi, the capital city of India.
The area of Bhopal encompasses both the old city, known as "Bhopal proper," and the newer areas that have developed over time. The old city of Bhopal is characterized by narrow lanes, bustling markets, and historical monuments that reflect the rich cultural heritage of the region. It is home to landmarks such as the Jama Masjid, Taj-ul-Masjid, and the Gohar Mahal.
On the other hand, the new city of Bhopal has witnessed rapid development with modern infrastructure, shopping malls, educational institutions, and residential areas. The city has also emerged as an educational hub, attracting students from different parts of India. In addition to its cultural significance, Bhopal is also known for its industries, including manufacturing, chemicals, textiles, and handicrafts. The city has several government institutions, research centres, and public sector enterprises.
History of Bhopal
The history of Bhopal can be traced back to ancient times. The region around Bhopal has a rich archaeological heritage, with evidence of human settlements dating back to the Palaeolithic era. The area has seen the rule of various dynasties and empires throughout its history.
In the 11th century, Raja Bhoj, a Parmar king, established his kingdom with Bhopal as its capital. The city was named after him and gradually developed into a prosperous centre of trade and commerce. The Parmar dynasty ruled over the region until the 13th century when it fell to the Delhi Sultanate.
During the medieval period, Bhopal was under the control of different dynasties, including the Sultanate of Delhi, the Malwa Sultanate, and the Mughal Empire. It was during the Mughal rule that the region came under the influence of Islam, with the construction of mosques and other Islamic architectural marvels.
In the 18th century, Bhopal came under the rule of the Afghan Durrani Empire. However, the city gained significant prominence when Dost Mohammad Khan, an Afghan soldier, established the Bhopal State in 1723. The Khan dynasty ruled over Bhopal for the next century and a half.
One of the most remarkable figures in the history of Bhopal is Qudsia Begum, also known as Begum Quassia, who became the ruler of Bhopal in 1819. She was one of the few female Muslim rulers in India at that time. Begum Qudsia played a crucial role in the development and modernization of Bhopal, promoting education, infrastructure, and governance reforms.
After India gained independence in 1947, Bhopal, along with other princely states, acceded to the newly formed Union of India. It became a part of the state of Madhya Pradesh in 1956 when the states were reorganized on linguistic lines.
In recent years, Bhopal has witnessed rapid urbanization and has become a prominent centre for education, commerce, and tourism. The city's historical landmarks, cultural heritage, and natural beauty continue to attract visitors from around the world.
Tech Scene
The tech scene in Bhopal has been growing steadily over the years, with the city emerging as a notable hub for technology and innovation. Bhopal is home to numerous IT companies, startups, and educational institutions that contribute to its evolving tech ecosystem.
IT Parks and Infrastructure: Bhopal has established dedicated IT parks and technology hubs to promote the growth of the IT sector. The city houses prominent IT parks such as the MP Nagar Zone-1 IT Park and the Special Economic Zone (SEZ) in Indore-Bhopal. These parks provide modern infrastructure and facilities to accommodate IT companies and startups.
Software Development and IT Services: Bhopal has a thriving software development and IT services industry. Many software companies and service providers are based in the city, offering a range of services such as software development, web design, mobile app development, IT consulting, and more. These companies cater to both domestic and international clients.
Startups and Incubators: Bhopal has witnessed the emergence of a vibrant startup ecosystem. Several incubators and co-working spaces have been set up to nurture and support startups. These organizations provide mentoring, networking opportunities, funding, and infrastructure to help startups grow and succeed. Startups in Bhopal are working in various domains, including technology, e-commerce, health tech, and agriculture.
Education and Research: Bhopal is home to prestigious educational institutions that offer courses in technology and engineering. Institutes like Maulana Azad National Institute of Technology (MANIT), Rajiv Gandhi Proudyogiki Vishwavidyalaya (RGPV), and Bhopal School of Social Sciences (BSSS) have strong technical programs and contribute to the talent pool in the city. These institutions also engage in research and development activities, fostering innovation in the tech field.
Government Initiatives: The government of Madhya Pradesh has taken initiatives to promote the growth of the IT sector in Bhopal. The state government has implemented policies to attract investments, provide incentives for setting up IT companies, and support the startup ecosystem. These efforts have played a significant role in the development of the tech scene in Bhopal.
Tech Events and Communities: Bhopal hosts various tech events, conferences, and workshops that bring together professionals, entrepreneurs, and enthusiasts from the industry. These events provide a platform for knowledge sharing, networking, and collaboration. Additionally, there are online and offline communities where tech enthusiasts connect, share ideas, and collaborate on projects.
Overall, Bhopal's tech scene is on a growth trajectory, driven by a combination of government support, educational institutions, startup initiatives, and a talented workforce. The city is actively embracing technology and fostering innovation, making it an exciting destination for tech enthusiasts and entrepreneurs.
Best IT companies in Bhopal
1. Info Beans Technologies Limited:

Info Beans is a global software services and solutions company. They provide services such as software development, product engineering, digital transformation, cloud services, and more.

2. Persistent Systems Limited:

Persistent Systems is a technology services and solutions company that specializes in areas like software development, data analytics, cloud computing, and digital transformation. They cater to clients across industries such as healthcare, banking, and retail.

3. Xerox India Ltd.:

Xerox is a well-known multinational company that offers a range of document management solutions, including printers, copiers, and software services. They provide cutting-edge technology solutions for businesses.

4. TCS (Tata Consultancy Services):

TCS is one of the largest IT services companies in India. They offer a wide range of services, including software development, consulting, business solutions, and IT outsourcing across various industries.

5. HCL Technologies:

HCL Technologies is a global IT services company that provides software development, IT consulting, infrastructure management, and engineering services. They cater to clients in industries such as healthcare, banking, and manufacturing.

6. Accenture:

Accenture is a multinational professional services company offering a broad range of services, including strategy, consulting, digital, technology, and operations. They provide end-to-end IT solutions to help businesses transform and grow.

7. Zensar Technologies:

Zensar Technologies is a leading digital solutions and technology services company. They offer services in areas such as application development, enterprise solutions, digital commerce, and cybersecurity.

8. Cybage Software Pvt. Ltd.:

Cybage is an IT services and outsourcing company that specializes in software development, testing, and maintenance. They serve clients in domains such as healthcare, e-commerce, and finance.

9. 3i Infotech Ltd.:

3i Infotech provides a range of IT solutions and services, including software development, IT consulting, digital solutions, and outsourcing. They cater to clients in industries such as banking, insurance, and manufacturing.

10. Collabera Technologies Pvt. Ltd.:

Collabera is a global IT services company that offers IT staffing, consulting, and managed services. They have expertise in areas such as software development, data analytics, and digital transformation.
Overview of IT jobs in Bhopal
In Bhopal, the IT sector has been progressing and developing, providing various job opportunities and career growth for professionals in the field.
Entry-Level Positions: Fresh graduates or individuals with limited experience can start their careers in Bhopal's IT sector by securing entry-level positions. These positions may include software developers, web developers, quality analysts, technical support roles, and system administrators. Entry-level positions provide an opportunity to gain practical experience and learn on the job.
Skill Development: Bhopal offers several avenues for skill development in the IT field. Professionals can enhance their knowledge and skills through training programs, workshops, certifications, and online courses. Developing expertise in programming languages, database management, cloud computing, cybersecurity, and other relevant domains can open up additional job opportunities.
Mid-Level Roles: As professionals gain experience and expertise, they can progress to mid-level roles with more responsibilities and leadership opportunities. These roles may include project managers, team leaders, software architects, business analysts, and database administrators. Mid-level positions require a combination of technical proficiency and managerial skills.
Specializations: Bhopal's IT sector provides opportunities for professionals to specialize in specific areas. Specializations can include front-end or back-end development, mobile app development, data analytics, artificial intelligence, cybersecurity, cloud computing, and more. Developing expertise in a specific domain can lead to higher-demand roles and career advancement.
Leadership and Management Positions: With experience and proven leadership skills, IT professionals in Bhopal can progress into leadership and management positions. These positions may include IT managers, project directors, department heads, or C-level executives. Leadership roles involve overseeing teams, strategic planning, client management, and driving organizational growth.
Entrepreneurship and Startups: Bhopal's growing startup ecosystem provides opportunities for IT professionals to venture into entrepreneurship. With a supportive environment, access to resources, and mentorship programs, professionals can start their own IT companies, develop innovative solutions, and contribute to the local economy.
Continuing Education: Continuing education is vital for IT professionals to stay updated with the rapidly evolving technology landscape. Bhopal offers opportunities for professionals to attend industry conferences, workshops, and seminars, enabling them to learn about the latest trends and advancements in their field. Pursuing advanced degrees or certifications can also enhance career prospects.
Industry Networking: Building a strong professional network is crucial for career progression in the IT sector. Bhopal has professional associations, tech communities, and networking events where IT professionals can connect, collaborate, and exchange knowledge with industry peers and experts. Networking can lead to job referrals, mentorship opportunities, and career growth.
Overall, Bhopal's IT sector provides a conducive environment for professionals to progress and develop in their careers. By gaining experience, acquiring new skills, specializing in relevant domains, and leveraging networking opportunities, IT professionals can navigate their career paths and explore diverse opportunities for growth and advancement.
Salary of Software Engineer in Bhopal
Salary ranges in the IT sector in Bhopal can vary depending on factors such as job role, experience, skills, and the company's size and reputation.
Entry-Level Positions: For entry-level positions in the IT sector, such as software developers or web developers, the salary range can vary from approximately INR 2.5 lakh to INR 6 lakh per annum. This range can be influenced by the candidate's educational qualifications, skillset, and the specific company.
Mid-Level Roles: Mid-level roles in the IT sector, including project managers, team leaders, or software architects, can have a salary range of around INR 6 lakh to INR 15 lakh per annum. Salary progression is often linked to the level of experience, technical expertise, and leadership skills demonstrated by the professional.
Senior-Level Positions: Senior-level positions in the IT sector, such as IT managers, department heads, or senior software engineers, can have a salary range of approximately INR 15 lakh to INR 30 lakh per annum. These positions often require significant experience, expertise in a specific domain, and strong leadership capabilities.
Specialized Roles: IT professionals with specialized skills and expertise, such as data scientists, cybersecurity experts, or cloud architects, can command higher salaries. The salary range for specialized roles in Bhopal can vary from INR 10 lakh to INR 40 lakh or more per annum, depending on the demand for the skillset and the level of experience