Top 8 IT Companies in Salem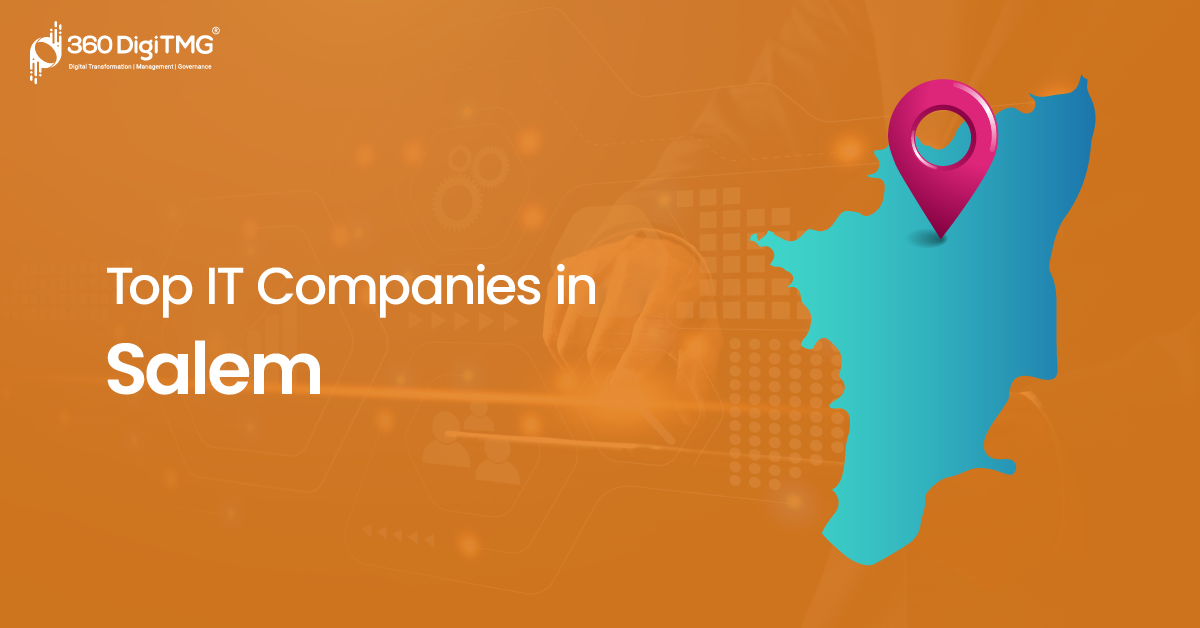 Introduction
Salem is a city located in the state of Tamil Nadu, India. It is situated in the northeastern part of the state and is the fifth-largest city in Tamil Nadu. Salem is situated on the banks of the Thirumanimuthar River, a tributary of the Cauvery River. It is located at an approximate latitude of 11.67°N and longitude of 78.16°E. Salem is surrounded by various districts and cities. To the north, it is bordered by Dharmapuri district, while Erode district lies to the west. The city of Namakkal is located to the northwest, and Villupuram district is situated to the south.
Salem The city of Coimbatore is positioned to the southwest of Salem. Salem is well-connected to several major cities in South India. It is approximately 160 kilometres southwest of Coimbatore, about 330 kilometres southeast of Bengaluru (Bangalore), and around 340 kilometres southwest of Chennai.Salem is easily accessible through different modes of transportation. The city has a well-developed road network, with National Highways NH-44 (formerly NH-7) and NH-544 passing through it. Salem Junction is a major railway station that connects the city to various destinations across the country.
The Salem Airport (also known as Salem Civil Aerodrome) provides limited domestic flight services. Economic Significance: Salem is known for its agricultural and textile industries. It is a major center for the production of steel, stainless steel, and handloom textiles. The city has a thriving trade sector, with several wholesale markets catering to various products. Additionally, Salem is witnessing growth in sectors like IT and real estate, contributing to its economic development. Salem's strategic location, transportation connectivity, and economic significance make it a significant city in Tamil Nadu. Its blend of industrial development, natural beauty, and cultural heritage makes it an interesting place to explore.
History of Salem
Salem has a rich historical background dating back several centuries.
Ancient and Medieval Periods: The region around Salem has a history that traces back to ancient times. The area was ruled by various dynasties, including the Cheras, Cholas, and Pandyas, who had a significant influence on the culture and administration of the region. The ancient Tamil literature, Sangam literature, mentions the existence of Salem as a trade center.
Colonial Era: During the 17th century, Salem came under the control of the Madurai Nayak dynasty, a kingdom that ruled parts of Tamil Nadu. In the early 18th century, the region came under the dominion of the British East India Company, marking the beginning of the colonial period. The British established a presence in Salem and developed it as a major trading center.
Role in Independence Movement: Salem played a significant role in the Indian independence movement. The city witnessed several protests and demonstrations against British rule during the early 20th century. Notable freedom fighters from Salem, such as C. Rajagopalachari and K. Kamaraj, actively participated in the struggle for independence.
Post-Independence Era: After India gained independence in 1947, Salem became a part of the Madras Presidency, which later became the state of Tamil Nadu. The city witnessed rapid industrialization and economic growth in subsequent years. The establishment of the Salem Steel Plant, a public sector undertaking, further boosted the industrial development of the region.
Modern Development: In recent years, Salem has experienced significant growth in various sectors, including textiles, agriculture, manufacturing, and information technology. The city has attracted investments and witnessed the establishment of industrial parks and IT companies. It has emerged as a major commercial and industrial hub in Tamil Nadu.
Cultural Heritage: Salem has a rich cultural heritage, with a blend of Tamil and Telugu cultures. The city celebrates various festivals and has several temples that are of historical and architectural importance. The annual Mariamman festival and the Kottai Perumal Temple Car Festival are among the prominent cultural events in Salem.
Salem's history reflects its transition from an ancient trade center to a modern industrial city. The city's historical legacy, combined with its economic progress, makes it an important center in Tamil Nadu's socio-cultural and economic landscape.
Tech Scene
The tech scene in Salem is steadily growing, with the city witnessing an increasing focus on technology-driven industries.
Information Technology (IT): Salem has seen the emergence of several IT companies, ranging from small startups to established firms. These companies provide a wide range of IT services, including software development, web design and development, mobile app development, digital marketing, and IT consulting. The presence of IT companies has created job opportunities for IT professionals in Salem.
E-Governance Initiatives: The Government of Tamil Nadu has implemented various e-governance initiatives to provide digital services to citizens. These initiatives aim to streamline government processes, enhance transparency, and improve service delivery. The implementation of e-governance projects has created demand for IT infrastructure and services in Salem.
Education and Training Institutes: Salem is home to several educational institutions that offer IT-related courses and programs. These institutes provide education and training in areas such as computer science, information technology, and software engineering. They play a crucial role in nurturing talent and developing a skilled workforce for the tech industry.
Startups and Incubation Centers: Salem has witnessed the emergence of startups in the technology sector. These startups focus on areas like software development, digital marketing, e-commerce, and mobile app development. Incubation centers and startup support organizations provide resources, mentorship, and networking opportunities to aspiring entrepreneurs.
Digital Marketing and E-commerce: The growth of the digital economy has led to an increased focus on digital marketing and e-commerce in Salem. Businesses are leveraging online platforms to reach a wider audience and expand their market presence. Digital marketing agencies and e-commerce platforms have emerged to cater to the needs of businesses in the digital space.
Skill Development and Training: To meet the demand for skilled professionals, Salem has witnessed the establishment of training centers and initiatives aimed at enhancing the technical skills of individuals. These initiatives provide training in areas like software development, web design, digital marketing, and data analytics, helping individuals acquire in-demand skills for the tech industry.
While Salem's tech scene is still developing compared to larger tech hubs in India, the city is making strides in embracing technology and digital transformation. The growth of IT companies, startups, educational institutions, and supportive initiatives indicates the increasing importance of the tech sector in Salem's economy.
Best IT companies in Salem
Salem has a growing presence of IT companies that offer a range of services and solutions. While the number of IT companies in Salem may not be as extensive as in major tech hubs, there are several notable companies operating in the city.
1. Suvitech Company:

Suvitech is an IT company based in Salem that provides software development, web design, and digital marketing services. They cater to clients from various industries and focus on delivering customized solutions.

2. Aabsys IT Solutions:

Aabsys IT Solutions is an IT services company with offices in Salem. They specialize in GIS (Geographic Information System) services, CAD (Computer-Aided Design) services, and software development. They serve clients globally and have expertise in spatial data management and analysis.

3. TechCmantix Technologies:

TechCmantix is an IT services company that offers software development, web development, and mobile app development services. They have experience in developing customized software solutions for different industries, including healthcare, education, and finance.

4. eBiz Technocrats:

eBiz Technocrats is a software development company based in Salem. They provide services like web development, mobile app development, e-commerce solutions, and digital marketing. They cater to clients across various sectors and focus on delivering innovative solutions. Adit Microsys: Adit Microsys is an IT solutions company that offers software development, web design, and digital marketing services. They specialize in developing enterprise software solutions, web applications, and e-commerce platforms. They serve clients from both national and international markets.

5. Energetic Solutions:

Energetic Solutions is an IT company in Salem that provides software development, web design, and digital marketing services. They have expertise in developing custom software solutions and creating responsive websites for businesses. Jayam Web Solutions: Jayam Web Solutions is an IT company specializing in web design, web development, and digital marketing services. They offer responsive website development, SEO optimization, social media marketing, and e-commerce solutions.

6. Xplore IT Corp:

Xplore IT Corp is an IT training and consulting company that provides professional courses and certification programs in areas like software development, data science, cybersecurity, and digital marketing. They also offer consulting services to businesses in implementing IT solutions.

7. RadixWeb:

RadixWeb is a software development company with a presence in Salem. They provide software outsourcing services, mobile app development, and IT consulting solutions. They cater to clients from various industries, including healthcare, finance, logistics, and manufacturing. Axcensa Technologies: Axcensa Technologies is an IT services and solutions company offering software development, web design, and digital marketing services. They focus on delivering customized solutions to meet the unique needs of their clients.

8. Global Infosoft Solutions:

Global Infosoft Solutions is an IT company providing software development, web development, and IT consulting services. They specialize in enterprise software solutions, mobile app development, and IT infrastructure management. Systech Infovations: Systech Infovations is an IT company offering software development, web design, and digital marketing services. They provide solutions for businesses in areas such as healthcare, education, real estate, and e-commerce.
Overview of IT Jobs in Salem
IT jobs offer a promising career path with significant potential for progression and development.
Entry-level Positions: IT careers often begin with entry-level positions, such as software developer, web designer, IT support specialist, or data analyst. These roles provide an opportunity to gain practical experience, learn foundational skills, and understand the industry's working environment.
Skill Development: Continuous skill development is crucial in the IT field. Professionals can enhance their technical skills by learning programming languages, mastering software tools, acquiring knowledge in emerging technologies like artificial intelligence, cloud computing, cybersecurity, and data science. Training programs, certifications, and online learning platforms can assist in expanding one's skill set.
Specialization: As IT professionals gain experience and knowledge, they can choose to specialize in specific areas of expertise. This could include becoming a backend developer, frontend developer, database administrator, network engineer, cybersecurity specialist, or data scientist. Specializing allows professionals to become experts in their chosen field and opens up advanced career opportunities.
Project and Team Management: With experience, IT professionals can progress into project management or team leadership roles. These positions involve overseeing IT projects, managing teams, coordinating resources, and ensuring timely and successful project delivery. Effective communication, organizational skills, and leadership abilities are essential for these roles.
Technical Leadership and Architectural Roles: As professionals advance in their careers, they may transition into technical leadership or architectural roles. These positions involve guiding and shaping the overall technology strategy of an organization, designing complex systems and solutions, and providing technical expertise and guidance to teams.
Management and Executive Positions: For IT professionals with strong leadership, strategic thinking, and business acumen, opportunities exist to move into management and executive positions. This could include roles like IT manager, chief technology officer (CTO), or chief information officer (CIO). These positions involve overseeing IT operations, setting technology strategies, and aligning IT initiatives with the organization's goals.
Entrepreneurship and Consulting: Some IT professionals choose to start their own ventures or work as consultants. This allows them to leverage their expertise and experience to provide IT services, develop innovative products, or offer specialized consulting services to organizations.
Salary of Software Engineer in Salem
Salaries in the IT industry can vary widely depending on factors such as job role, experience, skillset, location, and the size and reputation of the company.
Entry-Level Positions: For entry-level IT positions such as software developers, web designers, and IT support specialists, salaries typically range from ₹2.5 lakh to ₹6 lakh per annum. Mid-Level Positions: With a few years of experience and specialized skills, mid-level IT professionals can earn salaries ranging from ₹6 lakh to ₹15 lakh per annum. This includes roles like software engineers, database administrators, network engineers, and data analysts.
Senior-Level Positions: Senior IT professionals with substantial experience and expertise can command higher salaries. Salaries for roles such as IT managers, project managers, technical leads, and solution architects can range from ₹15 lakh to ₹30 lakh per annum or more.
IT Consultants and Specialists: IT consultants and specialists who provide specialized services or work on specific projects often earn higher salaries. The compensation can range from ₹20 lakh to ₹50 lakh per annum or more, depending on the level of expertise and demand for their services.
Top Management and Leadership: Executive-level positions in IT, such as Chief Technology Officer (CTO) or Chief Information Officer (CIO), typically come with significant responsibilities and higher salaries. These positions can command salaries starting from ₹30 lakh per annum and can go well into several crores per annum for executives in large organizations.
Data Science Placement Success Story
Related searches
IT Companies in Salem, Salem IT Company list , Tp 10 IT Companies in Salem, Top IT Companies in Salem, Companies in Salem IT Park, IT Companies in Salem, , IT Companies in Salem list, List of IT Companies in Salem