A Framework for Building Artificial Intelligence Capabilities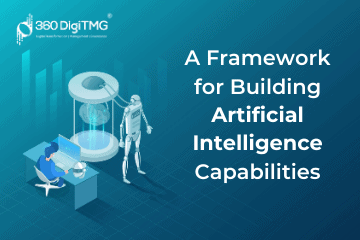 Leading your organization towards an AI era
The age of intellect is now. In this era of exploding digital disruptions, AI has received substantial attention as an incredible technology that may help organisations keep a competitive advantage. Leading organisations are preparing complicated and ambitious projects to realise their corporate goal in such a changing environment. "AI is an organization's ultimate game-changer," Data contains untapped wisdom that can be used to provide quick and precise insights. The key difference for organisations is data. When combined properly with AI skills, it can foster creativity, provide value, and bring about change.
Despite the chance, many businesses find it difficult to realise the full potential of their technological investments. In order to keep a competitive advantage in the market, "9 out of 10 organisations today recognise the need for AI, data, and intelligence as a significant asset. However, 70% of the organisations indicated that AI had little to no influence. 40% of businesses that make substantial investments in AI haven't seen any financial returns [2]. Great power entails enormous responsibility. Only if businesses are able to derive value and utilise AI's full potential will it play a significant role in the solution
360DigiTMG offers the Best Artificial Intelligence Coaching in Pune to start a career in Artificial Intelligence. Looking forward to becoming a Artificial Intelligence expert? Check out the Artificial Intelligence Course and get certified today.
According to Researchers, Artificial intelligence strongly depends on how well organizations leverage their data. For AI to innovate and organizations to thrive on data, they must consolidate the information across the business ecosystem. Realizing AI's full potential requires organizations to break down silos, consolidate a diverse range of data. The business leads need to identify specific use cases that can deliver value and figure out how AI will fit in their business concepts. Organizations need to determine how to create optimal usage of technology by having a broad understanding of their business context and understanding of how to fit AI into that context while driving the overall aspirations of the business.
Investing in AI transformation requires a well-planned and well-executed strategy rather than a buy-and-build approach. The following aspects of a digital, data, and analytics transformation must be addressed by organisations for their plans to be successful: "identifying the business case, setting up the right ecosystem, building or buy in gap appropriate AI tools, and adapting workflow processes, capabilities, and culture" [4]. While some businesses have worked out how to thrive in the age of intelligence, many struggle to use AI to provide value. How can we take advantage of the immense benefits, manage risks, and reduce the complexity associated with the deployment of AI while moving towards our strategic goal is the fundamental problem that organisations need to solve.
360DigiTMG the award-winning training institute offers a Artificial Intelligence Course Training in Chennai and other regions of India and become certified professionals.
Figure1.AIcapabilitiesandCompetitivePerformanceFramework [5]
It may be beneficial to take into account a strong foundation while an organisation sets out on a continual path to change while integrating AI. When developing a framework for constructing useful AI capabilities, organisations need to take into account a variety of aspects of their business model. "These dimensions, among a wide range, include the AI platform, the tools to support the development, the AI team that are considered for building, the business processes where AI will be integrated, the business capabilities that need to be enhanced, the changes in the organisation structure, including the external partners/stakeholders, among several other elements of a business."[6] Identifying the important aspects of the business is one step in effectively continuing on the digital path. AI spans a wide variety of applications.
In the Harvard Business Review Article – AI for the Real World, Davenport, and Ronanki, who are among thefore most AI researchers, offer advice on how organizations should begin building their AI capabilities. With over 150 AI-based projects studied, the authors discovered that AI plays a significant role in realizing three important business needs: "Advanced Business Process Automation or Cognitive Automation, Cognitive Data Analytics, and Cognitive engagement to engage and retain customers and empower workers" [7]. Organizations are exploring innovative ways to in corporate and deploy AI,but there is no fool proof hand book for an immediate successful AI-led transformation. There are several steps to over come commonpit falls. The Research concluded with a four-step framework to help organizations build AI capabilities and successfully implement their cognitive strategies:
Understanding the Technologies

Organisations must be aware that AI is different from standard software that can be purchased off the shelf before launching an AI effort. [7,8] Anomaly detection, computer vision, natural language processing, supervised, unsupervised, and semi-supervised learning are just a few of the various techniques to AI and machine learning. Each of them has distinct and niche use-cases in the market. Businesses can identify significant and important business challenges that AI might be able to resolve while adding value in quantifiable ways if they have a better understanding of what AI is capable of. Initiatives using AI need a lot of effort and money. It requires enormous amounts of certain types of data produced throughout the extensive organisational environment. [7,8]. The ability of an organisation to adopt new technology into current operations is crucial. These include making investments in well-designed data infrastructure, using important expertise, such as data scientists, and supplying sufficient and pertinent data gathering to train machine learning algorithms for very precise results.

Figure2.AI/MLMind Map(Source: 360Digitmg)

360DigiTMG offers the Best AI Courses in Bangalore to start a career in AI. Enroll now!

Creating a Portfolio of Projects

Everything starts with an idea. Here is where all stakeholders, including decision-makers, solution architects, AI experts validate goals and seek to identify opportunities and answers implequestions around embracing AI [9]. Organizations must seek to understand; what data is at their disposal and whether they can use them to harness valuable insights and business gains. This is where businesses need to determine which areas of business would reap the most benefit from cognitive projects. Organizations need to determine the activities that would generate the most value, and assess if the available AI tools and skills are up to the task. If existing capabilities are limited, organizations will have to build an ecosystem of external providers and tools. The authors further recommend that organizations conduct assessments in three broadareas.

Identifying the Opportunities:

Finding a business issue that has to be fixed is the aim. The issue with many firms is that they begin by focusing on a need for technology rather than a genuine business necessity[12]. Regarding less of the basic processes, AI offers practical value to the majority of industries. There are a wide variety of AI applications that organisations may use to improve intelligence, accelerate growth, and eliminate mistakes in corporate processes, services, and products. Organisations must specify precisely how AI projects will affect different facets of their business model and generate desired results. In most businesses, there are areas where "Knowledge" is present, but because of silos [7], it is challenging to create connections between various business contacts and processes. In order to provide the knowledge required for digital development, a 360-degree perspective of the data is needed. Such flaws provide the company a chance to roll out a thorough road plan of actions to rebuild the digital basis. Organisations will have a far more comprehensive foundation for even bigger innovations and possibilities to prosper as AI evolves by evaluating the existing level of AI, data, and intelligence capabilities.

Want to learn more about AI? Enroll in this AI Training in Hyderabad to do so.

Figure3.Layers ofAICapabilities[21]

Determining the Use Cases:

Every organization will have a unique set of AI use cases concerning its strategic vision. Here is where organizations need to understand the factors driving AI adoption in their business. It is important to start with some questions and a clear idea of what is it that you want to achieve from AI?[7], Here is where the organizations need to determine where exactly in their business these cognitive applications would generate substantial value in realizing its strategic vision and amplify its intelligence. In identifying AI use cases, organizations can focus on scenarios in which cognitive technology can automate tasks, processes, or experiences, provide confident decision-making. AI brings big changes; it is useful to pinpoint exactly why you are doing this by defining an AI-related goal in more detail. An AI use case layout proposed by Marr [14] provides a set of questions for businesses. By acknowledging them organizations can ensure AI strategy remains focused and achievable.

Figure3.Layers ofAICapabilities[21]

Selecting the Technology:

Once the use cases for your company are clearly established, it will call for specific technological and infrastructure modifications. In this section, we define What hardware, software, services, or systems do we need to invest in. Once we know what the company wants to know from the data, we can determine if legacy data and analytics tools have the proper architecture to enable AI ambitions. Organisations may test and prepare for transformative change progressively and agilely by taking small actions and identifying the gap between the existing and desired AI capabilities. To accelerate their AI skills in a way that will add value and advance business goals, organisations need to evaluate their present Data and analytics capabilities and establish specific growth plans. A forward-thinking Maturity strategy is required to assist organisations get ready for ongoing innovations because of the growth of Data sources, technology, and customer desire for faster insights.

Figure3.Layers ofAICapabilities[21]

Launch Pilots and Gain Momentum

Here is when we get the ball rolling so that businesses can gain momentum. By limiting the scope of an AI project before rolling them out across the entire business, organizations can control the success rates of AI initiatives. Pilot projects allow organizations to learn, collaborate and realize organization-wide implementations successfully. Andrew Ng in 'AI landing playbook' further explains, it is more important for the first AI projects to succeed than be the most valuable AI project, the initial success will help organizations and stakeholders gain familiarity with AI and convince future AI investments. The project needs to be technically feasible. [3] It is about experimentations and proof of concepts. By limiting the scope as a prototype, there is better control over execution and results. This is the stage that involves creative and labor-intensive activities, with trusted AI engineers, and data scientists researching with data sets, developing models, extracting insights from the data. By conducting pilots before kickoff organizations can build momentum, confidence, and visibility around the value of the project that will eventually lead to successful AI initiatives. A few of the Best practices at this stage are establishing a set of metrics to help assess the progress and performance of the project and communicate the results while collaborating with both technical and non-technical stakeholders across the organization. "It's not just machine learning, it's people learning too" [15].

Organize for Scale

Considering scale needs companies to launch AI efforts with an enterprise-wide plan in production. The first step for organisations should be to escalate data transformational plans, drive strategic activities, create a governance structure, and involve the appropriate personnel and technology. Organisations must now make significant changes and decide how AI can advance society. To facilitate an enterprise-wide deployment of AI, organisations must recognise and implement new methods of working. Three changes to scaling up were suggested by the research: To ensure that AI initiatives address necessary changes in the operating model and business, these shifts force organisations to move from siloed to more interdisciplinary collaboration across the enterprise. This requires business, operations, data, and analytics experts to collaborate with each other and bring in a variety of perspectives. The second step is for organisations to transition to data-driven decision-making by utilising the appropriate data, enhancing their decision-making with algorithms, and providing suggestions to provide an actionable insight. Organisations need to transition to an atmosphere that is flexible, experimental, and agile. "When an AI project succeeds, it is frequently constructed on top of numerous data science experiments that failed." [11]. By using an agile methodology, adopting a test-and-learn philosophy, and developing minimal viable products for AI and ML, projects may last longer and be built upon more successfully in the future.

Being a Artificial Intelligence is just a step away. Check out the Artificial Intelligence Course at 360DigiTMG and get certified today

In addition to taking these actions, organisations need an internal "AI centre of excellence" that offers governance frameworks and safeguards for effective supervision of AI capabilities throughout the whole organisation. 'The AI Centre of Excellence lays the groundwork for utilising artificial intelligence and fostering cross-disciplinary collaboration in business. The 'AI excellence centre' establishes organised roles and duties for data governance, managing AI systems, Ai best practises, developing AI recruitment, training strategies, and charting the course for AI projects and the company's AI maturity Plan. A fundamental shift is being made by working towards an organisation that is AI-enabled. Through effective governance, where leaders and stakeholders share responsibility for AI initiatives and set up plans to develop, deploy, and monitor new AI capabilities, leaders can empower and equip their workforce to embrace shifts.

In order to withstand the powerful winds of change, "building an AI framework requires a solid foundation" [18]. Here, we conclude up that in order for an organisation to excel at AI, they must strive to establish a strong framework that serves as a roadmap for the creation of AI capabilities across the company in terms of development, deployment, scaling, management, and governance. These actions not only assist businesses in maximising the potential of AI, but they also start a positive feedback loop. A cycle of development, adaptability, test-and-learn methods, and decision-making powered by AI while implementing and enhancing AI capabilities. [19]. Organisations and their frameworks should grow along with AI technology in order to maintain a competitive edge. Organisations using AI have already started to provide a steep learning curve. The key is experimentation. To transform is to travel along an evolutionary path, one step at a time.
Artificial Intelligence Training Institutes in Other Locations
Ahmedabad, Bangalore, Chengalpattu, Chennai, Hyderabad, Kothrud, Noida, Pune, Thane, Thiruvananthapuram, Tiruchchirappalli, Yelahanka, Andhra Pradesh, Anna Nagar, Bhilai, Calicut, Chandigarh, Chromepet, Coimbatore, Dilsukhnagar, ECIL, Faridabad, Greater Warangal, Guduvanchery, Guntur, Gurgaon, Guwahati, Indore, Jaipur, Kalaburagi, Kanpur, Kharadi, Kochi, Kolkata, Kompally, Lucknow, Mangalore, Mumbai, Mysore, Nagpur, Nashik, Navi Mumbai, Patna, Porur, Raipur, Salem, Surat, Thoraipakkam, Trichy, Uppal, Vadodara, Varanasi, Vijayawada, Vizag, Tirunelveli, Aurangabad
Navigate to Address
360DigiTMG - Data Science, Data Scientist Course Training in Bangalore
No 23, 2nd Floor, 9th Main Rd, 22nd Cross Rd, 7th Sector, HSR Layout, Bengaluru, Karnataka 560102
1800-212-654-321