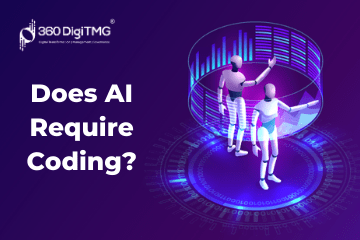 Image from Pixabay
What is AI?
Artificial intelligence is known as AI. Artificial intelligence (AI) is a model of human intellect that can think, respond, plan, learn, perceive, and imitate other people's activities.
AI is capable of reasoning and acting to accomplish a certain objective. The idea that a computer programme can automatically learn and adapt to new data without human intervention is known as machine learning, which is a subset of artificial intelligence (AI).
According to psychologists, human intelligence is not based just on one characteristic but rather on a variety of skills. The following attributes of intelligence are present in AI.
Learning
Reasoning
Problem-solving
Language

Learning

Different forms of learning are applied in AI. The simplest one is learning by trial and error.

Example:

Random moves are tried until mate is found in a computer programme that solves mate-in-one chess dilemmas. By doing this, the programme records the response, and the next time the identical issue arises, it responds by drawing on its previous experience.

Reasoning

The reasoning is to find the result appropriate to the situation.

Example:

Alex must be in either the room or the kitchen. He is not in the kitchen; therefore, he is in the room.

Problem-solving

It offers a variety of potential outcomes that can be employed up until the objective is met. Special purpose and broad purpose are the two categories. The strategy is intended for a particular issue and makes use of certain circumstances. The general-purpose approach, on the other hand, is used to a wide range of issues. A technique employed in this method is a step-by-step procedure.

Language

Language is signs that have meaning by convention.

Example:

Traffic signs a picture describe its meaning, form a mini-language.
Click here to explore 360DigiTMG.
Categorization of Artificial Intelligence
AI is divided into two categories.
Weak Artificial Intelligence
Strong Artificial Intelligence

Weak Artificial Intelligence

It is made to complete a single task only. Industrial robots, Apple's Siri, and Amazon's Alexa are examples of weak AI systems. The term NARROW ARTIFICIAL INTELLIGENCE is another name for it.

Click here to Learn Artificial Intelligence Course in Pune

Strong Artificial Intelligence

The cognitive functions of the human brain may be mimicked by this programme. They are made to deal with unknown situations and figure out the problem on their own. Both self-driving vehicles and operating rooms in hospitals use this method. ARTIFICIAL GENERAL INTELLIGENCE is another term for it.
Application of Artificial Intelligence
AI is using in different domains as its demand is increasing day by day.
Healthcare

Personal health care assistants can act as a coach, remind their users to exercise, take pills, and eat healthy food.

Manufacturing

Through AI, forecast load and demand of products in the factory.

Banking

AI enhances speed, efficacy, and precision in the banking industry, which is a significant contribution. Aid in identifying fraudulent transactions as well.

Retail

A recommendation system that is based on the prior transactional history of clients is maintained with the aid of AI.
Types of Artificial Intelligence
There are four types of AI.
Type1

Reactive Machine

This type of AI system does only a specific task and has no memory.

Click here to Learn Artificial Intelligence Course in Chennai

Example

Deep blue is the IBM chess program that can make predictions and identify pieces on a chessboard. But it cannot use experience because it has no money.

Type2

Limited Memory

This system has a memory, so they can perform future decisions by using experience. Self-driving cars are designed in this way.

Type3

Theory of Mind

It is a psychological term. In AI, it means the system can understand emotions through social intelligence. This type of AI can predict behavior and infer human intentions. It is the necessary skill to become an integral member of human teams in the AI system.

Type4

Self-Awareness

This AI system has a sense of its existence, which gives them consciousness. This type of machine can understand its current state. This type of AI does not have any existence yet.
Image from Pixabay
Artificial Intelligence Requires Coding
To create and comprehend solutions utilising artificial intelligence, coding is necessary. Artificial intelligence-based algorithms can provide results that nearly resemble human performance. Implementing math and algorithms requires coding. Although there isn't a single language designed specifically for AI, developers may write AI in a wide variety of languages. AI produced biometric intelligence, self-driving vehicle autopilot, and other applications that needed various AI code languages to create their goods.
Top 5 languages used in Artificial Intelligence
These are some of the most popular programming languages used to power AI systems. They produce good outcomes, particularly when adding new features and functions to an AI model. Additionally, they are capable of creating software that meets a variety of requirements. A wide range of tools, modules, and frameworks are available in Python to aid in the development of algorithms for AI systems. In this field, this language is favoured because of this. A lot of work needed in creating an artificial intelligence system may be automated using virtualization methods provided by Java, a portable language.
Data Science and Artificial Intelligence
Data science and AI are frequently used interchangeably. AI is a broad concept that has yet to be fully understood. AI is used in data science to convert data so that it may be analysed and visualised. As a result, data science uses AI tools to autonomously create and communicate goods and do data analysis. In the market, data science has a significant impact. For data analysis and data visualisation, the data that has been changed through data science is employed.
Organisations are creating new goods that outperform their ancestors with the aid of AI. It provides autonomy by performing a lot of tasks autonomously. Analysed data is used in data science to assist businesses make decisions that will benefit them in the future.
Conclusion
It is time to keep up with technology because no one wants to be left behind. AI technology is bringing changes to our lives, and coding is required to be an AI professionalist; therefore, understanding and using AI is the best step taken right now. Click here to learn Data Science Training in Hyderabad
Data science involves pre-processing, prediction, analysis, and visualization while AI predicts future events.

Data science has different statistical techniques. On the other hand, AI makes use of computer algorithms.

Data science uses more tools than AI because data scientists analyze data and generate insights by involving multiple steps.

Data science finds hidden patterns while AI imparts autonomy to the data model.

Data science built statistical insights, whereas AI builds a model that imitates human understanding.

Data science does not need a high degree of scientific processing as compared to AI.
Click here to learn Data Science Course, Data Science Course in Hyderabad, Data Science Course in Bangalore
Artificial Intelligence Training Institutes in Other Locations
Ahmedabad, Bangalore, Chengalpattu, Chennai, Hyderabad, Kothrud, Noida, Pune, Thane, Thiruvananthapuram, Tiruchchirappalli, Yelahanka, Andhra Pradesh, Anna Nagar, Bhilai, Calicut, Chandigarh, Chromepet, Coimbatore, Dilsukhnagar, ECIL, Faridabad, Greater Warangal, Guduvanchery, Guntur, Gurgaon, Guwahati, Indore, Jaipur, Kalaburagi, Kanpur, Kharadi, Kochi, Kolkata, Kompally, Lucknow, Mangalore, Mumbai, Mysore, Nagpur, Nashik, Navi Mumbai, Patna, Porur, Raipur, Salem, Surat, Thoraipakkam, Trichy, Uppal, Vadodara, Varanasi, Vijayawada, Vizag, Tirunelveli, Aurangabad
Navigate to Address
360DigiTMG - Data Analytics, Data Science Course Training Hyderabad
2-56/2/19, 3rd floor, Vijaya Towers, near Meridian School, Ayyappa Society Rd, Madhapur, Hyderabad, Telangana 500081
099899 94319