GPT - Rise of Billion Parameter Models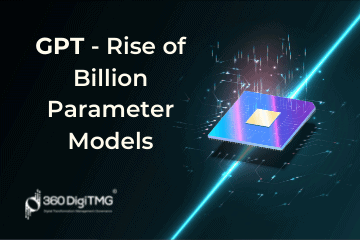 The goal of robot-generated literature is to become the newest big thing. The use of machine learning to produce computer code, including malicious code and a wide range of text generating jobs, is one of the largest developments in artificial intelligence. Elon Musk's AI research lab, Open AI, was recently founded with the goal of doing open-source, cutting-edge research in AI that will have an influence on the technology industry. Since then, academics and AI enthusiasts have achieved astounding advancements in the development of language-generating algorithms that are practically human-like in their writing. Open AI's GPT is a well-known AI text-generator, and various versions have developed from it. According to reports, GPT-2 and GPT-3 are producing over 4.5 billion words daily, demonstrating the development, potential, significance, and scope of AI text production technology. Open AI first granted access to beta users with the intention of eventually opening it to the general public. GPT-3 has generated a lot of interest; as one AI enthusiast and inventor put it in a tweet, "Playing with GPT-3 feels like seeing the future" (@arr.am). The researchers are astounded with GPT text production. It was challenging to distinguish between the GPT findings and the actual outcomes provided by human intellect. In one test, a poet from the US named Andrew Brown tweeted about the effectiveness of the GPT-3 algorithm after giving it a poetry assignment.
Figure 1GPT-3's Poetry, Robo-writers: The rise and risk of language generating AI (Source: @Matthew Hutson, nature)
By tasking the algorithm with different prompts, the AI language model GPT-3 was capable of producing results of astonishing quality. GPT stands for Generative Pre-training Model. A neural network trained by predicting masked out words in texts and updating the parameters to achieve greater fluency. Parameters in language modeling can be described as the strength of connections between the network units to reach accuracy and reduce prediction error. After the invention of transformers, it led to an explosion of many language models such as BERT, many of its variants, and GPT. These models are often pre-trained on an enormous dataset of words, vocabulary, and books. In an attempt to develop a powerful tool that does not require fine-tuning and little demonstration to understand and execute tasks, the Open AI team came up with GPT-2 & GPT-3 which is said to be a hundred times larger than its previous language modeling algorithms. The size and power of both models have taken NLP to the next level with extremely high performance. Trained on an architecture known as reformer architecture, GPT parameters rose from millions to billions over time, and GPT became known as the billion parameters transformer model. The limit of the transformer model is range and throughput. Hence, researchers started using the reformer framework designed in 2020 to solve the memory, attention constraints. Other ways to solve issues of the transformer included pattern exploiting training. Reformer uses LSH, locality-sensitive hashing. The core goal is to come up with a zero-shot transformer model. Requires no fine-tuning. People use decoder layers. BERT uses encoder architecture. Click here to learn Artificial Intelligence in Bangalore
Figure 2 GPT-3, a 175 Billion Parameters Language Model (Source: Language Models are Few-Shot Learners)
With 175 billion parameters and 1 trillion words of training data, GPT-3. It is reportedly the biggest neural network to have ever been trained. It picks up on whatever patterns it can, enabling it to acquire precise grammar, organisation, and writing style. GPT-3 is trained on a customised supercomputer created by Open AI that has 28000 CPU and GPU processors. It began a fresh trace with one billion parameters. GPT-3 was created with the intention of using a trained model for a subsequent challenge without changing the training parameters. It can do the work without any examples, which is why it is often referred to as the "zero-shot approach." It doesn't need any more training. Additionally, it demonstrates a few-shot competency when the model is given task descriptions and a limited number of context samples. GPT-3 demonstrated outstanding results in a variety of NLP tests, including the creation of news articles, completion of stories, solving of word scrambles, mathematical solutions, language production, etc. The intricate and heavy architecture of GPT creates a number of issues, including the loss of coherency when generating lengthy sequences, the expense of inferencing, and the possible danger of abuse due to its capacity to produce malevolent text or engage in deceptive or fraudulent actions. These issues have brought attention to language model governance and control to track the text production used in the actual world. Despite its shortcomings, the results point to GPT-3 as a crucial tool in the creation of flexible language modelling systems.
Figure 3 "Size Comparison of GTP-2 and GPT-3 (Source: @Exxactcorp)
Given the growth and scalability of GPT, in the next few days, it may go to the next level altogether. When there is a lengthy sequence, long term dependency is captured very easily and the outcome is close to human performance. These models are powerful and have revolutionized the landscape of Natural Language processing. Even though they are not fully parred with humans in terms of understanding of the language as we do, it has certainly established a pathway to achieve remarkable objectives in AI. Click here to learn Data Science in Bangalore
Click here to learn Data Science Course, Data Science Course in Hyderabad, Data Science Course in Bangalore
Data Science Training Institutes in Other Locations
Agra
,
Ahmedabad
,
Amritsar
,
Anand
,
Anantapur
,
Bangalore
,
Bhopal
,
Bhubaneswar
,
Chengalpattu
,
Chennai
,
Cochin
,
Dehradun
,
Malaysia
,
Dombivli
,
Durgapur
,
Ernakulam
,
Erode
,
Gandhinagar
,
Ghaziabad
,
Gorakhpur
,
Gwalior
,
Hebbal
,
Hyderabad
,
Jabalpur
,
Jalandhar
,
Jammu
,
Jamshedpur
,
Jodhpur
,
Khammam
,
Kolhapur
,
Kothrud
,
Ludhiana
,
Madurai
,
Meerut
,
Mohali
,
Moradabad
,
Noida
,
Pimpri
,
Pondicherry
,
Pune
,
Rajkot
,
Ranchi
,
Rohtak
,
Roorkee
,
Rourkela
,
Shimla
,
Shimoga
,
Siliguri
,
Srinagar
,
Thane
,
Thiruvananthapuram
,
Tiruchchirappalli
,
Trichur
,
Udaipur
,
Yelahanka
,
Andhra Pradesh
,
Anna Nagar
,
Bhilai
,
Borivali
,
Calicut
,
Chandigarh
,
Chromepet
,
Coimbatore
,
Dilsukhnagar
,
ECIL
,
Faridabad
,
Greater Warangal
,
Guduvanchery
,
Guntur
,
Gurgaon
,
Guwahati
,
Hoodi
,
Indore
,
Jaipur
,
Kalaburagi
,
Kanpur
,
Kharadi
,
Kochi
,
Kolkata
,
Kompally
,
Lucknow
,
Mangalore
,
Mumbai
,
Mysore
,
Nagpur
,
Nashik
,
Navi Mumbai
,
Patna
,
Porur
,
Raipur
,
Salem
,
Surat
,
Thoraipakkam
,
Trichy
,
Uppal
,
Vadodara
,
Varanasi
,
Vijayawada
,
Vizag
,
Tirunelveli
,
Aurangabad
Navigate to Address
360DigiTMG - Data Science Course, Data Scientist Course Training in Chennai
D.No: C1, No.3, 3rd Floor, State Highway 49A, 330, Rajiv Gandhi Salai, NJK Avenue, Thoraipakkam, Tamil Nadu 600097
1800-212-654-321