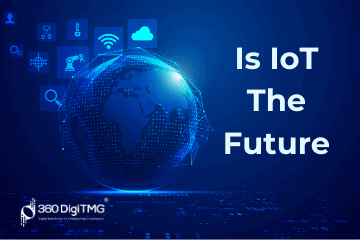 Introduction:
In today's technologically advanced world, everyone uses artificial intelligence-enhanced equipment in their homes, workplaces, and other places. Numerous household gadgets now employ AI to make their users more comfortable. This kind of Internet of Things (IoT) exists. IoT has made it possible for the gadgets to communicate without a keyboard and display. The equipment is often a network of sensors that are connected to the Internet to exchange data. If you are interested in this famous profession, the future of IoT is quite bright, therefore there is no need to be concerned about whether it will be secure in the future or not. You will have a lot of possibilities in the near future thanks to it.
Looking forward to becoming a IoT Institute Trainer Check out the Internet of Things Course in Pune and get certified today.
Future of IoT:
The experts are very sure about a successful future of IoT. They give some predictions of IoT. So, let us read these points to ensure that your decision to start a career in IoT will not go wrong in any way in the coming years.
Are you looking to become a IoT? Go through 360DigiTMG's IoT Training and Placement in Bangalore.
The IoT will significantly increase by 2025
If you look back in time, you will discover that in 2016, there were fewer than 5 billion Internet of Things (IoT) devices. However, as of 2021, this figure has risen to 11.5 billion. Additionally, it is predicted that the number of devices linked to the Internet will significantly expand by the year 2025. Approximately 20 billion people will be affected. And it is true that this substantial growth has the potential to affect everyone considering entering this vast industry.
IoT Training and Placement Course is a promising career option. Enroll in Internet of Things Course in Chennai offered by 360DigiTMG to become a successful.The number of smart cities will increase
It has been told by the analysts that in the future the concept of the smart city will become more popular. This is because the IoT devices are used by the cities as a whole and not only by the customers. Companies use IoT for saving money and time and become more automotive. In smart cities, the companies will use devices instead of appointing people to perform different duties like they will use video cameras on roads instead of a traffic police officer. The number of IoT devices in smart cities is already massive but, in the future, it will increase further and people will use more devices like bike rental stations. Thus, you do not need to worry about the future of IoT.

AI will be a significant technology

It is anticipated that humans will employ more intelligent machines in their daily lives in the future. And the machines will keep making life simpler. They only need to configure the machines' preferences, and they will operate as desired. The voice control functions will also make the devices comfier. Users would just express their preferences or likes, and the machines would function appropriately. As a result, the application of AI to IoT will grow in popularity.

Smart cars will be introduced in huge numbers

The analysts who are examining the future of IoT claim that in the future the cars will be made smarter and will use the IoT devices to collect data and work according to it. Some smart cars are used even now. But in the future, such cars will be manufactured that would have more enhanced features.

More smart and secure routers

Many IoT devices now lack the necessary software to provide protection. This is due to the fact that IoT is constantly growing, and manufacturers just want to launch their products into the market as soon as possible. They don't consider security to be a critical issue. Because the router serves as the origin of the Internet in this scenario, it is the only IoT device that home users may utilise to secure their gadgets. Additionally, if routers are protected, then so will the devices be. The router can offer security via firewalls and passwords. They will only permit connectivity to devices that can get past security measures like passwords. By doing this, router makers want to produce routers that are smarter and more secure in the future.

IoT growth will increase by 5G

5G networks promise to give fast-speed communication and allow multiple smart devices to connect simultaneously. This means it gives smart devices a smart and a faster way to collect, manage and analyze data. Many companies have started using 5G networks in the projects of IoT and make smarter sensors and promise to make more significant changes in the future. People are in a hurry now and will be in more hurry in the future as they will prefer these high-speed IoT devices to use in their daily routine.

Security and privacy issues

The use of 5G networks will increase the likelihood of cybercriminals assaulting Internet of Things (IoT) devices. This is due to the fact that customers won't be able to keep track of all IoT devices as their number grows. As a result, user privacy will be prioritised. Additionally, it is anticipated that DDoS (Distributed Denial of Service) assaults would grow and become riskier. Along with the benefits, there are also drawbacks. Therefore, if you plan to install IoT devices in your house or enter the field of IoT to pursue a profession, you need exercise more caution in the future.
To learn more about Internet of Things, the best place is 360DigiTMG, with multiple awards in its name 360DigiTMG is the Best place to start your Best IoT Training in Hyderabad. Enroll now!
Conclusion
The planet now has a new form thanks to technology. And it doesn't end here. It will continue to alter the planet in the future. As more devices are connected to the Internet, the world will get wiser. There are certain shortcomings as well, but these issues will also be addressed in order to find a solution, such as passing legislation to stop cybercriminals, etc. IoT has an optimistic future overall.
IoT Training Institutes in Other Locations
Ahmedabad, Bangalore, Chengalpattu, Chennai, Hyderabad, Kothrud, Noida, Pune, Thane, Thiruvananthapuram, Yelahanka, Andhra Pradesh, Anna Nagar, Bhilai, Calicut, Chandigarh, Chromepet, Coimbatore, Dilsukhnagar, ECIL, Faridabad, Greater Warangal, Guduvanchery, Guntur, Gurgaon, Guwahati, Hoodi, Indore, Jaipur, Kalaburagi, Kanpur, Kharadi, Kochi, Kolkata, Kompally, Lucknow, Mangalore, Mumbai, Mysore, Nagpur, Nashik, Navi Mumbai, Patna, Porur, Raipur, Salem, Surat, Thoraipakkam, Trichy, Uppal, Vadodara, Varanasi, Vijayawada, Vizag, Tirunelveli, Aurangabad
Navigate to Address
360DigiTMG - Data Analytics, Data Science Course Training Hyderabad
2-56/2/19, 3rd floor, Vijaya Towers, near Meridian School, Ayyappa Society Rd, Madhapur, Hyderabad, Telangana 500081
099899 94319