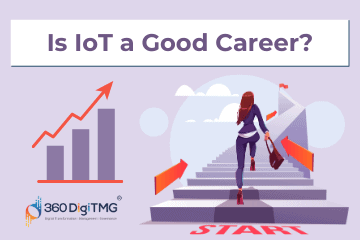 Introduction:
You must have some familiarity with the Internet of Things (IoT). Some of the IoT professionals you know who are excelling in their jobs may serve as an inspiration to you. Social media may inform you that there are many opportunities for IoT developers. You can also be unsure about whether transforming your job into IoT is a wise move or not, while having a desire to transition to the area.
Become a IoT Course Fees expert with a single program. Go through 360DigiTMG's IoT Training Institute in Bangalore Enroll today!
You will learn the reason altering your route to IoT may be beneficial for you in this post. It offers a plethora of chances to launch a career in this extremely tough sector. With a casual degree and an IoT specialisation, students might have a promising career in this field.
What is the Internet of Things (IoT)?
The IoT is a process of connecting physical devices to a network using the Internet. Most home appliances like coffee makers and washing machines have IoT sensors that are proving comfortable to their users. These devices work according to the requirements of the users that is why they are becoming popular day by day. IoT is changing every day and it would not be wrong to say that in the future, it will dominate the world more powerfully. The future of IoT is very bright, so transforming your career to IoT cannot be a bad idea. It will bring you from the bottom and can take you to the height.
IoT Career Domains:
IoT is not a single domain career. You can choose any of the following disciplines if you want to build your career in IoT.
Data scientist.
Hardware device expert
Risk identifier
Software engineer
Engineer of embedded programs
Why choose IoT?
Here are some of the benefits of IoT that will show you thefact why you need to choose this field.
360DigiTMG the award-winning training institute offers a Internet of Things Course in Chennai, and other regions of India and become certified professionals.
Increasing Popularity:

IoT is now being used in a wide range of industries, including business, AI, and many more. IoT developers have anticipated that it would become more well-known and in great demand in the near future. The IoT developers are vying for market share as it develops. Additionally, there are many employments accessible for IoT developers as a result of their rising value. Therefore, you should start learning IoT right now if you're interested in altering your career path to IoT.

Growing domain:

Many courses providespecialization in IoT so that you will have a close knowledge of the growing domain and you can surely make a smart career. If you have a relevant degree in the field, then the doors of success will be open for you.

Bright future:

You don't need to worry about your future since, as was previously said, IoT will continue to expand. Its present accuracy and popularity show that there will be more users in the future.

IoT is more than just a job. Instead, there are several options to choose from. You can pursue careers as a data scientist, product manager, industrial engineer, etc. We might therefore conclude that IoT offers various job alternatives.

Curiosity:

If you are a person that is curious about how things are formed and how they behave on the Internet, what protocols are used for it etc., then you should step into the field of IoT. This can be the best option for you if you have a desire to explore things.

Teamwork:

IoT is a field where there are online platforms available, and the members work on a project in a team. If you are responsive and can work with a team then IoT is suited for you.

Computing background:

If you have a background in computing and are aware of sensors and the programming languages that are a core part of IoT, then there are clear chances for you to start your career in IoT.

Easier to get a job:

The IoT industry has more easier employment availability than other industries. You will be in great demand if you have domain expertise since the market need individuals with technical domain knowledge.
All the above key benefits of the IoT career attract the users towards itself.
Want to learn more about Best IoT Course. Enroll in this IoT Course Fees in Hyderabad to do so.
The salary package of an IoT developer:
Due to different domains of IoT the salary package is also different for them. Like an Application programmer can earn 1.3 million per annum, an Industrial Engineer can get 1.1 million or more per year, the programmer gets 1 million in a year whereas an engineer of embedded technologies can get 1.8 million every year.
Skills required to start a career in IoT:
IoT-focused employers including Cisco, ScienceSoft, IBM, SAP, and Huawei seek for candidates with relevant experience. If you have the necessary talents, you can find work in the IoT market, but it would be quite challenging to establish a career here without them. Even while a degree is important, you won't be able to launch your IoT career with just a degree. In order to work in the IoT sector, you need the following talents.
You need a clear understanding of the sensors because these are the key aspects of IoT
Networking knowledge is needed as the sensors are connected to a network through the Internet to exchange data
Security know-how and risks of security
The sensors and the hardware devices are operated with coding in IoT. And coding requires a programming language. So, you need to get a clear understanding of programming languages
Data analysis, protocolsfor communication, cloud computing skills are also required to get a job and start a career in IoT
No doubt, every job has its own rules, but these skills are mostly the same in all the jobs in the IoT domain.
360DigiTMG offers the Best IoT Course Fees in Pune to start a career in Internet of Things. Enroll now!
Summing up:
IoT is a promising sector that can take you to the top of your industry, it can be concluded from this post. Making a profession out of it will also be a great idea. Working closely with the developing technologies will enable you to lead a prosperous existence. Therefore, it is accurate to claim that an IoT career is excellent.
IoT Training Institutes in Other Locations
Ahmedabad, Bangalore, Chengalpattu, Chennai, Hyderabad, Kothrud, Noida, Pune, Thane, Thiruvananthapuram, Yelahanka, Andhra Pradesh, Anna Nagar, Bhilai, Calicut, Chandigarh, Chromepet, Coimbatore, Dilsukhnagar, ECIL, Faridabad, Greater Warangal, Guduvanchery, Guntur, Gurgaon, Guwahati, Hoodi, Indore, Jaipur, Kalaburagi, Kanpur, Kharadi, Kochi, Kolkata, Kompally, Lucknow, Mangalore, Mumbai, Mysore, Nagpur, Nashik, Navi Mumbai, Patna, Porur, Raipur, Salem, Surat, Thoraipakkam, Trichy, Uppal, Vadodara, Varanasi, Vijayawada, Vizag, Tirunelveli, Aurangabad
Navigate to Address
360DigiTMG - Data Science Course, Data Scientist Course Training in Chennai
D.No: C1, No.3, 3rd Floor, State Highway 49A, 330, Rajiv Gandhi Salai, NJK Avenue, Thoraipakkam, Tamil Nadu 600097
1800-212-654-321