Top 15 IT Companies in Ernakulam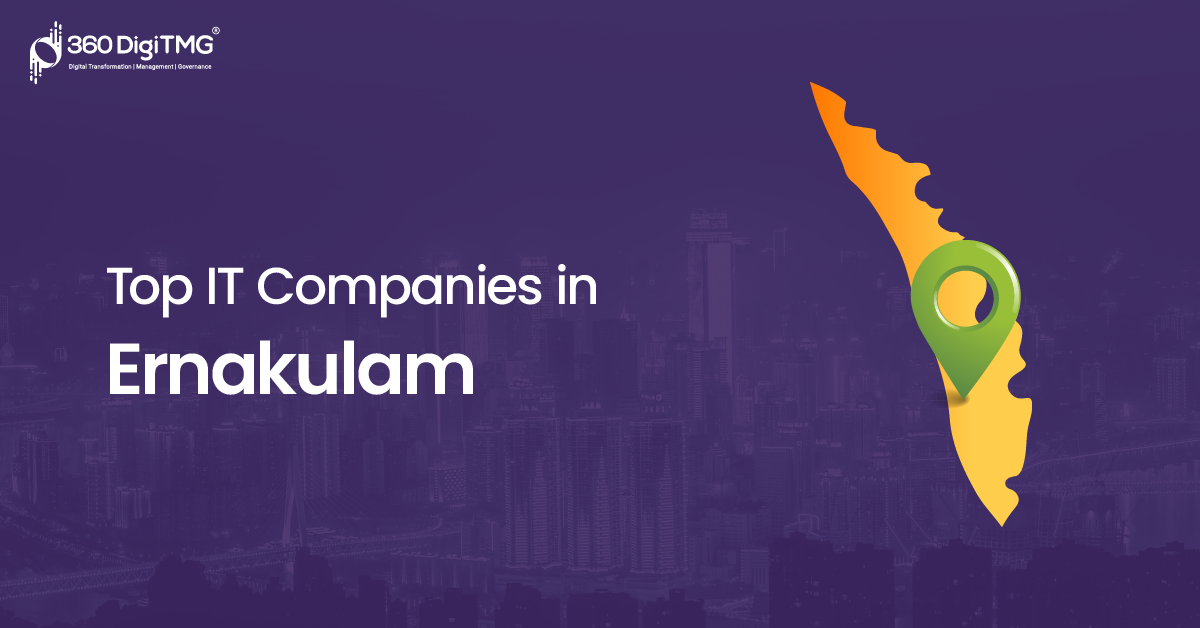 Introduction
In recent years, the southern state of Kerala's Ernakulam has become a well-known location for the IT industry. Ernakulam has had substantial expansion in the IT sector thanks to its advantageous location, competent people, and supportive infrastructure. The city provides an atmosphere that is favourable for IT enterprises and experts to flourish, making it a desirable centre for technology-based organisations.
Kochi, often referred to as Ernakulam, is a significant city in the Indian state of Kerala. It has become a booming centre for information technology (IT) businesses throughout the years. Numerous IT enterprises have been drawn to the city by its advantageous location, competent people, and business-friendly atmosphere. This article highlights the contributions made by some of the top Ernakulam IT firms to the regional IT industry.
History of the IT Sector in Ernakulam
The history of the IT sector in Ernakulam dates back to the early 2000s when the government and private organizations recognized the city's potential in the field of technology. The development of the Infopark for Kakkanad, an information technology park with cutting-edge services and infrastructure, was a crucial turning point in the expansion of the Ernakulam IT industry. This initiative attracted numerous IT companies, both domestic and international, to set up their operations in the region.
Over the years, Ernakulam's IT sector has evolved and diversified, encompassing a wide range of industries and services. The city has become a hub for IT-enabled services, software development, business process outsourcing, and digital marketing. It has also witnessed the emergence of startups and innovation centers that foster entrepreneurship and promote disruptive technologies.
The presence of educational institutions such as Cochin University of Science and Technology (CUSAT) and Rajagiri College of Social Sciences has contributed to the growth of the IT sector in Ernakulam. These institutions have produced a skilled workforce, providing a talent pool for IT companies operating in the city.
The government, business pioneers, and educational institutions worked together to make the IT sector in Ernakulam a success. Their combined initiatives have created an ecosystem that supports innovation, entrepreneurship, and technological advancements.
Today, Ernakulam's IT sector continues to thrive, attracting major IT players and startups alike. Modern technologies like artificial intelligence, blockchain technology, cloud computing, as well as data analytics have made the city a centre. The presence of multinational companies and the emergence of startups have resulted in a vibrant ecosystem that fosters collaboration, knowledge sharing, and technological advancements.
The growth of the IT sector in Ernakulam has not only brought economic prosperity but has also positioned the city as a significant player in the global technology landscape. It has provided employment opportunities for local talent, retained skilled professionals in the region, and contributed to the overall development of Ernakulam and Kerala's economy.
Tech Scene in Ernakulam
The tech scene in Ernakulam is vibrant and dynamic, with a thriving community of IT professionals, startups, and innovation centers. Infopark, being the key IT hub in the city, hosts a multitude of IT companies ranging from startups to multinational corporations. The park fosters an environment conducive to collaboration, innovation, and knowledge sharing.
Beyond the IT parks, Ernakulam boasts a robust ecosystem that nurtures entrepreneurship and innovation. The city is home to several incubators, accelerators, and coworking spaces that support startups and emerging technology ventures. This encourages a culture of creativity and gives aspiring entrepreneurs a platform to develop their concepts into profitable ventures.
Tech enthusiasts in Ernakulam can also benefit from various tech events, seminars, and workshops that take place regularly. These gatherings bring together professionals, thought leaders, and industry experts to exchange information and ideas, thus fostering the development of the IT scene. Apart from its thriving IT sector, Ernakulam offers a rich culinary experience and a plethora of attractions for people to enjoy. The city is known for its delectable cuisine, with a wide range of options that showcase the diverse flavors of Kerala. From traditional Kerala meals to seafood delicacies and international cuisines, Ernakulam has something to satisfy every palate.
In addition to its culinary delights, Ernakulam boasts numerous tourist attractions and places of interest. The city is renowned for its scenic beauty, backwaters, and beaches. The region's rich cultural past is reflected in historical landmarks like the famous Mattancherry Palace & the Jewish Synagogue, that are open to visitors. The vibrant markets and shopping malls in Ernakulam provide a delightful experience for shopaholics.
Best IT Companies in Ernakulam
Ernakulam is home to a diverse range of IT companies, including both established players and emerging startups. Some of the top IT companies in the city include Tata Consultancy Services (TCS), Wipro Technologies, UST Global, Cognizant Technology Solutions, and Infosys. These businesses provide an extensive variety of IT services, such as data analytics, cybersecurity, and software development.
UST Global:

UST Global is a multinational IT services and solutions company with a significant presence in Ernakulam. It offers services ranging from digital transformation to software development and employs a large number of IT professionals in the region. UST Global has contributed to Ernakulam's reputation as a technology-driven city.

Tata Consultancy Services (TCS):

TCS, one of the largest IT services companies globally, has a strong presence in Ernakulam. It offers an extensive selection of IT solutions, such as business process outsourcing, consulting, and software development.

Wipro:

Wipro, another global IT giant, operates in Ernakulam, offering services in areas such as IT consulting, application development, and infrastructure management. Its presence has added to the city's IT landscape.

IGATE (Capgemini):

Now part of Capgemini, IGATE was a prominent IT services company in Ernakulam. It provided software solutions, consulting, and technology services to clients worldwide before its merger with Capgemini.

USTMAGNA Solutions:

With a focus on software development, internet technology, development of mobile apps, and digital marketing services, USTMAGNA Solutions is a developing IT business in Ernakulam.

Fingent:

Fingent is known for its custom software development services. It has a significant presence in Ernakulam and caters to clients across diverse industries.

Feathersoft Info Solutions:

Feathersoft Info Solutions focuses on IT consulting, software development, and digital transformation services. It has established itself as a reliable player in the Ernakulam IT scene.

Zerone Consulting:

Zerone Consulting is an IT services company with expertise in areas like enterprise solutions, application development, and cloud services. Its presence contributes to the city's tech capabilities.

Cognizant:

An international provider of IT services, Cognizant has offices in Kochi. It offers services in technology consulting, application development, and more.

IBS Software:

Leading supplier of IT services to the aviation sector is IBS Software. It is headquartered in Trivandrum but also has operations in Kochi.

NeST Group:

NeST Group is a diversified technology conglomerate with interests in software development, electronics manufacturing, and engineering services.

Envestnet Yodlee:

Envestnet Yodlee specializes in financial data aggregation and analytics. It has a significant presence in Kochi.

USTRAA:

Digital solutions provider USTRAA offers services in e-commerce, online and mobile application development, and other areas.

IBSFINtech:

IBSFINtech specializes in providing treasury and risk management solutions to corporate clients. It has a presence in Kochi.

IPSr Solutions:

IPSr Solutions offers IT solutions and services, including software development, web design, and digital marketing.
Salary of Software Engineer in Ernakulam
Salary trends in Ernakulam's IT sector are competitive and align with industry standards. Entry-level positions offer attractive compensation packages, providing a strong foundation for professionals starting their careers in the IT industry. As experience and expertise grow, individuals can expect increments in their salaries, reflecting their contributions and skill development.
For mid-level positions in Ernakulam's IT sector, salaries vary based on the complexity of the job role and the required skills. Professionals with a few years of experience can anticipate moderate salary hikes compared to their entry-level counterparts.
Senior-level positions in Ernakulam's IT sector command higher salaries, considering the significant experience, expertise, and leadership responsibilities associated with these roles. Professionals in specialized domains and managerial positions can enjoy lucrative compensation packages.
Conclusion
Ernakulam has emerged as a thriving IT hub, driven by its favorable ecosystem, skilled workforce, and supportive infrastructure. The city's IT sector has witnessed significant growth, attracting both domestic and international IT companies. With the presence of renowned IT parks like Infopark, Ernakulam provides a conducive environment for collaboration, innovation, and business growth.
Beyond its technological advancements, Ernakulam offers a delightful blend of culinary experiences and tourist attractions. Visitors and residents can indulge in the city's diverse cuisine and explore its historical sites, backwaters, and scenic beauty.
The salary trends in Ernakulam's IT sector are competitive, offering attractive compensation packages at various levels. As the IT industry continues to flourish in the city, Ernakulam presents promising opportunities for IT professionals and businesses alike.
Overall, with its thriving IT sector, vibrant tech scene, culinary delights, and tourist attractions, Ernakulam has positioned itself as a dynamic city that blends technology, culture, and leisure, making it an enticing destination for IT professionals and enthusiasts.
Data Science Placement Success Story
Related searches
IT Companies in Ernakulam, Ernakulam IT Companies, Top IT Companies in Ernakulam, Ernakulam IT Companies List, IT Jobs in Ernakulam, IT jobs in Ernakulam for Freshers.