Top 11 IT Companies in Halifax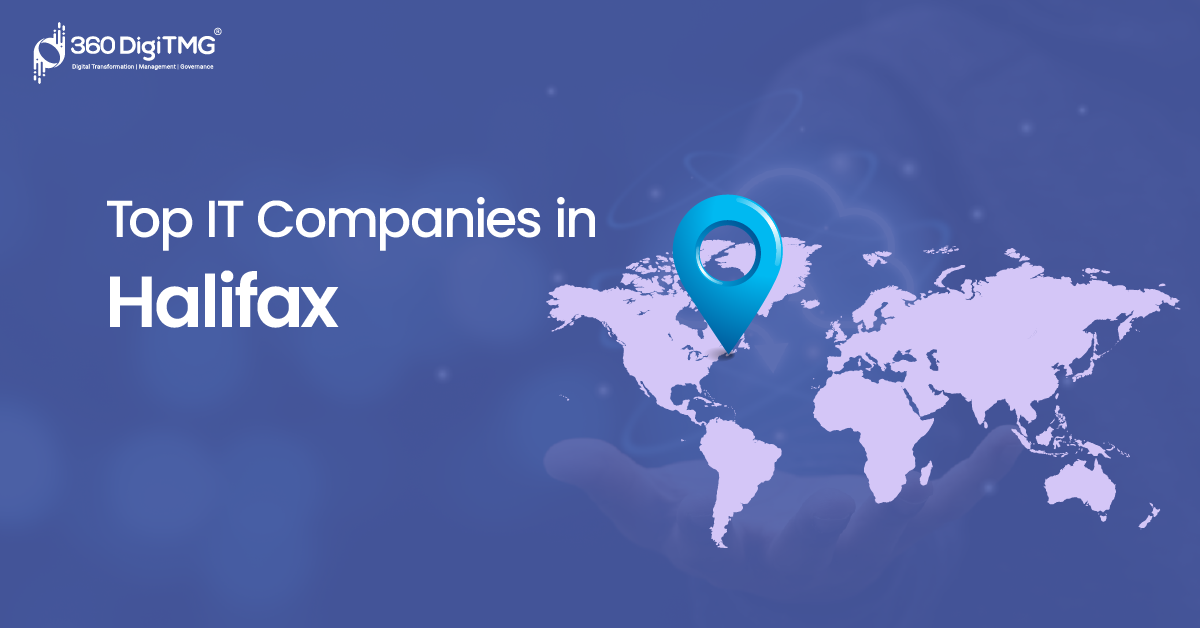 Introduction
Halifax is the capital city of the province of Nova Scotia, Canada. It is located on the eastern coast of the country and is situated on the Halifax Peninsula, which extends into the Atlantic Ocean.
Geographically, Halifax is positioned at approximately 44.6488° N latitude and 63.5752° W longitude.
The city is built around the natural harbour known as the Halifax Harbour, which is one of the largest and deepest natural harbours in the world. The harbour is formed by a series of bays and inlets, including the Bedford Basin, Northwest Arm, and Dartmouth Cove.
Halifax is part of the Halifax Regional Municipality (HRM), which encompasses a larger area beyond the Halifax Peninsula. The HRM includes several communities, such as Dartmouth, Bedford, Sackville, and Hammonds Plains, among others.
These communities are connected by bridges, ferries, and roadways, forming an integrated urban area. In terms of its proximity to other major cities, Halifax is located about 1,050 kilometers (650 miles) northeast of Boston, Massachusetts, and about 1,620 kilometers (1,005 miles) southeast of Toronto, Ontario.
It is a significant transportation hub, with an international airport (Stanfield International Airport) that serves as a gateway to the Atlantic provinces and a major seaport facilitating trade and shipping activities.
The Halifax region is known for its scenic coastal landscapes, rich maritime heritage, vibrant arts and culture scene, and a thriving tech sector. The city offers a combination of historical charm, modern amenities, and access to natural beauty, making it an attractive destination for residents and visitors alike.
History of Halifax
The history of Halifax dates back to the early European colonization of North America. Prior to European contact, the area was inhabited by the Mi'kmaq indigenous people for thousands of years.
In 1749, the British established the town of Halifax as a strategic military and naval outpost. Named after the British Earl of Halifax, the settlement was founded to safeguard British interests in the region and counter French influence in Acadia (present-day Nova Scotia).
Halifax rapidly developed as a major centre for trade and commerce due to its natural harbour, which facilitated shipping and maritime activities. During the American Revolution and the War of 1812, the city played a crucial role as a British naval base. In the early 19th century, Halifax experienced significant growth and became an important hub for shipbuilding.
The population swelled with the arrival of immigrants from Scotland, Ireland, and Germany, among other places. A tragic event occurred on December 6, 1917, when the Halifax Explosion devastated the city. The collision of two ships in the harbour caused a massive explosion, resulting in the loss of approximately 2,000 lives and widespread destruction in the north end of the city.
Following World War II, Halifax underwent urban renewal and modernization initiatives. The city expanded its infrastructure, developed new neighbourhoods, and diversified its economy beyond traditional maritime industries.
In recent years, Halifax has emerged as a vibrant cultural and economic center in Atlantic Canada. It boasts a thriving arts scene, renowned universities and research institutions, and a growing technology sector. Halifax has also become a popular tourist destination, attracting visitors with its historic sites, scenic beauty, and welcoming atmosphere.
Tech Scene
Halifax boasts a vibrant and growing tech scene that plays a significant role in the city's economy and innovation ecosystem. The tech industry in Halifax is diverse, spanning software development, information technology, telecommunications, cybersecurity, and digital media.
One of the key drivers behind the tech sector's growth in Halifax is the presence of prestigious educational institutions. Dalhousie University, Saint Mary's University, and the Nova Scotia Community College offer top-notch programs in computer science, engineering, and related fields. These institutions contribute to a skilled talent pool and promote research and development activities.
The rise of startup incubators and accelerators has also been instrumental in nurturing Halifax's tech ecosystem. Organizations like Volta, Creative Destruction Lab Atlantic, and Innovacorp provide vital support, mentorship, and resources to early-stage tech startups. They empower entrepreneurs to transform their ideas into successful businesses and attract investment.
Halifax has witnessed notable success stories within the tech sector, with local companies gaining recognition and experiencing significant growth. For instance, RED space, a digital studio specializing in interactive media, has received accolades for its projects and expanded its global clientele. Other prominent companies include Kin duct Technologies (sports performance software), Beyond Trust (cybersecurity solutions), and STI Technologies (healthcare technology).
The collaborative environment and ample networking opportunities in Halifax contribute to the thriving tech community. Events like the Atlantic Venture Forum, the Halifax Innovation Summit, and the Digital Nova Scotia Awards celebrate innovation, facilitate knowledge-sharing, and foster connections among entrepreneurs, investors, and industry professionals.
Furthermore, the government of Nova Scotia has been proactive in supporting the tech sector. They offer incentives and programs to attract tech companies, promote entrepreneurship, and foster innovation. These initiatives aim to position Halifax as an attractive and competitive destination for tech investment and talent.
Overall, the tech scene in Halifax continues to flourish, driven by a combination of skilled talent, supportive resources, collaborative networks, and government initiatives. The city's tech ecosystem presents exciting opportunities for startups, established companies, and professionals looking to contribute to industry growth and innovation.
Best IT Companies in Halifax
1. RED space:

RED space is a digital studio that specializes in creating innovative solutions for web, mobile, and connected TV platforms. They have worked on projects for clients such as Sony Pictures, National Geographic, and Nickelodeon.

2. Beyond Trust:

Beyond Trust is a global cybersecurity company that develops solutions to protect against data breaches, insider threats, and unauthorized access. They offer privileged access management, vulnerability management, and remote support solutions.

3. STI Technologies:

STI Technologies is a healthcare technology company that provides software solutions to optimize medication management and patient support programs. Their platforms help improve medication adherence, streamline workflows, and enhance patient outcomes.

4. Proposify:

Proposify is a cloud-based proposal software company that simplifies the process of creating, sending, and tracking business proposals. Their platform offers collaboration tools, templates, and analytics to help businesses improve their sales processes.

5. Dash Hudson:

Dash Hudson is a visual marketing software company that helps brands and marketers optimize their presence on social media platforms like Instagram, Facebook, and Pinterest. Their platform provides tools for content scheduling, analytics, and influencer management.

6. SimplyCast:

SimplyCast is a leading provider of engagement automation solutions. Their platform offers multi-channel marketing automation, including email marketing, SMS marketing, social media management, and more.

7. Blue Light Analytics:

Blue Light Analytics is a dental technology company that specializes in measuring and analysing curing light output in dental practices. Their products help dentists ensure the quality and effectiveness of dental restorations.

8. Met Ocean Telematics:

Met Ocean Telematics develops and provides advanced data acquisition and telemetry solutions for environmental monitoring, defence, and maritime industries. They offer a range of products including oceanographic instruments, satellite communications systems, and tracking devices.

9. Rem soft:

Rem soft is a software company that specializes in forestry optimization and planning solutions. Their software helps organizations manage and optimize their forestry operations by integrating data, analytics, and modelling capabilities.

10. Mind sea:

Mind sea is a mobile app development company that creates custom software solutions for startups and established businesses. They have expertise in developing iOS and Android applications across various industries, including healthcare, finance, and retail.

11. Veriskope:

Veriskope is a technology company specializing in developing innovative imaging solutions for industrial, medical, and scientific applications. They design and manufacture high-quality camera systems and imaging accessories that are used in diverse fields such as aerospace, research, and healthcare.
Overview of IT jobs in Halifax
IT careers offer a wide range of opportunities for progression and development, thanks to the ever-evolving nature of technology and its impact on various industries.
Entry-Level Positions: IT careers often begin with entry-level positions such as help desk support, technical support, or junior software developer/engineer. These roles provide a foundation in technical skills, troubleshooting, and basic software development.
Specialization and Expertise: As IT professionals gain experience, they often choose to specialize in specific areas such as network administration, cybersecurity, data analysis, cloud computing, artificial intelligence , web development, or database management. Specializing allows individuals to develop deep expertise in their chosen field and become sought-after professionals in that domain.
Professional Certifications: Obtaining professional certifications relevant to specific IT roles can significantly boost career prospects. Certifications from reputable organizations like Cisco, CompTIA, Microsoft, and Amazon Web Services (AWS) validate technical skills and demonstrate expertise in specific technologies or methodologies. These certifications can enhance job opportunities and lead to higher-paying roles.
Leadership and Management: With experience and expertise, IT professionals can progress into leadership and management roles. This can include positions like IT project manager, IT team lead, or IT director. Leadership roles involve overseeing teams, managing projects, and making strategic decisions to align technology initiatives with business objectives.
Entrepreneurship and Startups: Some IT professionals choose to venture into entrepreneurship and start their own tech companies or startups. This path allows for creative freedom, the opportunity to build innovative solutions, and the potential for significant growth and success.
Continuous Learning and Skill Development: IT is a rapidly evolving field, and professionals need to embrace lifelong learning to stay relevant. Keeping up with emerging technologies, trends, and industry best practices is essential. Continuous learning can be pursued through online courses, workshops, conferences, and participation in professional communities.
Industry Specialization: As IT professionals gain experience and knowledge within specific industries such as healthcare, finance, or e-commerce, they can become subject matter experts. Industry specialization can lead to higher-paying roles and positions where professionals are sought after for their industry- specific knowledge.
Higher Education and Research: Advanced degrees, such as a Master's or Ph.D., can open doors to research and academic positions. IT professionals with a passion for research and innovation may choose to pursue further education and contribute to advancements in their field through academia or industry research labs.
Salary of Software Engineer in Halifax
Help Desk Support: The average salary for help desk support positions in
Halifax typically ranges from $35,000 to $50,000 per year.
Software Developer/Engineer: Software developers and engineers in Halifax can expect an average salary range of $55,000 to $90,000 per year, depending on experience and specialization.
Network Administrator: The average salary for network administrators in Halifax is typically between $55,000 and $80,000 per year, depending on the size of the organization and the level of responsibility.
Cybersecurity Analyst: Salaries for cybersecurity analysts in Halifax range from around $60,000 to $100,000 per year, depending on experience, certifications, and the complexity of the role.
Data Analyst: Data analysts in Halifax can expect an average salary range of $55,000 to $85,000 per year, depending on the industry and level of experience.